Travelling with kids can be stressful. And exhausting. We know this, so we are always on the lookout for the best products we can find to help make life a little easier. Here is a round-up of the best travel essentials for kids, as tried and tested by us.
Baby Carrier
I don't know how I would have managed all the travel we do without my baby carrier. It frees up your hands in airports to rummage around for passports (or wet wipes, or crayons), it is a lifesaver for carrying sleeping children on and off planes, and it means you can go on hikes or continue with non-buggy friendly sightseeing wherever you go.
I have tried several different baby carriers (we have a tendency to leave them on planes, trains and in hotel rooms), but probably my favourite for travelling has been the BabyBjörn Baby Carrier Miracle in mesh as it was lightweight and easy to use. However I also loved the Ergobaby Original (and the new Ergobaby Performance looks great for hiking) and we still use our BabyBjörn Baby Carrier One now with our large two year old.
Check prices for Baby Carriers here


Trunki
My kids LOVE their Trunkis! These wheeled suitcases come in a range of fun designs, including Ladybirds, Tigers and even the Gruffalo, and help make the journey through the airport more fun for the kids – and easier for mum and dad. My kids love to ride on the Trunkis and race to see who can get to the gate first.
The Trunki is also a good way to get the kids involved with the packing, as they love taking charge of their own Trunkis (although last time we flew to Singapore, my daughter's travel "essentials" for the plane included two pairs of ballet shoes, a paintbrush and a pair of kids chopsticks, so a subtle re-pack when they're not looking is sometimes required). They also give you plenty of room to store the kids' change of clothes, nappies, wet wipes, toys, books etc so that you don't have to clog up your own hand luggage with all their paraphernalia.
Check prices for the Trunki here
Trunki BoostApak
Another great product from Trunki, the BoostApak is a portable child's booster seat for the car that doubles as a backpack. I use the BoostApak all the time with my 4 year-old in taxis, and we always take it travelling with us for using in taxis overseas or for airport transfers. It has 8 litres of capacity inside for any travel essentials (although nothing you need to use when you are in the car obviously as your child will be sitting on it) and can be carried as a backpack when not being used as a booster seat. It is however quite bulky and heavy as a backpack – which means mum inevitably ends up carrying it…
Check prices for the Trunki BoostApak here


RideSafer Travel Vest
When your children are small babies, it is easy to carry their car seat with you everywhere to strap into taxis or cars. However once they are too big for the baby car seats, but not yet big enough for a booster seat, it can be worrying trying to ensure their safety in a taxi or for an airport transfer when you are travelling. For my son, we use a RideSafer Travel Vest. It looks a bit like he's about to go parachuting, but it positions the car seat belts correctly on him so that he is secured in the vehicle, which is an absolute godsend.
The RideSafer Travel Vest can also be used for older children (up to about aged 8), in place of a booster seat – which is also a good option for travelling as you can fit it into your suitcase a lot easier than a booster seat.
Check prices for the RideSafer Travel Vest here
Travel Cot
Unless you always want to be sharing your bed with a wriggling child, a travel cot is a great investment for travelling. We have always used the BabyBjörn Travel Crib Light and I cannot praise it enough. It is SO easy to set up – takes about two minutes and you literally just take it out of the bag and pop it up – no fiddling about with attaching legs or figuring out which bit goes where. It is also super-light – just 6kgs – so great for airplane travel when you don't want to use up your weight allowance, and there's always a little bit of room in the bag for shoving in all the heavy things from your other suitcases.
Check prices for the BabyBjörn Travel Crib Light here


Blow-up Travel Bed
What do you do when your kids grow out of their travel cot? Buy a blow-up travel bed! We often have just one hotel room for four of us (two adults, two kids) but not many hotels will provide you with two rollaway beds, so a blow-up bed is an ideal solution. It is also very handy for when you are staying with family and friends.
We opted for the My First Ready Bed, which is great as it is small enough to pack in your suitcase, and comes with a built-in sleeping bag, making it easy for setting up when you arrive late at night. The little plastic foot pump can be a bit of a pain though. I have heard good things about the The Shrunks Indoor Toddler Travel Bed, which comes with an electric pump, but it doesn't include sheets or a sleeping bag and looks a bit more bulky for packing into your suitcase.
Check prices for Toddler Travel Beds here
Sterilizer Bags
Worrying about how to keep baby bottles sterilized when travelling is one of the biggest concerns for parents planning a trip – particularly if you are travelling to parts of the World where safe drinking water is a consideration. I swore by the Innosense cold water sterilizer bags from Mothercare when my kids were babies. These plastic bags are big enough to hold all your baby bottles and contain sterilizer tablets so all you need to do is add water (no matter what water) and leave them to soak. Bottles are sterilized in just 15 minutes, and you just need to use a new bag every 24 hours. The bags have drawstring handles so can be hung on the back of the bathroom door in a hotel room.
If you are going to have access to a microwave while travelling, then the microwave steam sterilizer bags are probably your best bet. These take just minutes to sterilize your bottles, and can be re-used several times, making them a more economical option too.
Check prices for Sterlizer Bags here
Totseat
The Totseat is a fabric chair harness designed to safely secure your child into an adult chair in the absence of a high chair – no need to bounce them on your knee while you eat, or push the buggy up to the table and risk it getting covered in bolognaise sauce. The Totseat folds up small enough to fit in your handbag, can be used on almost any adult chair and is machine washable. Perfect for eating in restaurants, or holiday rental accommodation that doesn't have a high chair – we have used our Totseat all over the world.
Check prices for Totseat here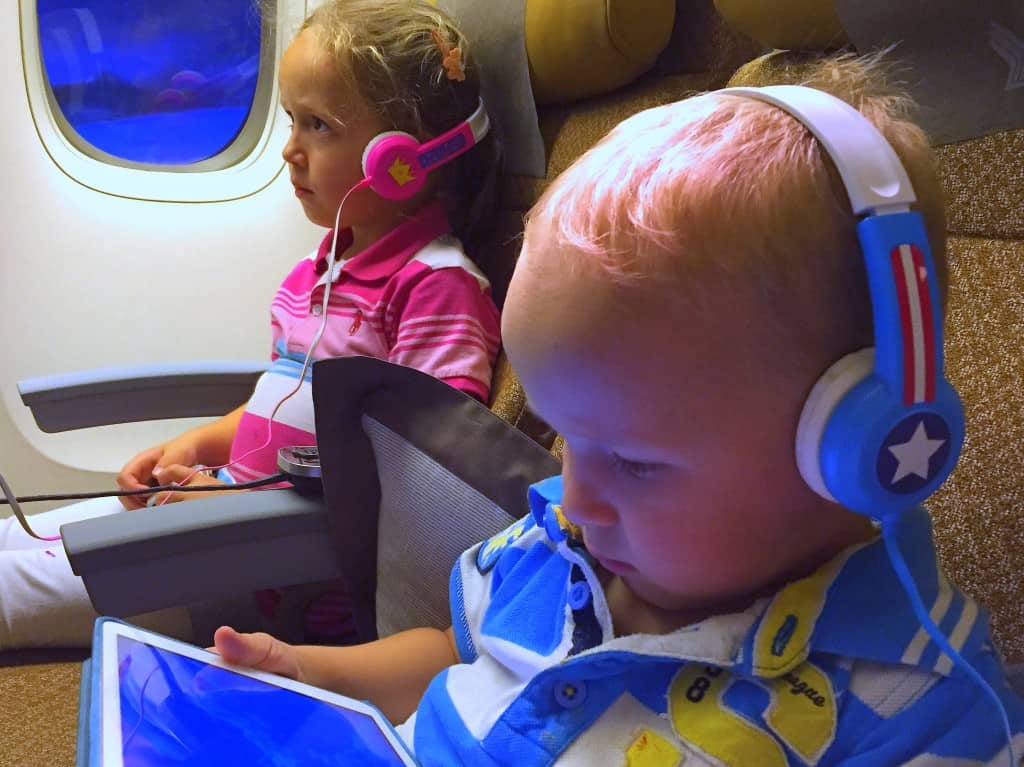 Kids Headphones
Before I had kids, I once spent an eight-hour overnight flight from Singapore to Sydney cursing the parents of a toddler who was sitting next to me, playing Dora the Explorer on her iPad at full volume. Nobody needs to hear that. Not even now that I am a mother and can recite every Dora episode by heart. So do everybody else on the plane a favour and invest in some kids headphones for your children.
The Kidz Gear Wired Headphones are generally considered to be the cool kids on the block – they are certainly funky and come in a range of colours. I recently purchased the Onanoff Buddyphones for my kids, which are also great. There's a choice of colours, and each headset can be further personalized with the included stickers. They're adjustable, comfortable and have a built-in audio splitter, meaning up to four kids can plug into one iPad at the same time.
Whatever headphones you choose, make sure they come with a volume limit on them to protect your kids ears.
Check prices for kids headphones here


Waterproof, Shockproof Camera
Like most parents, I love taking photos of the kids when we are travelling. Now that my kids are getting older, they love trying to take photos too… which is why I recently invested in a good waterproof, shockproof camera. I opted for the Olympus Stylus Tough camera, but I am in no way a camera expert so you should obviously do your own research. It was a great investment though – we can take it in the swimming pool and the sea for underwater pictures, take it to the beach or skiing and I can happily let my four year old run around with it taking pictures without worrying too much about her dropping it. Definitely a good investment.
Check prices for waterproof cameras here


Did I miss your favourite product for travelling with kids? Let me know in the comments below!
You might also like to read our other articles: Best iPad Apps for Pre-schoolers and Best iPad Apps for Toddlers.
Pin it for Later!
Mum on the Move is a participant in the Amazon Services LLC Associates Program, an affiliate advertising program designed to provide a means for sites to earn advertising fees by advertising and linking to Amazon.com.