We compare the best baby carriers for travel to help you choose the best option for your family. What to look for when buying and baby carrier reviews.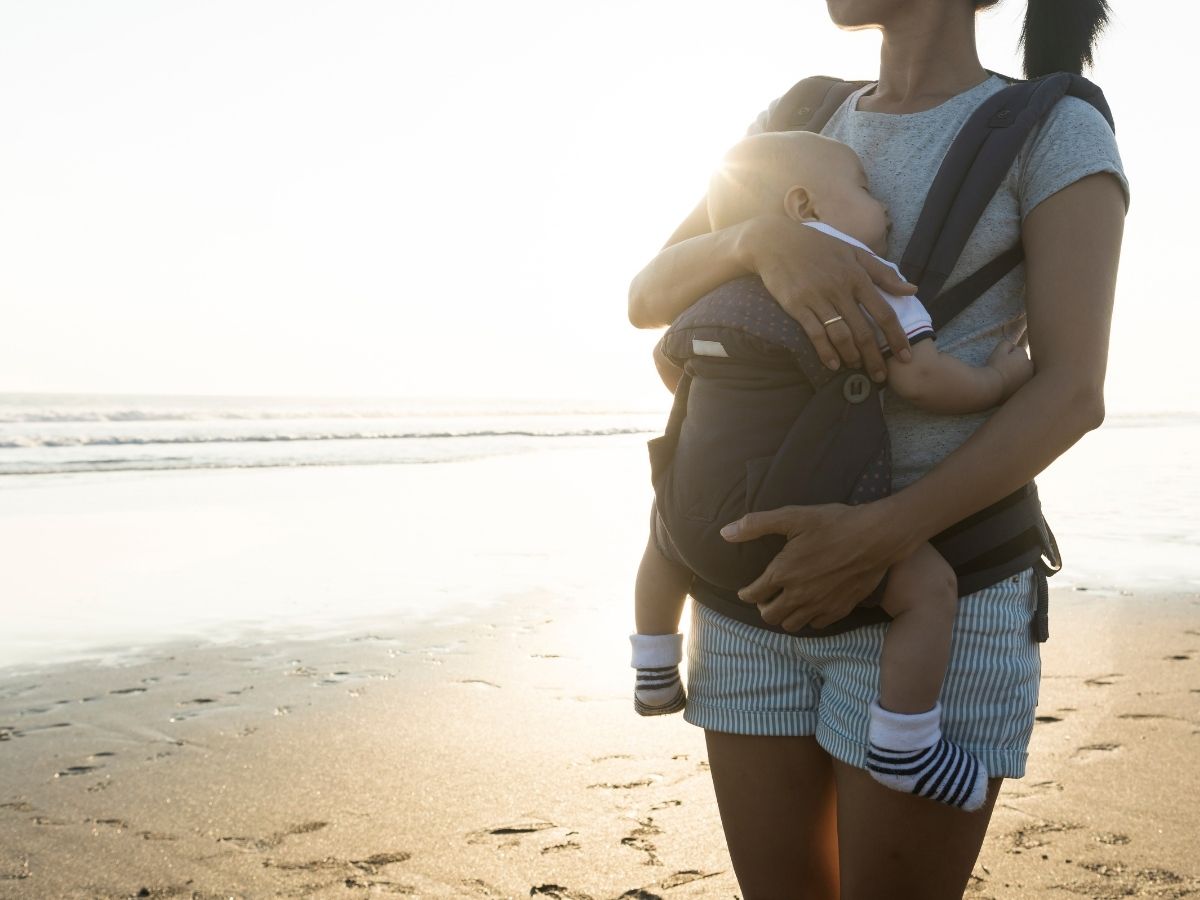 A baby carrier can be one of the best travel accessories you can have if you are traveling with a baby.
Babies love to be cradled and cuddled by their parents and a baby carrier is ideal for keeping your baby close. It makes a baby feel calm, safe, and secure, which is particularly important when you are traveling around in new environments and with a change of routine.
A baby carrier also allows you to keep your hands free for carrying luggage, searching for passports, filling up water bottles, opening taxi doors and handing out toddler snacks.
Their ergonomic design is great for soothing babies, relieving them from colic, and allows you to help regulate their temperature and a good baby carrier will protect your back and posture too.
If you are searching for the perfect, safest, and most comfortable baby carrier, you are in the right place. We have selected 9 of the best baby carriers for 2022 to narrow down your search and help you choose the right one.
Got twins? Click here to check out my pick of the Best Twin Baby Carriers.
Here's a quick look at our top picks. Full reviews can be found further down in the article.
Best Baby Carrier Comparison Table
Do I Need A Baby Carrier?
A baby carrier isn't necessary, obviously, but it is great to have, especially when travelling. It lets you carry your baby while keeping your hands free and keeps your baby feeling safe and warm.
Especially when you are travelling and have a million other things to think about, keeping your baby with you prevents you from constantly checking upon them, and you can go about your business while your baby sleeps soundly against your chest.
They are a great option for air travel too. At times you may not have your travel stroller with you in the airport, and trust me you will love having a baby carrier on the plane, especially if you need to carry your baby up and down the aisle.
Babies cannot thermoregulate and are unable to deal with cold or hot temperatures like adults can. Holding a baby close in a baby carrier allows you to regulate the temperature using your body heat.
Studies have proven that holding a baby close to your body strengthens their immune system and naturally reduces ear infections and crying.
Other benefits of an infant carrier when travelling include:
You can be hands-free for carrying luggage etc
The baby may sleep better in the carrier
Some places you visit may not be stroller friendly
It is easier for getting on and off public transport than a travel stroller
It is easier in crowded spaces
Perfect for air travel
Want to take your kids hiking? Check out our pick of the Best Hiking Baby Carriers.
Types Of Baby Carriers
There are 5 different types of carriers, and each has one has different features, pros, and cons. These include:
The Wrap carrier
The Soft Structured carrier
The Sling
The Backpack carrier
The Mei Tai carrier
Let's take a look at each style of carrier in detail and look at some of the pros/cons of each type
The Wrap Baby Carrier
Baby wraps consist of a long piece of material that you wrap around you and your baby.
Pros
There is a wide variety of fabrics to choose from.
It is versatile as you can wrap it in numerous ways.
You can use it for toddlers and newborns.
It packs away small and can easily fit in your hand luggage
Cons
It can be tricky to wrap.
It can become hot as it is essentially another layer of clothing.
The Soft Structured Carrier
This is a pouch-like carrier with a padded waistband and shoulder straps that you can fasten around your waist.
Pros
You can adjust it for a comfortable, ergonomic fit.
Promotes proper hip development.
Very easy to put on.
Cons
It can be expensive.
It sometimes requires an additional inset if you are carrying a newborn.
The Sling (Ring Sling & Pouch Sling)
Ring slings carry your baby in front of you or on your hip.
Pros
Perfect for newborns (can be used from birth).
Easy to wear with minimal tying techniques required.
Ideal for breastfeeding.
Available in a wide variety of colours and fabrics.
Easily adjustable.
Cons
The excess hanging fabric can get in your way.
Not suited for parents suffering from shoulder or back pain.
Backpack Carriers
Backpack carriers are great for parents who enjoy the outdoors and are specially designed for babies that can hold their heads up unassisted.
Pros
Your baby gets to explore and enjoy his surroundings.
Even distribution of baby weight.
Perfect for carrying for long periods.
Cons
Expensive.
Quite heavy and bulky.
Mostly suitable for outdoor activities instead of everyday use.
Mei Tai Carriers
Also known as a hybrid carrier, this carrier is a combo of wrap and soft structured carriers.
Pros
You can use it for newborns up to toddlers.
Available in a wide range of fabrics and colours.
Easily adjustable.
Very comfortable for you and your baby.
Cons
Tricky to tie around your waist (requires practice).
Carriers For Newborns Vs. Toddlers
Many carriers accommodate newborns and toddlers, but you must know newborn babies require additional care. Baby carriers for newborns should have very good head and neck support, and wrap carriers are better for those delicate little heads.
Toddlers, who can hold their heads up unassisted, are better suited for soft structure carriers that are comfortable and supportive for both baby and parent.
What To Look For When Choosing A Baby Carrier
There are various important features to consider when choosing a baby carrier, including;
The carrier should have breathable fabric such as moisture-resistant polyester microfiber, nylon, and 100% cotton. This is especially important for warmer climates.
The buckles or fasteners must be strong and lock securely.
Easily adjustable straps and padded shoulder straps for comfort.
There needs to be good support for the baby's head and neck.
Ease of use and easy storage
It should be comfortable for you and your baby.
9 Best Baby Carriers For 2023
Let's look at 9 of the best travel baby carriers in detail below:
LÍLLÉbaby Complete All Seasons Ergonomic 6-in-1 Baby Carrier
LÍLLÉbaby Baby 6-in-1 All Seasons baby carrier offers maximum comfort and support. You can use this great carrier for newborns until they are toddlers, as it has an adjustable seat that widens as the baby grows.
You can wear the carrier in 6 different positions, including;
Front fetal (0-3 Months)
Infant Inward – Narrow seat (0-12 Months)
Ergonomic outward (6-18 Months)
Toddler inward – Wide seat (6 Months+)
Hip Carry (6 Months+)
Back Carry (6 Months+)
Carrier Features
A removable sun hood
Head and neck support
A temperature control panel
An adjustable seat
Thick padding
Straps can be worn crossed or straight
Lumbar support
The waist extends to 52″ to fit different body types. *You can purchase a waist of up to 61.5″ separately.
The carrier can adjust to fit parents from small to tall
Infantino Flip Advanced 4-in-1 Carrier
The Infantino baby carrier is a 4-in-1 ergonomic and convertible designed to carry babies from newborns to older babies (8-32 lbs.). This hands-free carrier is comfortable to wear, easily adjusted for a perfect fit and machine washable.
You can wear the Infantino carrier in four different carry positions, including;
Facing in (Narrow seat)
Facing in (Wide seat)
Facing out (6 months+)
BackPack (6 months+)
Carrier Features
Received a total of 4.6 out of 5 stars on Amazon from over 44,000 global ratings
Adjustable ergonomic 2-position seat
Adjustable shoulder straps
A supportive waist belt
Convertible design
Made from durable, high-quality material
Washing machine friendly
Ergobaby Embrace Newborn Baby Wrap Carrier
This Ergobaby Carrier is extremely cozy with soft knit fabric that gently cradles your newborn baby. The carrier is easy to use and requires no complex tying.
This top pick has side buckles and a buckle waist belt to eliminate the need for fabric tying. You can adjust the waist belt to accommodate your growing baby.
The carrier's slim and compact design allows you to roll it up and store it in your baby's diaper bag or your hand luggage when you are on the move.
Carrier Features
Lightweight and compact
Supportive waist belt
Spreadable cross straps for added comfort
Machine washable
Can carry babies weighing anywhere between 7-25 lbs
Cushioned neck support
Ergonomic and hip healthy (M-Position). *International Hip Dysplasia Institute acknowledges this carrier as a hip-healthy product.
LÍLLÉbaby Complete Airflow Ergonomic 6-in-1 Baby Carrier
This versatile baby carrier by LILLEbaby can carry newborns to 18-month-olds. They have adjustable seats that support babies from knee to knee and prevent stress on their developing hips.
This wonderful carrier with complete airflow is made from soft, premium fabrics and a beautiful eye-catching style.
You can wear this baby carrier in 6 ways, including;
Front Fetal (0-3 Months)
Infant Inward – Narrow seat (0-12 Months)
Ergonomic Outward (6-18 Months)
Toddler Inward – Wide seat (6 Months+)
Hip Carry (6 Months+)
Back Carry (6 Months+)
Carrier Features
Head and neck support
Removable sun hood
Adjustable seat
Comfortable straps that can be worn crossed or straight
3D Breathable mesh
Lumbar support
Large storage/cargo pocket
Simplifies breastfeeding
Ultra-light
Extendable, soft, padded waist belt
YOU+ME 4-in-1 Ergonomic Baby Carrier
This YOU+ME, Heather Gray baby carrier can carry babies weighing between 8 and 32 lbs. The tailored fit allows parents of all sizes (petite to plus size) to wear the carrier.
This ergonomic, cost-effective baby carrier has a cool mesh lining on the carrier and the waist belt and padded straps, which prevents you from overheating while you carry your baby.
You can wear the carrier in 4 different ways, including;
Infant Mode (Facing mom & dad)
Forward Facing
Wide (knee-to-knee support)
Back Carry
Carrier Features
Comes with a 2-in-1 bandana that you can fit on the baby to protect the carrier from drool and milk
Breathable 3D cool mesh provides excellent airflow
Built-in headrest
Machine washable and dryer-safe
A special internal harness makes it easy for mom and dad to switch carry duty
Sleepy Wrap Baby Carrier
You cannot get closer to your baby than with this cozy Sleepy Wrap baby carrier. It is designed to conform perfectly to your body, eliminating the need for constant readjusting.
Carrier Features
Made with a soft blend of 5% spandex and 95% cotton.
Suitable for newborns through to toddlers weighing a maximum of 35 lbs.
Ergonomically designed to disperse your baby's weight to protect your back from unnecessary strain.
Lightweight and portable – can easily fit into a diaper bag or hand luggage when not in use.
KeaBabies Baby Wrap Carrier
This trusted global family brand proudly presents its Award-Winning Baby Wrap Carriers. KeaBabies baby carrier is an all-in-1 stretchy baby sling made with proprietary cotton woven-tech fabric for extra comfort.
This baby carrier also makes breastfeeding very easy. Pediatricians recommend carrying your baby in an upright position to help them expel trapped air naturally, and it is one of the best ways to relieve colic.
The snug fit of this baby carrier ensures that your baby stays upright.
Carrier Features
Certified a hip-healthy product by the International Hip Dysplasia Institute
Made from stretchy, breathable cotton blend material
Lightweight and compact – you can store this carrier in a diaper bag when it is not in use
Suitable for babies weighing between 7 and 35 lbs
Ergonomically designed for even weight distribution
Provides shoulder and back support
Received the Top Choice Award and Family Choice Award in 2019
One size fits all (small to plus size).
The carrier comes with an instruction video via email.
Machine washable (cold) and dryer-safe.
Infantino Cuddle Up Carrier
This great baby carrier by Infantino has a gorgeous design. The carrier comes with an adorable character canopy to keep your baby's head warm during winter and protected from the sun.
The wide ergonomic seat provides knee-to-knee support for your baby's growing hips.
You can wear the carrier two ways, including;
Carrier Features
Detachable bear canopy hood
A cozy muffler pocket provides a natural place for parents to tuck in their hands
Machine washable
Extremely versatile, comfortable, and durable
Adjustable padded shoulder strap
Supportive padded waist belt.
Suitable for babies weighing between 12 and 40 lbs.
FRUITEAM Baby Carrier
The FRUITEAM Baby Carrier 6-in-1 is made with 100% high-quality cotton, which is super-soft and sits close to the skin, protecting your baby's delicate skin.
The carrier features a 35-degree comfortable inclined surface (non-slip) to ensure that your baby is safe and secure. The FRUITEAM carrier features upgraded Velcro that does not stick to clothing and allows you to adjust the waist belt according to your body size.
You can wear the carrier in 6 different ways, including;
Front Facing
Front Facing In
BackPack
Waist Stool
Sling
Hip Seat
Slope Stool
Carrier Features
Comfortable round stool surface (choose the right strap to prevent the early rise of the O-leg
Meets all CPSIA safety requirements and successfully obtained the Children's Product Certificate (CPC)
Anti-skid shock absorption
A removable sunscreen cap protects your baby's head from dust and UV rays
Breathable, convenient, and non-cumbersome
Perfect heat dissipation