We take a look at all the best family resorts in Fiji – from Denarau to the Coral Coast and out to the islands, these resorts are all perfect for a family vacation.
Fiji is a hugely popular destination for a family vacation and little wonder. Beautiful beaches, warm tropical water, incredible snorkelling and diving, and that famous Fiji service with a smile.
And of course the resorts here are a big reason that families return for a Fiji holiday year after year.
Fijian resorts are renowned for their fantastic kids' clubs. Here not only are your kids kept entertained and make new friends, but they learn about the Fijian culture through cultural activities such as basket weaving, grass skirt making and learning local dances.
Most resorts will cater for children of all different age groups – with separate activities for teenagers, and babysitting or the option of a private nanny for the really little ones.
And whether they are large international chain resorts or small intimate island resorts, all these family friendly resorts have plenty of fantastic facilities. These include swimming pools, games rooms and water sports, in addition to family friendly accommodation such as interconnecting rooms or two queen beds per room.
Read on for my pick of the best resorts in Fiji for families.
Disclaimer: This post contains affiliate links. If you make a booking or purchase using one of these links, we may receive a small commission – at absolutely no extra cost to you.
Mum on the Move is a participant in the Amazon Services LLC Associates Program, an affiliate advertising program designed to provide a means for sites to earn advertising fees by advertising and linking to Amazon.com
Which area to stay in Fiji
There are three main popular areas to stay in Fiji for families:
Denarau (mainland, close to the airport)
Coral Coast (mainland, further south)
The Islands, including (including both the Mamanuca Islands and the Yasawa Islands)
There are definite pros and cons to each area:
Being on the mainland means easier and cheaper transfers to your resort. If you are the kind of family that likes to get out and explore the area, then being on the mainland would be more ideal too.
However if your vision of a Fiji family holiday includes pristine white sand and swaying palm trees with lots of snorkelling on tap, then you should head out to the islands.
Denarau is often considered to be a good compromise – it is on the mainland so day trips to activities such as zip lining and jet boating are possible but it is also easy to jump on a boat out to the islands for scuba diving or a day of island hopping etc.
If you are the type of family who looks for a good choice of restaurants when you holiday, Denarau would be a good option as there are several resorts in close proximity so you can dine at a different restaurant every evening.
Resorts on the mainland tend to be larger with lots of facilities while those on the islands tend to be smaller and more intimate with less facilities but a more relaxed vibe.
Of course there is nothing stopping you from doing a few days in each location!
Family Resorts in Denarau
Denarau is popular family destination in Fiji thanks to its proximity to both the airport and the marina.
This means there are no long transfers to your hotel on arrival at Nadi International airport (the airport is around a 20-minute drive) and also easy access to the islands from the marina.
Denarau is a beautifully manicured man-made island (reminiscent of Singapore's Sentosa Island) and home to many of Fiji's luxury family resorts.
Beyond the resorts, the Port Denarau marina also features a selection of casual restaurants, bars and shops, as well as being the gateway to the islands via ferries and private hire boats.
It's easy to get around Denarau by walking or jump aboard the Bula Bus, a shuttle that links all the resorts with each other, the marina and the golf course.
My pick of the best family resorts in Denarau includes:
Sofitel
Radisson Blu
Sheraton
Sheraton Villas
Hilton
Westin (currently closed undergoing redevelopment)
Sofitel Fiji Resort & Spa
My top pick for a luxury hotel in Denarau is the Sofitel. It is a great option for families.
It boasts the largest swimming pool in the South Pacific – it certainly is the largest (and one of the best) resorts pools I have ever seen. There are lots of areas to it meaning that there is plenty of room for everyone.
Plus it has a water slide, which is always a hit of course.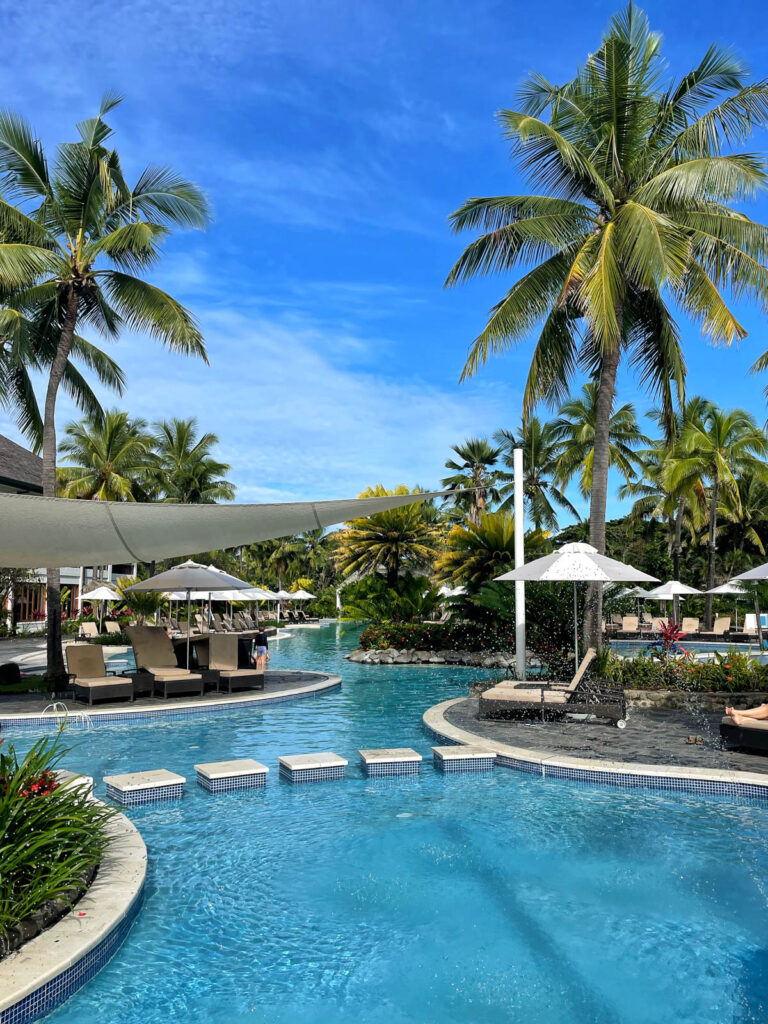 The Niu Kids Club is fantastic too, with sand play, a water play splash pad, flying fox and trampoline in addition to the usual array of activities. Older kids love the separate Teen Zone, open to kids aged 8+ and filled with fun arcade games and an X-Box and Playstation. 
There is a good choice of rooms for families too – with rooms with two queen beds on offer, or larger rooms with separate annexes with bunk beds.
Once you sign the kids into the kids club, parents can escape to the adult only Waitui Beach Club at the far end of the resort for some peace and quiet.
Click here to check prices and availability for the Sofitel Fiji.
Radisson Blu Resort Fiji Denarau
The Radisson Blu is an extremely popular choice and offers great value accommodation in Denarau.
The 1- and 2-bedroom suites offer full kitchen and laundry facilities as well as lounge and dining areas, making them perfect for families and for longer stays. Standard rooms also allow up to one child and one infant.
There are four lagoon pools, one with a whitewater tunnel slide and the Blu Banana kids club keeps the little ones entertained.
Add to this 10 acres of tropical gardens, a private beach, a spa and four onsite restaurants and bars, and everyone's a winner.
Click here to check prices and availability for the Radisson Blu Fiji Denarau.
Sheraton Fiji Golf & Beach Resort
There are 300 rooms and suites at this family hotel. Best for families are the family rooms with two double beds. Rollaway beds are also available.
It has a large lagoon-style pool compete with a dedicated family area with sandy beachfront. There is also a playground, spa, four restaurants and bars and plenty of watersports activities to keep you entertained.
The Lai Lai kids' club promises plenty of entertainment for kids aged 4-12 (under 4s will need to be accompanied by a nanny or parent).
Guests at the Sheraton can also access the facilities of the Sheraton Denarau Villas, Westin (when opened) and the Denarau golf & racquet club.
Click here to check prices and availability for the Sheraton Fiji Denarau.
Sheraton Denarau Villas
If you're looking for more space for your family holiday in Fiji, then the Sheraton Denarau Villas offers 2 and 3 bedroom villas, which come with fully equipped kitchens, dining area, lounge and laundry facilities.
The villas are close to the beach and have access to a pool. Located adjacent to the Sheraton and Westin (currently under renovation), guests here have access to the facilities at all three resorts, giving you a choice of 12 dining venues, 6 swimming pools plus kids clubs.
Click here to check prices and availability for the Sheraton Denarau Villas.
Hilton Fiji Beach Resort & Spa
Sitting on 2 kilometres of private beach, the Hilton is another large family resort in Denarau.
They have a large choice of accommodation to suit families, including 1- and 2-bedroom suites and 2-3 bedroom residences.
While the suites offer kitchenettes and laundry facilities, the residences are larger with full kitchens, dining areas and lounges. The 3-bedroom even has private pool and terrace.
Also on offer are seven swimming pools, including separate adults and kids pools, a choice of restaurants (kids under 12 enjoy complimentary breakfast), spa, gym and, of course, a kids club. There's also a deli and convenience store on site.
Click here to check prices and availability for the Hilton Denarau.
Westin Denarau Island Resort & Spa
The Westin Denarau is currently closed until March 2023 whilst undergoing a FJD $75 million refurbishment.
Once it opens, you can expect 246 rooms with 12 restaurants and bars, a spa and an 18-hole championship golf course.
Watch this space!
Family Resorts in the Coral Coast Fiji
The Coral Coast stretches for 130km along the south coast of Viti Levu and is described as "where tradition, culture and nature meet". It will take around a 60 to 90-minute drive from Nadi airport to reach your resort here.
The Coral Coast is home to several of Fiji's top tourist attractions, such as Ecotrax Fiji and the Sigatoka River Safari, so it is a great option if you are a family that likes to get out of the resort and explore.
It is also where you will find several of Fiji's best family resorts, including:
Outrigger Fiji
Shangri-La
Intercontinental
Warwick
Outrigger Fiji Beach Resort
There are loads of different accommodation options for families at the Outrigger. Firstly, ALL their rooms are designed to accommodate 2 adults and 2 children, with either a King bed and double sofa bed, or with two Queen beds.
There are also larger suites for larger families, interconnecting rooms and family bures on offer.
There is a large kids club with a children's playground, sandpit and plenty of games, with two sets of activities on offer depending on the age of your kids. If you are traveling with very young children, you will love the fantastic value Mai Mai service (ie. nanny service).
There is a good choice of restaurants and bars, a large family lagoon pool and a separate with adults-only pool (with a swim-up bar, hooray!) and a beautiful spa perched on top of the hill.
Other facilities include an air-conditioned fully equipped gym, tennis courts and even a golf training centre, which includes a driving range and pitch and putt practice green. It is also located right next door to Kula Wildlife Adventure Park, which is sure to be a hit with the kids.
Click here to check prices and availability for the Outrigger Fiji Resort.
Shangri-La Yanuca Island
Located on its own little island connected by a causeway, the Shangri-La has 442 guests rooms with ocean views spread across three wings. Note that the Reef wing is adults only.
There's something for the whole family here. Beyond the Little Chiefs kids' club, kids will also love the inflatable water park, mini golf, tennis, basketball, sandy beach and two family swimming pools.
While the kids are being entertained, parents can escape to the adults only pool, hire bikes or indulge in some water sports or enjoy a quick round of golf on the 9-hole golf course.
There is also a good choice of restaurants and bars: 5 waterfront restaurants and three bars.
The Shangri-La meal plan means up to 2 children, aged 11 and under eat free at the assigned "Kids Eat Free" restaurants, from the designated children's menus, provided they are accompanied by a full-paying adult. (Any more than 2 children get a 50% discount off the adult buffet price).
Click here to check prices and availability for the Shangri-La Fiji Resort.
Intercontinental Fiji Golf Resort & Spa
Another Coral Coast hotel renowned as one of the best Fiji resorts for families is the Intercontinental.
Set amongst 35 acres of tropical gardens, this is a popular resort for a reason.
The Planet Trekkers kids club caters for two groups – ages 4-7 and 8-12, with age appropriate activities. There's also a program for teenagers with pitch & putt, and beach games such as football, cricket, touch rugby and volleyball sessions all on offer.
Add to this a spa, watersports and an 18-hole championship golf course and there is something for everyone at this luxury resort.
For dining there's a choice of restaurants and bars, from fine dining to relaxed beachside and children aged 12 and under eat for free in Sanasana Restaurant when accompanied by a dining adult.
Most of the 266 rooms can accommodate a rollaway bed and interconnecting rooms and two-bedroom suites are also available.
Click here to check prices and availability for the Intercontinental Fiji.
Warwick Fiji
All rooms at the Warwick can accommodate two double beds for families and interconnecting rooms are also available.
The Warwick offers all inclusive packages and you have a good range of restaurants to choose from, including Italian, Japanese, an international brasserie and the Wicked Walu seafood restaurant with its own island setting.
There's also a spa, two swimming pools, gym, watersports and a kids' club with numerous activities and wholesome fun including fish feeding, treasure hunts, sandcastle building and more.
Click here to check prices and availability for the Warwick.
Family Resorts in the Fiji Islands

Heading to the Fijian islands is the dreamy Fijian beach holiday you have dreamed of: crystal clear waters, white powdery sand, swaying coconut palms and nearby coral reefs.
The island resorts offer a more laid-back and tranquil vibe than their mainland counterparts. The focus is on watersports, snorkelling, diving and some quality beach time, although all of these resorts also offer kids' clubs and plenty of daytime activities too.
These resorts are easy to reach, either by hopping aboard the ferry from Denarau or by taking a helicopter or seaplane transfer directly from Nadi airport.
My pick of the best Fiji island resorts for families includes:
Castaway Island
Malolo Island Resort
Jean-Michel Cousteau
Vomo
Six Senses
Plantation Island Resort
Castaway Island Resort
I make no secret of the fact that Castaway is one of my "happy places" on Earth.
With just 64 bures on a private island, Castaway has an intimate and exclusive air to it, while maintaining a rustic and laid back ambience. The bures are traditional in architecture, adding to the home away from home feel that the friendly staff uphold.
The kids club excels in traditional fun activities for the little ones and there is also a good program of age appropriate activities for teens too, like beach volleyball, snorkelling and sunset kayaking, so older children don't need to miss out.
There are two pools and six restaurants and bars to choose from, so plenty of space for everyone. Despite the island's small size (you can kayak around it in around an hour), it never feels crowded.
Each bure can accommodate two children on the day beds, but there is also the option to add a third child. A family bure made from interconnecting bures is also available.
Click here to check prices and availability for Castaway Island Fiji.
Malolo Island Resort
Another island resort that excels in the barefoot Fiji island experience is Castaway's neighbour, Malolo.
The 46 bures here are colonial plantation in style, wth standard bures sleeping up to 4 (sometimes 5) people and 2-bedroom family bures accommodating up to 7 people.
There are three dining outlets, including the Beach Bar, Terrace and Treetops (ages 13 and over only) and an open-air spa.
Most importantly for kid are the kids clubs: there are two on Malolo. Tia's Treehouse offers traditional fun activities for ages 4 -12 years, while Khail's Club keeps the tweens and teens entertained with books, games, karaoke – and that all-important WiFi access.
Of course being an island resort, there is plenty of opportunity for watersports too, including fishing, snorkelling, paddle boarding, sunset cruises etc in addition to the island PADI centre for diving. 
Click here to check prices and availability for Malolo Island Resort.
Six Senses Fiji
Also located on Malolo Island, the Six Senses is a bit of a notch up in luxury living, but that doesn't mean it's not family friendly.
This luxury island resort offers 24 spacious villas all with private pools. And while there's a big focus on wellness and spa at the Six Senses, it also has plenty to offer families
A kids' club, tennis courts, outdoor cinema, junior spa treatments, family cooking classes, surf academy and of course plenty of watersports are all on offer.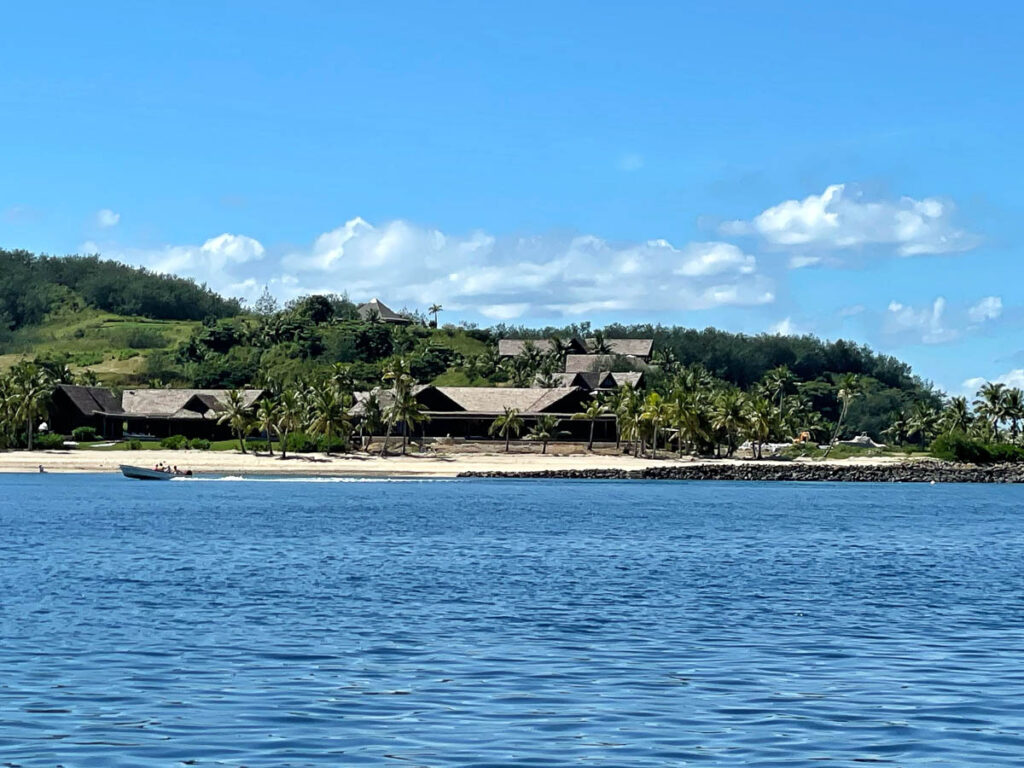 There are also plans to develop 60 luxury residences (two-, three-, four- and five-bedrooms) over the coming years so watch this space! These will have large private pools, kitchens and private sun decks… plus complimentary nannies.
Six senses is committed to sustainable prcatices: Residences and all facilities are designed to be 100 percent solar powered. The resort has their own hens and bees and grows their own organic produce and even has an iguana conservation program. Go Six senses!
Click here to check prices and availability for Six Senses Fiji.
VOMO
If you have cash to splash, then VOMO has to be a top pick for a luxury family resort in Fiji. Family accommodation options here include luxury villas, family retreats with plunge pools and interconnecting villas.
If money is no object, then opt for one of the 3 or 4-bedroom private residence that come with your own butler.
VOMO also has one the best kids clubs in Fiji. In fact, kids get their own village on VOMO! Open 9am – 9pm every day, the Kids Village boasts air-conditioned playrooms and media room, a large lawn, cubby house and loads of play equipment.
It also has its own outdoor dining deck and even a dedicated chef for kids meal times. Additionally your VOMO room price includes the cost of a Baby Butler for 4 hours of child minding services every day.
Tweens and teens aren't overlooked either, with teen activities including fun options such as guided kayaking and fishing and fun challenges like Amazing Race and Survivor.
While the kids are being entertained, parents can hang at the stunning parents chill zone, the Rocks pool, bar and restaurant. Bliss.
Click here to check prices and availability for VOMO Island resort.
Jean-Michel Cousteau Resort
Another Fiji island resort renowned for its kids club is Jean-Michel Cousteau. The Bula Club has a swimming pool with a slide, jungle gym, trampoline, sandbox, zip line, arts and crafts and even a junior chef program.
Not only that, but every child aged 5 and under gets their own dedicated nanny for the duration of the stay, leaving mum and dad with some well-deserved relaxation time at the adults only pool and dining area.
Set over 17-acres, this luxury 5-star eco-resort has only 25 bures, so you are guaranteed solitude and personal service here. Choose from one-bedroom bures that include a day bed and rollaway bed, or two-bedroom bures that sleep up to 6. The split-level Point Reef bures also sleep up to 5.
Add to this fine dining, a beachside spa, amazing diving and you will never want to leave.
So what's the catch? Getting to the resort requires a domestic flight to Savusavu airport, so it takes longer to get to than some other resorts. Well worth the effort though I reckon!
Click here to check prices and availability for Jean-Michel Cousteau Fiji.
Plantation Island Resort
Plantation Resort offers a more affordable Fiji Island experience for families.
Rooms and Bure accommodation is much more basic here (but that's why it's a fraction of the price of the other islands) but has everything you need. One and two-bedroom bures are on offer with separate living ares, some beachfront.
Kids will be kept entertained at the Coconut Kids Club and there is also a creche, two outdoor playgrounds, three family pools (one with water slide), a water park, bikes and a whole host of fun daily activities on offer for younger kids as well as teens.
There's also a good range of waterspouts and a PADI dive centre.
It has a good choice of restaurants and also a mini mart and snack bar, while meal plans help keep the final bill in check.
Click here to check prices and availability for Plantation Resort Fiji.
Planning a family holiday to Fiji? You may also like these articles: