Our Trunki review will help you decide whether this kids ride on suitcase is a good option for your family. We give you the full lowdown – the good, the bad and the ugly, based on years of experience with this kids luggage.
If you don't own a Trunki you will probably have seen these cute kids travel bags when you have been in an airport.
The Trunki is the best-known ride on suitcase for kids, having sold more than two million kids rolling suitcases since they launched in 2006. Not bad for a product that was famously rejected by the Dragon's Den!
We are big fans of the Trunki ride on suitcase in our house, it is one of our favourite family travel products. Both my kids have had their ride on luggage since they were two years old and completely love them.
They travelled everywhere with their Trunkis, and they are also used at home for make believe play (yes my kids often play 'going on holiday')!
If you are trying to decide whether to buy a kids ride on suitcase, read our full Trunki suitcase review below.
This post contains affiliate links. If you make a booking or purchase using one of these links, we may receive a small commission – at absolutely no extra cost to you.
What is a Trunki?
The Trunki is a kids travel suitcase with child seat built in, especially designed for toddlers and young kids to be able to 'pack, sit on and ride'.
Made from super sturdy plastic, this ride on suitcase for toddlers makes airport travel easier for parents, as kids can be pulled through the airport and saves them complaining of tired legs.
Having their own kids pull along suitcase that they can pack helps kids get excited about the holiday and have a sense of ownership over their belongings.

How much can you fit in a Trunki?
There is a generous 18 litres capacity in this kids ride and roll suitcase. For my kids this means they can easily fit in a change of clothes, water bottle, snacks, travel pillow, a selection of books and toys, iPad, headphones and a teddy bear.
When they were younger I used to keep a handy nappy changing pack in here too (usually a Ziploc bag with nappies, wet wipes, nappy sacks, cream, hand sanitizer etc).

The Trunki has an internal stuff pocket for keeping little treasures and also 'teddy bear seatbelts', which are handy for preventing things falling out. The secure catches on the Trunki ride on luggage mean it won't accidentally pop open. These are locakable and come with a little key, but we have never needed to use that feature.
We also like the soft rubber trim around the seal, designed to protect little fingers when shutting the case.
How much does a Trunki weigh?
Although sturdy and tough enough to sit on, the ride on luggage for toddlers is super lightweight at just 1.7kg (3.8 pounds).
This is really important as if, for example, your child falls asleep, you may find yourself carrying your carry-on bag, your kid's sit on suitcase and a sleeping child! I have often had two Trunkis slung over my shoulder at a time (as modelled by my husband above!)
Can a Trunki be hand luggage?
Absolutely! This ride along suitcase is specifically designed for kids hand luggage. At 46 x 21 x 31cm in size, it is the perfect size for going in the overhead locker.
In fact, Trunki recommend that you don't check their children's ride on luggage in with the other suitcases.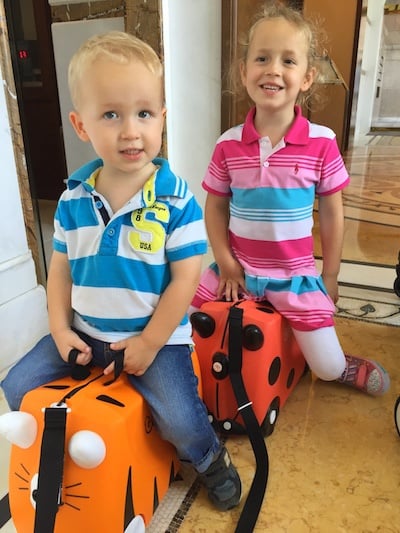 The carry handles make it easy for getting the case in and out of overhead lockers. I also really like that the Trunki hand luggage opens up like a book as you can easily see what you are looking for when you are on the plane, and not rummaging to the bottom of a backpack.
Does Trunki fit under an airplane seat?
Yes the Trunki is designed to both fit under the seat in front of you and in the overhead locker. It can be a bit of a squeeze through, especially on smaller planes and so we prefer to store ours in the overhead locker for ease of access.
What age is a Trunki suitable for?
The suggested Trunki suitcase age rage is 3+. My kids both used them from age 2 onwards. My daughter is very tall for her age, and was still using her kids sit on suitcase at 6 years old, although her legs were getting a little long for pulling her along.
Is the Trunki easy to pull around?
Yes! We find it very easy to pull the kids around the airport. We often have Trunki ride on races along the corridors!
Note this is not the intended use by the manufacturers however and you do so at your own risk. But we found even with the kids sitting on them, the children's Trunki suitcases are easy to maneuver and lightweight to pull along.
The kids also find it easy to pull their own Trunki kids luggage (if they are not riding on it).
The Trunki pull along strap can be attached at both ends to create a shoulder strap and released to be a pull along strap. We find this especially handy for when the kids fall asleep, as we can easily sling it over one shoulder to carry the Trunki as well as a sleeping child.
Kids can also easily push themselves along on their kids ride on case by holding onto the 'horns' and pushing with their feet.
Is the Trunki safe to ride on?
The Trunki kids suitcase was designed to prevent kids hurting their backs by carrying heavy bags through airports. It has been designed with safety in mind.
This sit on suitcase has stabilisers built in to prevent kids from easily falling off. It also has horn grips to hold onto as they ride.
The manufacturers of Trunki do not recommend pulling your kids along on a children's ride on suitcase. We always have, but obviously you need to exercise caution. We did once have an accident when we were in Edinburgh airport.
I was happily browsing in a shop when we heard our names being called over the tannoy to say we were late for our flight. I grabbed the Trunki pull strap and yanked it with me as I set off at a run, only to find my daughter had fallen off the back of the suitcase!
She was fine, but it acted as a caution for me to be more careful with the kids ride on luggage from then on.
What colours does the Trunki come in?
Over the years Trunki have continually added to their range and there are currently 22 cute designs and characters to choose from. We have both the Ladybird Trunki and Tiger Trunki, and you can also buy a Fire Engine Trunki, Unicorn Trunki and more.
The Trunkisaurus Rex Trunki comes with stickers so you can personalize it and there is even now a Trunki customizer, where you can choose the colour of the horns, wheels, handles etc to suit.
Does Trunki have a key?
Yes the Trunki does come with a key. See the little noses on the front of the Trunki? In the middle of that is the lock and you are provided with a key attached to the shoulder strap when you buy it.
Conclusion of our Trunki review
We love our Trunki children's luggage and definitely recommend it as a fun and practical child's sit on suitcase. We love the cute design and how much easier it is to go through the airport with the kids.

It is lightweight, and all the well-thought out features just make it an easy to use children's sit on suitcase. The kids absolutely love them too.
Click here to check prices for the Trunki kids sit on luggage.
Is your child outside the Trunki age range? Click here for other suggestions for kids luggage.
You may also like to read about the best backpack diaper bags and the best travel toddler beds.
Pin it for Later!
Disclaimer: Mum on the Move is a participant in the Amazon Services LLC Associates Program, an affiliate advertising program designed to provide a means for sites to earn advertising fees by advertising and linking to Amazon.com
This post contains affiliate links. If you make a booking or purchase using one of these links, we may receive a small commission – at absolutely no extra cost to you.