Our pick of the best kids luggage includes kids rolling luggage, ride on suitcases, scooter luggage and even a travel backpack.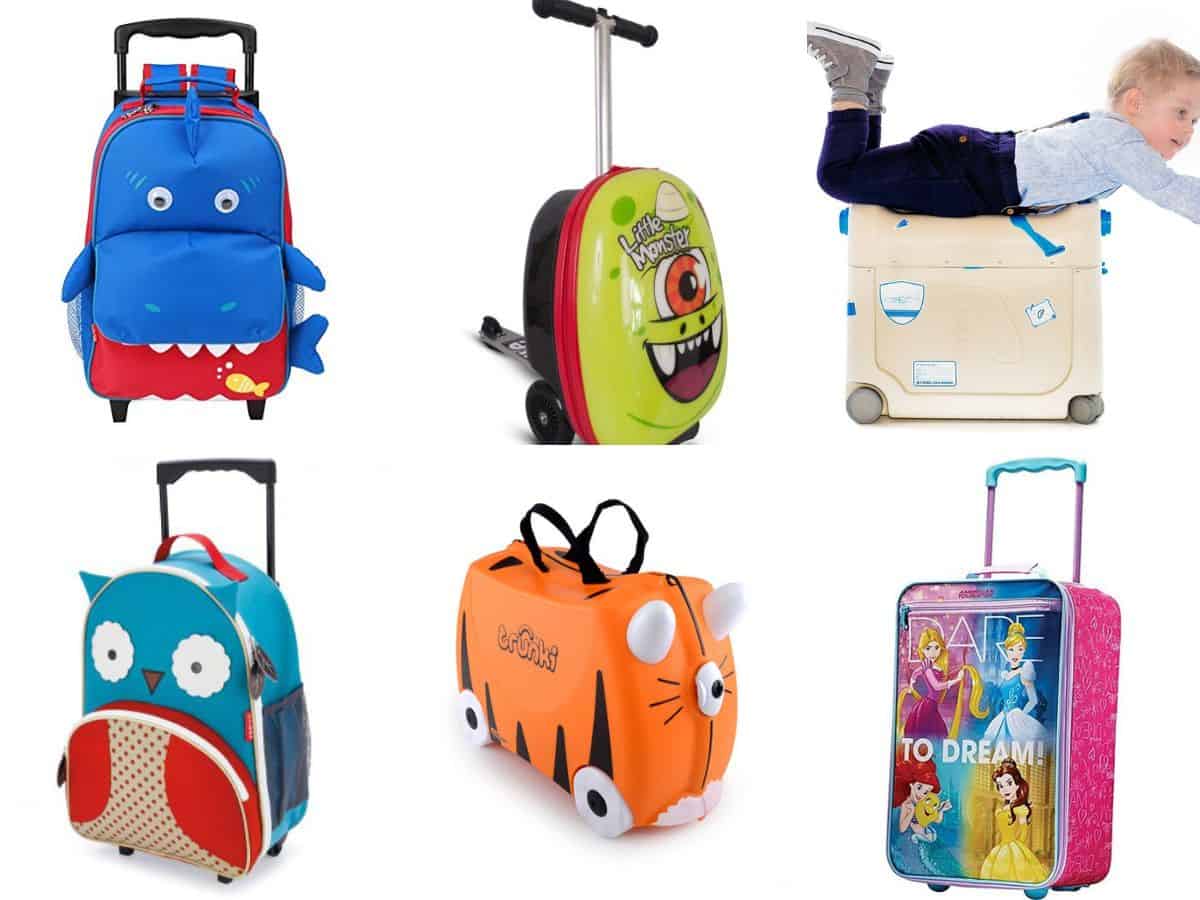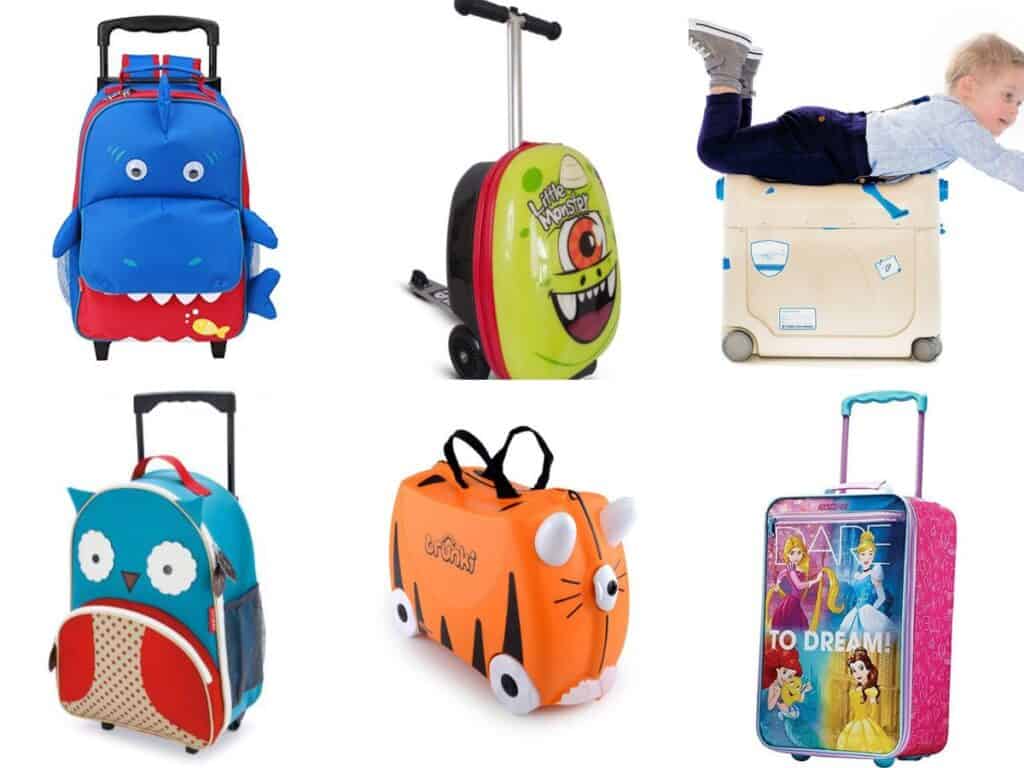 Ever since my kids were about two years old they have had their own kids luggage. Before making our first purchase I did a lot of research into what is the best kids hand luggage, and we inevitably started off with a Trunki ride on suitcase.
Once their legs got too long for these, we progressed to a Trunki BoostApak, a backpack which doubles as a car booster seat and have now moved on to kids luggage on wheels that double as backpacks.
Getting them their own kids travel bags is a great way to get children involved with the packing process (although you may need to veto a few items if your kids are anything like mine, who think that ballet shoes and kitchen utensils are essential travel items!)
Having their own kids travel luggage means you can load up their bags with all the paraphernalia required when traveling with kids – changes of clothes, nappies, wet wipes, snacks, water bottles, travel pillows, toys, iPads, kids headphones, books etc, meaning your hand luggage can be blissfully clutter free.
You should also check out our July Carry On Suitcase review – this sleek and smart suitcase is perfect for family travel thanks to its built-in ejectable battery for charging devices on-the-go. A fantastic idea if you are worried about your kids devices running out of battery!
(Read our full packing list here to make sure you don't forget anything!)
What type of luggage is best for kids?
They type of kids luggage you buy will depend on their age.
For little kids, ride on suitcases can be a godsend. They are big enough to pack everything little kids need to travel with (diapers, snacks, changes of clothes, toys etc) but also perfect for saving their little legs along airport corridors, and giving them somewhere to rest in airport queues.
As they get older and too big for a ride-on suitcase, scooter luggage can be a fun option. It means they still don't need to walk those long airport corridors and adds an extra element of fun to the journey.
Alternatively a backpack-style bag or rolling luggage also works well for kids. If you can find one that doubles as both -rolling luggage that is also a backpack – even better!
If you are trying to decide what kids luggage bag to buy, here is our pick of the best children's travel bags, including ride on suitcases for toddlers and small kids, kids suitcases on wheels and travel backpacks for kids.
Kids Ride On Suitcase
For younger kids, ride on luggage can be a lifesaver for long airport corridors – and great fun for them too. My kids absolutely loved their Trunkis and we have enjoyed many an airport Trunki race on these children's ride on suitcases.
The downside to ride on luggage for toddlers is they are heavy, and you inevitably end up having to carry them at some point – often when you have to carry a sleeping child at the same time.
You also need to exercise some caution – I once tugged the strap too hard and too quickly in a hurry and my daughter went flying backwards off the back of the case. I also have a friend whose daughter ended up with stitches in her chin due to a children's ride on luggage accident.
Trunki
The Trunki is probably the best-known children's ride-on suitcase, and comes in a fun selection of colours and designs including ladybirds, zebras, London buses and pirate ships.
You can read our full review of the Trunki here.
With a 18 litre capacity, this suitcase is big enough to hold everything the kids need on the plane, including books, water bottles, changes of clothes etc.
In addition to carry handles on the top, the pull along-strap also doubles as a shoulder-carry strap for those inevitable times when mum or dad end up carrying the kids hand luggage.
This kids hard shell luggage is robust enough to ensure they can sit on it and nothing inside gets damaged. The lightweight polypropylene shell is extremely hard wearing – our Trunkis have been bashed about endlessly and are still in good shape!
Jet Kids BedBox
The Jet Kids BedBox takes the concept of the ride-on suitcase for kids one step further and doubles up as a leg rest on the plane, allowing toddlers and small children to lay out flat.
Designed to be the same height as the airline seat, the top lifts off to revel a washable mattress that can be folded out to create a flat bed for your kids.
The concept is similar to the 1st Class Kid Travel Pillow, which we review here, but doubles as a suitcase with 20 litres storage capacity.
Note: If you are considering buying one of these children's suitcases on wheels that double as a leg rest, first check with the airline you are planning to fly with, as several airlines have banned the use of these toddler plane cushions.
Kids Scooter Luggage
Having a kids scooter suitcase adds another dimension of fun to travelling – you don't just sit on it and get pulled along, you ride it as a scooter!
Zinc Flyte Kids Scooter
This kids rolling suitcase doubles as a scooter to make traveling long airport corridors easy and fun. With 25 liters storage capacity, it is ideal for children's cabin luggage and comes in a range of fun designs, including Polly the Panda and Snapper the Shark.
This kids travel suitcase is suitable for ages 4 – 8 years old and up to 110 pounds in weight. A smaller version is also available for 2-4 year olds.
The scooter on this kids travel case folds away and locks in place when you need to store it in the overhead locker on the plane, or for storage at home.
Kids Rolling Luggage
Once you think the kids are old enough to walk through the airport without whinging that it's too far to walk, a kids' trolley bag is a great option.
My kids love the feeling of being 'grown up' and having their own children's trolley bags now – especially as we managed to find ones with light-up wheels!
As my kids are still quite young (4 and 6) I prefer a children's trolley suitcase that doubles up as a backpack as this just gives you added flexibility – especially if you end up having to carry the kids' cabin luggage at some point.
But I can also see the benefit of having kids hard shell luggage that they can sit on if they need to.
Below is our pick of the best children's rolling luggage:
Skip Hop Zoo Kids Rolling Luggage
Skip Hop Zoo Kids are a hugely popular range of kids' luggage sets thanks to their well-made products and thoughtful design.
The lightweight material makes these kids trolley cases easy for little ones to pull along. There is a front zip pocket to make snacks and small toys easily reachable, as well as a side mesh pocket for water bottles. (You can buy matching water bottles and lunch boxes too!)
Although small and lightweight, we found this kids roller bag large enough to store everything they need for the plane – including books, toys and a change of clothes, making it an ideal choice for a kids cabin bag.
There are no backpack straps for the kids to carry it, but there is a shoulder strap should mum or dad need to help out with the children's hand luggage at any point.
Yodo Zoo 3-Way Toddler Backpack with Wheels
This cute little kids wheeled bag is ideal for mini travellers. The clever design allows you to hide the shoulder straps when you are using it as a kids trolley suitcase, and hide the wheels when using it as a backpack.
There is a padded easy-reach front pocket for snacks and two side pockets for water bottles and an additional inside zip pocket. There is enough space inside to store everything you need for little children's carry on luggage.
The only downside I can see to this toddler rolling luggage is that the 'cute' design means it really is only suitable for the under-6 market.
American Tourister Disney Suitcases
American Tourister have a fun selection of Disney luggage sets for kids. These cute luggage sets come as a choice of softside kids spinner luggage or as kids hard shell suitcases.
While the softside fabric makes for a lighter child's rolling suitcase, a kids' hard suitcase will protect all the contents if they want to sit on the case to rest.
All of these kids trolley suitcases have internal straps for keeping all items in place and a large internal mesh pocket. The softside case also has an east to reach exterior zip pocket.
The Disney kids luggage range includes Star Wars characters, Disney Princesses and other Disney characters.
Kids Travel Backpack
If you just want a backpack as a carry-on bag for kids, then really any kids' school backpack will do. Having a front pocket for easily reachable snacks or toys is a good idea, as is a side pocket for a water bottle.
For me there is only one kids carry on backpack for travel that really stands out, and that is the Trunki BoostApack.
Skip Hop Zoo
Skip Hop Zoo also do really cute backpacks that make the perfect travel bags for little kids. Designed for kids aged 2-4, they are the perfect size for little backs.
With a range of cute animal designs to choose from they are fabulous toddler backpacks. They have enough space inside to fit a few snacks, toys and books, a side pocket for a sippy cup or water bottle and a front pocket for any easy reach snacks.
Mountaintop Kids Backpack
Made from lightweight water-resistant polyester and with durable zips and with an 8-liter capacity, this backpack is designed for kids aged 3-6 years old.
It has a front elastic mesh pocket for easy to reach essentials, a main compartment with wet and dry compartments and a mesh side pocket for water bottles.
Adjustable padded and breathable shoulder straps make this backpack comfortable to carry and provide a secure, compact fit.
It is available in a huge choice of colours, meaning even the most particular of boys or girls will find a colour to suit them.
Note: while the backpack featured here is aimed at 3-6 year olds, the range goes right the way from toddler to teenager.
Trunki BoostApak
The Trunki BoostApak is a backpack that doubles as a car booster seat. This is a brilliant kids travel accessory, especially if you are planning to take taxis to and from the airport or for sightseeing once you arrive in your destination.
It has 8 litres of capacity inside, which is enough for a change of clothes, few toys and books, water bottle and snacks for the plane. It has a padded, breathable back pad and padded shoulder straps, making it comfortable to carry as a backpack.
Its hard shell protects contents of the backpack when using it as a booster seat.
The only downside is that it is quite heavy when fully loaded – and you need to remember to take anything they need in the car out before they sit on it!
We used this backpack for a couple of years, until we discovered the mifold portable car booster seat and we now pack these in our children's cabin bags instead.
What do you think is the best luggage for kids?
Are you traveling with a baby? Click here to check out our pick of the best Backpack Diaper Bags for Travel.
Pin it for Later!
Mum on the Move is a participant in the Amazon Services LLC Associates Program, an affiliate advertising program designed to provide a means for sites to earn advertising fees by advertising and linking to Amazon.com.
This post contains affiliate links. If you make a booking or purchase using one of these links, we may receive a small commission – at absolutely no extra cost to you.