If you are traveling to Italy with kids, here is our pick of all the best things to do in Rome with kids, from ancient ruins to parks and children's museums.
This guest post from Marta, the founder of Learning Escapes, a blog about slow family travel and cultural tourism, shows us exactly what to do in Rome with kids to have a great time.
Marta was born and raised in Rome, and now lives in Ireland with her husband and 2 young children, so we are excited to have her share her wisdom about all the best things to do in Rome for kids.
One of the perks of being an expat family is being able to call more than one place home. In our case, one of these places is Rome, my hometown and one of the most beautiful and exciting cities in Italy for kids or, indeed, adults!
We have been traveling to Italy with kids regularly since they were tiny. My son's first time to the Eternal City was when he was just two months old. Since then (he is 6 now) we have trotted along Rome's cobbled streets many times, with baby carriers, strollers and more recently, bikes.
These are our highlights of fun things to do in Rome with children from our many family trips.
Ancient Rome for Kids
The Roman Forum and the Colosseum are a must-see in Rome and great way to get a glimpse of ancient times and explore Roman history for kids.
They are right in the centre of town so no complex public transport arrangements are needed, and they can be visited together in the space of a few hours.
The forum is suited to very young kids and even if you are visiting Rome with toddlers, they can enjoy its vast open esplanade.
The Colosseum is, I find, more appealing to older kids. While the outside of this popular attraction will not fail to catch the eye of people of all ages, the inside can be hard to enjoy without a long guided tour and is impossible to negotiate with a stroller.
If you don't want to miss out on it, consider a family tour of the Colosseum for kids, or read in advance some Roman facts for kids and the history of the Roman Colosseum to be able to explore at your own pace.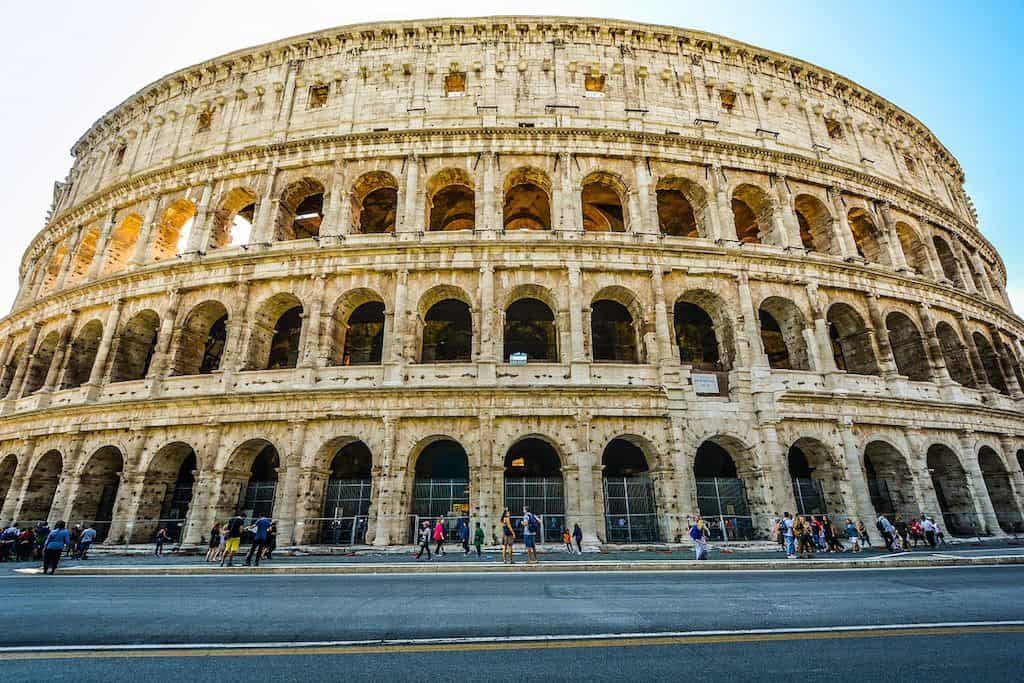 Good to know: On the other side of the forum, at the bottom of the Palatine hill, lies Circo Massimo, the old Roman stadium. Nowadays the stadium is just a large, car-free open-air space and it is a good place to let kids loose for a while.
If you want, you can have a picnic here with pizza and gelato from the shops nearby. Make sure you sit facing the Palace of Emperors for one of the most stunning backdrops you can ask for.
Click here to book a family tour of the Colosseum.
The Pantheon
A round building with a hole in the ceiling you can see the sky through is bound to be a hit with children of all ages and my two are always suitably impressed.
Access to the Pantheon is free and, outside, there are horse drawn carriages that will keep the kids entertained if you want to indulge a little longer in front of the tomb of Raphael (inside).

Very close to the Pantheon you will also find another iconic square, Piazza Navona. This busy piazza is worth visiting for its beautiful churches and fountain.
The kids are likely to love it thanks to a famous toy shop on one of its corners. It sells life size teddies, including giraffes and gorillas!
Click here to book an Express Pantheon Guided Tour (done and dusted in 40 minutes, perfect for kids!)
The Vatican for Kids
There are many reasons kids love St Peter's in the Vatican City and none of them is connected with the spiritual significance of the place or the cultural significance of the Sistine Chapel.
This is the list of things my kids love about the Vatican:
St Peter's Basilica is the biggest in the world (record breaking: done!)
The square and main building are an independent state so you cross an international border when entering (one more country visited: tick!)
The colonnade is built in such a way that from certain angles many of the columns seem to disappear (a touch of magic: done!).
If you are visiting Rome with older children, they might like the challenge of climbing up to the top of the dome.
The view is rewarding, but the climb is taxing. The staircase becomes increasingly narrow and crowded and should be avoided with very small children.
Click here to book a Family Vatican Scavenger Hunt Tour.
Rome Parks
Rome has incredible parks and spending some time in them is one of our favourite things to do in Rome with family. Many private estates originally belonging to important Roman families have, over time, become public parks and are now beautiful communal spaces, perfect for the whole family.
They have playgrounds, often open air cafes and even restaurants and they still retain the elaborate architectural details their owners demanded. They make the perfect place to relax and wind down for both parents and kids.
Among my favourite spots are:
Villa Borghese, which also has the Rome Zoo
Villa Torlonia, with its gorgeous family-friendly restaurant
Villa Doria Pamphili that offers incredible views over St Peter's Dome.
Click here to book a Villa Borghese Family treasure hunt tour.
Explora Children's Museum
A museum entirely dedicated to children and one of the best things for kids to do in Rome on a rainy day, Explora is perfect for when your kids are demanding playtime and a break from sightseeing.
Here you have elaborate machines that teach about hydraulic principles (bring a change of clothes!), role play areas such as a mini supermarket and kitchen, and a booth where you can become a train driver and control Italy's fastest train: la freccia rossa (the red arrow).
And there we have what we think are the best kids activities in Rome. Between the sights and a great family friendly atmosphere, Rome reaffirms itself every time as one of our favourite places to visit in Italy with kids.
If you want to read more, you can find a comprehensive guide to Rome with kids on Learning Escapes or head on over to Little City Trips for more fun ideas of things to do in Rome with kids.
Looking for other ideas of things to do in Italy with kids? Click here to read our article about visiting Venice with kids.
Family Friendly Hotels in Rome
Looking for a family hotel in Rome? Read on for our pick of the best family friendly hotels in Rome.
Parco dei Principi
The luxurious 5-star Parco dei Principi is our top pick for a luxury Rome hotel, thanks to its gorgeous rooms and suites, choice of restaurants and most importantly – two swimming pools.
Their family offer includes 50% off a connecting room for up to 3 children, milk & cookies on arrival and free entrance to the nearby Bioparco Zoo.
The city is just a short walk away through the beautiful Villa Borghese gardens.
Click here to check prices and book the Parco dei Principi.
Gran Melia Rome
The elegant 5-star Villa Agrippina Gran Melia hotel is just a 10-minute walk from the charming Trastevere area and a 15-minute walk from Piazza Navona.
For families, we particularly love the spacoius two-storey Family Kids & Co rooms, with specially designed kids bedrooms and amenities. Luxurious Family Suites with a private whirlpool garden are also on offer.
What really sets this luxury Rome family hotel from others though is its gorgeous landscaped gardens and large outdoor freeform swimming pool (open April – October).
Click here to check prices and book the Gran Melia Rome.
Internazionale Domus
This stylish apartment hotel in Rome has an awesome location right next to the Spanish Steps in the city centre and a short walk from the Trevi Fountain and the Villa Borghese botanical gardens.
We particularly love their Loft rooms, which have a spacious living area with double sofa bed, dining area and fully equipped kitchen. They even have a terrace with gorgeous rooms overlooking the ancient city.
There are no onsite facilities – but this doesn't matter as you have the whole of Rome on your doorstep.
Click here to check prices and book the Internazionale Domus.
Pin it for Later!
This post contains affiliate links. If you make a booking or purchase using one of these links, we may receive a small commission – at absolutely no extra cost to you.