If you are visiting Singapore on a budget, we share our tips for saving money. Includes free things to do in Singapore, public transport, cheap food and more.
It's no secret that Singapore is an expensive city and you should be prepared for this if you are planning a family vacation to Singapore.
However, like with most expensive cities in the world, there are several ways to save pennies off your Singapore trip cost, if you are hoping to visit Singapore on a budget.
Here we share some tips for saving money in Singapore, from taking public transport, to eating at the local hawker centres, buying discounted tickets to the main Singapore attractions and… there are even lots of free places to visit in Singapore!
If you are looking for ways to save and things to do in Singapore on a budget, the following Singapore budget tips will help.
Cheap Food in Singapore
Eating out at Singapore's restaurants can be a costly affair. A meal at one of Singapore's top restaurants will easily set you back several hundred dollars, especially if you add a nice bottle of wine or two to the bill.
However, with such fabulous food on offer at Singapore's hawker centres and food courts, it's easy to save money off the food cost in Singapore. You can eat very well in Singapore for cheap, with each dish at a hawker centre costing you as little as $4-6.
Likewise, if you head to a local coffee shop and grab a kopi-o instead of a Starbucks every morning, it will go a long way towards a cheap stay in Singapore.
Singapore has so much amazing local food that you are really not missing out by eating in hawker centres and food courts – it's actually one of the pleasures of visiting Singapore!
Some of our favourite hawker centres include Lau Pa Sat in the CBD, Maxwell Food Centre in Chinatown, Makansutra Gluttons Bay in Marina Bay, and the East Coast Lagoon food centre in East Coast Park. However, if you head to some of the lesser-known hawker centres, they will be even cheaper.
Most shopping malls have food courts with a huge range of local food to choose from. We particularly like the ones at Wisma Atria (top floor), 313 Somerset (top floor), Vivocity (top floor) and ION Orchard (basement). There is also an interesting selection of food stalls in the basement of Takashimaya department store on Orchard Road.
Be sure to check out our comprehensive guide to eating in Singapore here – we promise you won't go hungry even if you are trying to save money in Singapore!
Drinking tap water in Singapore
You wouldn't usually expect to drink tap water in Asia, but in Singapore it is perfectly safe.
Get yourself a refillable water bottle and top yourself up before you leave your hotel. With Asia in the midst of such a plastic crisis you will be doing your bit to care for the environment too! Win win!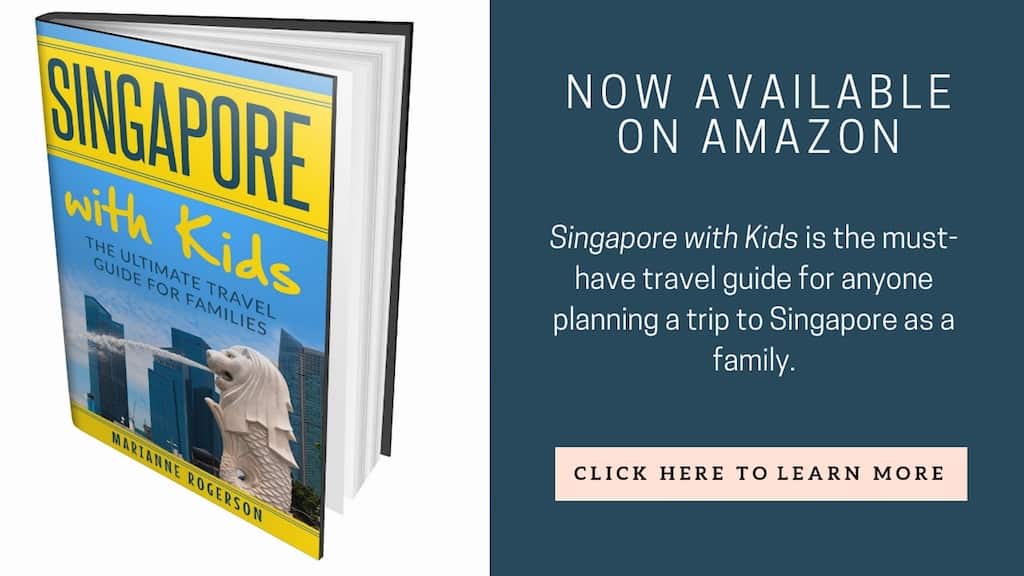 Cost of alcohol in Singapore
Alcohol is heavily taxed in Singapore and it is always the cost of alcohol that people remember during a Singapore budget trip.
The average beer in a bar will set you back around $12-15 dollars, while a bottle of house wine in a restaurant will start at around $60 and if you want to indulge in fancy cocktails in one of Singapore's top roof bars, you can expect to shell out around $20 per drink!
If you are looking for ways to save money on alcohol in Singapore, then again head to a hawker centre. You can usually get a large bottle of Tiger beer here for around $7.
You can also pick up alcohol cheaper in the supermarkets of course, but you should still prepare yourself for a bit of a shock at the prices!
Discounted attraction tickets in Singapore
Singapore has a lot of amazing family attractions, such as Universal Studios, the SEA Aquarium and the world-famous Singapore Zoo.
However, if you are planning on visiting a few of these in a week, all those attraction tickets can soon add up to a lot of money.
There are a few ways of saving money on attraction tickets in Singapore.
Firstly, check out the Klook website. They often have discounted tickets for Singapore attractions. For example, you can usually save around 10% off Universal Studios and Singapore Zoo tickets, and 20-40% off many other attractions.
Secondly, if you are planning to visit a few of the wildlife parks in Singapore, it can be worthwhile buying a combined ticket. For example, you can often save 30% by buying both Singapore Zoo and Night Safari tickets together.
And you can often save even more by buying all four parks together – Singapore Zoo, Night Safari, River Safari and the Bird Park. Visit the Singapore Zoo website to find out more.
And lastly, if you are planning on spending a couple of days in Sentosa and want to try out a few of the attractions there, buying a Sentosa Fun Pass can be a good way to save money on the individual attractions.
Singapore's Parks
It's not called the Garden City for nothing. Singapore has an abundance of parks to spend time in. As well as the two famous ones – Gardens by the Bay and the Singapore Botanic Gardens, there are loads of other beautiful parks to enjoy.
Some of these parks also have free water play areas for the kids, so bring swimmers and a towel along with you.
Gardens by the Bay has a fabulous free water play area (closed on Mondays), and you will also find water play areas in the Jacob Ballas Children's Garden in the Botanic Gardens, and Marina Barrage.
Click here to read all about the fabulous parks of Singapore.
Singapore Beaches
Sentosa Island has three beautiful beaches to spend time on. And spending time at the beach costs nothing!
Plus, if you walk across the Sentosa Boardwalk from Vivocity to get to Sentosa, it costs just $1 per person to enter the island. From here you can take advantage of the free public transport within Sentosa.
Another cheap way to get to Sentosa is to take the Sentosa Express monorail, which also runs from Vivocity. This will cost $4 per person, which includes the $2 Sentosa Island entrance fee. Children under the age of 3 travel and enter for free.
You can take the MRT to Vivocity to catch the Sentosa Express or walk the Boardwalk.
Once you are on Sentosa Island, all the buses connecting the various parts of the island are free. There are also free beach trams that connect the three Sentosa beaches. You can also jump aboard the Sentosa Express between Resorts World Sentosa, Imbiah Station and Beach Station for free.
Click here to read our full guide to visiting Sentosa Island.
Free Things to do in Singapore
It costs nothing to walk around Chinatown, Marina Bay, Little India, Kampong Glam or the Civic District and take in the sights.
Each of these areas is easily reached by public transport and easy to wander round. There are plenty of temples to visit as you wander, markets to browse and architecture to admire.
And there are many other places to visit in Singapore for free. Here are some of our favourite free activities in Singapore:
Budget shopping in Singapore
Singapore certainly has its fair share of high-end shopping malls, and if you are looking for cheap things to do in Singapore, you may need to restrict yourself to window shopping along Orchard Road. However there are other options for cheap places to shop in Singapore.
One great place to go for cheap shopping in Singapore is the wet markets. These local food markets are a great source of cheap fresh fruit, vegetables, seafood, meat, spices and dried goods and even clothing in some. They are a good place to stock up on fruit and snacks.
One of our favourites is the Tekka Market in Little India. You will find a huge selection of food stalls here at very reasonable prices. It is fun just to wander around and make yourselves familiar with some of the local delicacies too.
Another wet market easily reachable while sightseeing can be found in the basement of the Chinatown Complex, behind the Buddha Tooth Relic Temple & Museum.
Browsing the souvenir stalls in Chinatown, Little India and Bugis Street will often throw up some bargains too if you hunt around – things like silk cushion covers and art work are popular with tourists.
Cost of Travel in Singapore
Traveling by MRT and bus in Singapore is cheap and efficient. Get yourself an EZ-Link card to save even more money off your Singapore travel budget.
The card costs $12, which includes $7 of travel credit (at a 7-11 store, the cost is $10, which includes $5 of travel credit). The remaining $5 is the cost of the card, which is non-refundable. Cards can be topped up (minimum top-up is $10.00) at the ticket machines in the train stations.
MRT
The MRT links most major parts of the city and is favoured by visitors as the easiest, quickest and most comfortable way to explore the island. Trains run from 05.30am – around midnight, with last trains varying with each station.
Fares on the trains range from .70¢ to $3.00, but you need to have a minimum of $3.00 stored value on your EZ-link card to start any journey.
Remember that children up to 0.9m in height and accompanied by a fare-paying adult can travel for free. A Child Concession Card is available for children over 0.9m, but under 7 years old to travel for free.
Bus
For areas not covered by the MRT, the bus system is equally as efficient and you rarely have to wait more than a few minutes for a bus. Route and timing information is available at each bus stop. You can also download the MyTransport app for up-to-date bus timings.
The EZ-link card can also be used on the buses – remember to tap your card on the reader as you enter and exit the bus (or you will be charged for the longest route on that bus).
Taxi or Grab
If you do need to travel by taxi, you will find that they are plentiful and inexpensive, providing you avoid rush hour. At rush hour various charges such as peak hour surcharges and road tolls can almost double your fare, so be warned.
In addition to the main taxi companies, Singapore also has Grab (the equivalent of Uber – in fact Grab bought out Uber in Singapore). Grab has both taxis and private hire cars in their pool of drivers, giving them access to over 100,000 drivers. Car-pooling and 'hitching' options are also available.
The Grab Family option means you can book a car with a mifold booster seat, suitable for children aged 4-7.
Cheap Accommodation in Singapore
There are a lot of glitzy fancy hotels in Singapore it's true. But you can also find surprisingly good and cheap hotels in Singapore too if you look hard enough. Here we find some options for budget hotels in Singapore if you are trying to save some money on your accommodation.
Holiday Inn Express Clarke Quay
One of our favourite affordable hotels in Singapore is the Holiday Inn Express at Clarke Quay.
Ideally located on the river at Clarke Quay, this low cost hotel in Singapore is just a short walk from lots of restaurants and bars and just a 5-minute walk to the MRT station.
Rooms might be a little small for a larger family, but interconnecting rooms are available. Breakfast is included in the price and there is free WiFi and a self-service laundry.
But the thing we love most about this budget hotel in Singapore for family vacations is the rooftop infinity pool! A great feature for the price of this hotel.
Click here to check prices for the Holiday Inn Express Clarke Quay.
Wink Hostel Singapore
If you are happy to stay in a hostel, there are some pretty good options for cheap rooms in Singapore. However, while there are plenty of cheap hostels in Singapore, finding one that suits a family can be a challenge. One of the best bets is Wink Hostel.
This modern funky hostel is located in the heart of Chinatown, just a 3-minute walk from the MRT. As a 'capsule' hostel, it provides individual pods for guests within a dorm room. Each pod comes with its own backlight, reading light and power socket.
Rooms range from 4 to 8 pods in each room, so as a family, you could rent an entire dorm, giving you extra privacy.
Bathrooms are shared at this backpacker hostel in Singapore, but they are modern, spacious and clean. There is also a fully equipped kitchenette, self-service laundry, free WiFi and a complimentary breakfast every morning.
Click here to check prices for the Wink Capsule Hostel Singapore.
I hope this helped give you some ideas on how to save money in Singapore. Do you have any other money saving tips for Singapore? Let me know!
Pin it for Later!
Mum on the Move is a participant in the Amazon Services LLC Associates Program, an affiliate advertising program designed to provide a means for sites to earn advertising fees by advertising and linking to Amazon.com
This post contains affiliate links. If you make a booking or purchase using one of these links, we may receive a small commission – at absolutely no extra cost to you.