Here we share our top tips for visiting Singapore Zoo with kids, based on hundreds of visits!
The Singapore Zoo is often regarded as one of the best zoos in the world, and a day here is an absolute must-do if you are visiting Singapore with kids.
About Singapore Zoo
Set in a natural rainforest environment, the Singapore Zoo is a model example of an 'open zoo' concept.
Old-fashioned oppressive cages are notably absent here, and in their place animals dwell in spacious, landscaped enclosures separated from visitors by concealed moats, or in glass-fronted enclosures.
Do not miss the free-ranging orang utan enclosure, where you can watch the resident primates swinging and climbing above you to their hearts content.
There is an enormous amount to take in here – there are 2,530 Singapore Zoo animals from 315 species housed within the 28 hectares.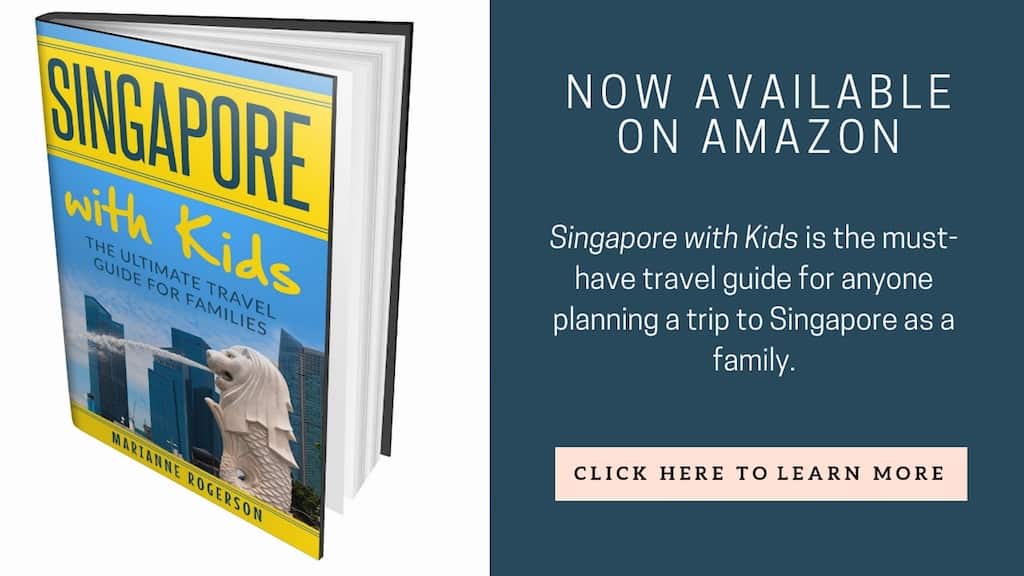 So rather than just giving you our Singapore Zoo review, here we share our best tips to help you get the most out of your visit, particularly if you are visiting Singapore Zoo with kids.
This article contains some affiliate links. If you make a booking or purchase using one of our affiliate links, we will receive a small commission – at absolutely no extra cost to you.
Update for visiting Singapore Zoo in 2020 and 2021
Due to social distancing measures, the Zoo is currently operating at limited capacity. There are a few extra restrictions to be aware of if you are visiting Singapore Zoo in 2020 and 2021.
You need to pre-book your tickets online.
You need to reserve a designated arrival time and you must enter the zoo within 45 minutes of that time.
Groups are limited to 5 people.
Masks are required to be worn at all times in the zoo, except while eating in zoo F&B outlets. No mask, no entry.
Read more about additional restrictions here on the Singapore Zoo website.
Some shows and attractions are affected due to social distancing measures. At the time of writing these include:
The Elephant Presentation and Keepers Chit Chat are temporarily suspended.
Other shows are operating at limited capacity.
The play area at KidzWorld is temporarily closed.
Pony rides and rabbit petting is temporarily suspended.
For further updates regarding temporary closures, check the Singapore Zoo website.

Our Top Tips for Visiting the Zoo
Here are all our best tips for visiting Singapore Zoo. Please be aware that some of these tips may be affected by the social distancing measures mentioned above. Please check the Singapore Zoo website for latest updates.
Get to Singapore Zoo Early
The best time to visit Singapore Zoo is when it opens, especially at weekends when it gets BUSY! The Singapore Zoo opening hours start at 8.30am but the crowds don't usually start to appear en masse until late morning.
So if you can get here for opening, you can have done the majority of the park and be cooling off in the Singapore Zoo water park by the time the other exhibits get crowded.
I would suggest buying tickets online before you go to avoid queues at the ticket counters for the same reason. Pick up a Singapore Zoo map on the way in so you can plan your route.
Click here to save money and buy tickets online.

Have Breakfast with the Orang utans
Did you know you can also have breakfast at Singapore Zoo? One of the highlights of a visit here is enjoying the Singapore Zoo breakfast with the orang utans.
The Jungle Breakfast with Wildlife takes place in Ah Meng Restaurant every morning from 9am – 10.30am. A generous breakfast buffet is laid on, and the orang utans usually swing by for some breakfast of their own and to pose for photos with the crowd around at 9.30am.
Click here to buy discounted Singapore Zoo tickets for the Jungle Breakfast with wildlife.

Feed the Animals
There are various Singapore Zoo feeding times throughout the day, which are accompanied by live commentary of fun facts about the animals.
With a few of these, you can join in with feeding the animals in Singapore Zoo too, including the elephants, giraffes, goats and white rhino. Try to arrange your Singapore Zoo timings so you don't miss these, the kids will love it!
Check the website for Singapore Zoo feeding times. Another feeding time highlight is Inuka the Polar Bear at the Frozen Tundra, even though you can't get involved with the actual feeding.
Times for this change, so check when you arrive at the zoo to make sure you don't miss out.
Feed Yourselves
As with all tourist attractions of this type, the dining options at the Singapore Zoo tend to offer average food at above-average prices.
We usually arrive at the zoo early, bring snacks for the kids to keep them going, and then leave in time to grab lunch back in town somewhere. However, if you do want to eat here, there are several options for restaurants in Singapore Zoo.
There are a few Singapore Zoo food outlets at the entrance, including the Ah Meng Kitchen, which serves up local favourites, the Chawang Bistro for hot dogs, pasta and soups, and the Wild Deli for sandwiches and pastries.
Within the zoo itself, you are really limited to KFC (next to the water play area in Rainforest Kidzworld) or the main Singapore Zoo restaurant, Ah Meng Restaurant, which serves a selection of local and western dishes.
Safari Scoops dishes up ice cream at a few locations, including the entrance, Rainforest Kidzworld and the Ah Meng Restaurant.
Watch the Shows
There are four fun Singapore Zoo shows to watch, each show with both a morning and afternoon session.
The Splash Safari stars a Californian sea lion, who will wow you with his Frisbee-catching and ball skills, while the Elephants at Work and Play show demonstrates the gentle giant's ability to both work hard and have some cheeky fun.
At the Rainforest Fights Back, you are introduced to otters, snakes, macaws, lemurs and spider monkeys, while the Animal Friends show features the more familiar dogs, cats and cockatoos.
All the shows are great fun, and informative so try to fit in at least a couple during your day (our favourites are the Splash Safari and Elephants at Work and Play). You can check the Singapore Zoo show timings on the zoo website.
Bring your Swimming Gear
It is hot and humid in the rainforest, and you will surely work up a sweat walking around the zoo.
Luckily there is a great water-play area in Rainforest Kidzworld, complete with water fountains, water slides, water guns and the jumbo water bucket that releases a deluge of water on everyone's heads at regular intervals.
So another of my Singapore Zoo tips is to bring your swimming costumes. Don't just pack swimmers for the kids though – pack them for everyone; if you need to get anywhere near the water play area, you will get wet! The on-site shop sells swimming costumes, towels and swim nappies/diapers too.
Use Wheels
Singapore Zoo is large, and the weather is hot and humid. Smaller kids will likely get tired pretty quickly, and nothing ruins a fun day out more than a whining child. If you don't want to bring your own buggy, you can hire both strollers and pull-along wagons for your kids to sit in.
There are also trams patrolling the park, with hop on-hop off tickets going for just $5 (adults)/$3 (kids aged 3-12).
Be Prepared for all Weather
It rains in Singapore A LOT, and the Singapore Zoo is located right in the middle of the rainforest, so the chances of rain at Singapore Zoo are pretty high.
You might leave your hotel in glorious sunshine, and an hour later there could be torrential rain. So don't forget your umbrella – and you can also buy plastic ponchos at all the zoo shops.
If it's not raining, it will likely be hot and sunny, so also bring your sunscreen, hats, sunglasses and plenty of drinking water. Also don't forget your mosquito repellant – those mosquitos love the rainforest!
Buy a Package
If you are planning on visiting the Singapore Zoo, Night Safari, River Safari and/or Jurong Bird Park within one month of each other, you can buy 2-in1, 3-in-1 and 4-in-1 Park Hopper tickets at a discounted price.
You can also buy Singapore Zoo online tickets at a discounted price here.
How to Get to Singapore Zoo
The zoo in Singapore is about a 30-minute driver from the centre of town and honestly, for me the best way to get to Singapore Zoo is to take a taxi. You can store your car seat free of charge at the zoo, which is great if you take a taxi to get here. (You can also store luggage in storage lockers and at the oversize luggage counter.)
If you're on a budget it is possible to take the MRT and then connecting bus to Singapore zoo, and you can check out the details here.
There is also other ways of getting to Singapore Zoo. The zoo run a shuttle bus called the Mandai Express that runs from various MRT stations/bus stops. You can read more about the Mandai Express here.
Additionally you can buy Singapore zoo tickets at a 'Safari Gate' at either the Singapore Flyer or Suntec City and transfer directly by bus transfer from there. There is also a shuttle bus that calls at various hotels and takes you to the Safari Gate. More information on these Safari Gates here.
Finally the last way of getting to Singapore Zoo is on the Singapore Attractions Express, which links the city with the Singapore Zoo/River Safari and Jurong Bird Park. More information on the SAExpress here.
There are plenty of other family-friendly attractions in Singapore – check out our guide to Singapore's Best Family Friendly Attractions. Still need more ideas? See our list of 50 Things to Do in Singapore with Kids.
Pin it for Later!
Mum on the Move is a participant in the Amazon Services LLC Associates Program, an affiliate advertising program designed to provide a means for sites to earn advertising fees by advertising and linking to Amazon.com.
This article contains some affiliate links. If you make a booking or purchase using one of our affiliate links, we will receive a small commission – at absolutely no extra cost to you.