Singapore is one of the easiest cities to visit with kids. The city is buggy friendly, there are so many family-friendly attractions to choose from, and there are loads of child-friendly restaurants in Singapore.
The majority of restaurants in Singapore welcome children with open arms. There are very few places that won't accommodate you with your children, so you don't need to restrict yourself to the obvious family restaurants in Singapore.
But sometimes you just want to go where you know it will be easy – a family friendly restaurant with high chairs, children's menu, entertainment and space to run around.
Without compromising on food quality, of course.
Where to eat in Singapore with kids
There are several areas to focus your search for family friendly restaurants in Singapore.
Firstly the Sentosa beachfront is home to many of the best family restaurants in Singapore. Here you will find several beach bars, beach clubs with swimming pools and sand-in-your toes restaurants.
Another area is the Quays – Boat Quay, Clarke Quay and Robertson Quay. These pedestrian areas are teaming with Singapore family restaurants, with Robertson Quay being particularly popular with local expat families, especially for brunch and lunch at weekends.
The Marina Bay area, in particular Collyer Quay also has a host of options for a lunch of family dinner in Singapore. This area has the added bonus of fabulous views of Marina Bay too.
And finally, Dempsey Hill is another popular choice with the local population for child friendly restaurants in Singapore.
Just a stone's throw from Orchard Road, the Dempsey area is a world away in character. Here you will find a huge choice of restaurants tucked in amongst the tropical foliage, most with al-fresco dining options.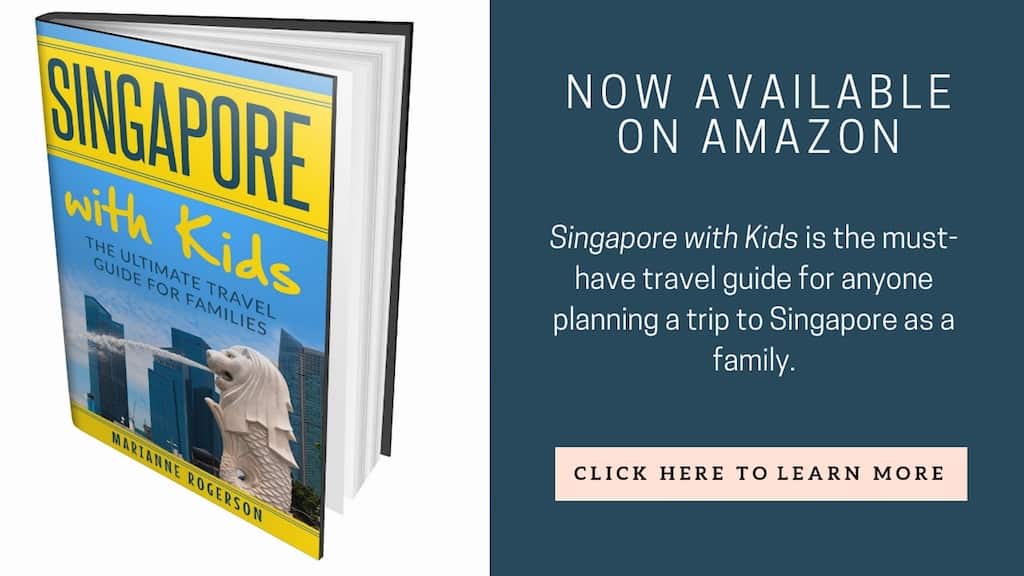 Beyond these main hubs, you will find a selection of restaurants in most shopping malls, in addition to food courts for local cuisine.
The food courts in Vivocity, Wisma Atria and the basement of Takashimaya are particularly noteworthy.
The following are some of the best centrally located good family restaurants in Singapore. They cover several cuisines and all budgets, from pub grub to fancy fine dining.
Bon Appetit!
Kid Friendly Restaurants on Sentosa
There are several beach bars, clubs and restaurants along the beach in Sentosa, which are great for families for obvious reasons. Here the kids can play in the sand, and some even have their own swimming pools and water sports on offer.
Enjoying a meal on the beach near swaying palm trees is one of the pleasures of eating in Singapore – if it weren't for the view of the busy shipping lane, you would never know you were in Singapore!
Tanjong Beach Club
When you step foot inside Tanjong Beach Club in Sentosa, you would be forgiven for thinking you have just arrived in Thailand. This uber-cool bar serves up a slice of tropical paradise, with a beachfront setting and swimming pool looking out to sea.
This is one of our favourite places for a family lunch in Singapore. The bistro menu is largely seafood focused, but they do a pretty mean burger too, and have a small kids menu.
Try to visit during the week, where you will practically have the place to yourselves to kick back on the sand, lounge on a day bed to the chilled-out house tunes and enjoy splashing in the pool in peace.
Just avoid Sundays when the party really kicks off, and kids aren't allowed in the swimming pool. (Closed Mondays)
Address: 120 Tanjong Beach Walk, Sentosa Island
Visit the Tanjong Beach Club website here
FOC Sentosa
Bringing a slice of the Mediterranean to Sentosa Island, this Barcelona inspired restaurant has it all – great food, good tunes and a fun vibe. The menu focuses around Spanish tapas and paellas, and there's also good old fish and chips for the kids.
Located in a quiet corner of Palawan beach, there is plenty of beach space to run around on here. Choose to sit inside the restaurant, on the pool deck or on one of the picnic tables or sunbeds on the beach. The swimming pool is ideal for cooling off on a hot day. (Closed Mondays)
Address: 110 Tanjong Beach Walk, Sentosa Island
Coastes
Just along Palawan beach, Coastes offers a more rustic approach to the beach bar concept. Here you can eat with the sand between your toes, as the kids build sandcastles or splash around in the sea just a few feet away.
Chow down on a selection of pizzas, burgers and salads and treat yourself to a bucket of beer under the swaying palm trees.
There's no swimming pool here, but if the kids need to cool off, water play park The Palawan Pirate ship is just a short stroll away.
Address: 50 Siloso Beach Walk, Sentosa Island
Visit the Coastes website here
Ola Beach Club
Another Sentosa beach club, Ola Beach Club offers loads of fun for the family.
There's a swimming pool and sun beds, bar and restaurant and it is the only beach club on Sentosa to offer water sports activities. These include kayaking and paddle boarding, as well as donut and banana boat rides and even jetpacks.
To match its Hawaiian name, food is Hawaiian influenced at Ola, and there's pretty much something for everyone. Choose from pastas, pizzas, burgers, poke bowls, salads, tacos and more. There's a fun menu of tiki cocktails too.
Address: 46 Siloso Beach Walk
Click here to visit the Ola Beach Club website
Asian Dining with Kids in Singapore
One of the absolute pleasures of traveling in Asia is the food; so don't miss out! Some of the best food in Singapore can be found in the hawker centres, the city's answer to street food.
They are a great place to sample the local cuisine, so we've included one in our selection below. But there are several hundred restaurants out there to try too! Here are some of the best family dinner places in Singapore if you are visiting with kids.
Lau Pa Sat
Historic Lau Pa Sat (also known as Telok Ayer Market) is slap-bang in the middle of the Central Business District making it an easy-to-visit and popular hawker centre in Singapore.
Strict government health and safety regulations mean you can happily bring your children here for a meal. There are Hawker Centres all over Singapore, but Lau Pa Sat is one of our favourites. There are over 70 stalls to choose from here, so take your time to wander around and take it all in.
Popular stalls to look out for here include: Fragrance Garden Chicken Rice, Lai Heng Fried Kway Teow, Qiu Lian Ban Mian (noodle soup) and Seng Kee Local Delights (selection of local dishes include Laksa, Char Kway Teow and Fried Hokkien Prawn Mee).
Boon Tat Street to the side of Lau Pa Sat is locally known as 'Satay Street', and really comes to life after dark when hundreds of satay lovers flock to the area and the stalls start churning out clouds of smoke and vying for business.
Address: 18 Raffles Quay
National Kitchen by Violet Oon
If you prefer to try out Singapore's national dishes in the refined setting of a restaurant rather than a hawker center, then this is the place to come.
Violet Oon has been championing Singaporean cuisine for more than 50 years and it all comes together in this beautiful setting at the National Gallery. Lunch, dinner and afternoon tea are all on offer and you can choose between the beautiful indoor dining room or the breezy verandah.
Note that thanks to its Peranakan roots, some of the food here can be pretty spicy, but most kids at least will be happy with the Chicken Rice if nothing else.
There's a fabulous convivial buzz at National Kitchen, so you don't need to worry if you have spritely children with you.
Address: 1 St Andrews Road, #02-01 National Gallery Singapore
Click here to visit the National Kitchen website
Jumbo Seafood
Jumbo Seafood is one of Singapore's most famous seafood restaurants to enjoy the national dish, chilli crab.
The Riverside Point outlet features convivial alfresco riverside dining, where patrons can tuck into a large range of seafood dishes while watching the boats chug by, and the nightlife of Clarke Quay kick off across the river.
The Signature dish is Live Sri Lankan crabs smothered in Chilli Sauce, but other recommended dishes include Fried Cereal Prawns, Black Pepper Crab and Bamboo Clams with Minced Garlic. Meat dishes such as Roasted Duck, Satay and Lamb Chops also feature.
There's no kids menu but you should be able to find something to suit on the vast menu. Another popular outlet is the one at the East Coast Seafood Centre.
Address: 30 Merchant Road, #01-01/02 Riverside Point
Click here to visit the Jumbo Seafood website
Yum Cha
Yum Cha is one of the best places in Singapore to experience dim sum in an authentic setting.
Tucked away at the top of a hidden staircase in the middle of bustling Chinatown, this popular Chinese family restaurant packs in local families and passing tourists, creating a buzzing and convivial atmosphere and is the ideal stop-off point for a dim sum lunch if you are out exploring Chinatown.
The menu includes a wide choice of Chinese dishes, but the majority of people flock here at lunchtime to indulge in a dim sum feast. There's no kids menu, but some dim sum favourites with kids include char siu bao (BBQ pork buns), xiao long bao (Shanghai pork buns), egg tarts and custard buns.
It is guaranteed to be bustling and noisy, so nobody will notice how much noise your kids are making.
Address: 20 Trengannu Street
Visit the Yum Cha website here
Crystal Jade Golden Palace
For refined Chinese cuisine in an elegant yet family friendly atmosphere, you can't go wrong with Crystal Jade. The Golden Palace is Crystal Jade's signature restaurant.
Don't let the shopping mall location fool you – this is one of the best Chinese restaurants in Singapore, as confirmed by its Michelin star rating. Enjoy a slap-up dim sum lunch here or come in the evening for a huge range of perfectly executed Teochew and Cantonese specialties.
They don't have a kids' menu but they do have high chairs and children are made very welcome, particularly at lunchtime when it is common to see large tables of multi-generational families dining together at the weekend.
For a more affordable version, check out the Crystal Jade La Mian Xiao Long Bao restaurants, where you can tuck into dumplings, noodles and other dishes at very reasonable prices. You will find these restaurants in several shopping malls around Singapore, as well as at Changi airport (Terminal 1).
Address: Paragon Shopping Centre, #05-22
Click here to visit the Crystal Jade website
Din Tai Fung
Everybody's favourite dumpling restaurant, Din Tai Fung, has nineteen branches in Singapore, so you are never far from getting your dumpling and noodle soup fix.
There is a wide range of soups, appetisers, dumplings and rice dishes to choose from, but the restaurant is renowned for its Xiao Long Bao (Shanghai pork dumplings), which are meticulously created with 18 intricate folds in each one.
There are always plenty of high chairs, and the buzzing throng ensures that any noisy children will melt into the background. No reservations are accepted, so be prepared to queue in peak time.
Address: Various locations around Singapore
Click here to visit the Din Tai Fung website
Fine Dining in Singapore with Kids
Who said you have to give up fine dining just because you have kids with you? Many of the Singapore fine dining restaurants will tolerate well-behaved kids, but do check with them when you book.
The following two restaurants are particularly noteworthy for being child-friendly, with kids menus and high chairs on offer.
Saint Pierre
If you want to go fine dining with the kids, this is the place to do it in Singapore. This Michelin-starred restaurant has long been a favourite among the well-heeled of Singapore thanks to its innovative menu of contemporary French cuisine. The degustation menus are all available with wine pairings and la carte is also on offer.
What sets this high-end restaurant apart from others from a family dining point of view is that it also features a four-course kids menu (suitable for kids aged 9 and under).
Note however that kids will need to have fairly refined taste buds to enjoy this menu, which features such delicacies as steamed hairy crab and blue lobsters. (Closed Sundays and Mondays)
Address: 1 Fullerton Road, #02-02B One Fullerton
Click here to visit the Saint Pierre website
Pollen
Another good option for family fine dining, Jason Atherton's Pollen restaurant enjoys a unique location inside the Flower Dome of Gardens by the Bay.
Choose from the fine-dining first floor restaurant, which prides itself on its innovative degustation menus, or take a more casual approach on the second level terrace.
Lunch is a popular option, thanks to its well-priced set lunch menu (they even have a kids menu), and the option to walk off your meal in the Flower Dome afterwards.
Entry to the Flower Dome is free for Pollen guests. A decadent afternoon tea is also on offer. Pollen provides highchairs for little guests and there's also a kids menu.
Note that the Flower Dome is kept at a constant temperature of 20 degrees Celsius, so you may want to bring a light sweater for everyone. A free shuttle buggy is offered from the car park at the main visitors centre, if your kids are reluctant to walk that far.
Address: Flower Dome, Gardens by the Bay
Click here to visit the Pollen website
Casual Western Dining with Kids in Singapore
Sometimes you just want a burger, sandwich or salad and get the kids a pizza – and that's easy in Singapore too! There are loads of casual kid friendly restaurants and cafes all over the city. Here is a pick of the best.
Open Farm Community
Open Farm Community is a real favourite amongst Singapore families. In a city that relies on vast food miles to feed its citizens, this family restaurant tries to remind us where our food actually comes from, with a real focus on fresh produce.
Set amongst a garden overgrowing with vegetables and herbs, there's also a sand pit, playground, bowling lawns and table tennis to keep kids of all ages amused.
Most importantly, the food here is delicious and innovative, with produce either grown on site or procured from local farms within 400km of Singapore. They also have an onsite juice bar and coffee shop.
Address: 130E Minden Road
Click here to visit the Open Farm Community website
P.S Café at Harding Road
This child friendly café in Singapore is ideal for a leisurely meal while the kids run riot on the grass. The glass-sided restaurant opens out onto the lush tropical rainforest, giving a real sense of escape from the bustle of nearby Orchard Road.
The menu of familiar favourites with a twist includes sandwiches, burgers, salads and pastas. Excellent weekend brunches see locals queuing out the door for plates of Blueberry Pancakes, Bacon & Eggs, Brunch Burger and Corned Beef Hash.
Be sure to save room for their generous servings of cakes and tarts, which include Carrot, Double Chocolate and Rocky Road. Yum.
Address: 28B Harding Road
Click here to visit the PS Cafe website
The Line at Shangri-La
The Line offers one of the best child friendly buffets in Singapore, with a huge selection of international cuisine on offer at its 16 theatre kitchens.
One of the best times to visit is for the fabulous Sunday Brunch at The Line at the Shangri-La Singapore. This is renowned as one of the best Sunday brunches in Singapore. The array of food is mind-boggling, with piles of fresh seafood, beautifully roasted meats, chilli crab, curries, Mediterranean cuisine… the list goes on. You can also upgrade to a very reasonable free-flow champagne package.
The best bit about it is that there is an on-site kids club: Buds by Shangri-La, where the kids can run around while you get tucked into the buffet. Ideal.
Address: Shangri-La Hotel, 22 Orange Grove Road
Click here to visit the Shangri-La dining website
Boomarang
Boomarang is a casual semi open-air Australian bar and bistro, and is a popular hangout for the expat crowd in Singapore. Hearty breakfasts and generously portioned meals are all on the menu, drawing in the masses at weekends.
Boomarang is extremely child-friendly, with plenty of baby chairs and color-in children's menu, and its location in the pedestrian zone by the river allows plenty of running-around space.
This is also the place to head to for all live sporting events – in particular rugby and Australian Rules football, when the noise emanating from this hugely popular bar can be heard from afar.
Address: 60 Roberston Quay, #01-15 The Quayside
Visit the Boomarang website here
Prive at Chijmes
This casual kids friendly café in Singapore offers a pleasant alfresco atmosphere surrounded by greenery and colonial architecture.
This is a popular spot for a kid friendly brunch in Singapore, with its dishes of eggs benedict and piles of breakfast pancakes, while the lunch and dinner menu offers up plenty of comfort food in the form of burgers, pasta, salads, wood-fired pizzas and fish and chips. They have a kids menu too.
Another Prive café is located at the Asian Civilisations Museum, where you can dine al-fresco with views of the Singapore River.
Address: Chijmes, 30 Victoria Street
Click here to visit the Prive website
Marché Movenpick Suntec City
Walking into Marchéby Movenpick is an assault on the senses, with its vast choice of fresh and healthy food, presented in a market setting.
There's something for all the family in here, with a salad bar, pasta station, seafood island, bakery section, pizza oven and crepe station – you should be able to find something to please even the fussiest of children.
There's also a kids play corner, complete with a two-storey wooden cubby house, train table and toys. This is one of the best baby friendly restaurants in Singapore thanks to HIPP baby food being on offer, and even a baby station containing bottle warmer, water heater and microwave.
Also within Suntec City shopping mall, you will find two of Singapore's most popular indoor play gyms – The Polliwogs and Cool de Sac, perfect for running off steam on rainy days.
Address: Suntec City Tower 3, East Wing, #01-612/614
Going on a date night? Click here to check out our pick of the best rooftop bars in Singapore.
Did I miss your favourite child-friendly restaurant in Singapore? Let me know in the comments below.
Looking for a child friendly hotel in Singapore? Click here to see our recommendations.
Pin it for Later!
This post contains affiliate links. If you make a booking or purchase using one of these links, we may receive a small commission – at absolutely no extra cost to you.