Our Ultimate Guide to Sentosa Island Singapore will help you plan the best family visit. From hotels to beach bars, attractions and more, we've got you covered.
About Sentosa
Sentosa Island Singapore is affectionately know as "Singapore's Playground" and is the perfect place to head to if you are looking for things to do with kids in Singapore.
There are loads of things to do in Singapore with kids, but Sentosa Island has the largest concentration of Singapore attractions for kids, making it easy to entertain even the most energetic of families.
Choose from world-class attractions in Sentosa such as Universal Studios; visit the manta rays and sharks at one of the world's largest aquariums, the SEA Aquarium; or simply choose to sip cocktails on the beach as your children play in the sand.
With a whole host of fantastic family hotels in Sentosa, great restaurants and nice beaches, you could easily spend your entire Singapore holiday without even leaving Sentosa island (not that we would recommend that of course!)
Read on below for our full guide to Sentosa Island, including the best Sentosa attractions for families, the best family hotels in Sentosa, the best Sentosa restaurants – and how to get to Sentosa.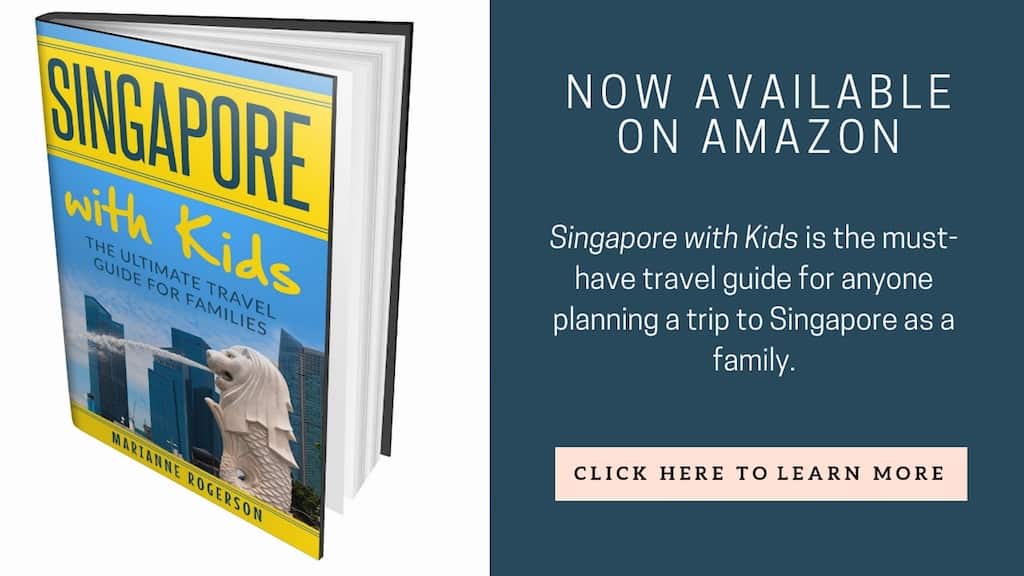 Sentosa Island Attractions
There are so many things to do in Sentosa for kids that you could spend several days here and never leave the island! And with a whole host of Sentosa Island family resorts and restaurants, you would never need to.
Here we give you the ultimate Sentosa Island guide for kids to help with planning your Singapore itinerary.
We have arranged the Sentosa attractions for kids into the three main areas of Sentosa – Resorts World Sentosa, Sentosa Beach area and Imbiah Lookout.
Unfortunately there are not many free attractions in Sentosa Island, but we have included links to buy discounted tickets online where possible.
Resorts World Sentosa
Resorts World Sentosa opened its doors to much fanfare in 2010.
It now boasts six hotels, a convention centre, a 24-hour casino, several restaurants, including two from the world's most Michelin-starred chef, the late Joel Robuchon) and three of the best Singapore attractions for kids: Universal Studios, Southeast Asia Aquarium, and Adventure Cove Waterpark.
Universal Studios
One of the best things to do with kids in Singapore, and a must for mini movie lovers, Southeast Asia's only Universal Studios theme park features movie-themed rollercoasters, rides and attractions, in addition to giving you the chance to meet some of your favorite cartoon movie characters.
There's something for kids of all ages at this Sentosa theme park – even the really little ones will love Madagascar: a Crate Adventure River Ride, flying a Pterodactyl on the Dino-saurin' Ride, and exploring ancient Egypt on the Treasure Hunters ride.
At the other end of the scale, more adventurous thrill-seekers can get their kicks on board Transformers The Ride – a hyper-realistic 3D thrill ride; pitch black roller coaster Revenge of the Mummy; and Battlestar Galactica – the world's tallest duelling roller coaster ride.
Click here to read our full review of Universal Studios Singapore, which is full of tips for avoiding the crowds and making the most out of your visit.
Click here to buy discounted tickets for Universal Studios Singapore.
Southeast Asia Aquarium
With over 100,000 marine creatures from over 800 species spanning 49 different habitats, it is hard not to be impressed by the SEA Aquarium, one of the most popular Sentosa kids activities.
There's a shipwreck to marvel at, tunnels to walk through and gaze at the sharks, touch pools for discovering knobbly sea stars, and then the grand finale: the Open Ocean – a panoramic marine vista complete with manta rays, sharks, and goliath grouper.
Click here to buy discounted tickets for the SEA Aquarium.
Adventure Cove Waterpark
Adventure Cove Waterpark is where thrill seeking families go to get wet and wild.
There are six waterslides at this Sentosa Island water park, including the Riptide Rocket, Southeast Asia's first hydro-magnetic roller coaster (a slide that takes riders upwards), while a wave pool and the 620m-long Adventure River inner tube ride add to the fun.
There's even a small reef for snorkelling on at this Sentosa waterpark.
Click here to buy discounted tickets for the Adventure Cove Waterpark.
Trick Eye Museum
Also within Resorts World Sentosa you will find the Trick Eye Museum. This fun interactive exhibition is perfect for snap-happy parents, using optical illusions to bring 3D murals to life when you step into them and take a photo.
Wow your friends with your photos of your kids hanging from ceilings, shooting from a canon, flying on a broomstick or escaping from the jaws of a monstrous fish. Fun!
Click here to buy discounted tickets for the Trick Eye Museum.

Sentosa Island Beach Area
Along the southern coast of Sentosa Island you will find three sandy beaches – Tanjong Beach, Palawan Beach and Siloso Beach.
While the beaches in Sentosa may not rival the neighbouring Southeast Asian beaches, they are good enough to keep the kids occupied for a few hours, and if you head here during the week, you will find them surprisingly quiet.

But it's not all about lazing about in the sand and drinking cocktails – there are also several fun Sentosa family attractions to be found along the beaches, including surfing playhouse Wavehouse Sentosa, the Luge and the Megazip flying fox.
Hydrodash
Located off Palawan Beach, Hydrodash is Singapore's first floating aqua park. This floating obstacle course is loads of fun for both kids and adults and will have you climbing, sliding, leaping and bouncing around and generally having a splashing good time.
Suitable for kids aged 5 and up.
Click here to visit their website.
Palawan Pirate Ship (now closed)
Unfortunately Palawan Pirate Ship has now closed 🙁
The Palawan Pirate Ship is the highlight of activities in Sentosa Palawan beach and is one of our favourite free things to do in Sentosa with kids.
Formerly Sentosa Port of Lost Wonder, the Palawan Pirate ship is a water filled Sentosa kids playground where young explorers will discover water jets, slides, fountains, chutes, water guns and pools.
Definitely one of the more fun things to do in Sentosa for toddlers and younger kids (designed for ages up to 10) and perfect for cooling off on a hot day.
Nestopia Singapore
Nestopia is a fun outdoor adventure playground located on Siloso Beach. This fun Sentosa playground has netted bridges, nests and two super long slides. The playground is part of Shangri-La's Rasa Sentosa resort (see below) but is open to the public with ticketed entry.
Nestopia is handily located close to beachfront pizza restaurant Trapizza, which is always a hit with the kids.
Skyline Luge
Scream if you wanna go faster! Part go-cart, part toboggan, the Skyline Luge sees you whizzing down a 650 metre long, paved track that begins at Imbiah Lookout and ends at Siloso Beach. There are plenty of hairpin bends and fast straight sections to keep the adrenaline junkies amongst you going back for more.
Start the fun at the chairlift, located next to Beach Station, between Siloso and Palawan Beaches.
Click here to buy discounted tickets for the Skyline Luge.
MegaZip Adventure Park
If you still need more adrenaline-inducing fun in Sentosa with kids, then head a bit further up the beach to MegaZip Adventure Park. The MegaZip flying fox whizzes you over the jungle canopy for over 450 metres before depositing you on Siloso beach, while Climbmax is an aerial obstacle course of wobbly bridges, cargo nets and tightropes set high amongst the trees.
There's also ParaJump, a free-fall parachute simulator, and MegaBounce – trampolining with secured elasticated ropes.
Click here to buy discounted tickets for MegaZip Adventure Park.
Fort Siloso
Fort Siloso is just a short walk from the western end of Siloso Beach. The sole surviving coastal fort in Singapore is now a museum dedicated to the memory of soldiers who lost their lives trying to defend Singapore.
If you're looking for educational things to do on Sentosa Island for kids, then this is a good option to add to your Singapore to-do list. The museum is visited via self-guided tour, allowing you to experience life as a soldier in the 1880s and World War II.
Waxwork models and audio recordings help bring the scenes to life – including a 6-inch gun crew in action. There's plenty of outdoor space for the kids to run around.
Imbiah Lookout
Located in the centre of Sentosa Island, Imbiah Lookout is home to several more Sentosa Island things to do, including plenty of 4D fun at Sentosa 4D Adventureland, waxwork models galore at Madame Tussauds, and Singapore history attraction Images of Singapore.
Sentosa 4D Adventureland
At Sentosa 4D Adventureland, ride the virtual 4D rollercoaster "Extreme Log Ride", grab a motion-sensor pistol and try your luck at 4D interactive shoot-out game "Desperados", or sit back and enjoy the interactive 4D movie, complete with seat vibration, leg ticklers and base shakers.
Prepare to be tossed about, have wind blowing and water splashing in your face, and to shriek with laughter along with your fellow movie-goers.
Click here to buy discounted tickets for the Sentosa 4D Adventureland.
Madame Tussauds
Like all the other Madame Tussauds, here you can rub shoulders with the doppelgangers of celebrities from the world of sport, music, cinema and history.
Unlike the other Madame Tussauds attractions, here you can also jump aboard the 'Spirit of Singapore' boat for a ride through a celebration of Singapore, featuring the F1 Grand Prix and the Singapore Airlines A380.
The Images of Singapore exhibition here is one of the best places for kids in Singapore to learn about the history and culture of Singapore.
Click here to buy discounted tickets for Madame Tussauds.
Sentosa Island Family Hotels
Now we know what to do in Sentosa, we need to find some family friendly accommodation. If you want to stay close to the action, then you can take your pick of Sentosa Island hotels.
Here we highlight some of the best family hotels in Sentosa.
Shangri-La's Rasa Sentosa Resort & Spa
For full-on family fun, our top choice would be the beachfront Shangri-La's Rasa Sentosa Resort & Spa. This Sentosa family hotel is definitely set up for family holidays in Singapore, with its fabulous kids club, and Singapore's largest freeform swimming pool complete with water slides and splash pad for the little ones.
Being located right on the beach there is a good choice of waterspouts on offer, as well as nearby beachfront adventure playground Nestopia Singapore with its awesome long slides.
Click here to check prices and availability for the Shangri-La Rasa Sentosa.
Sofitel Singapore Resort & Spa Sentosa
Also close to the beach, set up on a hill overlooking Tanjong Beach is another family friendly Sentosa Island resort, the Sofitel Singapore Resort & Spa Sentosa. This glamorous hotel has plenty of family friendly features in a tropical resort setting.
This family hotel in Sentosa has an awesome 33-metre midnight blue swimming pool and access to Tanjong Beach via wooden steps through the rainforest. It also has a small but fun kids club, which is handily located right next to its spa, which happens to be one of the best in the whole of Singapore!
Click here to check prices and availability for the Sofitel Sentosa.
Village Hotel Sentosa
This latest addition to Sentosa has been specifically designed with families in mind. It has family rooms, an enormous outdoor pool deck area and plenty of kid friendly entertainment and activities on a daily basis.
Family rooms are made up of two connecting rooms, meaning you have two ensuite bathrooms and two TVs, so everyone can watch what they want and no queuing for the shower in the morning.
The hotel also has an onsite restaurant and plenty of others nearby.
Click here to check prices and availability for the Village Hotel Sentosa.
Capella Singapore
If you are looking for luxury, then this family hotel in Sentosa with beach access is fabulously designed, with three swimming pools and plenty of lawn space to run around on.
If money is no object, choose one of the beautiful 1- and 2-bedroom villas with private plunge pools, or even one of the spacious colonial manors that are perfect for larger groups.
Click here to check prices and availability for the Capella Singapore.
Festive Hotel, Resorts World Sentosa
There are six hotels to choose from in Resorts World Sentosa, which make an ideal base if you want to be within easy walking distance of Universal Studios and the SEA Aquarium.
The Festive Hotel is specifically designed for families, with loft beds in their family rooms. It also has a large lagoon swimming pool with a kids swimming pool and water splash play area.
Click here to check prices and availability for the Festive Hotel.
Hard Rock Hotel Sentosa
The Hard Rock Hotel rooms all come with a pull out bed, making it easy for squeezing in the kids. The hotel also boasts a large freeform swimming pool with poolside cabanas for relaxing in after a hard day of fun on Sentosa, and a beach volleyball court.
The hotel also has a kids club, open every afternoon and evening.
Click here to check prices and availability for the Hard Rock Hotel Singapore.
W Singapore
A bit further away from the action, on Sentosa Cove, you will find the stunning and glitzy W Singapore.
Its beautiful swimming pool is perfect for family fun, and it is just a short stroll from several family-friendly restaurants on Quayside Isle. Many of the rooms come with two double beds.
Click here to check prices and availability for the W Singapore.
Click here to find more Family Friendly Hotels in Singapore.
Sentosa Island Restaurants
There are plenty of family-friendly restaurants in Sentosa, particularly along the beaches.
Our favorites include Coastes for sand-in-the-toes casual dining, and Tanjong Beach Club, Ola Beach Club, Rumours Beach Club and FOC Sentosa for their chilled vibe and beachside swimming pools.
Within Resorts World Sentosa there are several options, from fast food outlets to celebrity chef fine-dining restaurants. The Hard Rock Café always goes down well with the kids, but our favourite restaurant here is Din Tai Fung, with its delicious dumplings, fried rice and noodle dishes.
Quayside Isle, close to the W hotel, is also filled with family-friendly dining options. At these Sentosa Cove restaurants you can grab coffee at Joe & the Juice, take the kids for fish & chips at Greenwood Fish Market, while Sole Pomodoro Trattoria-Pizzeria dishes up great pizzas.
To read more about these and other family-friendly restaurants in Singapore, read our guide to the Best Child-Friendly Restaurants in Singapore.
How to get to Sentosa Island
There are several ways to get to Sentosa Island – walking, public transport, taxi or even cable car!
Singapore Cable Car
The most fun way to get to Sentosa is to ride the Singapore Cable Car
. Start at Harbourfront to ride up to Mount Faber and take in the views at the top, before re-boarding the cable car to take the 12-minute journey across Keppel Harbour to Sentosa.
The Sentosa Line then takes you onward towards all the attractions of Sentosa at Merlion Station, Imbiah Lookout and Siloso Point.
Walking to Sentosa
You can also walk to Sentosa via the Sentosa Boardwalk from Vivocity shopping mall (Harbourfront MRT station is in Vivocity). It's only about a ten-minute walk, but if you're feeling lazy, you can ride the undercover travellators.
You still need to pay the Sentosa entry fee but it only costs $1.
Sentosa Express Monorail
If you don't fancy the walk across the water, or want to be whisked directly to the beach, the most popular way of getting to Sentosa is to take the Sentosa Express from Vivocity.
This monorail takes you from Vivocity (Sentosa Station) and stops at Waterfront Station (for Resorts World Sentosa), Imbiah Station and Beach Station. Beach station is located between Siloso and Palawan beaches. Price is $4 per person (ages 3 and above) and includes one-time Sentosa Island admission.
Taxi to Sentosa
You can also drive or take a taxi to Sentosa, with the Sentosa entrance fee ranging from $3 – $6 per taxi, and $3 – $7 per car, depending on the time of day and day of the week (plus your taxi fare of course).
If you are planning to return to Sentosa Island several times over the year, the Sentosa Islander Pass gives you unlimited entry over a year, with prices costing $25 per individual or $50 per family.
How to get around Sentosa
Once on Sentosa Island, all public transport is free of charge. Several bus routes link all the major attractions, with bus routes colour coded to make it easier. Beach trams run along the length of the Sentosa beaches, with several stops along the way.
And that concludes our Sentosa Island guide. You can see why it has the reputation as one of the most fun places for kids in Singapore!
Looking for more options of things to do in Singapore with kids? Read our article 50 Things to do in Singapore with Kids.
Pin it for Later!
Mum on the Move is a participant in the Amazon Services LLC Associates Program, an affiliate advertising program designed to provide a means for sites to earn advertising fees by advertising and linking to Amazon.com.
This post contains affiliate links. If you make a booking through our affiliate links, we will receive a small commission – at absolutely no extra cost to you.