Our pick of the top 50 things to do in Singapore with kids to add to your Singapore to-do list.
Here we look at all the best family friendly tourist attractions in Singapore.
We say it repeatedly, but there really are so many things to do with kids in Singapore, and here we prove it to you with our ultimate Singapore to-do list: 50 things to do in Singapore with kids.
We look at the big popular family attractions such as Universal Studios Singapore and the Singapore Zoo, as well as lesser visited attractions, parks, gardens, beaches and more.
Singapore is an expensive city, and if you are planning to visit a few attractions in a week, the cost can soon add up. With this in mind, we have also included links to buy discounted tickets online where possible.

Disclaimer: This post contains affiliate links. If you make a booking or purchase using one of these links, we may receive a small commission – at absolutely no extra cost to you.
Mum on the Move is a participant in the Amazon Services LLC Associates Program, an affiliate advertising program designed to provide a means for sites to earn advertising fees by advertising and linking to Amazon.com
Meet the animals at Singapore Zoo
A Singapore family holiday wouldn't be complete without a trip to the Singapore Zoo, one of the most popular Singapore tourist attractions.
Often regarded as one of the best zoos in the world, the Singapore Zoo is set in a natural rainforest setting with spacious landscaped enclosures. Don't miss Breakfast with the Orang Utans!
Read our Tips on Visiting Singapore Zoo with Kids here.
Click here to buy discounted tickets for Singapore Zoo (and the Zoo Breakfast) online

Hang with the birds at Jurong Bird Park
The Jurong Bird Park houses over 8,000 birds from over 600 species and is set in a beautifully landscaped park, making it one of the most popular kids activities in Singapore.
Visit the world's largest walk-in aviary, feed the Loris, Ostriches and Pelicans and watch the fun shows, including Birds n Buddies Show and the Thunderstorm Experience.
Click here to buy discounted tickets for Jurong Bird Park online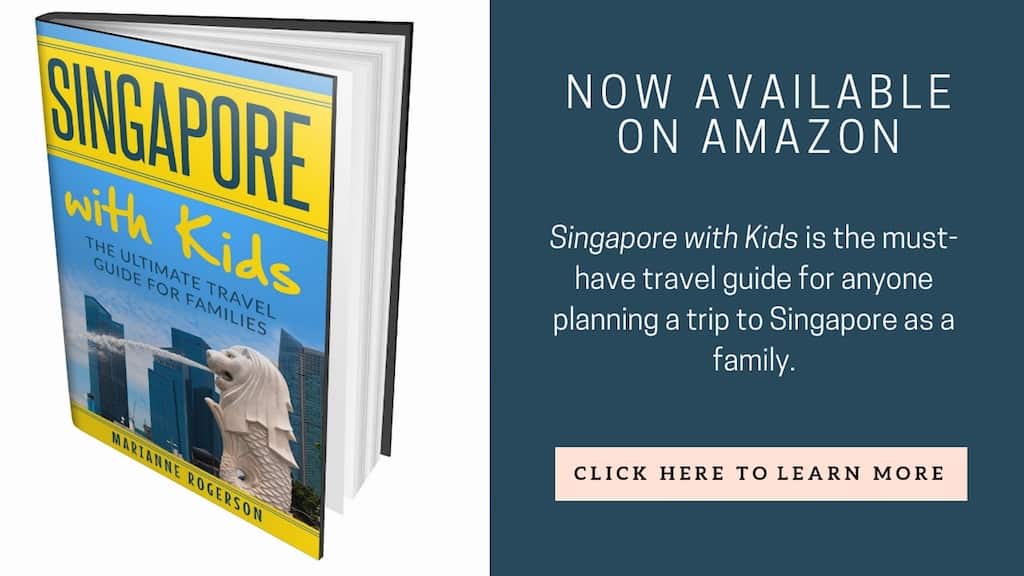 Visit the sea creatures of SEA Aquarium
There is an amazing variety of sea creatures to see at the SEA Aquarium in Resorts World Sentosa – over 800 species are represented across the 49 different habitats.
With over 100,000 marine creatures in all, it is hard not to be impressed – especially when you reach the grand finale: the Open Ocean – a panoramic marine vista complete with manta rays, sharks, and goliath grouper.
No wonder this is one of the most popular places to visit in Singapore for kids.
Click here to buy discounted tickets for the SEA Aquarium online
Explore the Night Safari
Another of the most fun places to visit in Singapore for family is the legendary Night Safari, where you have the rare opportunity to get up close and personal with hundreds of exotic nocturnal animals in their natural habitat.
Nestled in 40 hectares of lush secondary forest, subtle lighting facilitates the viewing over 1,000 nocturnal animals from 120 different species in the nighttime tropical jungle. Definitely one of the best things to do in Singapore at night with kids.
Click here to buy discounted tickets for the Night Safari online
Have Fun at Universal Studios
If you're looking for really fun things to do in Singapore for kids, then you can enter the world of movie magic at Southeast Asia's only Universal Studios theme park at Resorts World Sentosa.
Head to this top Singapore tourist spot to meet some of your favourite kids movie characters, while riding movie-themed rides and roller coasters. Fun!
You can read our full review of Universal Studios Singapore here.
Click here to buy discounted tickets for Universal Studios online

Have a splashing good time at a Waterpark
Adventure Cove Waterpark is where to bring kids in Singapore to get wet and wild.
Six waterslides include the Riptide Rocket, Southeast Asia's first hydro-magnetic roller coaster (a slide that takes riders upwards), while a wave pool and the 620m-long Adventure River inner tube ride add to the fun.
Click here to buy discounted tickets for Adventure Cove Waterpark online
Alternatively, across town in the East, Wild Wild Wet also provides thrills and spills for the kids with 16 rides, from high speed water rides to more kid friendly options. It also has a kids fun zone for the little ones.
Click here to buy discounted tickets for Wild Wild Wet.

Play on the Sentosa Beaches
Tanjong, Palawan and Siloso Beaches line the southern coast of Sentosa, and are where to go in Singapore with kids when you're in need of some beach action.
They may not rival those of neighbouring Thailand and Malaysia, but there are some cool beach bars, plenty of palm trees and lots of sand for building sandcastles.
Explore Labrador Nature Reserve
In amongst the tropical rainforest of Labrador Nature Reserve, you'll find war relics such as bunkers and WWII machine gun posts.
Unfortunately the guided tours of the secret tunnels are currently not running but there is a self-guided history walk you can follow through the park. There is also a nature walk along the coastal path and boardwalk.
It's also one of the quieter places for kids to play in Singapore – there's a great sandy playground, complete with maze for the kids to run off their energy in. Check our our list of other fabulous parks in Singapore here.
Ride the Skyline Luge Sentosa
Scream if you wanna go faster! Part go-cart, part toboggan, the Luge has long enjoyed a reputation as one of the most fun Singapore attractions for kids.
Here you can whizz down a 650 metre long paved track that begins at Imbiah Lookout and ends at Siloso Beach on Sentosa. There are plenty of hairpin bends and fast straight sections to keep the adrenaline junkies amongst you going back for more.
Click here to buy discounted tickets for the Skyline Luge online

Relax at the Botanic Gardens
The Botanic Gardens is where to go in Singapore for family downtime. Take a break from the bustle of the city and enjoy the peace, tranquillity and beauty of the Gardens.
One of our favourite places to visit in Singapore with family, the Gardens offer a huge variety of areas including lakes, fountains, sculpture gardens and plenty of well manicured lawns to run around, paths to scoot on, and turtles to feed.
The Botanic Gardens is home to the fabulous Orchid Garden and the dedicated Singapore kids garden Jacob Ballas (see more below).
Play in the Indoor Playgrounds
Heat getting to you? Find yourself stuck in a tropical downpour? Head to one of many indoor play gyms to keep the little ones entertained.
Some of the best kids indoor playgrounds in Singapore include The Polliwogs (Suntec City, Vivocity), Cool De Sac (Suntec City), Buds by Shangri-La (Shangri-La Hotel), and Amazonia Singapore (Great World City).
Explore Gardens by the Bay
The 100-hectare Gardens by the Bay is home to over a quarter of a million rare plants and has become one of the most famous Singapore points of interest in recent years.
Its many paths, suspended walkways, gardens and water features are fun to explore, while the climate-controlled conservatories – the Cloud Forest and Flower Dome – make for a welcome break from Singapore's heat and humidity.
The Super Trees are super cool too, and you should definitely plan to head back here at night to see the fabulous light show.
But the highlight for many families is the Far East Organization's Children's Garden with its awesome water play area, which is one of our favourite free things to do in Singapore with kids – just remember to bring your swimmers. (Note the Children's garden is closed on a Monday).
Click here to buy discounted tickets for Gardens by the Bay

Play at the Jacob Ballas Children's Garden
Set within the Botanic Gardens, but with its own entrance, is the original Singapore garden for children – the Jacob Ballas Children's Garden.
Designed to provide a fun learning environment in a garden setting, educational areas include the Sensory Garden, the Magic of Photosynthesis area, Plants Recycle and the Fantastic Forest.
But really, kids will just love playing in the tree house, sandpit and water fountains at this kids playground in Singapore.
This Singapore children's garden was refurbished and expanded in late 2017 and new features include a flying fox, tree house and swing rope bridge.
Discover the Science Centre
It's all hands-on fun at the Singapore Science Centre, a great option if you looking for interesting Singapore attractions for kids.
There are more than 1,000 exhibits in twelve galleries, offering interactive fun and covering topic such as The Human Body, DNA, Energy, Viruses, Marine Life, the Solar System and Climate Change, plus newer scif-esque exhibitons covering Nano Technology and Infocomm Technology.
The next door KidsSTOP offers more hands-on learning in a more play-based environment.
Click here to buy discounted tickets for the Science Centre
Ride the Singapore Cable Car
The best way to get to Sentosa for kids is to ride the Singapore Cable Car. Start at Harbourfront to ride up to Mount Faber and take in the views at the top, before re-boarding the cable car to take the 12-minute journey across Keppel Harbour to Sentosa.
The Sentosa Line then takes you onward towards all the attractions of Sentosa at Merlion Station, Imbiah Lookout and Siloso Point.
Click here to buy discounted tickets for the Singapore Cable Car

Discover Pulau Ubin
If you feel like getting off the beaten path, then one of the best family activities in Singapore is to head to Pulau Ubin.
Pulau Ubin is just a 10-minute boat ride from Changi and lets you step back in time and discover what Singapore was like fifty years ago, before the construction companies moved in.
Hire bikes on arrival (children's bikes and baby seats are available) and head to the Chek Jawa Wetlands – one of Singapore's richest ecosystems where you can explore the mangroves and coast via boardwalks, and climb the lookout tower.
Getting there via bumboat is half the fun. Read more about visiting Pulau Ubin with Kids here.
Shop at a Wet Market
For an authentic shopping experience away from the organised calm of the air-conditioned malls, head down to a local wet market, one of the best places to bring kids in Singapore to get a feel for local life.
This is a great introduction to local fruits and vegetables for kids, and most wet markets also have a large fresh seafood section to explore. Don't miss the live frogs and turtles in the wet market in the basement of the Chinatown Complex.
Explore the Jewel at Changi
You don't even need to leave the airport to have fun with kids in Singapore! The Jewel at Changi is famous for its Rain Vortex – the world's tallest indoor waterfall, but there is loads of fun to be had at the Jewel too.
This nature themed entertainment complex has a variety of mazes, slides, gardens and walks to explore. But most fun for the kids is the Manulife sky nets – giant nets for bouncing on high above the canopy park.
Click here to buy discounted tickets to the Jewel at Changi.
Eat at a Hawker Centre
Having a meal at a Hawker Centre – Singapore's version of street food – is one of the culinary highlights of this city and should not be missed on a family holiday to Singapore.
There are Hawker Centres all over Singapore, but Lau Pa Sat in the heart of the CBD and Makansutra Gluttons Bay next to the Esplanade Theatre are two of our favourites.
You'll find many of Singapore's best-loved dishes on offer here, so take your time to wander around and take it all in before deciding what to chow down on.
Stroll through the Jurong Lake Gardens
Note that the Jurong Lake Gardens are currently undergoing extensive redevelopment with lots of exciting new features being added. Check the National Parks website here for further details.
Another fun off-the-beaten-path thing to do for kids in Singapore is to jump on the MRT and head west to find the beautifully presented Jurong Lake Gardens, including the Chinese Garden and Japanese Garden.
The 90-hectare park includes fun features such as the Forest Ramble playground, Clusia Cove water playground with sandy beach, the Rasau boardwalk, cycling trails and water sports on the lake.
Hike through MacRitchie Reservoir
If you're looking for an active family outing in Singapore, then take a walk along the hiking trails and boardwalks that surround the MacRitchie Reservoir. The primary rainforest is home to more than 840 flowering plant and 500 animal species.
The highlight is the HSBC TreeTop Walk, a free-standing 250m long suspension bridge which gives you a bird's eye view of the plants and animals in the rainforest canopy from its 25m high position.
It's an 11km round walk to get to though, so not for the really little ones, but if you are visiting with older children then this is one of the best places to visit in Singapore with family for a back-to-nature experience.
Explore Sungei Buloh Wetland Reserve
The Sungei Buloh Wetland Reserve in the far north of the island has a network of boardwalks that provide excellent wildlife viewing opportunities, making it one of the most interesting places in Singapore for family trips.
Keep your eyes out for herons, kingfishers, mudskippers and crabs. You are pretty much guaranteed to see large monitor lizards along the way, and if you're lucky you may spot an estuarine crocodile too.
Take Photos at Haw Par Villa
This strange and surreal statue garden in the West of Singapore is one of the most unusual kids attractions in Singapore. The garden is filled with hundreds of multi-coloured statues and tableaux depicting Chinese myths and legends.
Photo opportunities abound for snap-happy mums and dads. The highlight is undoubtedly the 10 Courts of Hell, depicting scenes of bloodthirsty torture, which of course may not be suitable for younger children…
Ride the Sentosa 4D Adventureland
There is plenty of 4D fun to be had at Sentosa 4D Adventureland. Ride the virtual 4D rollercoaster "Extreme Log Ride", grab a motion-sensor pistol and try your luck at 4D interactive shoot-out game "Desperados", or sit back and enjoy the interactive 4D movie, complete with seat vibration, leg ticklers and base shakers.
Prepare to be tossed about, have wind blowing and water splashing in your face, and to shriek with laughter along with your fellow movie-goers.
Click here to buy discounted tickets for Sentosa 4D Adventureland
Take a River Cruise
A boat ride along the Singapore River is one of the best ways to take in the sights of the Colonial District, Marina Bay and the Quays, and is a fun way of sightseeing on a family trip to Singapore.
Board the boat in either Robertson Quay or Marina Bay (near Merlion Park) to ride the whole river and enjoy the views.
Click here to book discounted River Cruise tickets
Enjoy some Fish Reflexology
Make your way to one of the many Fish Reflexology spas to experience one of the more unusual attractions in Singapore for families and an interesting way to achieve soft pampered feet.
Dip your feet into the tank and wait for the Garra Rufa fish to come and have a nibble! But don't worry – the fish only consume dead skin, leaving the healthy skin to grow, so you won't see your feet disappearing before your eyes!
You will find Fish Reflexology spas all over Singapore, including at the Singapore Flyer.
Visit the Natural History Museum
The Lee Kong Chian Natural History Museum makes for a good fun educational morning or afternoon if you're deciding what to do with kids in Singapore.
Stars of the show are the three dinosaur skeletons – Prince, Apollonia and Twinky – but there are over 500,000 other specimens spread out amongst the twenty zones.
Click here to buy discounted tickets for the Lee Kong Chian Natural History Museum
Indulge in Afternoon Tea at Raffles Hotel
The colonial grande dame Raffles Hotel is the most famous hotel in Singapore and is renowned throughout the world for its luxury and opulence.
Most of us may not be able to afford to stay at Raffles Hotel when we visit Singapore, but if we do have some cash to splash we can indulge in a decadent afternoon tea in the hotel lobby.
Tuck into sandwiches, cakes and desserts to the background soundtrack of a live harpist for the ultimate afternoon treat.
Explore Fort Siloso
Another fun but educational museum for kids in Singapore is Fort Siloso on Sentosa Island to experience life as a soldier in the 1880s and World War II.
The sole surviving coastal fort in Singapore is now a museum dedicated to the memory of soldiers who lost their lives trying to defend Singapore.
The museum is visited via self-guided tour, with waxwork models and audio recordings bringing the scenes to life. Kids will be wowed by the 6-inch gun crew in action.
Go underground at the Battle Box at Fort Canning
Nine metres below ground in the centre of Fort Canning Park, Battle Box was the underground bomb-proof bunker of Britain's HQ Malaya Command during World War II.
Today the Battle Box has been turned into a war museum, with scenes recreated with waxwork models to allow visitors to relive the last few hours within the underground command centre prior to the British surrender.
Visits to the Battle Box are by guided tour only, lasting approximately 45 minutes, making this one of the best places to go in Singapore for families wanting to learn more about the war in an immersive environment.
Visit the Chinatown Heritage Centre
The Chinatown Heritage Centre celebrates the early Chinatown residents and depicts the difficulties they faced.
Divided between the maze-like warrens of three restored shophouses, the exhibitions explore the harsh conditions that forced many Chinese migrants to flee their home country in search of a better life in Singapore.
One of the highlights if you're visiting this top attraction in Singapore with kids, is the re-creation of cubicle living – the cramped conditions endured by many until the shophouses were demolished to make way for high-rise HDB housing blocks.
Cycle along East Coast Park
East Coast Park, with its 15km of coastline, is one of the best places for outdoor activities for kids in Singapore, such as cycling, scooting or roller blading.
There are plenty of child-friendly restaurants in East Coast Park to choose from and also a great hawker centre for some local food. There are several places to hire bikes if you don't have your own.
Visit the ArtScience Museum
This museum-cum-art gallery at Marina Bay Sands hosts an impressive line-up of international touring exhibitions from art and science; media and technology; and design and architecture.
There's nearly always something interesting on for the kids here, so if you are looking for things for kids to do in Singapore, keep your eye on their exhibition programme.
The permanent interactive digital installation FutureWorld is excellent and should not be missed. It's one of my kids' favourite places in Singapore.
Visit on a Friday, and up to 4 children under the age of 12 go free with every adult ticket purchased.
Click here to buy discounted tickets for the ArtScience Museum.
Admire modern art at the Singapore Art Museum
The Singapore Art Museum houses the world's largest public collection of modern and contemporary South-East Asian art. With over 7,000 Singapore and South-East Asian artworks, the collection includes paintings, sculptures, multimedia installations, drawings, prints, and photographs.
The dedicated Learning Gallery displays artworks that are particularly suited to children.
Take a Trishaw Tour
The trishaw was once a popular form of transport in Singapore. Today it is strictly the preserve of the sightseeing tourist, but it remains one of the most fun ways to go sightseeing in Singapore for children.
Sightseeing company Trishaw Uncle employs a fleet of trishaw drivers to take you on heritage tours of the Bugis and Little India quarters of the city. These tours can also be combined with a Singapore River Cruise.

Take the Captain Explorer DUKW Tour
Much more fun than a standard open-top bus tour, the Captain Explorer DUKW Tour takes you on an adventure aboard an authentic revamped Vietnam War era vehicle.
You begin the tour with a drive around some of Singapore's landmarks in the colonial district – Padang, City Hall, Esplanade – before splashing down into Marina Bay for views of the Merlion and the Singapore Flyer.
Click here to buy discounted tickets for the Captain Explorer DUKW Tour
Ride the Singapore Flyer
The Singapore Flyer was the world's tallest observation wheel until the High Roller opened in Las Vegas on 31st March 2014.
Regardless of its superlative status, the Singapore Flyer still stands at 165m tall, the the height of a 42 storey building and offers fabulous views across Singapore and the surrounding islands.
My kids love riding the flyer and think it is one of the best things to do in Singapore with family.

Go flying at the MegaZip Adventure Park
There is plenty to keep adrenaline junkies happy at MegaZip Adventure Park Sentosa. The MegaZip flying fox whizzes you over the jungle canopy for over 450 metres before depositing you on Siloso beach, while Climbmax is an aerial obstacle course of wobbly bridges, cargo nets and tightropes set high amongst the trees.
There's also ParaJump, a free-fall parachute simulator, and MegaBounce – trampolining with secured elasticated ropes. Another of my kids favourite family things to do in Singapore.
Click here to buy discounted tickets for MegaZip Adventure Park
Rub shoulders with the stars at Madame Tussauds
The world's most famous collection of Waxwork models, Madame Tussauds, is also on Sentosa.
Like all the other Madame Tussauds, you can rub shoulders with the doppelgangers of celebrities from the world of sport, music, cinema and history.
Unlike the other Madame Tussauds attractions, here you can also jump aboard the 'Spirit of Singapore' boat for a ride through a celebration of Singapore, featuring the F1 Grand Prix and the Singapore Airlines A380.
The Images of Singapore exhibition here is one of the best places for kids in Singapore to learn about the history and culture of Singapore. Here you can walk through Singapore's history and peek inside family homes during festival time.
Click here to buy discounted tickets for Madame Tussauds
Visit the National Museum of Singapore
Probably the best museum in Singapore is the fabulous National Museum of Singapore, where you can get a full overview of the history of the country.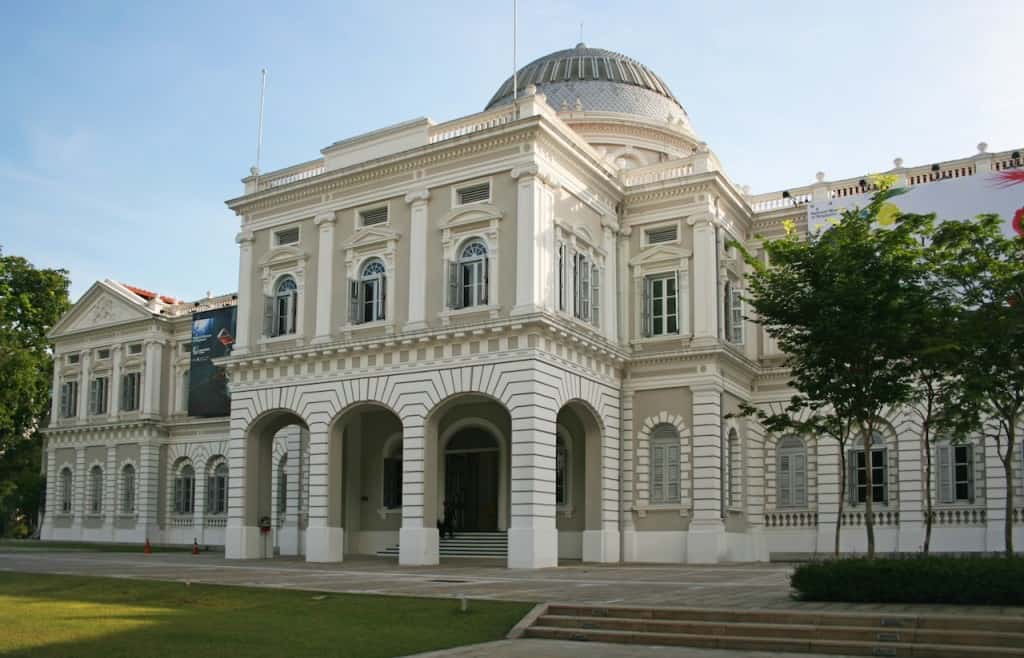 Starting in the 14th century, the exhibitions take you through the arrival of Sir Stamford Raffles and his influence, the difficult times of World War II and the Japanese occupation, and on to the building of modern Singapore.
There's plenty of hands-on activity, flashing lights and attractive presentations if you are visiting Singapore with children.
Click here to buy discounted tickets for National Museum of Singapore
Discover the Singapore Discovery Centre
With a strong emphasis on patriotism, the Singapore Discovery Centre encourages learning through hi-tech interactive games, all promoting the values of Singapore – in particular the importance of racial and cultural harmony, and the need to defend Singapore from its enemies.
Have a shot at being a newsreader, take part in a gameshow, boogy along to traditional dances in the dance zone or help to build a new city. There's also a iWerks theatre for 4D simulation rides.
Get snap happy at the Trick Eye Museum
It's all about photo taking at the Trick Eye museum. This fun interactive exhibition uses optical illusions to bring 3D murals to life when you step into them and take a photo.
Wow your friends with your photos of you hanging from ceilings, shooting from a canon, flying on a broomstick or escaping from the jaws of a monstrous fish.
Click here to buy discounted tickets for the Trick Eye Museum

Explore the River Safari
Another of the most popular Singapore kids activities is the River Safari. Tucked in between the Singapore Zoo and the Night Safari, the River Safari offers a wildlife experience inspired by the world's most iconic rivers.
Housing over 6,000 animals, the River Safari is home to the world's largest freshwater aquarium and also features beavers, crocodiles, tapirs, squirrel monkeys and more.
The highlight for many is the Giant Panda Forest, home to Singapore's two resident Giant Pandas, Jia Jia and Kai Kai.
Click here to buy discounted tickets for the River Safari
Take a Segway Tour
Head over to Sentosa and take a guided Segway Eco Adventure aboard a Segway® to take in the sights with minimum effort and maximum amounts of fun.
A 30-minute adventure will take you along Palawan and Siloso beaches, while the 60-minute tour also takes in Tanjong Beach. Kids need to be 10 years or older to take part.
Click here to buy discounted tickets for the Segway Tour
Fly through the trees at Forest Adventure
Release the inner Tarzan in you and head to Forest Adventure, the Singapore kids playground which will see you swinging through trees, flying along zip-wires and crashing into cargo nets at high speed.
Set in Bedok Reservoir Park, Forest Adventure has two courses – the Kids Course for children aged five and up, and the Grand Course for adults and children aged ten and up. Strictly for the adventurous!
See the dinosaurs at Jurassic Mile
One of Singapore's largest permanent outdoor displays, Jurassic Mile in Changi has more than 20 dinosaurs to discover along its 1km-long cycling and jogging path.
From a towering Tyrannosaurus Rex to giant dinosaur eggs, kids will love tracking down these prehistoric statues.
Go Trampolining
Want a good night's sleep? Exhaust your children with an hour of trampolining at one of Singapore's indoor bounce parks. With loads of interconnected trampolines to bounce between, basketball hoops to aim for and foam pits to launch themselves into, the kids will love exhausting themselves here.
There are several trampoline parks to choose from – Amped in River Valley and Jurong, Skyhigh in Serangoon Gardens, and Zoom Park in Pandan Gardens.
Splash around at Hydrodash
Hydrodash is Singapore's first floating aqua park. Located off Palawan Beach in Sentosa, this floating obstacle course will have you climbing, sliding, leaping and bouncing around and generally having a splashing good time.
Suitable for kids aged 5 and up.
Click here to visit their website.
Visit the Butterfly Park & Insect Kingdom
Younger kids will love coming to see the huge variety of butterflies fluttering around in the natural rainforest setting of the Butterfly Park & Insect Kingdom on Sentosa. You can also have your photo taken with a parrot and check out all the insects in the insect museum.
The exhibit is only small, so plan to combine it with another attraction on Sentosa. We think this is one of the best places to go with toddlers in Singapore.
Admire the Buddha Tooth Relic Temple & Museum
The magnificent Buddha Tooth Relic Temple and Museum is located in the heart of Chinatown and is another must-do for your Singapore to-do list. Try to visit when a daily ceremony is taking place in the 100 Dragons Hall on the ground floor to hear the monks chanting.
The museum itself will be above the heads of most children, but the magnificence of the golden room surrounding the Sacred Buddha Tooth Relic Chamber should inspire some awe, and you can set them to work counting all of the Buddha statues in the Ten Thousand Buddhas Pavilion on the roof.
So there you have it, our ultimate Singapore to-do list: 50 Things to Do in Singapore with Kids. We told you there were lots of things to do with kids in Singapore, didn't we!
Have you visited Singapore with kids? What were your favourite family attractions in Singapore? Also don't forget to read our Ultimate Guide to Sentosa Island with Kids.
Pin it for Later!