Here we share everything you need to know about visiting Myanmar with kids, including an itinerary, things to do, family hotels and useful tips for visiting Burma with kids.
Our 10-day Myanmar family vacation was one of our favourite trips ever.
Myanmar is such a fascinating country to visit and we found during our 10-day Myanmar itinerary we managed to fit in so many varying activities and enjoyed so many memorable experiences.
From watching the sunset at the incredible Shwedagon Pagoda in Yangon, to hot air ballooning over Bagan and exploring by long boat in Inle Lake, there are so many amazing things to do in Myanmar with kids.
During our family vacation in Myanmar, we visited three of the main Myanmar tourist spots – starting in Yangon, then flying to Bagan and then Inle Lake.
Each of these places to visit in Myanmar had a completely different atmosphere from the next, allowing for a really exciting and varied vacation.
Below are the highlights of our trip to Myanmar with kids, including our Myanmar travel itinerary, family-friendly Myanmar accommodation, Myanmar travel advice, Myanmar things to do and our Myanmar travel tips for visiting Myanmar with kids.
Mum on the Move is a participant in the Amazon Services LLC Associates Program, an affiliate advertising program designed to provide a means for sites to earn advertising fees by advertising and linking to Amazon.com.

Our 10-day Myanmar Itinerary
This was our 10-day itinerary for visiting Myanmar with children.
We tried to mix up adventurous activities and sightseeing with some downtime at the pool for the kids to play.
We flew between the three different destinations and pre-arranged all our tours before we went.
You can read more about how we travelled between all the tourist spots in Myanmar below.
Day 1: Arrive Yangon
Day 2: Sightseeing Yangon
Day 3: Fly to Bagan, afternoon at hotel pool
Day 4: Full day exploring Bagan temples and attractions
Day 5: Early morning hot air ballooning, visiting temples via horse & cart, hotel pool time
Day 6: Fly to Inle Lake, long boat tour of Inle Lake to visit local artisan workshops
Day 7: Green Hill Valley Elephant Camp
Day 8: Morning hotel pool time, afternoon transfer to Samkar
Day 9: Exploring Samkar and Inle Lake via long boat, afternoon hotel pool time
Day 10: Fly to Yangon and return to Hong Kong
Yangon with Kids
We started our trip to Burma with kids with a day to explore Yangon. Yangon is a fascinating city to discover and wandering the streets here gives you a window into Myanmar life.
There are many interesting places to visit in Yangon. We started our day with a stroll around the Colonial District, taking in the dilapidated buildings, and soaking in Yangon street life, before heading into the stunning Sule Pagoda.
The Sule Pagoda is less known than the Shwedagon Pagoda, but is an important feature in Myanmar's history and well worth a visit.
We also enjoyed a stroll around the Bogyoke Aung San Market and a visit to the Bogyoke Aung San Museum to learn a little of Myanmar's turbulent history. But a total Myanmar must-see and the undoubted highlight of Yangon is the famous Shwedagon Pagoda.
Myanmar's most sacred pagoda is certainly impressive, with its nearly 100m-tall golden stupa entirely covered with gold plates. The umbrella crown at the top is covered with more than 5,000 diamonds and 2,000 rubies – and is finished off with a 76-carat diamond.
Read more about exploring Yangon with kids in our article A Day in Yangon with Kids.
Click here to book a private one-day tour of Yangon.
Bagan with Kids
Bagan is one of the most famous Myanmar places to visit, with the temples here being a major Myanmar tourist attraction.
These 2,000+ temples and pagodas dating from the 9th-13th centuries and are scattered throughout the countryside. But there is so much more to this ancient kingdom than just the temples, with plenty of other fun and interesting things to do with kids in Bagan.
We spent our first day exploring some truly impressive temples, and were particularly impressed by how different they all were from each other.
Click here to book a private tour of the Bagan temples.
We broke up our day of temple bashing with a visit to the Thanaka Museum, to learn about the white paste that the Burmese women and children wear on their faces, and called in at a lacquerware workshop to watch the talented artisans in action.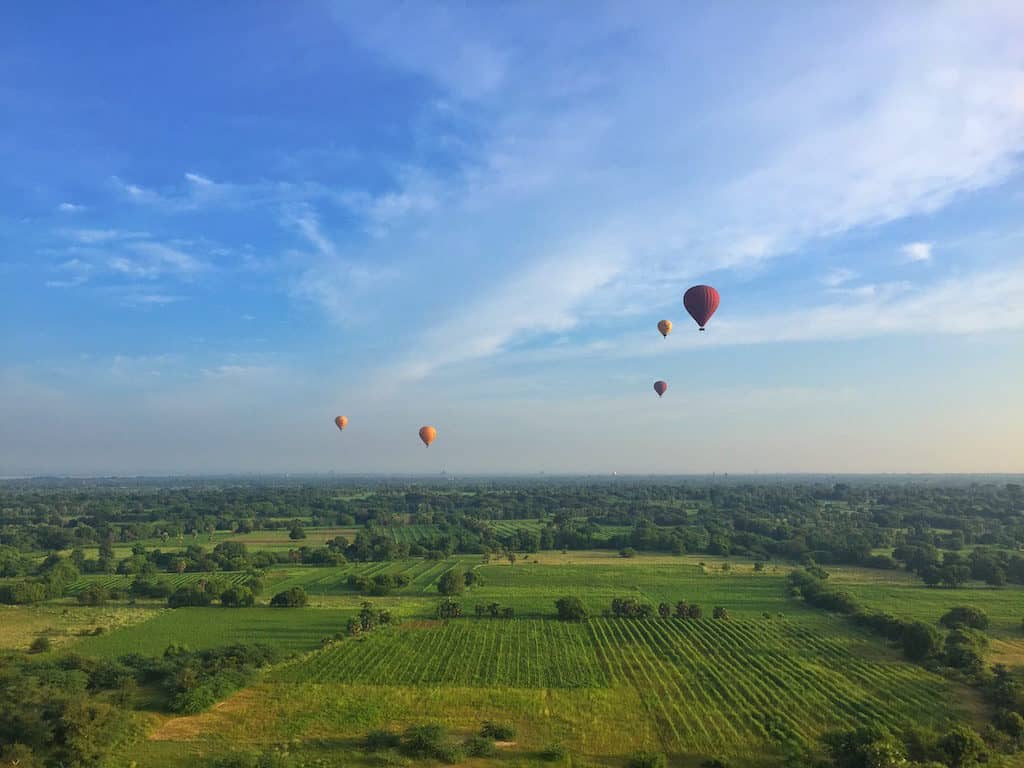 The next morning, we started with an incredible hot air balloon ride at sunrise (suitable for children aged 8 and above only), before hiring a horse and cart to explore a few more close-by temples.
Click here to book a sunrise hot air balloon ride.
We also called in at a local village to see how the local villagers live off the land, growing cotton and peanuts. We learned how to make peanut oil, and had a go at operating the farm machinery and weaving loom. Great fun – and educational!
You can read more about exploring Bagan with kids in our article Things to Do in Bagan with Kids.
Inle Lake with Kids
Inle Lake is one of the best places to visit in Myanmar, and was one of our favourite destinations during our trip to Burma with kids. We loved exploring this incredibly beautiful freshwater lake by long boat, taking in the charm of the wooden houses built on stilts and watching daily life unfold.
Click here to book a Inle Lake full day sightseeing boat tour.
There is so much to see here if you are visiting Myanmar with kids. We spent our first day visiting the local artisan workshops to learn how to make paper, carve wooden boats, make thread for weaving from lotus plants and even how to make cigars!
Another of the highlights was to head out into the countryside to visit Green Hill Valley Elephant Camp – a family-run elephant sanctuary, where they look after elderly and disabled elephants, rescued from the logging industry.
Importantly there is no riding the elephants here – just the opportunity to join in with the daily care program – including feeding the elephants and giving them a cuddle of course!
We also took the opportunity during our stay in Inle Lake with kids to get off the beaten path and visit a tiny rural village called Samkar.
This was a good two hour-long boat ride from the bottom of the lake, but so worth it to get into the countryside and get a glimpse into rural Myanmar life. It is also where we came across the most incredible pagoda of our visit to Myanmar with kids.
Read more about exploring Inle Lake with kids in our article Things to Do in Inle Lake with Kids.
Family Friendly Accommodation in Myanmar
Tourists to Myanmar must stay in registered hotels, resorts, guesthouses, motels and inns, and there is plenty of choice of family accommodation in Myanmar to suit all budgets. Below are details of where we stayed in Myanmar, and other family friendly accommodation options.
Family Friendly Yangon Hotels
In Yangon we stayed at the beautiful Belmond Governor's Residence, a restored 1920s colonial mansion with a lovely swimming pool. You can read our full review of the Belmond Governor's Residence here.
Other luxury family hotels in Yangon include the Sule Shangri-La, Yangon and the Savoy Hotel Yangon.
More budget friendly options include the Thanlwin Guest House and The Willow Inn.
Click here to read more options of family hotels in Yangon.
Family Friendly Bagan Hotels
In Bagan we stayed at the Aureum Palace Bagan Hotel, which had a gorgeous swimming pool overlooking some of the pagodas and was very handy for the airport. However, we found the rooms in need of refurbishment and the food was the most expensive of anywhere we stayed.
Other luxury family accommodation in Bagan includes The Bagan Lodge with its fun tent-style accommodation and The Hotel at Tharabar Gate.
For more wallet-friendly options, check out the Blue Bird Hotel and Shwe Yee Pwint.
Family Friendly Inle Lake Hotels
In Inle Lake, we tried out two different hotels – the Inle Princess Resort and the Aureum Palace Inle Lake. We loved both hotels and would happily recommend them both to travelers looking for luxury family accommodation in Inle Lake. Both featured spacious bedrooms, nice swimming pools and child-friendly restaurants.
Other options to consider include Sanctum Inle Resort, the Novotel Inle Lake Myat Min. The Thanaka Inle Hotel in nearby Nyaung Shwe is a good budget option.
Travelling around Myanmar with Kids
While it is possible to travel in Myanmar by train or bus, for comfort and ease we chose to fly between our major destinations in Myanmar. We flew from Yangon to Nyaung U (Bagan) and Nyaung U to Heho (Inle Lake) with Air KBZ, and we flew from Heho to Yangon with Mann Yadanarpon airlines.
We booked all flights ourselves online and found all flights comfortable and on time. We did, however allow for several hours connection time between our flight to Yangon and our international onward flight home to be safe.
To ensure we could get to see as much as possible in a short space of time and also allow us to set our own pace of sightseeing, we booked private day tours through Myanmar tour operator THAHARA for each destination – Yangon, Bagan, and Inle Lake.
THAHARA also helped us with booking the hot air ballooning in Bagan, Green Hill Valley Elephant Camp, and our trip to Samkar.
Applying for a Myanmar Visa
Citizens of 100 countries are eligible to apply for a Tourist eVisa for Myanmar. Applying for a Myanmar visa online is by far the easiest way to do it, and processing time is up to 3 working days. The Myanmar Tourist eVisa is valid for single entry only and is valid for 28 days. Citizens of certain Asian countries are given visa exemption for 14 days.
You will need to ensure you passport has 6 months validity, have a color photo to upload and will need to pay $50 USD per visa. You can apply for your Myanmar Tourist eVisa online at their website here.
Money in Myanmar
You can't buy Burmese Kyat outside of Myanmar, nor can you change anything you take out of the country when you leave. So your best bet is to take US Dollars with you to change. Note that these need to be crisp new bank notes, or you will have trouble changing them.
We read a lot of information before we left to say that finding ATMs in Myanmar can be difficult – however, we didn't find this at all, especially if you are in the Myanmar tourist places of Yangon, Bagan and Nyaung Shwe (the gateway town to Inle Lake). There was even an ATM in our hotel lobby in both Yangon and Bagan.
However, note if you are visiting Inle Lake you would be advised to use the ATM in Nyuang Shwe before you set off on your long boat as we didn't manage to find one while we were on the lake.
At the time of writing there was about 1,300 MMK to 1 USD.
Have you visited Myanmar with kids? Where did you go? Any top Myanmar tips to share?
Pin it for Later!
Mum on the Move is a participant in the Amazon Services LLC Associates Program, an affiliate advertising program designed to provide a means for sites to earn advertising fees by advertising and linking to Amazon.com.
This post contains some affiliate links. If you make a booking or purchase using one of our affiliate links, we will receive a small commission – at absolutely no extra cost to you.