Our Shangri-La Rasa Sentosa Review takes you through our experience of a family stay at one of Singapore's best family friendly hotels.
Shangri-La's Rasa Sentosa Resort & Spa is Singapore's only true beachfront resort, located just a 15-minute drive from the city centre, on Sentosa Island.
The 454 guest rooms and suites all feature balconies overlooking the beautifully landscaped tropical gardens and fabulous swimming pool.
This luxury family-friendly hotel in Singapore boasts a huge range of family-friendly facilities, including water slides, kids pool, outdoor playground, water sports center, kids club, splash pad – and even a flying trapeze – all making this Sentosa resort one of the best options for a family vacation in Singapore.
Its location on the beach in Sentosa, puts many of Singapore's best family attractions right on your doorstep, while many others are just short bus or taxi ride away.
Disclaimer: This post contains affiliate links. If you make a booking using one of our affiliate links, we may receive a small commission – at absolutely no extra cost to you.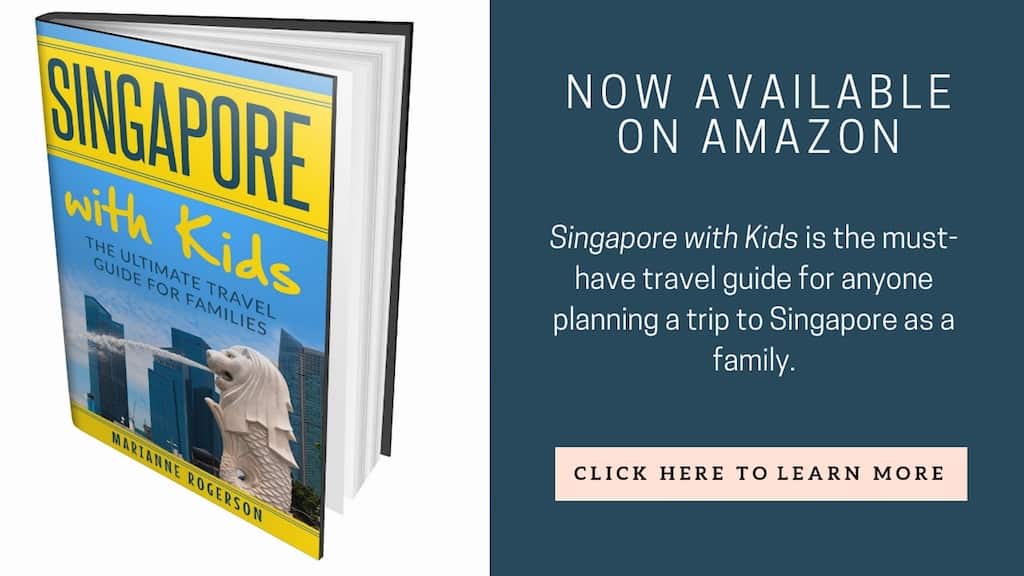 Shangri-La's Rasa Ria hotel rooms
Our home for our night at Shangri-La's Rasa Sentosa Resort & Spa was a Deluxe Pool View Room.
The huge King sized bed would have been big enough to share with both my children, but luckily the sofa converted into a double bed, so this wasn't necessary.
A balcony with chairs and a coffee table overlooked the beautifully leafy resort grounds and swimming pool, and gave a great perspective of the iconic architecture of the hotel.
The lack of carpets and rugs made the room feel somewhat sparse compared to other Shangri-La hotels we have stayed in, such as the Shangri-La Hotel, Singapore on Orchard Road and the Shangri-La's Rasa Ria Resort & Spa, Kota Kinabalu, but it was still stylishly decorated and comfortable.
The bathroom was also smaller and less glitzy than some other Shangri-La hotels but had everything we needed, including walk-in shower and a bath for the kids – and the kids loved their pint-sized bathrobes and slippers.
On arrival, the mini bar was filled with a small selection of soft drinks – offered free of charge. Guests are then welcome to fill up their mini bars with drinks from the hotel shop, to ensure you have what you want.
Click here to check prices and availability at the Shangri-La Rasa Sentosa Resort.
Playtime at the Shangri-La
If you are looking for a Singapore hotel with family-friendly facilities, then this is definitely the place to come to.
There is a large swimming pool overlooking Siloso Beach, with a separate shallow kids pool (there is also an adults-only area in the pool if you are lucky enough to score yourself some me-time).
The grounds are beautiful – acres of luscious tropical gardens to explore, with pathways, trickling waterfalls and plenty of grass to run around on.
But my kids' favourite part of the resort was the water slides! Three separate water slides – all shaded from the sun – kept them occupied for hours; they loved it.
I was impressed to see on-the-ball lifeguards here (surprisingly rare at Singapore swimming pools) policing the water slides, and when my 3-year old tripped and bit his tongue, he was swiftly helped out by a lifeguard and first-aider.
Right next to the water slides you will find the Splash Pad – a water play area for younger kids, with fountains and water spouts and mini buckets that tip up on your head. Fun!
The private beach area in front of the resort provides a relatively tranquil spot to gaze out to sea from underneath the palm trees.
Here you will also find the Sea Sports Centre, with complimentary kayaks, pedalos and stand-up paddleboards for all guests. An outdoor playground overlooking the beach is another nice touch.
Just a short walk along the beach from this family-friendly Sentosa resort is the Flying Trapeze, for anyone aged 4 and above. My 5-year old daredevil daughter had a great time having a go!
There is also a comprehensive programme of activities for both adults and kids every day, including pool games, beach soccer, beach volleyball and water aerobics. Never a dull moment at Shangri-La's Rasa Sentosa Resort & Spa!
The Cool Zone kids club is where to send the kids for some indoor fun. The Cool Zone is divided into two zones – the Toots Club for kids aged 5 and over, and Mini Toots for smaller kids aged 4 and under.
The highlight of the Toots Club is the giant treehouse slide, which takes centrestage of the play area, and there are themed games and activities, which change each day.
The Mini Toots play zone is a brightly coloured soft play area, with giant building blocks, ball pits and slides and TV zone for chilling out. A separate arts and crafts area open to all kids allows for colouring and craft making.
Note that the division of ages between the two zones can cause an issue, if like me with a 5 year-old and 3-year old, you have kids that span this gap, as they will not be allowed in to play with each other.
Luckily the Cool Zone was quiet when we visited and so my older daughter was allowed into the toddler area with my younger one (he was not allowed into the Toots Club), but usually this would not have been allowed.
Also note that kids aged under-5 cannot be dropped off and require a parent or guardian to stay with them. If you want to drop them off, you will need to pre-arrange babysitting through Housekeeping (available for children aged 2 and above).
Once you have left the kids at the Cool Zone, you can head to CHI, The Spa. Unfortunately I didn't have time to indulge in a treatment, but I did look longingly at it every time I walked past and checked out its menu of delicious looking massages and facials.
Click here to check prices and availability at the Shangri-La Rasa Sentosa Resort.
Dinnertime at the Shangri-La
You have plenty of choice when it comes to eating at Shangri-La's Rasa Sentosa Resort & Spa. Dine on 3 is a unique concept, housing a cluster of three different restaurants and a bar all under one roof.
8 Noodles offers a selection of local Singapore and other Asian dishes in a local coffee shop setting
Casserole offers a la carte dining, with specialties from Southeast Asia, Morocco, India and the West
The Silver Shell Café offers a live cooking buffet extravaganza.
I have yet to visit a hotel that can produce a buffet to rival those at a Shangri-La hotel or resort and the Silver Shell Café is a great example of this.
The array of different food on offer is mind-boggling, from sushi to salads, noodle dishes, casseroles, fresh seafood, curries, roasted meats, and of course desserts – you name it, you can probably enjoy it here.
Breakfast is also served here and is no less impressive with its amazing selection of breakfast specialties from around the world. In all Dine on 3 restaurants you have the choice of indoor and alfresco seating.
We particularly loved the Kids Zone, with its selection of kid-friendly meals such as sandwiches, salads, fruit – and of course marshmallows and cupcakes – all served at a lower height to enable the kids to help themselves.
Parents travelling with small kids will also appreciate the Baby Zone, complete with jars of baby food, a bottle sterilizer, microwave and even wet wipes and diapers.
The other thing we love about Shangri-La Hotels and Resorts is their Children's Meal Plan policy: up to a maximum of 2 children of registered hotel guests under the age of 12 can enjoy complimentary buffet meals at the all-day dining cafe when accompanied by a paying adult. Additional children under the age of 12 will receive a 50% discount on the buffet price.
Bubbles Bar is also located at Dine on 3 and is a great chill-out spot to enjoy a pre- or post-dinner drink, while the Siloso Beach Bar is located poolside, for day time drinks and snacks (and more importantly, ice cream).
A short walk along the beach brings you to Trapizza, a relaxed open-air Italian restaurant, where you can tuck into some of Singapore's best wood-fired pizza as you gaze over the sand out to sea.
There's even a small playground here to occupy the kids, while you indulge in a leisurely lunch.
Click here to check prices and availability at the Shangri-La Rasa Sentosa Resort.
In the 'hood
Sentosa Island is one huge playground and the perfect destination for a family vacation in Singapore. Shangri-La's Rasa Sentosa Resort & Spa is located right on Siloso Beach – a huge expanse of palm-tree lined white sand.
From here you can easily walk or catch a free beach tram to all the family-friendly attractions that line the beach, including KidZania, the Sentosa Luge, MegaZip Adventure Park and Port of Lost Wonder.
Resorts World Sentosa, with Universal Studios Singapore, the SEA Aquarium and Adventure Cove Waterpark, is just a short (free) bus ride away.
Read more about visiting Sentosa with Kids in our Ultimate Guide to Sentosa Island with Kids.
If you want to explore beyond Sentosa, the city is just a 15-minute taxi ride away and is full of family-friendly attractions. You can start by jumping aboard the Singapore Cable Car from right outside the resort, which will take you across to the Harbourfront or up to Mount Faber.
The hotel also provides a complimentary shuttle bus to VivoCity, Singapore's largest shopping mall, which also has MRT and bus access to the rest of the city.
Read more about all the family-friendly attractions in Singapore in our guide 50 Things to do in Singapore with Kids.
Click here to check prices and availability at the Shangri-La Rasa Sentosa Resort.
Conclusion
Shangri-La's Rasa Sentosa Resort & Spa is definitely one of the best options for a family-friendly hotel in Singapore. The child-friendly facilities can't be beaten and make for a very easy family vacation.
I did find the bedroom to be slightly less luxurious compared to some other Shangri-La hotels and resorts I have stayed in, but the family-friendly facilities more than made up for this.
The water slides and trapeze were a massive hit with my kids, and I think most kids would happily spend days here without ever leaving the resort.
But with all the child-friendly attractions on your doorstep in Sentosa and further afield across Singapore, you will want to hone your negotiation skills to convince the kids to get out and explore Singapore beyond this fabulous luxury family-friendly resort in Sentosa.
Click here to visit the Shangri-La's Rasa Sentosa Resort & Spa to read more or click here to check the latest prices at the Shangri-La's Rasa Sentosa Resort & Spa.
Disclaimer: Mum on the Move were guests of the Shangri-La's Rasa Sentosa Resort & Spa for the purposes of writing this review. This did not influence my review in any way, and all opinions expressed are honest, and my own.