The Shangri-La hotel brand is well-known for its luxury hotels and five-star service, and the Shangri-La Hotel Singapore is where it all began more than 40 years ago. Their flagship property is set amidst 15 acres of tropical landscaped gardens just a stone's throw from Orchard Road in the heart of Singapore.
The hotel features 747 elegant guestrooms and suites within three separate wings, and a fabulous outdoor freeform swimming pool surrounded by beautiful gardens. Most appreciated by us, was the complimentary Wi-Fi throughout the hotel (don't you just wish all hotels would follow suit?) and a reliable babysitting service.
Service at the Shangri-La was second-to-none. On arrival at the hotel, and before we had even checked in, our children were presented with little Shangri-La teddy bears, and throughout our stay the staff couldn't do enough for us.
Bedtime at the Shangri-La
There are three wings in the Shangri-La Hotel Singapore – Tower Wing, Garden Wing and Valley Wing. The Tower Wing is in the main section of the hotel, and is home to the most business-like rooms and includes the Horizon Club rooms on levels 16 – 22.
The Garden Wing has a more resort feel to it, surrounded by trickling waterfalls and koi ponds. The interiors of the 158 rooms are inspired by nature, and all feature a balcony with armchairs for relaxing. Breakfast is served in the poolside Waterfall restaurant, adding to the resort feel of your stay. If you really want to live it up, you can check into one of the Premier Balcony Suites, complete with private Jacuzzi, sunloungers and barbecue terrace – perfect for entertaining.
The Valley Wing is the most luxurious wing of the hotel, offering 131 elegantly furnished guestrooms, including 23 suites. The Valley Wing boasts its own lobby and entrance, and guests staying here are also offered complimentary breakfast in the Summit Room (no children under 12), complimentary minibar (excluding alcoholic drinks) and complimentary champagne, cocktails and snacks throughout the day in the lobby.
We were originally booked into a Deluxe room in the Tower Wing. However, on arrival we discovered that they were unwilling to put in a rollaway bed for our 4-year old. As we weren't prepared to share our bed with her for four nights, we opted instead to upgrade to the Valley Wing.
This not only meant moving to a much larger room (where they would put in a rollaway bed), but the price also included breakfast, making the difference in price negligible. Oh, and did I mention it included free champagne all day in the lobby lounge? Yes it did!
Our room was beautiful and spacious. With both a rollaway bed and a cot in the room, there was still plenty of room for the children to run around. Our bed was huge (two beds pushed together), and there was also a sofa and armchair in the room – although sitting there was a bit of a squeeze with the rollaway bed up against them.
The large separate dressing area had plenty of cupboard and drawer space, with room to keep the suitcases and trunkis out the way. The large marble bathroom featured double wash basins, separate WC, glass-enclosed shower, Occitane toiletries – and the bath even had a TV for the kids to watch Cartoon Network while they soaked in the tub!
There was a complimentary soft-drink minibar, and our fruit bowl was piled high with a selection of different fruit that was replenished daily. For the kids, there were little Shangri-La teddy bears left in the room, and even a small pair of slippers each.
Playtime at the Shangri-La
The Shangri-La Hotel swimming pool is one of the best in Singapore. Surrounded by tropical landscaping and palm trees, the resort feel to this swimming pool belies its city centre location. The swimming pool features two shallow areas for the kids to splash about in, and some fun fountains to run in and out of. There are also beach balls to throw around and floating armchairs to play on.
There are plenty of sunloungers surrounding the pool, and if you're lucky you'll be offered a foot massage by one of the spa staff as you lie and relax. We also appreciated the ice creams and other goodies that were brought around at regular intervals.
Adjacent to the pool is a large grassy lawn to run around on and if you're feeling really energetic, there are also four flood-lit tennis courts and a 24-hour gym. For some adult-only me-time, the CHI spa offers the usual selection of massages, facials and treatments.
Dinnertime at the Shangri-La
There are five restaurants in the Shangri-La Hotel Singapore. All-day dining is offered in The Line, which features a huge selection of international cuisine at its 16 theatre kitchens. The breakfast buffet is insane – I have never seen such an incredible array of food on offer at any hotel breakfast.
From dim sum and noodle soups, to freshly made omelettes and pancakes, cold cuts, croissants, fruit juices, cereals, cakes, curries, donuts and even ice-cream. Luckily I managed to keep the ice-cream station (complete with a choice of toppings) secret from my kids, but the chocolate donuts were a little more obvious. I know many a mum on the move will be happy to learn that sparkling wine is also on offer!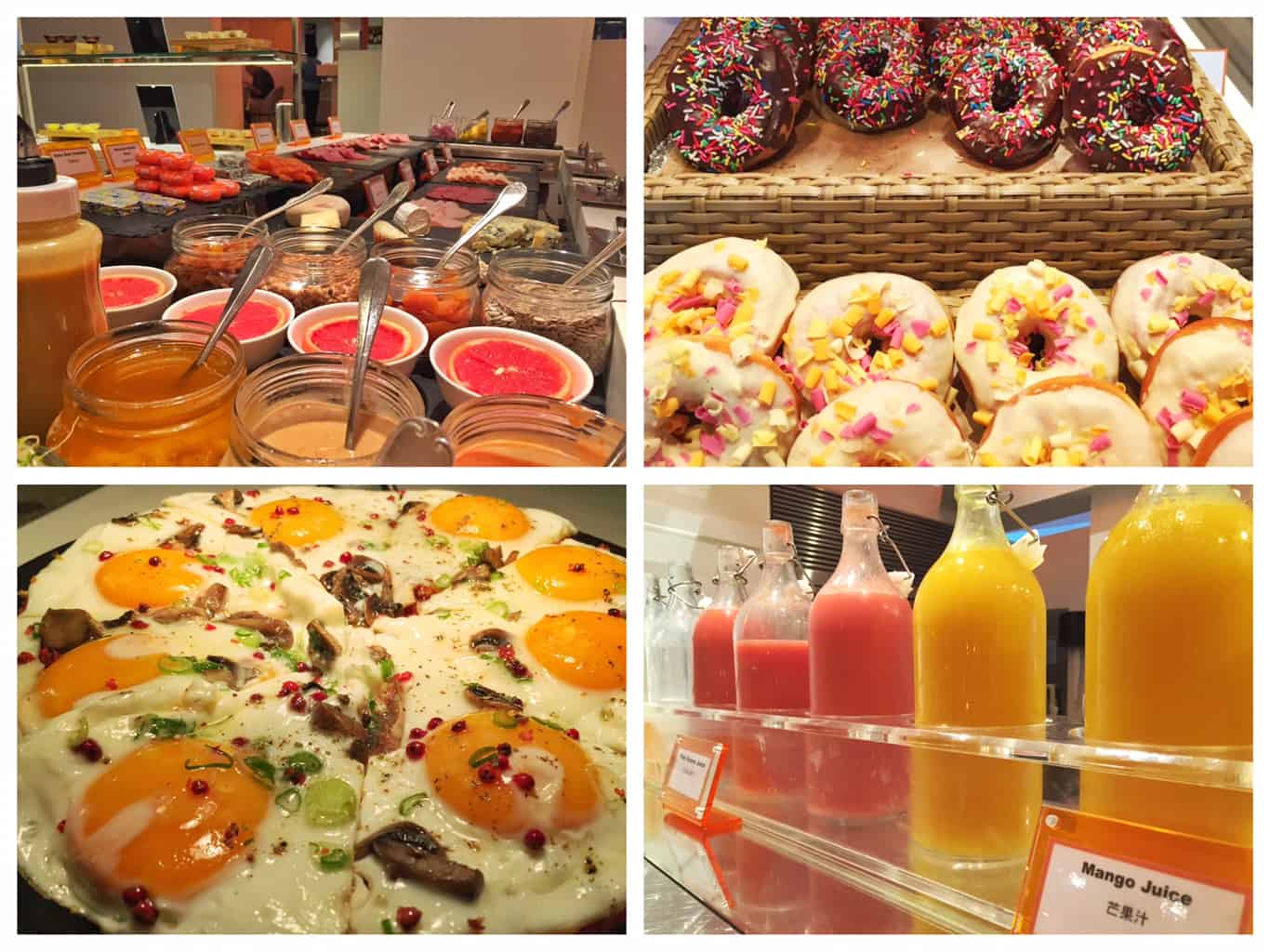 The Shang Palace is the Shangri-La's fine-dining Chinese restaurant. Here you can tuck into Cantonese, Shanghainese and Szechuan dishes in a beautiful setting. We have enjoyed fabulous dim sum here on many occasions, and particularly love their extensive Chinese tea menu, presented as a pot of Chinese Fortune Sticks.
Located within the Garden Wing, the Waterfall offers southern Italian cuisine, including fresh seafood and handmade pastas, all to be washed down with an extensive wine list of Italian wines. Guests staying in the Garden Wing can choose to have breakfast at the Waterfall.
Nadaman is the Shangri-la's Japanese restaurant, featuring a full range of Japanese dishes, such as sukiyaki, sushi, tempura and shabu-shabu, in addition to full Kaiseki dinners, and a separate Teppanyaki menu.
BLU restaurant on the 14th floor, provides a striking contemporary setting with floor to ceiling windows, to enjoy cocktails and bar bites, while for a special treat, check out the amazing afternoon tea at the Rose Veranda, complete with 164 premium tea blends to choose from and an incredible array of savoury and sweet treats.
It is worth noting that up to two children can eat for free at the buffets at All Day Dining and Pool Cafes with a full-paying adult.
In the 'hood
The Shangri-La Hotel is just a 10-minute walk to Orchard Road, Singapore's main shopping thoroughfare, where you will find more shopping malls than you can imagine. You can reach the Singapore Botanic Gardens in around a 20-minute walk. Getting a taxi in the hotel is easy, and you can reach most places in Singapore within a 20-30-minute drive.
Some of our favourite things to do in Singapore with kids include the Singapore Zoo, the SEA Aquarium, Universal Studios, the Jurong Bird Park, the Night Safari and Gardens by the Bay. Get more ideas from our article 50 Things to Do in Singapore with Kids. For ideas on where to eat and drink, then check out The Best Child-Friendly Restaurants in Singapore.
Check the latest prices for this hotel here:

Conclusion
I have stayed at many hotels in Singapore, and the Shangri-La is definitely up there as one of my favourites. I love the resort feel to the hotel, making you feel like you are on holiday on a tropical island – which of course you are, but you would never know that Orchard Road is just a ten-minute walk away. The swimming pool was just perfect for spending an afternoon with the kids, and I certainly appreciated my free glass of champagne every evening!
Check here for the latest prices and more information about the Shangri-La Hotel Singapore.
Pin it for Later!
Mum on the Move visited the Shangri-La Hotel Singapore "undercover" and paid for their own stay at the hotel. All opinions expressed are honest and our own. This post contains affiliate links. If you book a hotel through the affiliate website, we will receive a small commission at no extra cost to you.