Singapore's fortuitous location between East and West makes a stopover in Singapore ideal for those looking to break their journey between Europe and Australia, or enroute to the exotic islands of Southeast Asia.
There is so much to do in Singapore with kids, that trying to narrow it all down to find the best of what to do in Singapore for 2 days can be tricky. So if you are planning a stopover in Singapore with kids, then here we give you our Singapore itinerary with suggestions on what to do in Singapore in 48 hours with kids.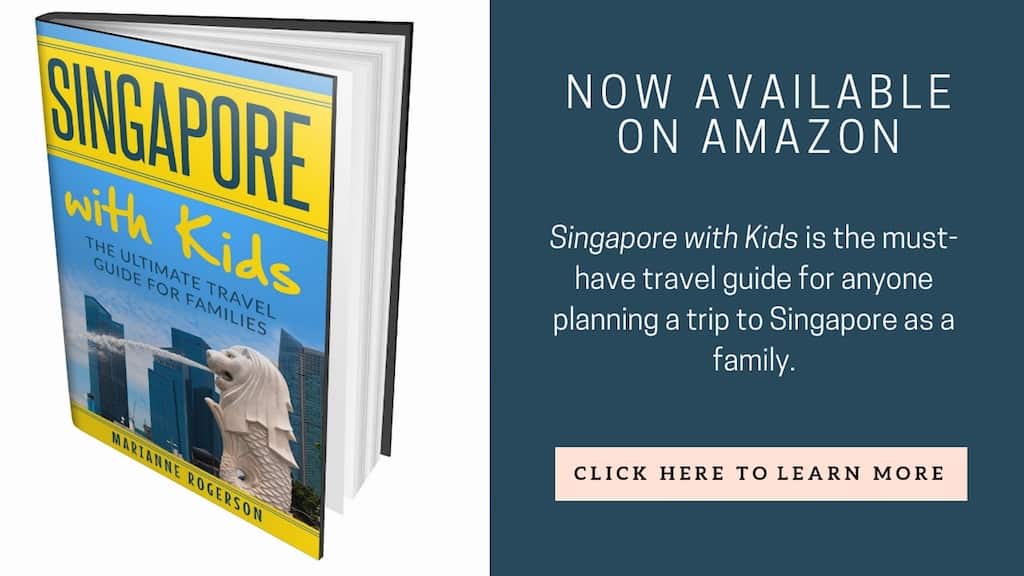 Day One
On day one of your 48 hours in Singapore itinerary, you are going to visit the Singapore Zoo and also get to see a bit of Singapore culture, visiting Chinatown and the Colonial District.
Morning – Singapore Zoo
Forget another boring hotel breakfast buffet – this morning you're going to have breakfast with the orangutans at Singapore Zoo! Singapore Zoo is awesome, and highly regarded as one of the best zoos in the world.
Set in a natural rainforest environment, the zoo is a model example of an 'open zoo' concept, where animals dwell in spacious, landscaped enclosures separated from visitors by concealed moats, or in glass-fronted enclosures.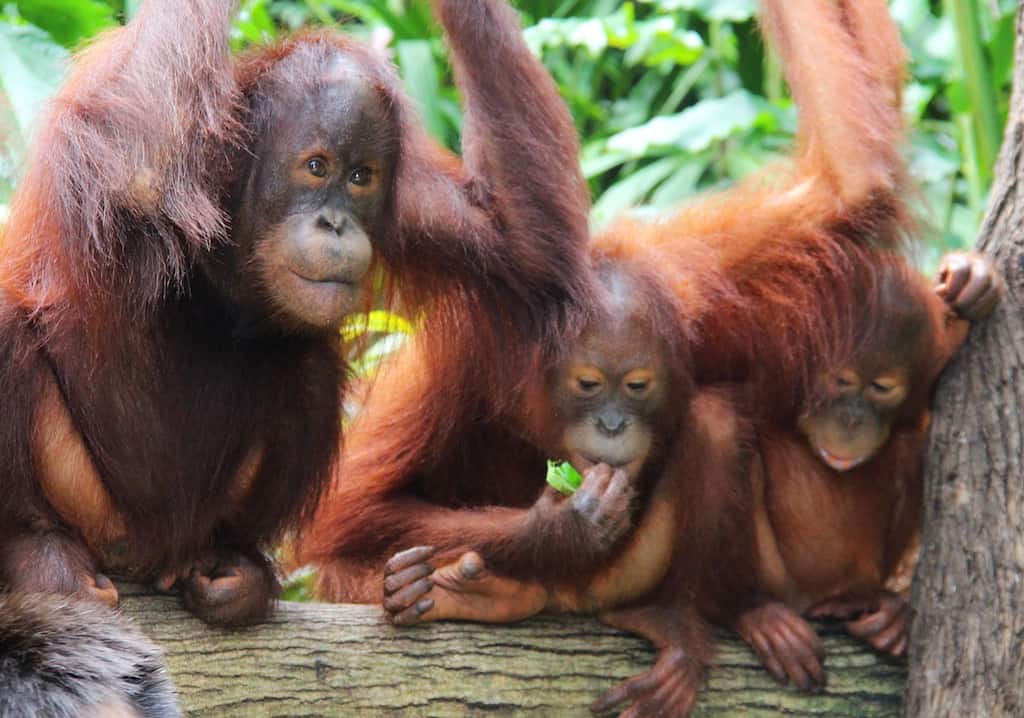 There is an enormous amount to take in here – 2,530 animals from 315 species are housed within the 28 hectares but if you get there for opening time and have breakfast with the orangutans, you should still have time to see everything and have a quick cool-off play in the Rainforest Kidzworld water park and leave in time for lunch in town. There is plenty more still to fit into your 48 hours in Singapore!
You can buy discounted Singapore Zoo (and Zoo Breakfast) tickets online at klook travel
here.
For more information about Singapore Zoo, read our article Top Tips for Visiting Singapore Zoo with Kids.
Lunchtime – Dim Sum
Grab a taxi from the zoo and get them to drop you in Chinatown for lunch. Chinatown is a bustling and fun part of town, and Yum Cha is one of our favourite kid-friendly restaurants here, where you can enjoy dim sum in an authentic setting. The menu includes a wide choice of Chinese dishes, but the majority of people flock here at lunchtime to indulge in a dim sum feast.
Tucked away at the top of a hidden staircase, this popular restaurant packs in local families and passing tourists, creating a buzzing and convivial atmosphere. It is guaranteed to be bustling and noisy, so nobody will notice how much noise your kids are making!
New to Dim Sum? Read our Beginner's Guide to Dim Sum.
Afternoon – Chinatown and a River Cruise
You are now ideally located to explore Chinatown and introduce your kids to a bit of Singapore culture. Wander the streets to admire the beautifully preserved heritage shophouses, and shop for souvenirs amongst the street stalls and tiny boutiques on Pagoda Street.
Call in at the Chinatown Heritage Centre to take a journey through the lives of the Chinese immigrants who flooded into Singapore throughout the 19th century, and visit the Buddha Tooth Relic Temple and Museum to learn about the life and teachings of Buddha.
Don't miss a visit to the wet market in the basement of the Chinatown Complex to see where the locals shop for their fresh fruit, vegetables, meat, spices and seafood. Keep an eye out for the buckets of live frogs, eels and turtles for sale!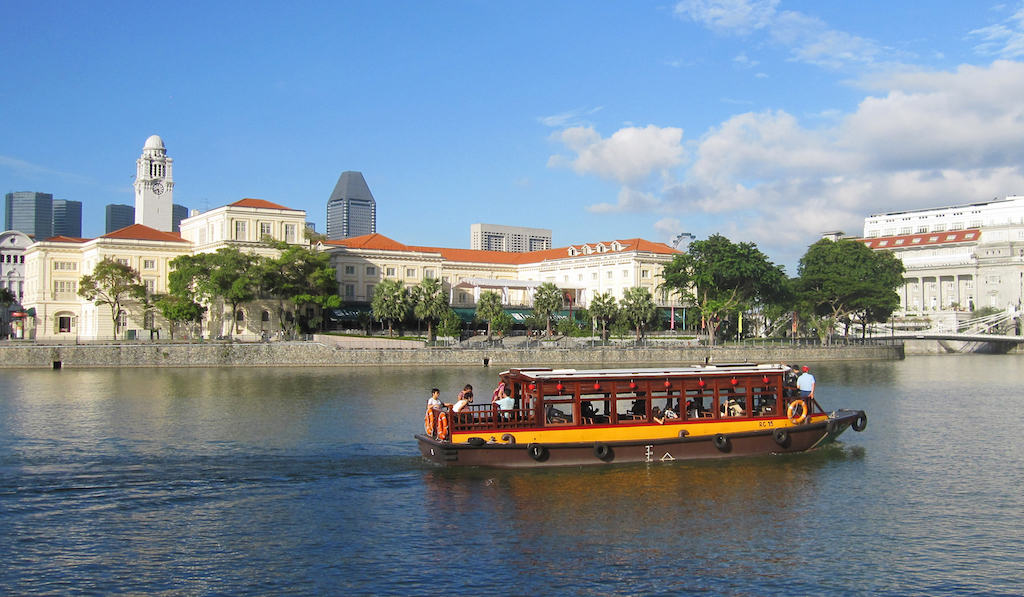 The next item on your 48 hours in Singapore itinerary is a River Cruise. The best place to pick up the boat is Merlion Park, and over a relaxing 40-minutes you will get to take in the sights of Singapore's Colonial District, Marina Bay and Central Business District.
Dinner – local street food
You can't visit Singapore without enjoying a meal in a hawker centre – the city's version of street food. Strict government health and safety regulations mean you can happily bring your children here for a meal without worrying about the family suffering from 'Delhi Belly'.
There are Hawker Centres all over Singapore, but two of our favourites are Lau Pa Sat and Makansutra Gluttons Bay – both are within easy reach of Singapore River.
Lau Pa Sat is located in the centre of the CBD, and attracts all the local office workers for both lunch and dinner. All of Singapore's best-loved dishes are on offer here, with over 100 stalls to choose from. Boon Tat Street to the side of Lau Pa Sat is locally known as 'Satay Street', and really comes to life after dark when the stalls start churning out clouds of smoke and vying for business.
Makansutra Gluttons Bay next door to the Esplanade Theatre is a quieter and more refined experience. With a smaller number of carefully selected stalls and alfresco ambience, Makansutra Gluttons Bay also offers views over Marina Bay from its outdoor plastic seating. Famous dishes to try include Sambal Stingray, BBQ Chicken Wings, Satay, Char Kway Teow and Carrot Cake.
And now it's time to get a good night's sleep in preparation for more fun in family friendly Singapore tomorrow. Looking for a good Singapore Stopover hotel? Check out our selection of The Best Family-friendly Hotels in Singapore.
Day Two
On the second day of our Singapore stopover itinerary, you are going to stick to Sentosa Island – Singapore's 'playground' and home to many of Singapore's best family-friendly attractions.
Morning – Universal Studios
Singapore is home to Southeast Asia's only Universal Studios theme park – at Resorts World Sentosa. Divided into seven zones, including Far Far Away and Madagascar, you should get to meet some of your favourite cartoon movie characters, and have fun on the movie-themed rollercoasters, rides and attractions.
Highlights include the Shrek 4-D Adventure, Madagascar: a Crate Adventure, Transformers The Ride – a hyper-realistic 3D thrill ride, and Battlestar Galactica – the world's tallest duelling roller coaster ride. Book your tickets online
, arrive early and make sure you get the Universal Express Pass, and you should be done by lunchtime.
Click here to read our full review of Universal Studios Singapore.
Lunchtime – noodles and dumplings
There are plenty of eating options inside Universal Studios – but why settle for a lackluster burger when you can indulge in some fabulous noodles and dumplings and one of Singapore's best loved restaurants, Din Tai Fung?
Handily located between Universal Studios and the Southeast Asia Aquarium, Din Tai Fung dishes up a wide range of soups, appetisers, dumplings and rice dishes, but the restaurant is most famous for its Xiao Long Bao (Shanghai pork dumplings). There are always plenty of high chairs, and the buzzing throng ensures that any noisy children will melt into the background.
Afternoon – Southeast Asia Aquarium or Adventure Cove Waterpark
With over 100,000 marine creatures from over 800 species spanning 49 different habitats, it is hard not to be impressed by the SEA Aquarium. There's a shipwreck to marvel at, tunnels to gaze at the sharks from, touch pools for discovering knobbly sea stars, and then the grand finale: the Open Ocean – a panoramic marine vista complete with manta rays, sharks, and goliath grouper. You can buy discounted tickets for the SEA Aquarium online at klook travel
here.
If you prefer to get wet and wild, then right next door to the SEA Aquarium is Adventure Cove Waterpark. The kids will love all the waterslides here, including Riptide Rocket, Southeast Asia's first hydro-magnetic roller coaster (a slide that takes riders upwards). There's also a wave pool and a 620m-long Adventure River inner tube ride, and even a small reef for snorkeling on. You can buy discounted tickets for Adventure Cove Waterpark at klook travel
here.
There are loads of other options of things to do in Sentosa with kids – Read our Ultimate Guide to Sentosa Island with Kids for more ideas.
Dinner on the Beach
Why not finish your 48 hours in Singapore on the beach? Our favourite child-friendly beach bar in Singapore is Tanjong Beach Club on Sentosa Island. This uber-cool bar serves up a slice of tropical paradise, with a beachfront setting and swimming pool looking out to sea. Mum and dad can kick back on a lounger while the kids splash in the pool or build sandcastles on the beach. The bistro menu is largely seafood focused, but they do a pretty mean burger too, and have a small kids menu. (Closed Mondays)
And that's it for our Singapore stopover itinerary. But wait! There's so much more to do in Singapore with kids – so check out our article 50 Things to Do in Singapore with Kids and make sure you book to stay longer in Singapore next time!
Pin it for Later!
Note: this page contains some affiliate links. If you make a purchase using our affiliate link, we will receive a small commission – at absolutely no extra cost to you.