Here we explore all the best things to eat in Singapore. One thing is for sure – you will never go hungry in Singapore!
Singaporeans love to eat, and in a city where a common greeting is "Have you eaten?" in place of "How are you?" you know you're not going to go hungry.
But working out exactly what to eat in Singapore when there is so much choice and competition can be challenging to the newcomer.
Eating out in Singapore on a daily basis is the norm, which is not surprising given the low prices, strict standards of hygiene and wealth of variety on offer. The majority of locals eat in the hawker centres – the city's version of street food, where you can pick up a plate of local cuisine for as little as $4 or $5.
With locals boasting that eating is in fact a national pastime, the Singapore food culture almost borders on an obsession at times, and it is not uncommon to see Singaporeans travelling across town to go to their favourite Char Kway Teow or Laksa stall.
If you are not local however, navigating the minefield of Singapore local food and working out what and where to eat in Singapore can be a bit of a challenge.
A good option of course is to join a Singapore food tour. We often join food tours in new cities and find them a great way to learn more about a country's cuisine and culture.
Whether you choose to join a tour or go in search of the best food in Singapore by yourselves, our Singapore food guide gives you our pick of must try food in Singapore.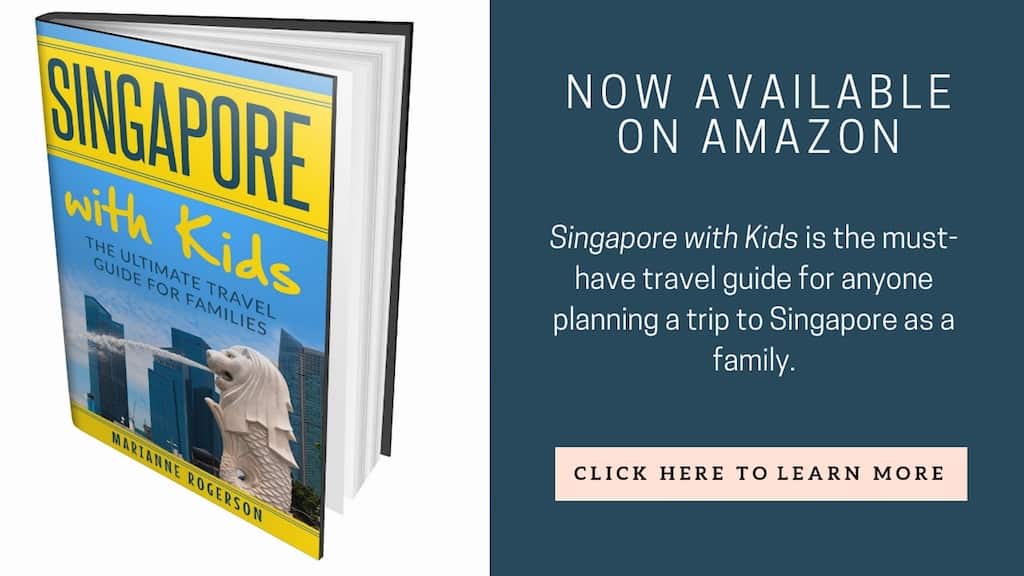 Chilli Crab
Chilli crab is considered the Singapore national dish by many and is a must do in Singapore for visitors. Fresh Sri Lankan crabs are dished up in a tangy, spicy chilli sauce, which are best enjoyed by getting stuck in with your fingers and a nutcracker to crack open the shells and suck out the flesh.
Don't forget to order Mantou, or fried Chinese buns to go with it, which are perfect for scooping up the delicious sauce of this Singapore famous food.
Where to eat Chilli Crab in Singapore: For chilli crab, one of the best places to eat in Singapore for an al-fresco, breezy atmosphere is the East Coast Seafood Centre, where you'll find a cluster of open-air seafood restaurants facing out to sea.
If you don't fancy the trek out East, then Jumbo Seafood at Clarke Quay is a popular in-town choice for a chilli crab dinner in Singapore, as is Red House at the Quayside at Robertson Quay.
Chicken Rice
Considered to be another Singapore national dish, this is a simple dish of rice topped with slices of steamed chicken… but it is so much more flavourful than it sounds, hence why it is such popular food in Singapore.
The secret of a good Chicken Rice lies in the quality of the stock the rice is cooked in, the tenderness of the chicken, and the quality of the accompanying condiments – chilli sauce, ginger sauce and dark soy sauce. This Singapore national food is usually a hit with the kids too.
Where to eat Chicken Rice in Singapore: Every food court and hawker centre in Singapore will have a chicken rice stall. One of the most famous is Tian Tian Hainanese Chicken Rice at Maxwell Road Food Centre in Chinatown.
Another personal favourite for this Singapore traditional food is Five Star Hainanese Chicken Rice on River Valley Road.
Fish Head Curry
Fish head curry is the Indian contender for Singapore's national dish and is a must eat in Singapore's Little India. The fish head (usually a Red Snapper) is steeped in a spice-filled curry sauce alongside succulent okra, tomatoes and brinjal (eggplant).
The fish head is surprisingly fleshy, and connoisseurs aim straight for the cheeks and around the eyes, although the image of the severed head floating in a bowl with its eyes staring up at you may prove to be a bit much for any squeamish kids (or adults for that matter)!
Where to eat fish head curry in Singapore: Two popular restaurants to try this recommended food in Singapore include Banana Leaf Apolo and Muthu's Curry, both found on Race Course Road in Little India.
Kaya Toast Breakfast
The much-loved kaya is a Singaporean jam made from eggs, sugar, coconut milk and flavoured with pandan. Usually served on charcoal-toasted bread with lashings of butter as a traditional breakfast in Singapore.
This sticky sweet delight is usually a hit with the kids and should ideally be enjoyed with soft-boiled eggs. To eat, smother the eggs with pepper and dark soy sauce, dip in your toast, and wash it all down with a cup of thick black kopi-o (or perhaps a hot milo for the kids).
Beware the eggs are traditionally served very undercooked and runny. If that thought doesn't appeal to you, ask for them to be served a bit more well done.
Where to eat Kaya Toast in Singapore: This Singapore breakfast food is available from modern coffee shop chains around town, but for a more authentic experience, head to Killiney Kopitiam (the original can still be found on Killiney Road), famous for dishing up its French toast version since the 1950s.
Sweet Corn Ice Cream Sandwich
One of the quirkier things to eat in Singapore is an ice cream sandwich. Here, a slice of soft multi-coloured (ie bright pink and green), slightly sweet Pandan bread is wrapped around a block of ice cream.
You can choose from traditional flavours such as chocolate or strawberry, or do as the locals do and choose durian, mango or sweet corn flavours.
Where to eat an ice cream sandwich in Singapore: You can usually find ice cream vendor carts along Orchard Road to try out this unique food in Singapore.
Katong Laksa
Another popular option for cheap food in Singapore, this sweet/spicy soup is made up of thick rice noodles steeped in a spicy gravy, thickened with chilli paste and coconut milk. It is commonly topped with cockles, prawns, fish cakes and bean sprouts.
Laksa can be found in all the food courts and hawker centres in Singapore, but it is most famous in Katong in the east of the city.
This area is traditionally associated with the Peranakan community, and the 'Katong Laksa War' is something of a legend in Singapore.
This story has been well documented in the press over the years, telling the story of the feuding laksa stall owners in Katong who all claim to have the original and the best version of this much-loved dish.
Where to eat laksa in Singapore: One of the three famous laksa shops involved in the 'laksa war' has now closed down but if you want to try this authentic Singapore food, the other two can be found at the corner of East Coast Road and Ceylon Road 328 Laksa at no. 51 East Coast Road and The Original Katong Laksa in Roxy Square, at no.50 East Coast Road.
Dim Sum
As more than 70% of the Singapore population is Chinese, it is not surprise that dim sum is one of the best eats in Singapore. A dim sum lunch is a great way to have lunch as a family.
Kids love seeing all the little dishes arrive at the table and seeing what hides inside the bamboo steamers. If you don't know your char siu bao from your har gao, then read our beginners guide to dim sum.
Where to eat dim sum in Singapore: most of the Chinese restaurants in Singapore will dish up dim sum at lunchtime. Yum Cha on Trengannu Street in Chinatown is always a good place for lunch in Singapore, and Crystal Jade Golden Palace in Paragon Shopping Centre is another personal favourite.
You can read more about both of these Singapore Chinese restaurants in our guide to Kid Friendly Restaurants in Singapore.
Hawker Centre Food
A visit to Singapore wouldn't be complete without sampling some of the best local food in Singapore at a Hawker Centre, the city's version of Singapore street food.
If you are looking for cheap and good food in Singapore, then you need to try some of the best hawker food in Singapore.
Originally hawkers would walk the streets pushing their carts and set up shop in temporary surroundings.
As time evolved these 'villages' of Singapore food stalls became permanent, and they are now carefully regulated by the Singapore government to ensure strict health and safety compliance.
Several stalls are housed under one roof with each stall specialising in different Singapore local dishes – so take your pick from noodle soups, satays, curries, seafood and exotic desserts.
And with dishes starting at as little as $4 or $5 a dish, it is a great option for cheap eats in Singapore.
A general rule of thumb when looking for the best hawker in Singapore, is to look for the stall with the longest queue, although bear in mind your palate may differ from the locals!
Looking for ways to save money on your Singapore trip? Read our budget guide to Singapore here!
What to Eat in the Hawker Centres
Knowing what food to try in Singapore can be difficult if you are new to hawker centre eating. This breakdown of some of the best street food in Singapore will help you get started.
Char Kway Teow
Considered a must eat food in Singapore by many, this Singapore signature food has flat ribbon noodles tossed together in the wok with cockles, prawns, bean sprouts, Chinese sausage, sweet soy sauce and lard.
A good Char Kway Teow should have what's known as 'wok hei' – the smoky flavour that comes off a hot wok.
Roti Prata
Probably the most ubiquitous Indian dish in Singapore, this is another hugely popular food to eat in Singapore. A flaky flatbread made from water and wheat flour is fried on a hot griddle pan and served with a spicy curry gravy, or sugar.
Different variations are available including egg and cheese.
Popiah
Another option for cheap hawker food in Singapore, fresh spring roll filled with steamed vegetables, bean sprouts, omelette strips, chopped peanuts and often pork and/or shrimp.
It is usually plied with a good lashing of chilli sauce. It will be rolled to order, so you can opt out of any of the ingredients if you want.
Nasi Lemak
Another Singapore favourite food dish is actually the national dish of Malaysia and is kiterally translated from Malay as "rice in cream". Rice is cooked in coconut milk, then dished up with fried fish, anchovies, egg, cucumber and the all-important sambal.
The Chinese influence in Singapore means that fried chicken wings and the occasional chicken sausage have also found there way onto local plates.
Fried Carrot Cake
Not a cake and not made from carrots, this misleading Singapore local delicacy is in fact made from steamed radish mixed with rice flour and steamed.
The steamed 'cake' is then stir fried with garlic, soy sauce, eggs and spring onion, with the result being similar to a mashed-up omelette.
Comes 'white' (with crispy fried egg) or 'black' (the egg is mixed in with sweet black sauce).
Rojak
A bizarre mixture of fruit and vegetables, fried tofu, bean sprouts, fried dough sticks and grilled cuttlefish all tossed together with a dark sweet dressing made from crushed peanuts, prawn paste, sugar and chilli paste – this popular Singaporean dish is as eclectic as its population!
Satay
Satay is everyone's favourite cheap dinner in Singapore and the focus of many a craving for Singaporean clubbers on their way home in the early hours. Diced marinated meat (usually chicken, beef or prawn) is skewered onto bamboo sticks and grilled over charcoal.
This most popular food in Singapore is served with raw onions, cucumber and a spicy peanut dip.
Bak Kut Teh
Another of the best Singapore foods to try, Bak Kut Teh literally translates as 'pork bone tea'.
This clear garlicky, peppery pork rib soup is simmered for so long that the meat is literally falling off the bone. This top food in Singapore is served with rice and fried dough sticks.
Fried Hokkien Prawn Mee
A mixture of egg and rice noodles are stir-fried in seafood stock, and garnished with prawns, fish cake, bean sprouts, leafy vegetables and sometimes pork and cuttlefish too.
This Singapore hawker food is served with fresh lime and sambal chilli sauce.
Popular Hawker Centres
Below are some of the best hawker stalls in Singapore. These cheap places to eat in Singapore are where you can sample some or all of the above local hawker dishes. Popular stalls and dishes are highlighted for each hawker centre.
Lau Pa Sat
Historic Lau Pa Sat (also known as Telok Ayer Market) is slap-bang in the middle of the Central Business District. It is one of the most popular food places in Singapore with the area's office workers.
The cast-iron Victorian structure was built in 1894 and shipped from Glasgow and boasts over 70 stalls of a huge variety of the best things to eat in Singapore.
Popular stalls to look out for here include:
Fragrance Garden Chicken Rice
Lai Heng Fried Kway Teow
Qiu Lian Ban Mian (noodle soup)
Seng Kee Local Delights (selection of Singapore local delights include Laksa, Char Kway Teow and Fried Hokkien Prawn Mee)
Boon Tat Street to the side of Lau Pa Sat is locally known as 'Satay Street', and really comes to life after dark when hundreds of satay lovers flock to the area and the stalls start churning out clouds of smoke and vying for business.
Makansutra Gluttons' Bay
Makansutra Gluttons' Bay is where to head for a more tranquil experience.
Located next to the Esplanade Theatre on Marina Bay, Glutton's Bay is one of the smaller hawker centres, with a select few stalls serving up good quality versions of some of the best Singapore hawker food.
The open-air umbrella-ed seating means breezy alfresco dining with a view of the skyline across the bay, making this a nice place for dinner in Singapore if you are on a budget. (Not open for lunch)
Popular Singapore signature dishes to try here include
Chicken wings from Huat Huat BBQ,
Satay from Alhambra Padang Satay,
Mee goreng from Old Satay Club,
Chicken rice from Wee Nam Kee,
Sambal stingray from Redhill Rong Guang BBQ Seafood and
Fried Hokkien prawn mee from Soon Lee.
Newton Circus Hawker Centre
Newton Circus Hawker Centre is popular with tourists and the expats who live in the Orchard Road area, leading many locals to complain that it is an expensive tourist trap.
It's true that it has been heavily promoted by the Singapore Tourist Board and now even features on some bus tours.
But it is easy to get to, airy and offers a staggering variety of good hawker food in Singapore so it is still well worth a visit.
There is a huge variety of barbecue seafood stalls here and you may find yourself inundated with touts trying to encourage you to pick them. Just politely decline and take your time to choose.
Famous hawker stalls to look out for here include:
Kwee Heng for a variety of roast meat dishes, chicken rice and noodles
Bee Heng for popiah
Alliance Seafood for chilli crab and sambal stingray
Hup Kee for fried oyster omelette
TKR Satay to fulifil your satay cravings
East Coast Lagoon Village
East Coast Lagoon Food Village has a pleasant beachfront atmosphere. This is a great option for some cheap good food in Singapore if you are hanging out in the East Coast Park for the day. Note that not all stalls are open during the day on weekdays though.
Popular dishes to try here include
Satay from Haron Satay
Carrot cake and popiah from Lagoon Carrot Cake
Char kway teow from Choon Hiang
Fish head curry at Eastern Red Seafood.
Have you been to Singapore? What do you think is the best food to eat in Singapore?
Looking to entertain the kids in Singapore? Read our post: 50 Things to do in Singapore with kids.
Pin it for Later!