If you're wondering what to do in Sunshine Coast Queensland away from the beach, here is our pick of all the best Sunshine Coast attractions.
The beautiful Sunshine Coast Queensland is famed for its fabulous beaches and amazing natural attractions. It is one of Australia's most popular holiday destinations, particularly with families.
We are excited to welcome fellow mum on the move Melissa from Thrifty Family Travels to guest post for us on what to do in Sunshine Coast Queensland.
Melissa loves to travel the world with her family, but lives in Brisbane and so is a good authority on the Sunshine Coast attractions as she visits regularly with her family.
Where is the Sunshine Coast?
The beautiful sunshine coast is located around two hours north of Brisbane in Queensland, stretching from Caloundra to north of Cooloola.
Sunshine Coast tourism is a booming industry and it is a popular choice for family holidays due to its gorgeous beaches and stunning natural scenery.
Some of the best beaches in Sunshine coast can be found in Caloundra, Mooloolaba, Coolum and Noosa, making these ideal places to visit in Sunshine Coast with kids.
Sunshine Coast Activities
Whilst you could easily spend your entire Sunshine Coast family holiday without leaving the beach, there are plenty of other fun things to do on the Sunshine Coast.
Here Melissa shares with us what she thinks are the top 10 things to do in Sunshine Coast with kids, including zoos, theme parks, national parks and more.
Noosa National Park
One of the best Sunshine Coast adventures is exploring Noosa National Park. With beautiful beaches, walks and wildlife it is one of the best things to do on the Sunshine Coast for free.
There are over 15 kilometres of walking tracks all of varying difficulty levels. The walks provide stunning views of the coastline as well as gorgeous beaches and there are rock pools to explore.
Along the walks keep an eye out for wildlife, such as koalas, lizards, cockatoos and parrots, as well as marine life including whales, turtles and dolphins.
The entrance to Noosa National Park can be found at Park Road. Parking can be a little tricky and so we recommend parking in the town centre and catching the shuttle bus to the National Park.
Australia Zoo
One of the most famous Sunshine Coast tourist attractions for families is the late Steve Irwin's Australia Zoo. Australia Zoo is situated over 100 acres of tropical parkland and includes more than 1,000 native and exotic animals.
Animals on display include wombats, kangaroos, echidnas, dingoes and of course crocodiles, plus non-Australian animals like elephants, giraffes and tigers.
Of course, the late Steve Irwin is famous for the work he did with crocodiles and there are plenty of crocodiles to see here.
The Australia Zoo Wildlife Warriors show, starring some massive saltwater crocodiles as well as snakes and birds, should definitely be on your Sunshine Coast to do list.
\The show is on daily at 12 pm at the Crocoseum. There are a number of other shows/talks on during the day including koalas, tortoises, otters and birds of prey, making this one of the most popular activities in Sunshine Coast.
Australia Zoo is open daily between 9 am and 5 pm. Tickets for Australia Zoo start at $59 per adult and $35 per child. You can also visit the Australia Zoo on a day tour from Noosa.
Sea Life
Sea Life at Mooloolaba is another of the top things to do in Sunshine Coast with kids. Here they can learn about marine life through hands on experiences, displays and shows.
Adults and kids alike will love the 80 metre Ocean Tunnel, where sharks, sting rays, turtles, fish and other marine life swim around you.
Other great attractions include the Bay of Rays, the tidal touch pool where the kids can touch starfish, sea urchins and sea cucumbers.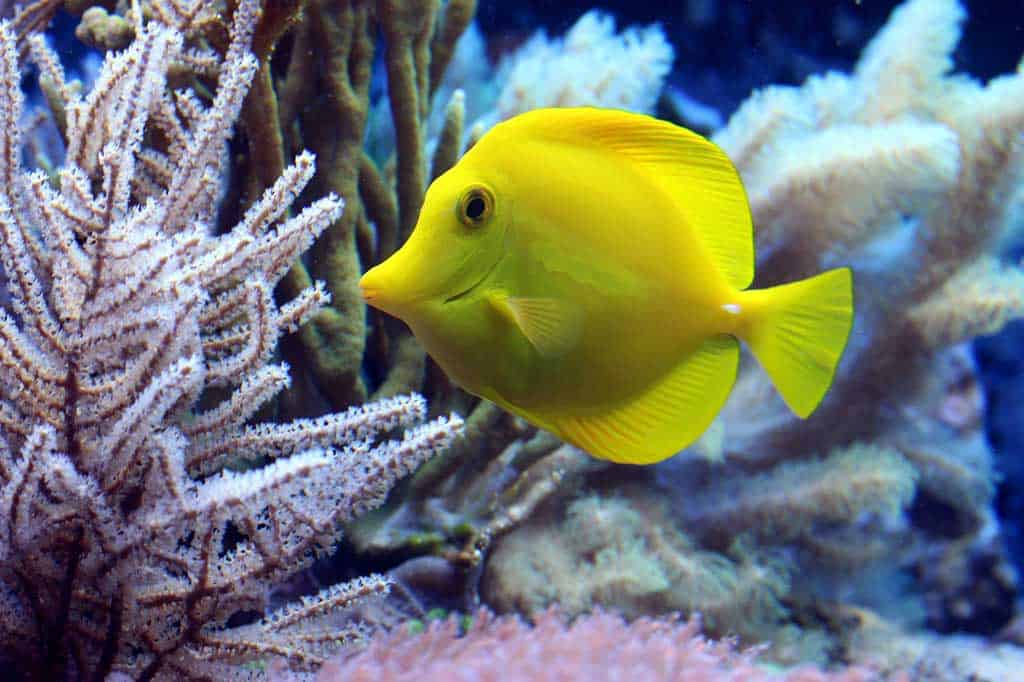 Throughout Sea Life, there are plenty of opportunities for the kids to learn more about the animals via various touch screens, and telescopes to look through.
If you are up for it, you can swim with the sharks for an additional fee or even sleep in the Ocean tunnel for a truly unique experience.
Sea Life is located at the Mooloolaba Wharf and is open daily from 9 am to 5 pm.
Noosa River
With its calm, crystal clear water, the Noosa River is one of the best places to visit in Sunshine Coast for families and is another of our favourite free things to do in Sunshine Coast.
It is the perfect spot for little kids to have a swim as well as build sandcastles.
There are several places along the foreshore where you can hire kayaks to explore the various sand bar islands in the middle of the Noosa River.
You will find plenty of spots for a picnic or BBQ, as well as some great places for fish and chips, and when you have had enough swimming, the kids will love playing in one of the playgrounds along the river.
Aussie World
Another of the best kids activities in Sunshine Coast is Aussie World, the only theme park on the Sunshine Coast.
Much smaller than the massive Gold Coast theme parks, Aussie World is ideal for families wanting to avoid the crowds of the bigger parks. It is also much cheaper.
Aussie World has over 30 rides and games, including a giant slide, Ferris wheel, dodgems, carousel and side show alley. There are water rides and thrill rides, rides suitable for the littlies and rides that the big kids will love too.
Aussie World is open daily from 10 am to 5 pm. Ticket start at $38 per person.
Currimundi Lake
Located between Caloundra and Maroochydore is the beautiful calm waters of Currimundi Lake. It is a favourite place for local Sunshine Coast kids to spend a day with their families.
Find a shady spot under the trees and then jump into the shallow waters for a dip, or pull the kids along on their boogie boards. When the kids have had enough of the water, there are swathes of golden sand to build sand castles.
You can also bring along kayaks and stand up paddle boards.
For lunch bring a picnic, have a BBQ or grab some fish and chips nearby. Then after lunch take a nap under the shade of the trees before more swimming. There is also a kids playground here.
Ginger Factory
The Ginger Factory located at Yandina is another of our favourite things to do with kids in Sunshine Coast. There is so much more to this place than just being a ginger factory.
Yes, you can tour the Ginger Factory (which happens to be the largest in the world) and learn all about ginger as well as have the opportunity to try some ginger products. But there are loads more fun things to at this Sunshine Coast must see.
The kids will love taking a ride on the old cane train and the Overboard boat ride.
The old cane train leaves every 30 minutes and the journey includes commentary, whilst the overboard boat ride takes you through various countries (think Disney's "it's a small world") and follows the story of the gingerbread man.
The ride includes music and animated puppetry with over 200 handmade moving puppets.
As well as ginger, you can go to the Super Bee attraction and learn about honeybees. There are presentations by beekeepers, bees to check out and the opportunity to try some delicious honey. There is also a rainforest and kids play area.
Entry to the Ginger Factory is free, however all attractions (with the exception of the rainforest and kids play area) have an entry fee. You can purchase a ticket that includes entry to all attractions, or individual tickets.
The Ginger Factory is open daily from 9 am to 5 pm.
Kondalilla National Park
Kondalilla National Park is located near the village of Montville on the scenic Blackall Range.
Despite being one for the lesser-known Sunshine Coast activities and attractions, the park has various walks suitable for families as well as picnic areas.
A popular walk for families is the 1.7 km Picnic Creek circuit. This walk takes around 45 minutes and crosses the cascades of Picnic Creek and through the eucalypt forest. It offers lovely views across the valley, as well as fantastic views of Kondalilla Falls.
There is also a swimming hole, which is easily accessible with a short walk from the car park.
Eumundi Markets
The Eumundi Markets is one of the largest artisan markets in Australia and is held every Wednesday and Saturday. The markets are one of the most popular places to go in Sunshine Coast with locals.
Here you can purchase all sorts of goodies including clothes, essential oils, jewelry, plants, tea, sculptures, etc, not to mention some delicious food. There are several great stalls selling items the kids will love too.
Before you leave, be sure to make a detour for the fabulous Dick Caplick Park. The kids will love the colourful train, swings, tunnels and see-saws.
The Great Beach Drive
The Great Beach drive is a 380 km beach route, which starts at the Noosa North Shore and goes all the way up to the world heritage listed Fraser Island. This drive is only suitable for 4WD vehicles.
Along the route you will get in some fabulous Sunshine Coast sightseeing as you drive along some of the world's most stunning beaches and through gorgeous National Parks.
The area is home to loads of wildlife including kangaroos, whales, turtles, dingos, dugongs, platypus and birds.
If you don't have your own 4WD drive, there are plenty of Sunshine Coast tours that you can join to experience this beautiful drive. Tour groups usually stop for swimming and wildlife spotting along the way.
Best Time to Visit Sunshine Coast
With high levels of sunshine and low levels of rain throughout the year, there isn't really a bad time to visit the Sunshine Coast.
Summer tends to be more hot and humid (that's what all those beautiful Sunshine Coast beaches are for), and the winter tends to be cooler and dryer.
Bear in mind that the Sunshine Coast is one of the most popular holiday destinations in Australia, and is especially popular during school holiday time.
If you are looking for a quieter holiday and to avoid the high costs of accommodation, be sure to book your Sunshine Coast family holiday outside of school holiday time.
Planning to head further north in Queensland? Be sure to check out our other posts Things to do in Cairns with Kids and Things to do in Port Douglas with Kids.
Pin it for Later!
Mum on the Move is a participant in the Amazon Services LLC Associates Program, an affiliate advertising program designed to provide a means for sites to earn advertising fees by advertising and linking to Amazon.com
This post contains affiliate links. If you make a booking or purchase using one of these links, we may receive a small commission – at absolutely no extra cost to you.