We love Northern Queensland – it is one of our favourite destinations for a family holiday. What's not to love? It has an amazing tropical climate, beautiful beaches, stunning rainforest and so many fun things for the kids to do – from riding cable cars to cuddling koalas and snorkeling on the Great Barrier Reef. Here we sum up the best things to do with kids in Cairns, Australia.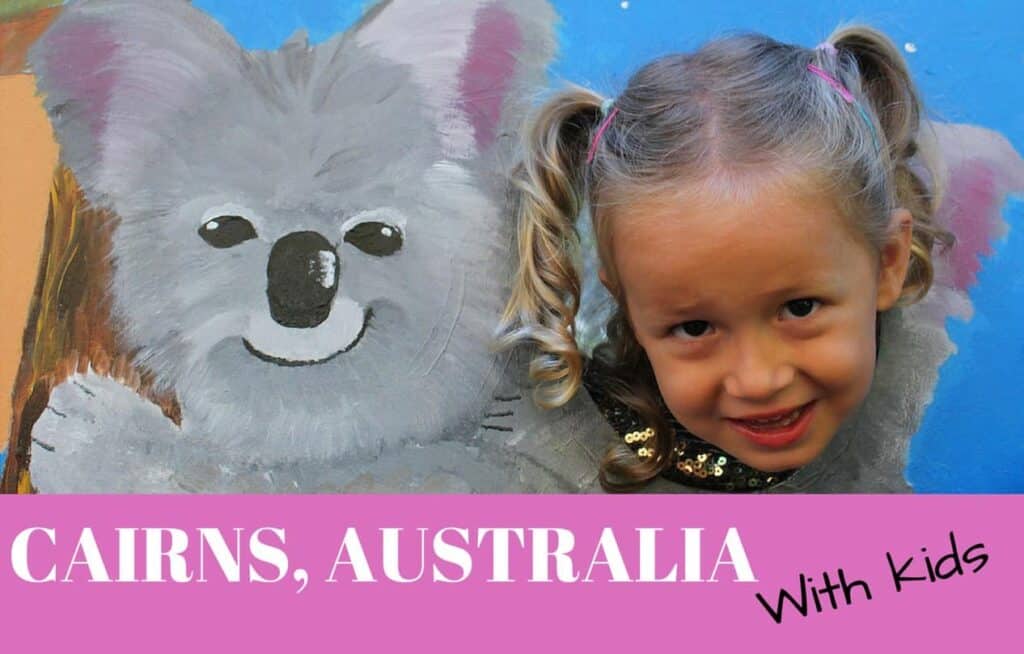 A Day in Kuranda
The picturesque mountain retreat of Kuranda is around 25km northwest of Cairns and makes for a fabulous day of family fun. Known as 'The Village in the Rainforest', Kuranda is surrounded by beautiful World Heritage Rainforest, giving the village a peaceful and laid-back vibe, despite the hordes of tourists who visit every day. There are several family-friendly attractions to keep you busy here – Kuranda Koala Gardens, Birdworld Kuranda and the Australian Butterfly Sanctuary are all within a short walk of each other and offer up plenty of hands-on wildlife fun. Half the fun of visiting Kuranda is getting there and back – I would recommend taking the Kuranda Scenic Railway here, and the Skyrail Cable Car back again.
Read our full article A Day in Kuranda with Kids here.
Muddy's Playground
Muddy's Playground is an excellent playground at the waterfront Esplanade, right in the centre of Cairns. There are climbing frames, rope ladders, swings, a flying fox, plenty of sand to play in and several water features for splashing about. There's also an on-site café in full view of the play area, and BBQ facilities. If you have a couple of hours free, Muddy's Playground is a great place to head to for running off some energy – and of course it's free.
Cairn's Lagoon
Just a short stroll along the boardwalk from Muddy's Playground is another excellent free facility – the Lagoon. This large swimming pool is surrounded by a fake beach for playing in, and grassy banks for running around on. The shallow sloping sides of the pool mean you can happily let the kids run in and out of the water, and there are water fountains to swim through for the brave.
Green Island
Green Island is just 45-minutes by fast catamaran from Cairns. This 6,000 year old tropical island is located within the Great Barrier Reef Marine Park and is a great choice for a family day of beach fun. Kick back on the sandy beaches and paddle in the clear blue water, take a glass bottom boat trip, go snorkeling or scuba diving, or have a go at the Seawalker, where you get to walk along the ocean floor without even getting your hair wet! If you can't bring yourself to leave, there is even a resort here for overnight stays.
Visit the Green Island website here
Port Douglas is just an hour's drive from Cairns and there are a whole host of other family friendly activities to be enjoyed here. See our article Things to Do with Kids in Port Douglas for more ideas, including Hartley's Crocodile Adventures, Wildlife Habitat and exploring the Great Barrier Reef.
We stayed at the Alamanda Palm Cove, about a 20-minute drive from central Cairns. This fabulous family-friendly hotel is located right on the beach in beautiful Palm Cove. You can read the full review of the Alamanda Palm Cove here.