There are so many fun things to do in Cairns with kids. From cable cars to koalas and the Great Barrier Reef, here are all the best family activities in Cairns.
We love Northern Queensland – it is one of our favourite destinations for an Australia family holiday. It has an amazing tropical climate, beautiful beaches, and a stunning rainforest close by.
Many people choose to base themselves in Cairns when visiting Northern Queensland. There are so many things to do in Cairns with kids. From riding cable cars to cuddling koalas and snorkeling on the Great Barrier Reef, you are bound to find loads of fun family activities here.
Here we sum up the best things to do in Cairns Australia for family visits.
Explore Cairns Esplanade
The Cairns Esplanade is one of the most popular Cairns attractions for families. There are plenty of nearby restaurants, large grassy areas for picnics and BBQ facilities, as well as some of Cairns tourist attractions popular with families.
There is a 3km boardwalk that is great if you have brought bikes or scooters with you. Follow it along to the end to find the Fun Ship Playground, while the Cairns SkatePark, the largest skatepark in Australia, can be found down towards the hospital.
Swim in Cairns Lagoon
One of the best free things to do in Cairns with kids can be found at the Esplanade – the Cairns Esplanade Lagoon. Spending an afternoon at this large Cairns swimming pool is one of the most popular things to do in Cairns city.
For kids there is a beach area for playing, and grassy banks for running around on. The shallow sloping sides of the pool mean you can happily let the kids run in and out of the water, and there are water fountains to swim through.
Arrive early at weekends to avoid the crowds – the Cairns Lagoon is a bit of a magnet for backpackers who come here to sleep off their hangovers in the sun!
Play at Muddy's Playground
Just a short stroll along the boardwalk from Cairn's Lagoon is another of the best things to do in Cairns for free – Muddy's Playground. This Cairns playground is excellent. There are climbing frames, rope ladders, swings, a flying fox, plenty of sand to play in and several water features for splashing about.
There's also an on-site café in full view of the play area, and BBQ facilities. If you have a couple of hours free, and wondering what to do in Cairns with kids, Muddy's Playground is a great place to head to for running off some energy.
Visit the Cairns Zoom & Wildlife Dome
The Wildlife dome and Zoom is one of the best kids activities in Cairns for adventurous families. It is home to the world's first challenges rope course in a wildlife park.
Animal lovers will love exploring the rainforest aviary, wallaby walk and lizard lounge, and there are plenty of photo ops and feeding times to enjoy.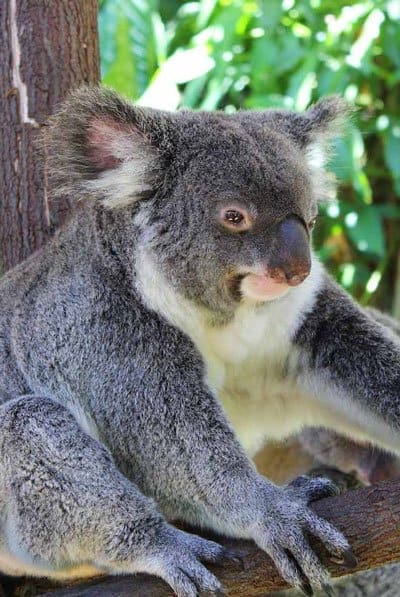 Adrenaline junkies of all ages can enjoy the ropes courses and challenges. The Mid-Zoom course is fun for younger kids, while older kids and adults can tackle the Hi-Zoom. The power jump, pirate climb and dome climb are for the even more adventurous.
Click here to book discounted Zoom and Wildlife Dome tickets.
Snorkel on the Cairns Great Barrier Reef
Many people head to Cairns to have the opportunity to snorkel or dive on the Great Barrier Reef and this should definitely be on your Cairns to do list. There are several options for tours to the Great Barrier Reef.
For families, we like tours that take you to a pontoon, so that you can spend as long or as little in the water as you wish. These Great Barrier Reef tours often give you the option to see the reef from a glass bottom boat or semi-submersible, making them ideal for families with small children. Click below to learn more.
Click here for more information and prices of the Great Barrier Reef tour.
Another option is to head to Port Douglas, where you can pick up the Quicksilver Great Barrier Reef Tour, which is excellent for families. Click here for more information and prices.
Take a trip to Green Island
Green Island is just 45-minutes by fast catamaran from Cairns and is another popular way to visit the Great Barrier Reef. Older kids and adults can arrange snorkeling and diving expeditions here, while younger kids can play on the sandy beaches and paddle in the clear blue water.
Other fun things to do on Green Island include taking a glass bottom boat trip, or having a go at the Seawalker, where you get to walk along the ocean floor without even getting your hair wet!
If you don't want to leave, you can check into the Green Island Resort, a four star resort with spacious family rooms, an outdoor pool, restaurant, bar and lots of fun water-based activities. Click here to check prices for the Green Island Resort.
Click here for more information and prices for a Green Island Cruise.
Visit the Cairns Aquarium
If you don't have time to visit the Great Barrier Reef when you are in Cairns with kids, you can still take them to the Cairns Aquarium. The Cairns Aquarium opened in September 2017 and is now one of the most fun things to do in Cairns with kids.
It is the only aquarium in the world dedicated to the habitats and species of Northern Queensland, and has over 15,000 animals to admire. There are daily talks and presentations, two touch tanks and behind the scenes tours to make your visit even more fun.
Click here to book tickets to the Cairns Aquarium.
Play on the Cairns Beaches
The nine beaches in Cairns are also known as the Northern Beaches as they stretch up the coast north of the city. The closest beach to Cairns is Machans Beach, which is just a short drive from the airport.
We think one of the best beaches in Cairns is Palm Cove, with its beautiful long stretch of beach and good choice of family friendly resorts and restaurants. A quieter option closer to Cairns is Trinity Beach. Families should probably avoid Buchans Point as it is the only nudist beach in Cairns!
Note that stinger season runs from October to May. If you are visiting the Cairns beaches during this time, be sure to only swim where there are stinger nets. Also avoid estuaries, as crocodiles are known to hang out here!
Take the Skyrail Cable Car
The Skyrail Rainforest Cableway glides over 7.5km of rainforest scenery to reach Kuranda to the Northwest of Cairns. The journey takes 90-minutes and you are rewarded with fabulous scenery on the way, making this one of the most popular things to do around Cairns.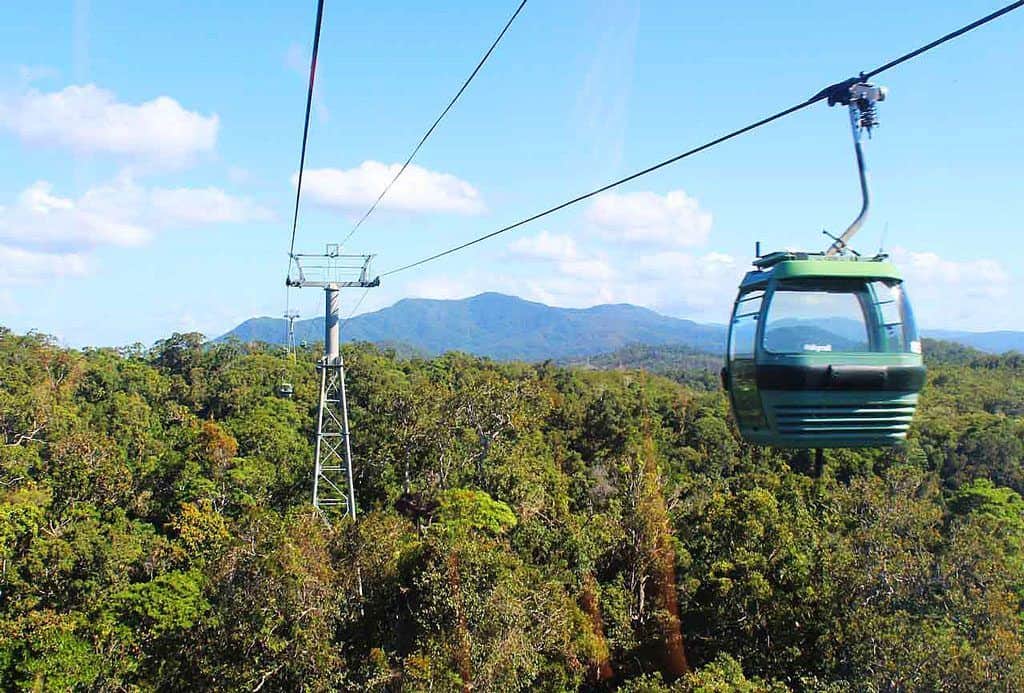 There are two rainforest stations on the way, where you need to change onto the next section, and each of these has boardwalks to explore and scenic lookouts for photos. Each cable car seats up to eight people, so plenty of room for the whole family!
Click here to book your Skyrail cable car tickets online or even more fun, take the Kuranda rail train up and the Skyrail back down agin. Click here for more information.
Spend a Day in Kuranda
The picturesque mountain retreat of Kuranda is around 25km northwest of the city and is one of the best places to visit in Cairns. Known as 'The Village in the Rainforest', Kuranda is surrounded by beautiful World Heritage Rainforest, giving the village a peaceful and laid-back vibe, despite the hordes of tourists who visit every day.
There are several family-friendly Cairns attractions and activities to keep you busy here. The Kuranda Koala Gardens, Birdworld Kuranda and the Australian Butterfly Sanctuary are all within a short walk of each other and offer up plenty of hands-on wildlife fun.
Half the fun of visiting Kuranda is the getting here and back – I would recommend taking the Kuranda Scenic Railway here, and the Skyrail Cable Car back again.
Click here to read our full article about what to do in Kuranda with kids.
Visit Hartley's Crocodile Adventures
Another of our favourite family things to do in Cairns is visit Hartley's Crocodile Adventures, which is around a 40-minute drive north of Cairns. Set on the site of a commercial crocodile farm, there is plenty of croc-related fun to be had here.
Your visit to Hartley's starts with a tour of the crocodile farm where you can stroke a baby croc, before taking a boat cruise on Hartley's Lagoon to see the crocodile feeding in action.
The highlight is the Crocodile Attack Show, where one of the park rangers takes on a large Saltie! Kids will also love the Gondwana Gateway, where they can pet and feed both kangaroos and wallabies and meet the quokkas.
Visit the Tjapukai Aboriginal Cultural Park
UPDATE: TJAPUKAI ABORIGINAL CULTURAL PARK HAS NOW PERMANENTLY CLOSED.
We didn't have time to visit the Tjapukai Aboriginal Cultural Park but we have added it to our list of things to see in Cairns next time we visit. This cultural park is located in Smithfield, near the base of the Skyrail cable car and is a great option for a Cairns family holiday.
Kids can learn about the aboriginal culture though dance and theatre performances, and have a chance to learn to play the didgeridoo, throw a boomerang, sample some bush food and create some aboriginal art.
Explore the Atherton Tablelands
Starting around 90km inland from Cairns, the Atherton Tablelands is famous for its waterfalls, fabulous fresh produce, wildlife and lava tubes. Rising more than 800m above sea level, this lush fertile region of Queensland safeguards rainforest, wetland and savannah.
Its temperate climate makes for a fabulous year-round destination and their is plenty to explore here. Highlights include swimming in beautiful waterfalls, exploring the crumbling castle of Paronella Park, discovering the lava tubes at Undara, searching for cassowaries and of course sampling all that incredible fresh produce.
Click here to read more about all the best things to do in the Atherton Tablelands.
The Best Time to Visit Cairns
The tropical Cairns climate means it is always a good time to visit Cairns. The Cairns weather has two distinct seasons: Summer and Winter.
Winter in Cairns runs from May to October. This Cairns dry season brings plenty of sunshine, pleasant warm temperatures with cool breezes and low rainfall. Temperatures range from around 17 – 25 degrees celsius.
Summer in Cairns runs from November to April. You can expect hotter temperatures, tropical downpours and some impressive electrical thunderstorms. Temperatures range from around 25 – 30 degrees celsius.
Cairns is a popular tourist destination, so if you want to avoid the crowds, try to avoid the Australia school holidays.
Cairns Family Accommodation
We think the best area to stay in Cairns with kids is at the beach, and our favourite beach is Palm Cove. Just a 20-minute drive from Cairns city centre, Palm Cove has a gorgeous beach and good choice of family restaurants and cafes.
Other people may prefer to stay close to the city centre, particularly if you won't have use of a car. The best hotels in Cairns for families would be in walking distance of the Esplanade and all its family friendly amenities.
Click here to read our full list of family friendly hotels in Cairns.
Riley, a Crytalbrook Collection Resort, Cairns
If I were to stay in a central Cairns hotel with family, I would definitely choose the Riley. It has a great location on the Esplanade, within a short walk from the lagoon, shops and restaurants.
It has a gorgeous swimming pool with fake beach for little kids to play on and plenty of loungers for parents to hang out on.
This luxury Cairns hotel has gorgeous bedrooms with spacious balconies and rainforest showers. Family rooms (made up of two interconnecting rooms) allow for up to six guests. There is a choice of restaurants and a spa.
Kids get a free breakfast with paying adults and a kids pack on arrival.
A special shout-out goes to the Riley Resort in Cairns for their conservation efforts: in your room you will find cardboard cartons for water, recycled cardboard coat hangers, recycled wooden room keys and more.
Click here to check prices and accommodation for the Riley.
Alamanda Palm Cove
Another of our favourite hotels is the Alamanda Palm Cove, a great choice of Cairns accommodation for kids.
This luxurious Cairns 5 star resort is the only hotel in Palm Cove to provide absolute beachfront accommodation, with only the palm trees coming between you and the beautiful Palm Cove beach.
The spacious suites are more like self-contained apartments, with kitchens and living areas, making it ideal family accommodation in Cairns.
It has beautiful swimming pools and landscaped gardens, and is just a short walk from all of Palm Cove's restaurants and amenities. I definitely recommend this as one of the best hotels near Cairns Australia.
Click here to check prices of the Alamanda Palm Cove and click here to read our full review.
Peppers Beach Club & Spa
Our other choice of family hotel in Palm Cove is Peppers Beach Club. This kid friendly accommodation in Cairns boasts three gorgeous family-friendly swimming pools, one with a beach to play on. Rooms are spacious and some have kitchenettes and living areas.
Click here to check prices for Peppers Beach Club & Spa
Shangri-La Hotel, The Marina, Cairns
If you are looking for where to stay in Cairns city centre, the Shangri-La is another top pick for the best place to stay in Cairns for a family. Located right on the Marina, this luxury accommodation in Cairns boasts panoramic views of the marina and a gorgeous outdoor pool with children's pool.
Click here to check prices for the Shangri-La Cairns
Read more recommendations for Family Hotels in Cairns here.
Trying to decide between Port Douglas or Cairns? Port Douglas is just an hour's drive from Cairns. It has the advantage of being right on the beach and there are a lots more family friendly activities to be enjoyed here. See our article Things to Do with Kids in Port Douglas for more ideas.
Heading to Queensland? You may also like these posts:
Pin it for Later!
This post contains affiliate links. If you make a booking or purchase using one of these links, we may receive a small commission – at absolutely no extra cost to you.