Everything you need to know about visiting the Big Buddha Hong Kong – how to get there, how to save money and what to do nearby.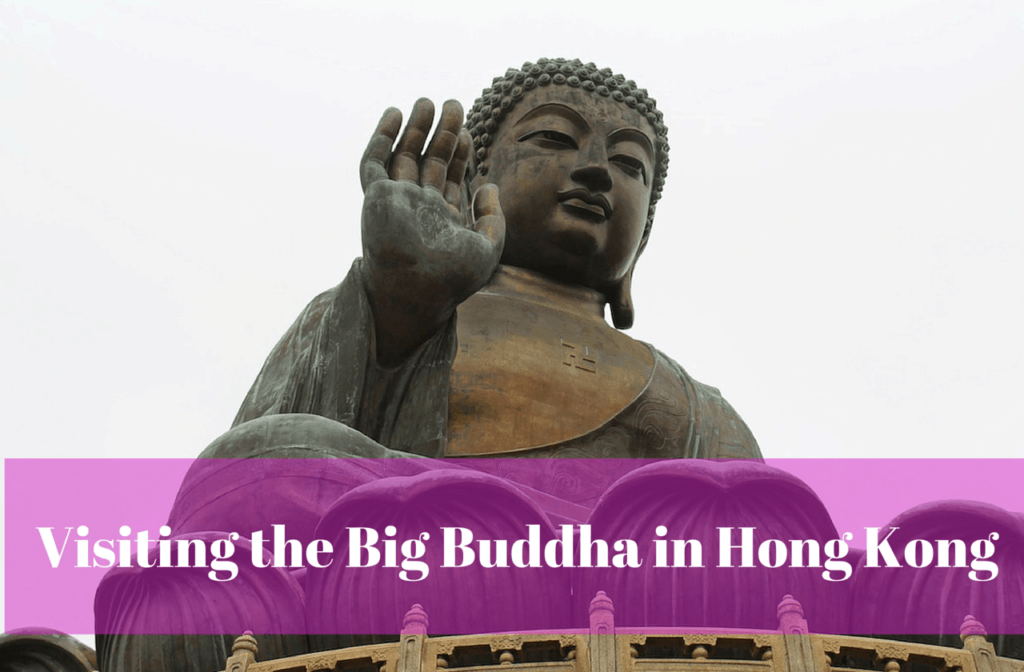 Visiting the Tian Tan Buddha on Lantau Island always features on people's Hong Kong bucket lists.
More commonly known as the Big Buddha Hong Kong, a day trip over to see this famous Hong Kong landmark makes for a fun adventure with the kids.
Firstly there is the cable car that takes you up the mountain, then there is a monastery to explore, the Big Buddha itself, and you can end the day with a visit to Tai O Village – Hong Kong's oldest fishing village.
Our top tips for visiting this Hong Kong landmark will help you make the most out of this bucket list activity.
How to get to Big Buddha Hong Kong: Ngong Ping 360
Half the fun of visiting the Big Buddha is getting there.
The absolute best way to get to Big Buddha Hong Kong is to take the 25-minute journey aboard the Ngong Ping Cable Car from Tung Chung Town Centre. (You can also take a bus to the Big Buddha, but where's the fun in that?)
The 5.7km journey aboard this Hong Kong cable car whisks you high above the trees of North Lantau Country Park and provides spectacular views out over the South China Sea and of Hong Kong International Airport.
Perhaps not an obvious selling point, but my kids thought it was pretty cool to watch planes take off from above them in the cable car!
Seeing the large Buddha statue seated high up on the mountain for the first time as the cable car emerges over the crest of the hill is a special moment too (if you are lucky enough to have a clear day – the Big Buddha is often shrouded in cloud).
Bear in mind that the Lantau island Buddha is one of Hong Kong's most popular tourist attractions, so you will want to get there early or be prepared to queue for a long time.
The Ngong Ping 360 opening hours are from 10am during the week, and 9am at weekends.
We arrived just after 9am on a Saturday and managed to get tickets without queuing, and only had to queue for around ten minutes for the cable car – but people were arriving in droves, so any later and it would have been a different story.
Your best bet is to buy tickets online
 for this Big Buddha Hong Kong cable car to avoid ticket queues.
Another option, if you can't get there for opening time (and can't buy tickets online for some reason), is to purchase a 'crystal cabin' ticket – these glassed bottom cars have a separate queue, which goes down much quicker.
Click here to get a discount off the Ngong Ping cable car price.

Also note that Ngong Ping 360 carry out scheduled maintenance at certain times of the year, so check their website before you plan your visit or you could be left feeling somewhat disappointed as you ride the bus up the hill.
Ngong Ping Village
The Lantau island cable car's landing point is Ngong Ping Village.
This 'culturally themed' village has a slight theme park vibe going on, with its clean streets, traditional architecture and spiritual music emanating from hidden speakers.
Within these traditional houses you will find a few tourist attractions, including:
Walking With Buddha, an immersive multimedia attraction designed to introduce you to the life story of Buddha
Stage 360, a live stage show with professional stuntmen performing classic action sequences from Hong Kong movies
Motion 360, a simulated ride over Lantau Island
But mostly Ngong Ping Village is filled with souvenir shops and fast food restaurants.
It's a good place to grab a coffee and visit the restrooms before you continue on to the Big Buddha statue, but I would advise saving lunch for Tai O village later (see below).
Po Lin Monastery
A walk through Ngong Ping Village brings you to the Po Lin Monastery Hong Kong.
This Buddhist temple complex is worth a wander around to admire the architecture and enjoy some relative tranquility (along with hundreds of other visitors obviously).
There are various halls to explore, with the Grand Hall of Ten Thousand Buddhas in all its resplendent golden glory holding the most interest for my kids.
The Tian Tan Buddha
The main attraction of course is the Tian Tan Buddha, aka the Big Buddha. One of the largest seated Buddhas in the world, this giant Buddha in Hong Kong is 34 metres high, and made entirely of bronze.
If you are visiting Hong Kong with small children, bear in mind that you have to climb 268 steps to reach the base of the Buddha, but it is certainly worth it.
The closer you get to the statue, the more impressive it becomes. We carried my 2-year old in a backpack carrier, while my 4-year old managed to climb all 268 steps herself… with the promise of an ice-cream at the top!
Once you are at the top, take your time to wander around the base of the Buddha, admiring it from all angles and take in the views.
There is a museum inside, but it doesn't hold much interest other than some information about the construction of the Hong Kong Buddha statue.
There is no Big Buddha Hong Kong entrance fee, but you can buy a ticket to visit the exhibition halls, and this includes a vegetarian lunch at the Po Lin Monastery.
Tai O Fishing Village Hong Kong
Tai O Village is the oldest fishing village in Hong Kong and is well worth the side trip if you are visiting the Big Buddha. Tai O Hong Kong is famous for its traditional stilt houses and the Tai O pink dolphins.
What to do in Tai O fishing village
You can take a boat excursion along the waterways to inspect the Tai O stilt houses up close.
Boat trips also take a short ride out to sea with the promise of seeing the pink dolphins, although it is doubtful as to whether this actually happens or not.
Beyond the waterways, there are winding narrow alleyways to explore, with dried seafood market stalls and several local seafood Tai O restaurants to choose from for lunch.
How to get to Tai O fishing village
To reach Tai O Village, jump aboard bus 21 from Ngong Ping Village – the journey time is just 20 minutes. If the bus is full, there is a taxi rank right next to the bus stop.
You may also like this article: Hiking the Dragon's Back in Hong Kong
Pin it for Later!
This post contains affiliate links. If you make a booking or purchase using one of these links, we may receive a small commission – at absolutely no extra cost to you. Thanks for your support!