There are many more fun things to do in Chengdu than a Chengdu panda tour. Here we share what to do in Chengdu with kids (or without).
Most tourists flock to Chengdu China to visit the pandas and give no further thought to the other Chengdu tourist attractions.
But Chengdu is a surprisingly pleasant city to wander around and there are plenty of fun things to do in Chengdu with kids beyond a Chengdu panda tour (although of course this is a Chengdu must see).
We spent 3 days in Chengdu. Given arrival and departure days, this gave us two full days to explore. If you are wondering what to do in Chengdu, here is our brief itinerary.
Our Chengdu Itinerary
Day 1:
We arranged a Chengdu city centre tour, taking in many of the Chengdu points of interest such as the Wuhou Temple, Jinli Street, Wide and Narrow Alley and Renmin Park.
As we were a group of two adults and five kids, we organized a private car with driver to take us around all the sights. However, taxis are plentiful and cheap – just ensure you have all the addresses written down in Chinese to show the taxi driver.
Day 2:
We visited the pandas during the day, then went to the Sichuan Opera in the evening.
Read on for more details of all of the above places to visit in Chengdu.
Chengdu Research Base of Giant Panda Breeding
The main reason tourists flock here is to visit this Chengdu panda park. This research base boasts the world's largest captive panda population and is one of China's top tourist attractions.
Here visitors can wander along the bamboo-lined pathways that meander through the park and visit some of the 146 resident pandas in their spacious enclosures.
Getting to see so many pandas in one place and watching the little pandas playing together is definitely one of the best Chengdu things to do and was a real highlight of our visit.
The Chengdu Research Base of Giant Panda Breeding also has the world's largest population of red pandas, with 76 red pandas in residence. The red pandas are all free to roam anywhere within the enclosure, which includes along the pathways – so keep a look out when you're walking along!
Click here to read more about our visit to the pandas in Chengdu.
Wuhou Temple and Jinli Street
Wuhou Temple is the most famous temple in the city and therefore one of the most popular Chengdu places to visit. The temple was built during the Qing Dynasty in memory of Zhuge Liang, one of China's most famous historical figures.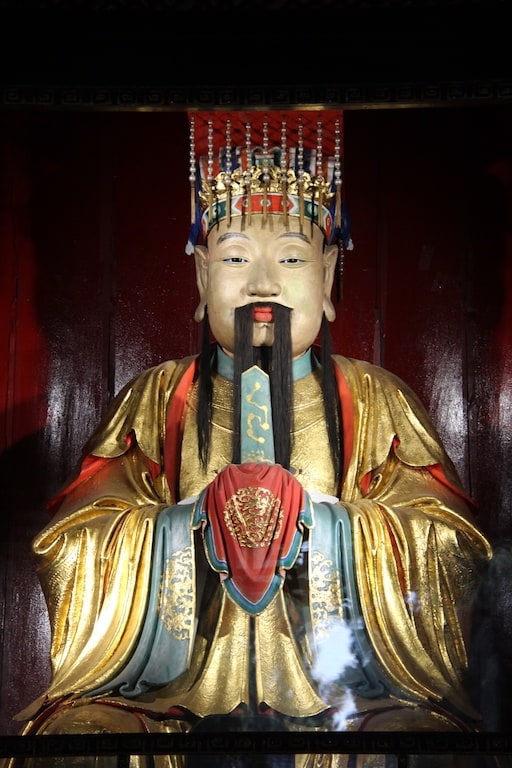 There's nothing particularly 'child-friendly' about the Wuhou Temple but it is a pleasant place to wander around for a couple of hours, with plenty of statues and pretty architecture to admire, and beautiful gardens with bonsai trees and bamboo to explore. You can hire audio guides in English at the entrance.
Just outside Wuhou Temple is Jinli Street, a narrow street of shops, restaurants and craft stalls. The architecture of this quaint pedestrian street mirrors the Qing Dynasty style of the temple making it one of the most popular Chengdu places of interest.
My kids loved browsing the street stalls, playing with local handmade instruments, trying out the traditional calligraphy brushes and watching the craftsmen at work.
Wide & Narrow Alley (Kuanzhai Xiangxi)
Another of the fun Chengdu places to visit is the Wide and Narrow Alley. Here you will find a jumble of Chengdu street food stalls, traditional craft workshops, and boutiques full of handmade clothing and souvenirs.
The kids loved watching the silversmiths at work making bracelets and rings. The man making handmade caramel was also a hit – you pay your 10 RMB and spin the wheel to see which zodiac sign candy you get to eat.
We also had some of our best food in Chengdu here, in a traditional restaurant serving spicy Sichuan cuisine – Chengdu Ying Xiang at no.16 Zhai Xiangzi.
This restaurant was recommended to us by our concierge at the Shangri-La Chengdu and is a recommendation I am happy to pass on. Not only did they serve delicious dishes, there was also live entertainment to keep us all amused too – a combination of Sichuan opera, dance and live traditional music.
Renmin Park (People's Park)
We didn't leave ourselves long enough to explore Renmin Park and we could easily have spent a couple more hours here. This beautiful park in the heart of the city is one of the Chengdu top attractions.
It has plenty of shady pathways to wander along and teahouses to relax in. There is also a lake where you can hire boats to paddle around on.
But the highlight of Renmin Park if you are visiting Chengdu with kids is the 'playground'.
When we followed signs to the playground we were expecting a few swings, a couple of slides and a climbing frame. Well, imagine our kids excitement when we were confronted with a full-on fun fair!
There were rides and games galore and the kids were so disappointed when we told them it was time to leave after only 30 minutes. Definitely plan to spend some extra time here.
Sichuan Opera
The Sichuan Opera is a brilliant entertaining night out and is one of the most popular things to do in Chengdu at night. Performances start at 8pm every night at the Shu Feng Ya Yun Opera House, so I was a bit worried that it would be too late for the kids.
My 4-year old did fall asleep within 5 minutes of it starting, but all the other kids were completely entranced throughout the entire performance, which lasts around 90 minutes.
Don't be put off by the word 'opera' – Sichuan Opera is far more than just singing.
There is acrobatics, fire-breathing, dancing, contortionism and the most famous act of all – the magic face-changing trick, where the talented actors change their masks in the blink of an eye without you ever figuring out how they really do it.
This is definitely one of the most impressive things to see in Chengdu, and the kids loved it – it was all they talked about over breakfast the next morning. Dialogue is in Chinese, but they have English translations on screens at the side of the stage – although in reality it's all about the visual performance.
Click here to buy discounted tickets for the Sichuan Opera
When is the best time to visit Chengdu?
The best time to visit Chengdu is March to June (Spring) and September to November (Autumn/Fall). We visited in May and we had pleasant warm dry weather throughout our visit.
Chengdu is renowned for being foggy, cloudy and rainy. The Chengdu rainy season is during the summer months of July and August, with July being the wettest month. However July and August are the best months to visit Chengdu for a chance to see a baby panda as this is when they tend to be born.
The best hotels in Chengdu
There are several Chengdu luxury hotels to choose from. Below is our pick of where to stay in Chengdu.
The Shangri-La Chengdu
We stayed at the Shangri-La hotel Chengdu and loved it. It was perfect for a family trip to Chengdu.
This luxury Chengdu hotel has luxuriously appointed rooms with fabulous views over the river and city. There is a wide range of restaurants to choose from, an indoor swimming pool, gym, tennis court and spa. Kids are well catered for here.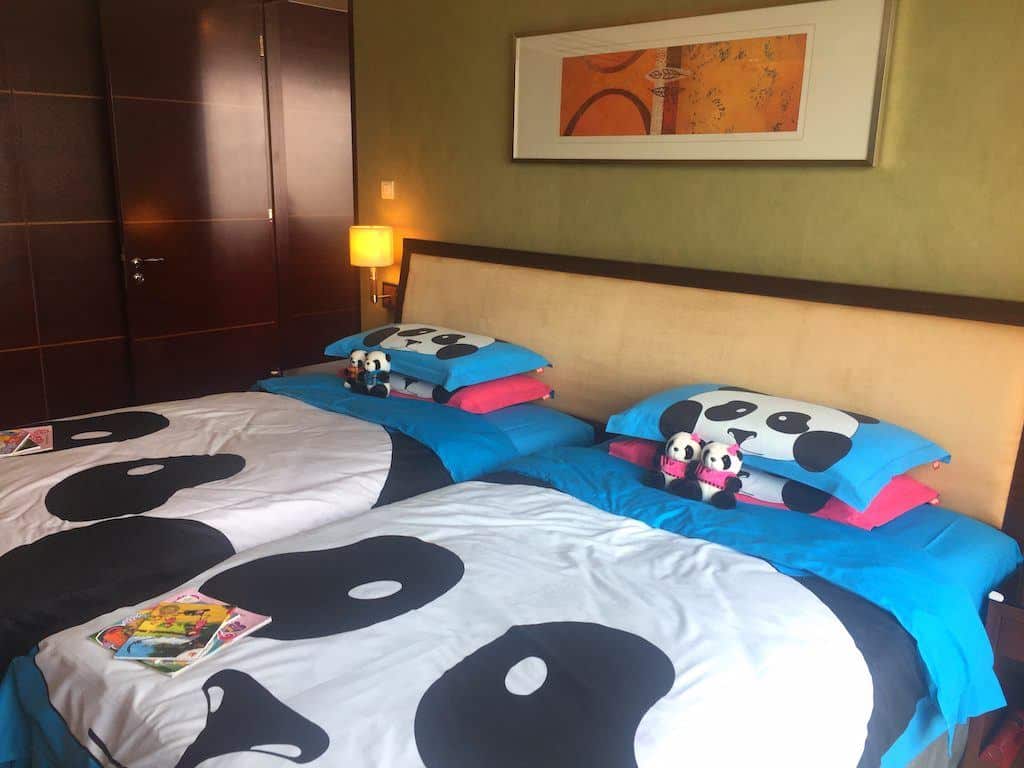 We particularly loved the panda bedspreads in the room and cuddly pandas they were given. There are also kids toiletries, kids DVDs to hire and babysitting is available.
Click here to check prices for the Shangri-La Chengdu and click here to read our full review.
The Temple House Chengdu
Another option for the best place to stay in Chengdu is the Temple House. This gorgeous design hotel has a choice of modern studios, suites and serviced residences set within its historic courtyard building. It has a beautiful pool area and spa and a good choice of restaurants.
One of the real selling points is its handy location close to many shops and restaurants.
Click here to check prices for the Temple House Chengdu.
Six Senses Qing Cheng Mountain
If you prefer a peaceful and remote setting for your Chengdu stay, then the Six Senses Qing Cheng Mountain may be the right choice for you.
This stunning mountain retreat is located close to the Oolong panda sanctuary and has plenty of beautiful mountain walks to do in the area. The hotel has a good choice of restaurants, including a traditional tea house, noodle bar and even a juice bar and dessert house.
Facilities include both an indoor and outdoor swimming pool.
Note this hotel is an hours drive from both the city centre and Chengdu Shuangliu international airport, so bear this in mind if you are planning a lot of Chengdu sightseeing or have an early flight planned.
Click here to check prices for the Six Senses Qing Cheng Mountain.
Tibet Hotel Chengdu
For something a bit different and with a more affordable price tag, check out the Tibet Hotel in Chengdu. This Chengdu budget hotel is filled with Tibetan artwork and offers clean, comfortable and large rooms. It serves a generous breakfast buffet with a selection of Chinese, western and Tibetan cuisine.
Click here to check prices for the Tibet Hotel Chengdu.
Planning other China trips? You might also like to read our article about things to do in Guilin here.
Pin it for Later!
This post contains affiliate links. If you make a booking or purchase using one of these links, we may receive a small commission – at absolutely no extra cost to you.