Soneva Fushi in the Maldives is a very special place.
This is barefoot luxury at its finest. You are asked to surrender your shoes the moment you step off the seaplane, and are advised that you can put them back on again when it is time to leave the island.
The mere act of leaving your shoes in a bag and alighting on the island barefoot sets you up for the SLOW LIFE that is at the heart of Soneva Fushi's spirit.
So what is SLOW LIFE? It stands for Sustainable, Local, Organic, Wellness, Learning, Inspiring, Fun, Experiences. In other words, they aim to create unforgettable, enlightening experiences that illuminate their guests' lives, while encouraging them to tread lightly on the earth.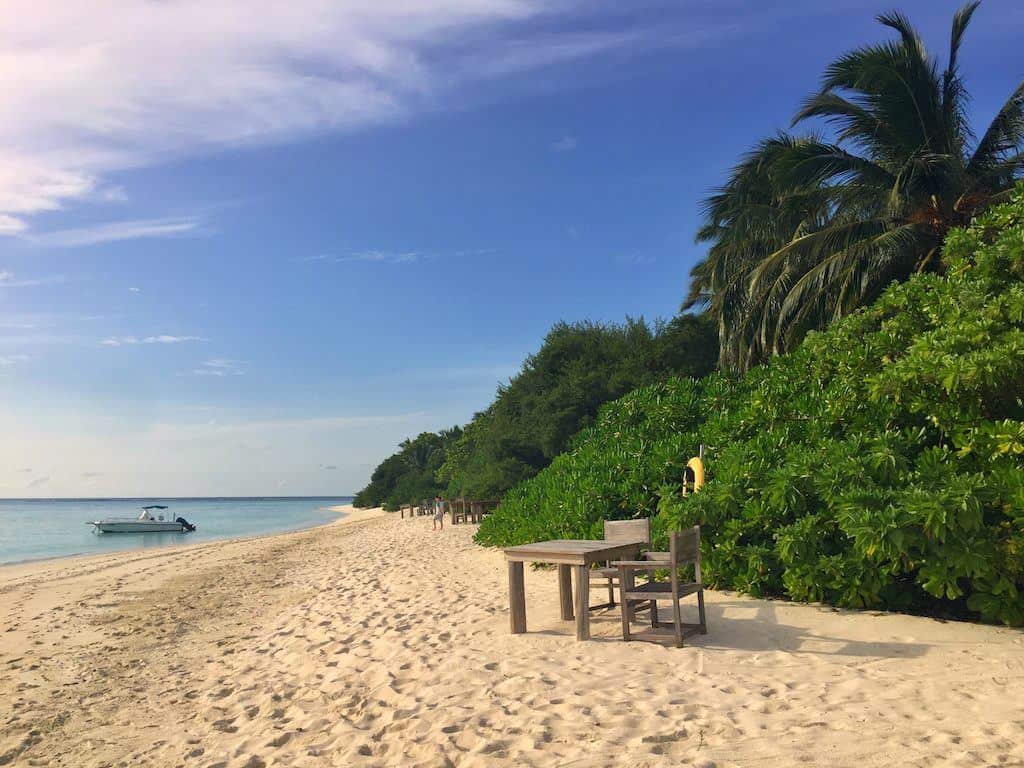 The Soneva aim is to pair the Robinson Crusoe fantasy with what they call "intelligent luxury" – so rather than luxury in the usual five star sense of the word (don't expect plush carpets and iPad operated lighting systems here), the focus is on unique experiences and the ability to take time to enjoy the important aspects of life.
But don't worry; luxury is still very much on offer. It's just wrapped up in a rustic, barefoot package. And the result is an unforgettable, unique resort quite unlike all others in the Maldives.
This is where the rich, successful (and yes sometimes famous) come to really unwind, unplug and connect with nature, whilst knowing that they are going to still be treated to the finer experiences in life: exceptional cuisine, warm, friendly yet exceptionally efficient personalized service, and one-of-a-kind experiences that make for a truly unforgettable vacation.
On arrival you are greeted by your Mr or Ms Friday, who is on hand at all times to help you with every aspect of your holiday. Our Ms Friday, Aju, was amazing – the whole package of efficient, helpful and friendly all at once.
She anticipated everything we would need – from organizing our restaurant choices every evening to arranging our activities and even picking up the kids from the kids club and bringing them to meet us for lunch, we literally didn't have to think about anything. Except relaxing and enjoying ourselves!
Every guest is given a bicycle for their stay, including the kids. The island is large and so this really is the best way to get around, and its fun whizzing along the jungle paths on your bikes.
For times when it is raining or (as often happened to us) you need to pick up the kids from the kids club but their bikes are at the villa, your Mr or Ms Friday can arrange for a buggy for you. And if you somehow leave your bike at the restaurant and don't want to ride it home, or the kids leave their bikes at the kids club, Soneva offer a bring-home service, and it will be there waiting outside your villa for you in the morning!
Click here to check the latest prices at Soneva Fushi
Bedtime at Soneva Fushi
Seclusion is the ultimate luxury for some and there is plenty of this luxury at Soneva Fushi. All the villas at this resort boast maximum seclusion, with private gardens and ample vegetation surrounding each one.
Private driveways leading off the main resort paths mean that there is little chance of anyone peeking into your villa!
Villas range from the one-bedroom Crusoe and Soneva villas all the way up to a nine-bedroom mansion, with many three and four-bedroom villas ideal for larger families and groups holidaying together. We checked out a few of the different categories while we were there (sadly not the nine bedroom villa, as it was occupied at the time).
The design of the villas at Soneva Fushi is in fitting with the entire Robinson Cruoe ethos of the island. The villas are wooden and rustic in design, allowing you to feel at one with the beautiful natural surroundings, but ensuring that comfort is still paramount.
When choosing a villa, you can opt for either Sunrise or Sunset side of the island. Both have their pros and cons. For us, the best choice was sunrise. Partly because I just love waking up and seeing the sunrise over the ocean. And whilst, along with everyone else in the world, I love a good sunset – I prefer to be sitting in the bar and sipping on a cocktail by this time of the day!
The main reason for me to choose the sunrise side of the island at Soneva Fushi though – and this is important for your choice – is that the sunset side of the island overlooks another local island, Eydhafushi, where you can see buildings and even a telecommunications tower. For me this was a deal breaker for the sunset side.
However, the sunset side does have the house reef. So if you are someone who likes to walk out your villa, put on your mask and snorkel and head out in search of marine life several times a day, then the sunset side might be more appealing to you.
Crusoe Villa with Pool
Our first villa at Soneva Fushi was a Crusoe Villa with Pool. This is almost at the bottom of the villa categories (bottom would be without a pool) but still had enough room to fit in our family of four.
The master bedroom was located upstairs on a mezzanine level, where we had a comfortable four-poster bed with mosquito net, ceiling fan, air conditioning, an ensuite bathroom and an outdoor balcony with daybed looking out to sea.
The downstairs living area had been set up with the sofa bed as a bedroom for the kids. A large outdoor bathroom with bath and two outdoor showers gave off African safari vibes.
We especially loved the outdoor area of the villa. Our private 'garden' was gorgeous, with views straight out to sea, a hammock to chill out in and a small swimming pool. Although with the ocean just steps from our front door, the pool wasn't really utilized a lot.
The main downside to this villa category if you are travelling as a family, was the lack of storage space for clothes, and we ended up having to just live out of our suitcases as there wasn't enough cupboard and drawer space for all our clothes.
We aren't a family who tends to spend much time in our villa whilst on holiday, preferring to hang out in the public spaces and enjoy the resort facilities. For this reason, the Crusoe Villa was fine for us.
However, if you wanted to spend time hanging out at as a family at 'home', you would definitely be better upgrading to the Family Villa Suite below. Really, I think the Crusoe Villa is better suited to couples, or a family with a baby in a cot. This would enable you to keep the living area as such, rather than turning it into a bedroom.
Family Villa Suite with Pool
Our second villa at Soneva Fushi was a Family Villa Suite with Pool, which is hugely different in terms of design and especially space.
This villa was huge! We had a large master bedroom, a small annex room for the kids, which fitted a double bed, a huge living area with enormous sofa beds, a separate fully fitted kitchen and the most enormous outdoor bathroom.
Outside, we had a garden with sizeable swimming pool and loungers looking out to sea, a large decking area with outdoor sofa and swing chair – plus an upstairs balcony with dining/lounge area.
Whilst the villa was still rustic chic in style, it was decidedly less Robinson Crusoe than the previous villa.
Larger Residences
We also took some time to have a look around at some of the other residences on the island – and let me tell you, this is where Soneva Fushi really stands out from the crowd. Some of these villas are incredible. And if you have a few million dollars spare lying around, you can even buy one for your very own!
Every villa is unique and all have enormous outdoor bathrooms – some bigger than our entire Hong Kong apartment! Many of the larger villas even have their own water slides, and also private gyms, wine cellars, home offices and kids dens.
To get a better idea, you can have a look at the 3-bedroom villa here and four-bedroom Villa 15 here. For some real travel envy, check out the nine bedroom private reserve here.
Playtime at Soneva Fushi
As we've already said, part of the Soneva Fushi culture is creating unforgettable experiences. This was immediately evident in their 'welcome to the island' party – a cocktail party on a sandbank!
Yes, you read that right – so beautiful!
All the guests were taken by speedboat out to a sandbank in the middle of the ocean, where we were handed chilled glasses of wine and a selection of freshly prepared nibbles.
The staff from the kids club even had sand toys to keep the kids entertained while we watched the sun go down! You can see more photos on our Facebook page here.
There are plenty of other fabulous experiences to enjoy at Soneva Fushi. Read on to discover more.
The Den
Anyone who thinks that the Maldives is only for honeymooners hasn't seen The Den at Soneva Fushi. This is one of the best kids clubs I have ever come across. The kids LOVED it and never wanted to leave – we had to bribe them with ice cream to get them to leave and come and have lunch with us!
The Den is huge, with its own swimming pool with water slide, outdoor decking and sunloungers, Lego room, dress-up room, arts & crafts room, music room and loads of games, toys and space to run around.
There were loads of fun activities scheduled throughout the week, from movie nights and spa days to surfing lessons, island scavenger hunts, cupcake decorating and pool parties. What fun!
The Den is open for drop-off to kids aged 4 and above. Under 4s need to be accompanied by an adult, or you can pay for a babysitter to accompany them. You can see more photos on our Facebook page here.
House reef
The house reef is easily accessible from the beach on the sunset side of the island. We chose to visit the reef from the Bar(a)bara, an overwater bar with steps down into the ocean.
The water here is so clear that you can see all the fish just from sitting on the decking, and it is a real hotspot for fish – so many of them, making it an easy option for snorkeling with the kids. The reef runs all the way from Bar(a)Bara to the Out of the Blue restaurant (seen in the distance above).
We spotted eagle rays, turtles, black tip reef sharks as well as huge numbers of brightly coloured reef fish along this reef.
Excursions
If you tire of lying on a beautiful beach, lazing by your villa pool, cycling around the island or exploring the reef, there are plenty of excursions on offer. These include private sandbank experiences, snorkeling, dolphin cruises, private dinner experiences and much more.
One of our highlights was our Dolphin cruise. Within about ten minutes of setting off on our luxury speedboat, we met up with a pod of about 50 dolphins and spent an hour and a half following them around.
And what a playful bunch they were! Racing along the bow of the boat, flipping up in the air – they put on quite a show! Such as beautiful experience. The kids were beyond excited. You can see more photos on our Facebook page here.
The other major highlight for me was snorkeling with manta rays. We left the kids in the Den for this one and took off to nearby Hanifaru Bay, just 15 minutes by speedboat from Soneva Fushi.
Hanifaru Bay is a UNESCO Biosphere Reserve and known as a hotspot for manta rays that come to feed during certain times of the year. These beautiful gentle giants come right up close to you, and being in the water so close to so many of them was one of the most incredible experiences I have ever had.
If you are lucky enough to visit Soneva Fushi during manta ray season, do not miss out on this experience.
In addition to excursions, other fun activities on offer include surfing lessons, and there is also a range of kayaks and paddleboards that guests can take out to explore the reef from above.
Gym & Spa
Soneva Fushi has a very well equipped gym and a gorgeous Six Senses spa, offering a full menu of body treatments and wellness therapies.
Keep a look out for visiting therapists too. We were lucky enough to treat ourselves to a reflexology session with Claudio de Menezes, who has been named one of the ten top therapists in the world. And it was blissful.
Observatory
We were excited to check out the observatory, which has a state of the art telescope and 3D technology to help bring space to life.
Unfortunately on the day we planned to visit the observatory, there was a massive downpour just as we were on our way and so the observatory was closed. Something for next time!
Dinnertime at Soneva Fushi
Food is a real highlight at Soneva Fushi. Much of the fresh ingredients come from the resorts two organic vegetable gardens and mushroom hut, where they grow salad, vegetables, fruit, herbs and mushrooms. The seafood is obviously amazingly fresh too.
What we especially loved about eating at Soneva Fushi was how easy it was to eat healthily as even the really healthy dishes were so delicious!
The kids were well catered for with a kids menu available in every restaurant. The chefs were even happy to whip up something off menu for the kids too if we asked.
There are several options for dining at Soneva Fushi, so you can dine in a different location with a very different atmosphere every evening. We tried out the following restuarants:
Mihiree Mitha
Breakfast is enjoyed with your toes in the sand under the shade of the trees at Mihiree Mitha restaurant. We loved the breakfast buffet, which has something for everyone.
We started every morning with a bowl of homemade yoghurt scattered with a selection of seeds and fruit purees, and went on to enjoy fresh fruits, freshly prepared omelettes, pastries and much more.
We particularly liked the South Asian corner, dishing up freshly prepared Masala Dhosai one day, and Sri Lankan egg hoppers the next.
Mihiree Mitha is also open for a buffet lunch, with a selection of sushi, curries, salads and wood fired pizzas. We enjoyed a buffet dinner here one night, which was really very impressive with a huge variety of food on offer from around Asia. We particularly liked the Maldivian specialty snacks and the tandoori station.
Down to Earth by Ravi
Located in the main resort area next to Mihiree Mitha, at Down to Earth by Ravi you can either eat undercover in the main area of the restaurant, or down on the beach to the sound of the lapping waves.
We enjoyed some delicious grilled fresh reef fish, some tandoori specialties and local-style roasted chicken here.
Fresh in the Garden by Sobah
Fresh in the Garden is a very special and unique restaurant. Set in the treetops and reached via a rope suspension bridge, you dine in amongst the foliage, with the birds and bats for company.
Most of the ingredients come from the adjacent herb and vegetable garden, so everything is super fresh and delicious.
Out of the Blue
Out of the Blue is the new restaurant complex at Soneva Fushi and a real highlight of the resort. It was still work in progress when we visited, but once completed it will offer several dining options under one roof. We enjoyed sushi, salads, pizza and sandwiches here.
Options here include (or will once completed) teppanyaki, sushi, Chinese, Japanese, wood fired pizza, grilled meats and salads.
Once Upon A Table dining theatre seats just eight guests and plays host to visiting Chefs throughout the year, so keep an eye out for your favourite celebrity chefs who may be stopping by. What an experience that would be!
Hands On is an intimate sushi restaurant that plays host to some of the world's best sushi chefs, including Japan's youngest 3-Michelin starred chef, Chef Kenji Gyoten. So Bespoke will be the Out of the Blue teppanyaki restaurant, and was being completed while we were there.
We spent a lot of time at Out of the Blue. It is the perfect place to hang out during the day. Set over the water on stilts, you can lounge on daybeds, overwater nets and sunloungers looking out over the most beautifully clear blue water.
It is the perfect spot for lunch (we had lunch here most days) and also for sunset cocktails. You can snorkel right off the decking here too.
And the other highlight of Out of the Blue? It has a water slide! Right into the ocean. Super fun!
Ice cream room & Chocolate room
Ok, don't tell your kids but there is both an ice cream room and a chocolate room at Soneva Fushi. And they are open all day every day. And it is all free.
Yep.
You can go and help yourself at any time.
Just walking into the chocolate room is amazing; the aroma of freshly homemade chocolate is heavenly.
An Eco Resort in the Maldives
I wanted to give a special mention to Soneva Fushi's eco tourism efforts, as it really impressed us and is evidently at the heart of their business culture.
Sustainability is at the very centre of Soneva's ethos and great care is taken to minimize the environmental impact of the villas. The landscape, building and interior design have all been carefully thought out so that style and comfort go hand in hand with environmental responsibility.
Timber comes from sustainably managed and certified sources, and other building materials such as the palm thatch and mats are locally made.
Within the villas you will find that the windows, doors and louvers have been integrated to maximize natural light and ventilation to help diminish the need for electric lighting and air conditioning.
The layout and location of each villa has been thoroughly planned to integrate the native vegetation into the structures. This means that no two villas and their surrounding gardens are the same, and established trees are not felled, so that sometimes you will even find balconies have built around tree trunks in order to save the trees.
Litter and debris on beaches and a lack of adequate recycling facilities are major concerns in the Maldives. As is the effects of this pollution on the reefs. Soneva Fushi recognizes all of this, and is pioneering eco tourism in the region.
The resort even has its own recycling facility – Eco Centro, where around 90% of their waste is recycled and put to other use, including food, wood, metal, styrofoam and glass.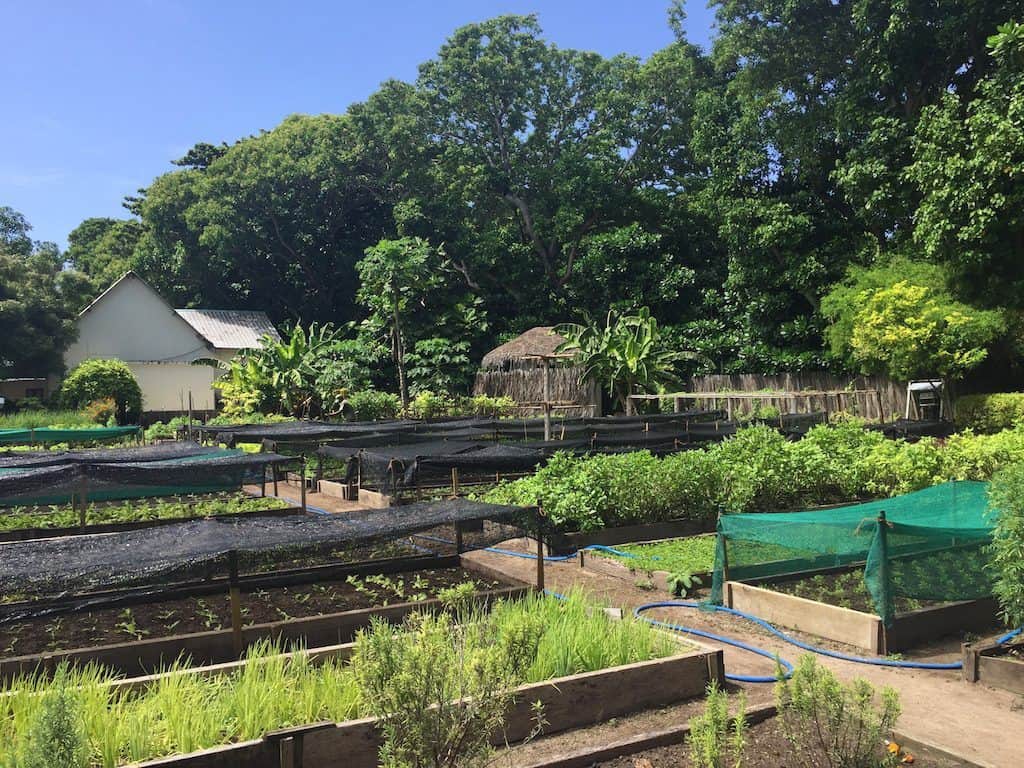 The resort bottles its own drinking water in glass bottles for its guests, and is plastic bottle free. It also grows much of its own produce for the restaurants in its vegetable gardens. This not only results in fabulously fresh organic ingredients for every mealtime, but climate-change-related food miles and negative impacts on the environment are avoided.
Conclusion of our Soneva Fushi review
Soneva Fushi is a very special place indeed. At first it can seem odd that such a high-end luxury resort has chosen to maintain a rustic chic vibe, when most of the rest of the Maldives is trying to outdo each other with bling.
But after you spend a few days here, you get it. There's real heart and soul at Soneva Fushi. You can't help but unwind and get into the SLOW LIFE. The beauty of your surroundings and the "no news no shoes" motto gets under your skin and you really start to fall in love with the island.
The service here is exceptional. It's efficient sure, but it's more than that. At other resorts you feel like you are being well looked after. But at Soneva Fushi you feel like you are being welcomed into the family.
What they have achieved here is incredible. From being carbon neutral to providing their guests with unforgettable experiences, Soneva Fushi is a real little paradise. It's no wonder that they have such a high percentage of repeat visitors. I just hope we'll be one of them!
Want to read more? Click here to visit the Soneva Fushi website and Click here to check the latest prices.
Pin it for Later!
Note: Mum on the Move received a media rate for our stay at Sonevea Fushi, for the purposes of writing this review. This in no way affected our review and all our opinions, as always, are honest and our own.
This post contains affiliate links. If you make a booking using one of these links, we may receive a small commission – at absolutely no extra cost to you.