My Ultimate Guide to Hamilton Island gives you everything you need to know to plan the best family at this gem of an island in the Whitsundays.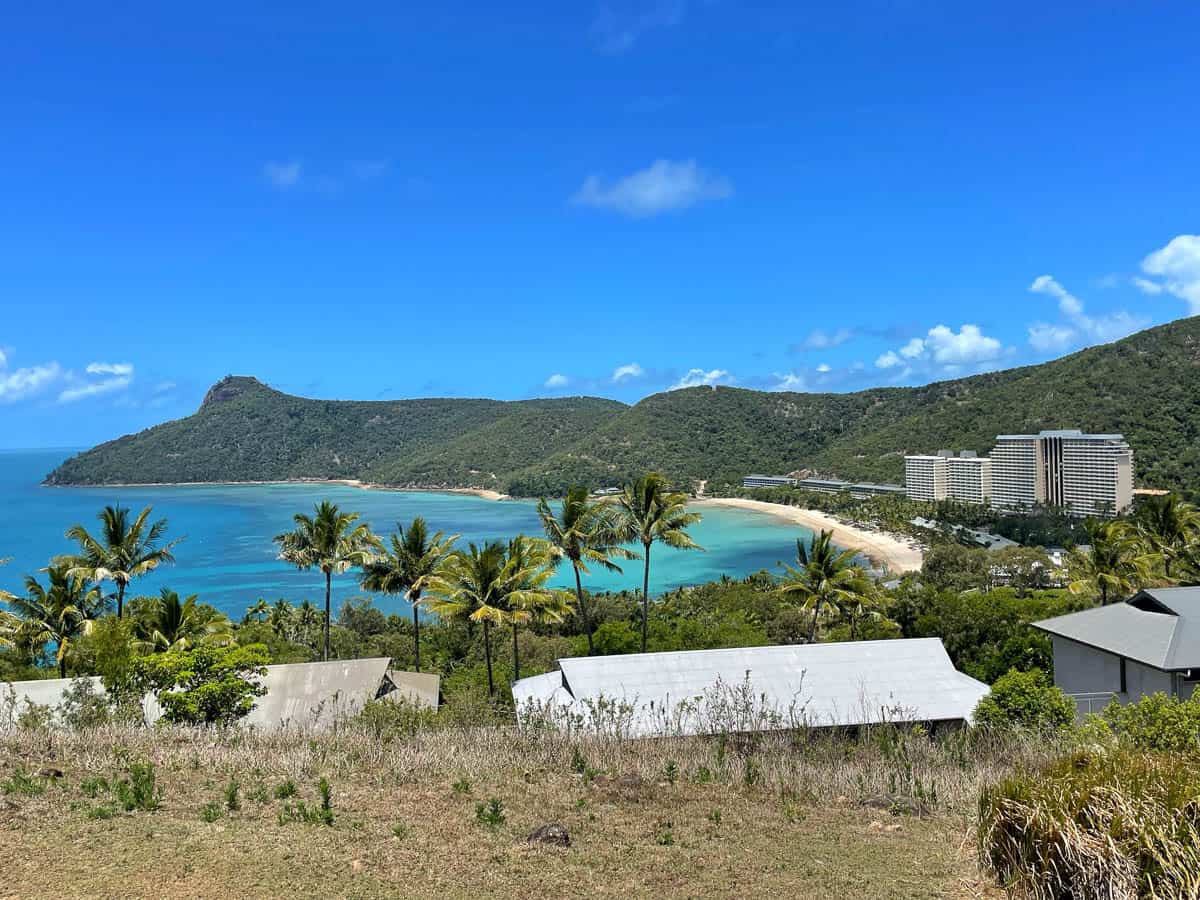 Hamilton Island has everything you need for the perfect family holiday – sunshine, beaches, palm trees, swimming pools, and a good choice of accommodation, restaurants and activities. And, of course, the Great Barrier Reef.
However, good old Hamo has become a bit of a victim of its own success. It is a hugely popular holiday destination and many people come back time and again, booking their favourite accommodation over a year in advance and booking up restaurants and activities months ahead.
So to get the most out of a Hamilton Island holiday, you need to be super organised. And book ahead.
You may like the idea of spontaneity on a holiday, but if you are visiting Hamilton Island during peak periods and haven't booked ahead, you may find yourself with nowhere to eat in the evenings and nothing to do during the day as everyone else has booked it all up!
This Hamilton Island guide will give you lots of insider tips to help make the most of your trip here.
Disclaimer: This post contains affiliate links. If you make a booking or purchase using one of these links, we may receive a small commission – at absolutely no extra cost to you.
Mum on the Move is a participant in the Amazon Services LLC Associates Program, an affiliate advertising program designed to provide a means for sites to earn advertising fees by advertising and linking to Amazon.com
Where is Hamilton Island?
Hamilton Island is located in the Whitsunday Islands, off the coast of central Queensland and in the heart of the Great Barrier Reef.
It lies approximately 887 kilometres north of Brisbane and 512 kilometres south of Cairns.
Map of Hamilton Island
Hamilton Island is small – measuring just 4.5km north to south and 3km from east to west. Over 70% of Hamilton Island is undeveloped bushland with the majority of development and facilities being in the north part of the island.
When it comes to facilities, this north part of the island is roughly divided into two sides: the beach or resort side and the marina side.
The beach side is where you will find Catseye Beach, all three public swimming pools, the Resort Centre, the Reef View Hotel, the sports club, buggy hire and Sails and coca chu restaurants.
The Marina side is home to most of the restaurants, the Bakery and several shops and boutiques. It is also where you will find the Yacht Club, Hamilton Island Watersports and the IGA supermarket.
The Best Time to Visit Hamilton Island
Thanks to its sub-tropical location, Hamilton Island is blessed with average daytime temperatures from 23o to 30oC all year round. Spring (August to October) is generally considered to be the best time to visit, when humidity is low and water visibility is better.
Peak periods include the school holidays and Hamilton Island Race Week.
Stinger Season
Hamilton Island stinger season goes through the warmer months from October to May. This is when two species of jellyfish are more prevalent: the Box Jellyfish and the tiny but nasty Irukandji Jellyfish. Trust me, you don't want to be stung by either.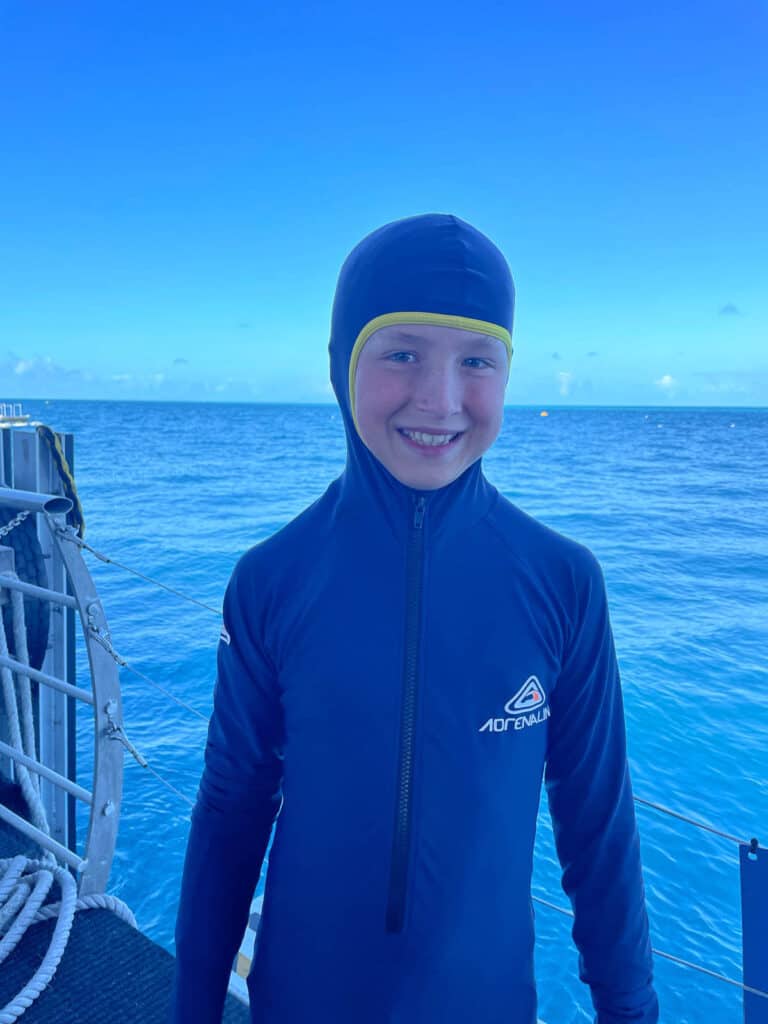 This doesn't mean you can't visit during stinger season, but it is highly recommended that everyone wears a protective stinger suit when swimming in the ocean. All tour operators provide these, and you can also hire them from the Beach Hut on Catseye Beach.
Before You Go
As I have said, Hamilton Island gets booked up well in advance, so some forward planning is essential so that you aren't left disappointed.
Download the app – the Hamilton Island app has a wealth of information and is also the main portal for booking restaurants, checking accommodation availability and updated activity schedules.
Book your accommodation – the first step to organising your Hamilton Island holiday is to book accommodation. Don't book flights or ferries until you know for sure that you can get somewhere to stay!
Hire a Buggy – check to see if your accommodation comes with a buggy included. If not, book one now. Having a buggy makes it so much easier to get around and they book up quickly.
Book your flights and/or ferry
Book restaurants – restaurant bookings open up 90 days in advance. Set a reminder in your calendar and book them the day they open up.
Book activities – if you are visiting during peak times, things like dinghy hire, reef trips, the spa, ATV tours etc can get booked up in advance. If there is something you are desperate to do, book it ASAP.
Getting to Hamilton Island
Hamilton is the only island in the Whitsundays with its own airport. And because the island is quite small, the airport is just a 5-10 minute buggy ride from anywhere you need to be, making it perfect for quick and easy arrivals.
The alternative for getting to Hamilton is to take the ferry from Airlie Beach, which is serviced by Prosperine airport.
Flights to Hamilton Island
Hamilton Island Airport is serviced by short, direct flights from Sydney (approximately 2 hours), Melbourne (approximately 3 hours) and Brisbane (approximately 1.5 hours). Qantas, Jetstar and Virgin Australia all fly to Hamilton Island airport.
Ferry to Hamilton Island
Cruise Whitsundays offer an island transfer service from Airlie Beach to Hamilton Island Marina and airport, with several services throughout the day. The trip takes 60 minute and you can buy snacks and drinks on board.
Click here for more information about these Hamilton Island ferries and to check the latest timetable.
Getting Around Hamilton Island
There are three options for getting around Hamilton Island: walking, driving a golf buggy and taking the shuttle bus.
On either side of the island (ie. beach side and marina side) everything is close together and so you can easily stroll to the restaurants, shops, beach etc. Getting from one side to the other requires walking up a hill, but it is easily manageable.
If you don't want to walk and/or you want to explore more of the island then you can choose between hiring a buggy or taking the complimentary shuttle bus.
Buggy
The iconic Hamilton Island golf buggies are the main form of transportation and are a fun way to explore the island. Most holiday homes come with a complimentary buggy. If your accommodation doesn't then you can easily hire one (just be sure to arrange this in advance as they book out quickly).
Just remember that they are licensed vehicles so normal state road laws apply. Drivers need to be 21 years old and hold a current licence. You can only have 4 people per buggy and seat belts must be worn. Babies and toddlers need to be in a car seat so make sure you include the ages of your kids when booking your buggy so these can be provided if necessary.
The speed limit on the island is 40kph but you will find that a lot of the buggies automatically limit your speed in busy areas.
Be warned that penalties do apply and you can be fined over $1,000 plus 4 demerit points for seat belt and mobile phone offences.
Free Shuttle Bus
If you don't have a buggy, you can use the complimentary shuttle bus service. There are two routes for this.
The Green route does a loop from Catseye Beach to the Marina and comes along every 10-15 minutes from 7.30am – 11.00pm. It stops at the Resort Centre, Whitsunday Apartments, Reef View Hotel, the Marina Cafe and the Marina Tavern.
The Blue route does a loop around the island all the way from the golf driving range and Palm Valley activities to One Tree Hill and Qualia. It comes every 40 minutes and runs from 7.00am to 11.00pm.
In the Hamilton Island app, there is a section "Track my Shuttle" that will let you know where your closest shuttle stop is and when the next bus is arriving.
The Hamilton Island App
The Hamilton Island app is excellent and I believe essential to make your life easier in Hamo. It has a wealth of information and is also the main portal for booking restaurants, accommodation and activities.
You can also use the app to track where the nearest shuttle bus is, and check the latest daily activity schedule and opening hours.
Hamilton Island Accommodation
There is loads of choice when it comes to family accommodation in Hamilton Island. There are only three hotels on the island and only one of these, the Reef View Hotel, is family friendly. The other two, Qualia and the Beach Club are adults only.
But there are loads of holiday apartments and holiday homes to choose from. Here are just a few of the options on offer to give you an idea.
Top Tip: Regardless of where you stay, make sure you leave your windows and sliding doors closed when you are not around. The Hamilton Island cockatoos are notorious thieves and will look for any opportunity to access your room!
Things to do in Hamilton Island
Here are some of the highlights of what to do in Hamilton Island. For more information about all these activities see my article Things to do in Hamilton Island.
Hit the Beach – the best and most popular beach is Catseye Beach (the island's main beach). It looks its best at high tide, but low tide is the best time for snorkelling. More deserted beaches are available at the end of some of the walking trails.
Hit the pool – there are three public swimming pools located at Catseye Beach. The Main Pool, with the swim-up Island Bar, Sails Pool which is adjacent to the restaurant, and Bougainvillea Pool, located next to the Beach Pavilion. Most accommodation on the island also has access to a private pool within the complex.
Water sports – the Beach Hut on Catseye Beach has kayaks, SUPs and sailboats available free of charge with most accommodation bookings. They also organise catamaran lessons.
Snorkelling – snorkelling gear is available at the Beach Hut and you can go snorkelling right off Catseye Beach. Top Tip: the best time to spot turtles here is two hours before high tide. Check the local tide times here.
Whitehaven Beach / Hill Inlet tour – world famous Whitehaven Beach is a must visit destination in the Whitsundays. Most tours also include a stop off at Hill Inlet Lookout to admire the view from above.
Great Barrier Reef Trip – it's one of the main reasons for visiting the Whitsundays. Snorkelling or diving the GBR is a bucket list activity you have to tick off. You can get out there by helicopter or boat and choose to stop off at Reefworld or snorkel/dive from the boat.
Sunset Cruise – a hugely popular way to end the day, sailing in the sunset with a drink in hand. Bliss.
Scenic Flight – seeing the Great Barrier Reef from above gives you a whole new perspective on its sheer size and beauty. If you have some spare cash to splash, this is a must-do. Scenic flights can be by helicopter, sea plane or small plane.
Hamilton Island Golf Club – located on its own island, Dent Island, the golf club boasts a par 71, 18-hole championship golf course with spectacular views from all holes.
Buggy Rally – this is a fun way to get to know the island when you first arrive. Pick up the clues from the Sports Centre and drive around the island to solve them.
ATV Tour – an off-road adventure tour along the scenic trails to the Resort Lookout.
Jet Ski Tour – combine scenery and adventure, take in scenic waterways and beaches, with the possibility of spotting sea turtles, dolphins and whales from the jet skis along the way.
Wildlife park – the wildlife park is small, so time your visit to coincide with the guided tour and feedings for maximum value. Your ticket gives you multiple entries.
Hiking Trails – There are over 20km of walking trails to discover. The hike to Passage Peak (the highest point on the island) has the best views. With kids, the walk to Coral Cove is easy with a beach with a swing at the end. Pack lots of water and snacks.
Looking for more top things to do? Check out my article Things to do in Hamilton Island.
Hamilton Island Restaurants & Dining Options
There is a limited choice of restaurants in Hamilton Island and they book out quickly during school holidays and other busy periods.
You can book the restaurants 90 days in advance via the Hamilton Island app. Set a reminder in your calendar to do this. I'm not kidding you when I say they can all be booked up 89 days in advance. We missed out on lunch at the Golf Clubhouse as I dared to leave booking it until 2.5 months prior to going!
Bookings are required for: Romano's, Coca Chu, Bommie Restaurant, Manta Ray (dinner only, lunch is walk-in), Pool Terrace and the Golf Clubhouse.
Not all restaurants on Hamilton Island require you to book ahead – all lunch venues are walk-in only (with the exception of the Golf Clubhouse) and the Marina Tavern and TAKO offer walk-ins only for dinner.
Top Tip: If you choose to go to either of the above restaurants for dinner, I recommend getting there prior to 5pm or waiting until after 7.30pm unless you are happy to queue and/or hover around other tables waiting for a space.
The good news is, the quality of food is really good and restaurant ambience is lovely. So if you are organised and book ahead, happy days.
Some restaurants also offer a Kids Eat Free offer so keep a lookout for that. (At the time of writing, restaurants participating in this offer include Manta Ray, Pool Terrace, Sails and TAKO.)
Restaurants in Hamilton Island:
Romano's – Italian restaurant with a focus on seafood and Marina views. Bookings essential.
Manta Ray – Mediterranean restaurant with Marina views. Also open for lunch. Bookings essential for dinner.
Coca Chu – Southeast Asian cuisine at Catseye Beach. Bookings essential.
TAKO – Mexican cuisine with Marina views. Walk-in only for groups of under 10 people.
Mariners (temporarily closed at the time of writing) – Seafood restaurant with Marina views. Bookings essential.
Marina Tavern – the local pub with good quality pub grub for lunch and dinner. Has an outdoor terrace with Marina views. No booking required.
Sails – casual dining with buffet breakfast and a la carte lunch. No booking required.
Bommie Restaurant – fine dining restaurant at the Hamilton Island Yacht Club. Ages 16+ only. Bookings essential.
Clubhouse Restaurant – The golf club clubhouse on Dent Island, accessible via shuttle boat. Beautiful views and table bookings include a tour of the back 9 of the 18 hole golf course. Bookings essential.
Marina Cafe – casual cafe for eat-in or takeaway, includes coffee, juices and breakfast favourites.
Pool Terrace – Only for in-house guests at the Reef View Hotel.
Beach Club restaurant – A la carte Mod Aus cuisine & tasting menus with beach views. Adults only and priority is given to Beach Club in-house guests.
Pool Terrace – poolside dining exclusively for in-house guests at the Reef View Hotel.
Long Pavilion – modern Australian restaurant in a secluded location at the northernmost tip of Hamilton Island. Exclusively for Qualia guests or by invitation only.
Pebble Beach – Qualia's signature restaurant, exclusively for Qualia guests or by invitation only.
Takeaway and Self-catering
There are also several takeaway options and there are loads of nice places to enjoy your takeaway with a view. There are picnic tables lining the marina and also at One Tree Hill and you will also find plenty of beach space and grassy areas around Catseye Beach.
Popeyes for fish & chips.
Bob's Bakery for coffee, pastries, sandwiches and pies.
Marina Cafe for breakfast (tables available for dine-in also).
Pizzeria and Gelato Bar – takeaway coffee, pizza and gelato.
Ice Cream Parlour for ice cream and milkshakes
Beach Pavilion Kiosk – for lunchtime burgers, hot dogs, wraps and drinks, including cocktails.
If you are happy to self-cater, then the IGA supermarket is pretty good and has a wide range of cheeses and antipasto, and a good choice of seafood and barbecue supplies.
Oh and one last important question – where do you get coffee in the morning? The Bakery, Marina Cafe, the Wildlife Cafe and the coffee cart at the Whitsunday Apartments all offer barista coffee for your morning fix.
Bars on Hamilton Island
If you're in the mood for a cocktail or a chilled drink at sundown time then you have a few choices in Hamilton Island:
Marina Tavern – the local pub, open daily from 11.30am til late, serves pub grub and has an outdoor terrace with Marina views.
One Tree Hill – the best place for for sunset with a stunning view, serving cocktails and drinks from 3pm til 7.30pm. Limited tables so get here early. You can also take your drinks to the picnic tables outside. They sometimes have live music too (check the app for details).
Bommie Deck – another popular spot for sundowners, the overwater Bommie Deck at the Hamilton Island Yacht Club is a see-and-be-seen hotspot. Open for sunset from 4pm – 7pm.
Island Bar – swim-up bar at the Main Pool, open from 11am – 3pm.
Beach Pavilion Kiosk – takeaway food & drinks to be enjoyed poolside or on the beach. Open 11am – 4pm.
Sails Bar – casual bar open during the day from 10am – 5.30pm. Keep an eye on the What's On guide for trivia, bingo and quiz afternoons.
Reef Lounge – casual bar in the Reef View Hotel open all day for drinks and bar snacks. Open to non in-house guests. Often has live music in the evenings.
The Garden Bar – late night bar (closed at the time of writing).
Useful Info
The island is largely cashless so make sure your debit and/or credit cards are working!
For items that are too large or difficult to pack, check out Hamo Hire – they can provide baby strollers, play pens, high chairs and cots as well as beach items like beach chairs, cooler boxes and beach wagons.
Hamilton Island Medical Centre is located across the road from the Resort Centre.
There is both a post office and a pharmacy on Front street on the Marina side of the island.
Please don't feed the cockatoos. It increases the risk of Beak and Feather disease, which is a growing problem on the island.
Heading to Queensland? You may also like these articles: