All the best things to do in the Whitsundays, from water sports to beaches, scenic flights, hikes and of course the Great Barrier Reef.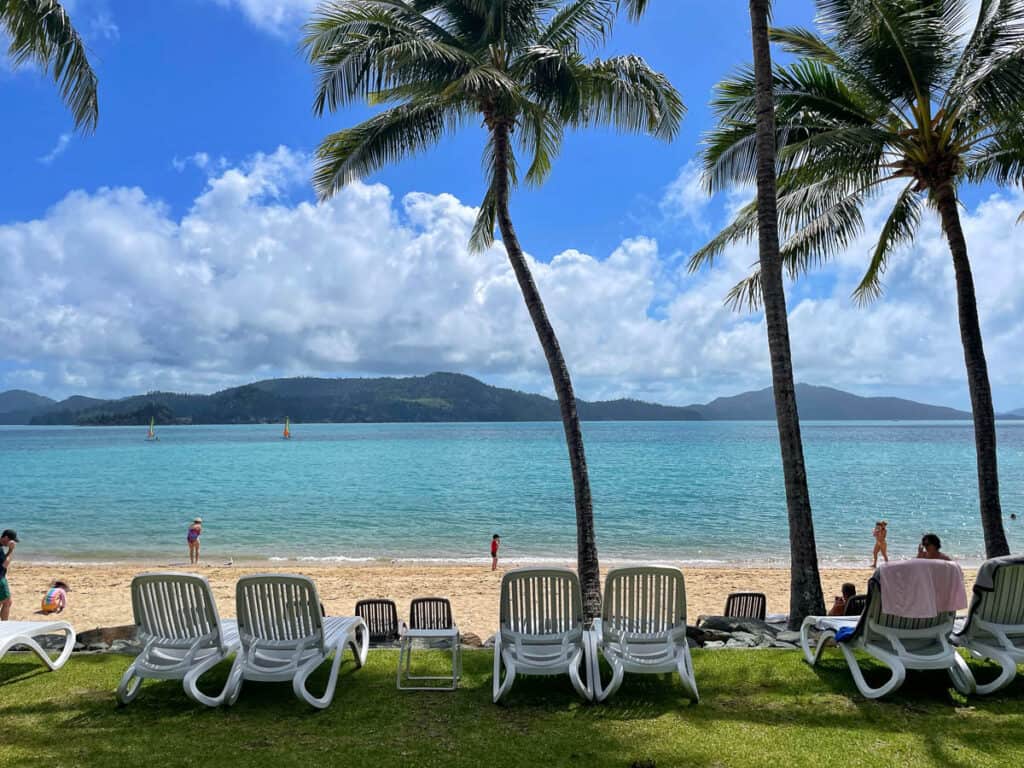 If you are looking for a beautiful tropical island escape in Australia, with turquoise waters and swaying palm trees, then look no further than the idyllic Whitsundays.
With 74 sun-drenched islands, glistening white beaches and easy access to the Great Barrier Reef, the Whitsundays are the perfect holiday spot for nature lovers and sun worshippers alike.
It's heaven for water sports enthusiasts, with world class sailing, snorkelling and diving. And if it's world-class views you are after then you are spoiled for choice here too, whether you choose to fly, walk or sail to see them.
There's a lot to see and do in the Whitsundays – read on for all my pick of the best things to add to your bucket list.
Disclaimer: This post contains affiliate links. If you make a booking or purchase using one of these links, we may receive a small commission – at absolutely no extra cost to you.
Mum on the Move is a participant in the Amazon Services LLC Associates Program, an affiliate advertising program designed to provide a means for sites to earn advertising fees by advertising and linking to Amazon.com
Chill out on Whitehaven Beach
Whitehaven Beach was voted #1 Best Beach in the World in the Tripadvisor Travellers' Choice Awards 2021. That's some accomplishment, but it's not hard to see why.
This stunning unspoiled beach stretches for seven kilometres and gleams bright white thanks to its 98 percent pure white silica sand. The sand is so fine and pure that it squeaks when you walk!
Juxtaposed with the crystal-clear water lapping on the beach and the swirling turquoise colours in the surrounding bay, its easy to see how famous Whitehaven Beach has won the hearts of people around the world.
Keep a look out for sting rays in the shallows, we saw loads of them here. So cool.
We did this tour to visit Whitehaven Beach, which includes visiting Hill Inlet Lookout and snorkelling at Hook Island. Highly recommended!
Climb to Hill Inlet Lookout
The view from Hill Inlet Lookout will blow you away. If you've ever seen a photo of the Whitsundays featuring swirling, whirling turquoises and bright white sand, chances are it was taken from Hill Inlet Lookout.
It's a short, easily manageable bush walk up the hill from Tongue Bay (keep a look out for wildlife; we spotted two tree snakes) and the view that greets you is incredible. You can check out my Instagram reel here for a sneak peek of the experience.
If you are blessed with a sunny day, the array of blues and turquoises radiating off the ocean and contrasting with the pure white sand is next-level beautiful. Be sure to look down over Hill Inlet and you will see sting rays and lemon sharks basking in the shallows, proving just how clear that water is.
Click here to book the Ocean Rafting tour we did that included visiting Hill Inlet Lookout, snorkelling and Whitehaven Beach.
Snorkel or Dive the Great Barrier Reef
The Great Barrier Reef, the world's largest coral reef system is one of the seven wonders of the natural world. So you can't visit the Whitsundays without experiencing it.
The reef is actually made up of over 2,500 individual reefs, and is home to over 1,500 species of fish, 400 species of coral and 4,000 species of mollusc. In other words, there is plenty of opportunity here for snorkelling and diving.
Wherever you are staying in the Whitsundays you will be able to organise a tour out to the Great Barrier Reef. Whether you get here by sailboat, speedboat, helicopter or sea plane, there are loads of opportunities to get here.
A popular option with families is to head out to Reefworld. This takes two hours by boat (accessible from Airlie Beach, Hamilton Island or Daydream Island) and takes you out to a large stable pontoon located at Hardy Reef.
Click here for more details or to book a tour to Reefworld.
Here they provide all the snorkelling equipment you need, and can organise scuba diving too. There is also an underwater viewing gallery, a semi-submarine guided tour and areas for chilling out. You can even spend the night here! (See below).
Did you know? The Great Barrier Reef is the only living thing on earth visible from space? How cool.
Spend a night on the Reef
Yes you can even sleep on the Great Barrier Reef! Reefworld has two options for this – Reefsuites and Reefsleep.
Reefsuites offers Australia's first underwater accommodation – and right in the middle of the Great Barrier Reef! The Reefsuites are private suites under the water with floor to ceiling windows. So you can lie in bed and marvel at what swims by.
When we were there the staff were telling us a story of how some honeymooners had recently heard whales singing outside their window – I mean, how freaking cool is that?
If you prefer to be above the water and under the stars, then the other option is to sleep outside up on the deck. The Reefbeds are cosy little pods that you can choose to zip up and stay snug, or unzip and enjoy the night sky above you.
The other advantage of spending the night on Reefworld is that you get the place practically to yourselves. After the day trips boat leaves for the afternoon and before the next boat arrives in the morning, you can enjoy the peace and tranquility of being out in the middle of the open ocean with only a few other people. Bliss.
Click here to learn more and book a Reef Sleep.
Go Snorkelling on the Inner Reef
If two hours on a boat seems like too long to go snorkelling then do not fear – you can also go snorkelling on the inner fringing reefs of the various Whitsunday islands.
Hook Island is renowned as one of the best places to go snorkelling in the Whitsundays. Hook Island is the second largest island in the Whitsundays and is renowned for its rugged beauty and excellent snorkelling spots among its sheltered bays.
Popular snorkelling spots off Hood Island include Mackerel Bay, Saba Bay, East Reef, Manta Ray Bay, Luncheon Bay, Butterfly Bay and Stonehaven Bay.
We visited both Saba Bay and Mackerel Bay as part of our Ocean Rafting Tour and the snorkelling was excellent. You can expect to see sea turtles, sting rays, giant clams, giant wrasse and a whole host of other amazing marine life.
Note that wind direction and tide changes will affect which snorkelling spots are good on any given day – either book to go on a snorkelling tour or check with locals for the best spots if you take your own boat.
Click here to book the Ocean Rafting tour we did that included snorkelling and visiting Hill Inlet Lookout and Whitehaven Beach.
Take a Scenic Flight
If you really want to appreciate the scale and natural beauty of the Great Barrier Reef, the best way to do it is from above.
There are several options when it comes to scenic flights in the Whitsundays – helicopter, sea plane or small plane. Flights will give you spectacular views over Whitehaven Beach and Hill Inlet and you can also opt to go a bit further to experience famous Heart Reef from above.
It's an incredible experience and definitely worth saving your pennies for.
Click here to book a 60-minute scenic flight or check out this helicopter flight or this seaplane tour that includes landing at Whitehaven Beach.
Visit Hamilton Island
Hamilton island is the most popular tourist destination in the Whitsundays and the only island with its own airport.
One look at the super yachts berthed in the marina here will show you that this is something of a playground for the rich and famous – but there is plenty for us common folk here too.
In fact there is loads to do on Hamilton Island – especially for families, whether you come here as a day trip or stay here (there is a wide choice of accommodation).
Catseye Beach, with its long sandy stretch of beach is a popular hangout place, as are the three public swimming pools behind it. You can hire water sports equipment here and also snorkelling gear – turtles are often spotted here.
Other fun activities on Hamilton Island include jet ski tours, jet boating, off road tours, go karting, walking trails and more. There's also a good choice of restaurants and shops to browse and even a golf course (on its own island).
Click here to read my Ultimate Guide to Hamilton Island.
Take a Jet Ski tour
A jet ski tour is a fun and fast-paced way to take in the Whitsundays, with tours available from 1-hour to whole-day tours.
A jet ski safari combines scenery and adventure, taking in scenic waterways and beaches, with the possibility of spotting turtles, dolphins and whales from the jet skis along the way.
Kids aged 8 (or 12 for some tours) and above can ride as passengers.
Click here to book a two-island jet ski safari.
Sail the Whitsundays
Sailing the Whitsundays is high up on many peoples' bucket lists. With its cluster of islands and calm sheltered waters the Whitsundays are the perfect place for heading into the sunset on a sailing boat.
You can escape the crowds and discover hidden bays and inlets, play on deserted beaches and fall asleep every night to the sound of lapping waves. Sounds lush doesn't it?
Bareboating (hiring a boat without a skipper) is a popular choice in the Whitsundays as you don't need a boating license here and training is given before you set off. But you can also hire a skippered boat or pay for a sail guide to join you.
Alternatively you could choose a day tour, sunset sail or two-night private sailing cruise.
Hang Out in Airlie Beach
Located on Australia's mainland, Airlie Beach is known as the Gateway to the Whitsundays region. This popular destination is the the starting point for many Whitsunday boating adventures and many people choose to base themselves here for their Whitsundays holiday.
Airlie Beach lagoon, a huge swimming pool with ocean views in the heart of town is a popular spot with families and there are also national parks to explore, waterfalls to discover and a good choice of restaurants and shops.
The Saturday markets are a popular diversion and don' t miss the Bicentennial Boardwalk, a 4-km coastal walk from Airlie Beach to Cannonvale.
Accommodation in the Whitsundays
There is accommodation to suit all budgets in the Whitsundays – from high-end luxury resorts such as the Intercontinental at Hayman Island and Qualia on Hamilton Island (16+ only), to a choice of backpacking hostels in Airlie Beach and everything in between.
Daydream Island Resort offers family friendly resort island accommodation and there is plenty of choice on Hamilton Island. Here families can choose from the the Reef View Hotel or self-catering apartments and holiday houses such as Palm Bungalows, Frangipani Beachfront apartments, Whitsunday Apartments and Yacht Club Villas.
We stayed at the Edge Apartments in Hamilton Island and it was fantastic – spacious, beautifully appointed and with stunning views. It also had a really nice swimming pool in the complex.
In Airlie Beach you have even more choice with hotels such as the Airlie Beach Hotel, Mantra Club Croc and Coral Sea Marina Resort. Or opt for self-catering apartment accommodation at Pinnacles Resort, Mirage Apartments, Club Wyndham and the Sebel Whitsundays.
FAQS and Top Tips
What is the best time to visit the Whitsundays?
Thanks to its sub-tropical location, the Whitsundays are blessed with average daytime temperatures from 23o to 30oC all year round. Spring (August to October) is generally considered to be the best time to visit the Whitsundays, when humidity is low and water visibility is better.
When is the Whitsundays Stinger Season?
Stinger season in the Whitsundays runs during the warmer months from October to May. During stinger season, it is highly recommended that all visitors wear a protective stinger suit when swimming in the ocean. 
How do you get to the Whitsundays?
The Whitsundays is serviced by two airports – Hamilton Island and Prosperine, which is around a 30-40 minute drive from Airlie Beach. If you want to drive to Airlie Beach, it will take around 7-8 hours from Cairns or 13 hours from Brisbane.
Heading to Queensland? You may also like these articles: