A day in Kuranda is one of the most popular things to do in Cairns Australia. Browse the markets, meet the animals and admire the views from the Skyrail with our pick of the best things to do in Kuranda.
The picturesque mountain retreat of Kuranda is around 25km northwest of Cairns and a Kuranda day trip is one of the best things to do near Cairns.
Known as 'The Village in the Rainforest', Kuranda is surrounded by beautiful World Heritage Rainforest, giving the village a peaceful and laid-back vibe, despite the hordes of tourists who visit every day on a Kuranda day tour.
If you're looking for souvenirs, there are plenty of small boutiques and art galleries to explore, with a focus on Aboriginal art and crafts, and Australian jewellery and opals.
Kuranda is also famous for its Kuranda Heritage Markets, featuring dozens of stalls laden with hand made local products, including kangaroo fur and crocodile leather products as well as toys, clothing, arts and crafts.
There are dozens of cafes and restaurants for refreshment stops, and a park with a playground for letting the little ones run around. However, there are so many Kuranda things to do, there probably won't be much time for that.
Here we round-up some of the best things to do in Kuranda with Kids:
Kuranda Scenic Railway
The best way to get to Kuranda, is via the Kuranda Scenic Railway, a 120-year old railway line that takes you through rainforest and deep ravines, and past the spectacular waterfalls of Barron Gorge National Park.
The train to Kuranda takes nearly two hours to get there, via 15 tunnels, 93 curves and dozens of bridges, as it slowly climbs from sea level to 328m. But the views are worth it, and it's a relaxing way to start the day.
If you don't mind spending a bit more on the Kuranda train prices, I would recommend upgrading to Gold Class. This gives you guaranteed window seats, and free sparkling wine on the way – and who doesn't love free bubbly on holiday?!
There are only two departures every morning for the train from Cairns to Kuranda. You can check the Kuranda train timetable on their website here.
You can buy a combination ticket for the Kuranda Railway and Skyrail, meaning you can get to Kuranda on the Kuranda Scenic Railway and return on the Cairns Skyrail; a fun way to mix it up. Read more about the skyrail below.
Be sure to book ahead as this is one of the most popular Cairns tourist attractions!
Click here to buy your Kuranda Scenic Railway tickets online.
Kuranda Koala Gardens
There's so much more than just koalas at the Kuranda Koala Gardens, and this is definitely somewhere you will want to go if you are visiting Kuranda with kids. This attraction may only be small, but there is plenty of Australian wildlife to see here.
Of course there are koalas, and you can queue up to cuddle one for a photo if you like, plus there are kangaroos and wallabies to feed by hand, wombats and freshwater crocodiles to look at (from a safe distance!) and a walk-through snake house.
Visit the Kuranda Koala Gardens website here
Birdworld Kuranda
Next door to the Koala Gardens is Birdworld Kuranda, one of the best things to do in Kuranda with kids.
This large aviary houses hundreds of free-flying birds from over 80 species in a natural rainforest setting, and offers a truly immersive experience – meaning those birds will be flying round your head, landing on your shoulders and eating bird seed out of your hand.
Great fun – but be sure to remove anything you don't want to lose – they love anything shiny and have even been known to steal earrings out of your ears! My husband lost the top of his hat to a hungry parrot, much to my kids' amusement.
Visit the Birdworld Kuranda website here
Australian Butterfly Sanctuary
Just a short walk from Birdworld Kuranda is the Australian Butterfly Sanctuary. This Kuranda butterfly sanctuary is the largest butterfly aviary in Australia, and much like Birdworld, boasts a natural rainforest environment.
But instead of birds, it is full of butterflies – more than 1500 of them, including the electric blue Ulysses Butterfly and the majestic Cairns Birdwing, all fluttering about your head and landing on you if you stay still for long enough.
Click here to buy discounted tickets for the Australian Butterfly Sanctuary.
Rainforestation Nature Park
Rainforestation Kuranda is just five minutes via shuttle bus outside of Kuranda.
Here you can learn about aboriginal culture, taking a dreamtime walk into the rainforest to gain an insight into aboriginal traditions and beliefs; learn how to throw a boomerang and play a didgeridoo; and watch the traditional Pamagirri dance performance in the rainforest amphitheatre.
You can also take a Kuranda rainforest tour on a World War II Army DUKW to seek out kingfishers, turtles, lizards and snakes, and visit the Koala and Wildlife Park to meet a whole host of native Australian animals, including kangaroos, wombats, cassowaries and crocodiles.
There is a lot to do at Rainforestation National Park and you should probably allow at least 3 or 4 hours to do the park justice.
For this reason, I would recommend saving it for a separate day rather than trying to fit it in with all of the above attractions (you can get here from Cairns in just 30-40 minutes and there is a shuttle bus available).
Click here to buy discounted Rainforestation tickets online.
Kuranda Skyrail
Once you've exhausted yourselves in Kuranda with kids, it's time to head back to Cairns – but getting home is just as fun! The Skyrail Kuranda cable car takes 90 minutes to return to Cairns, as you glide over 7.5km of rainforest scenery.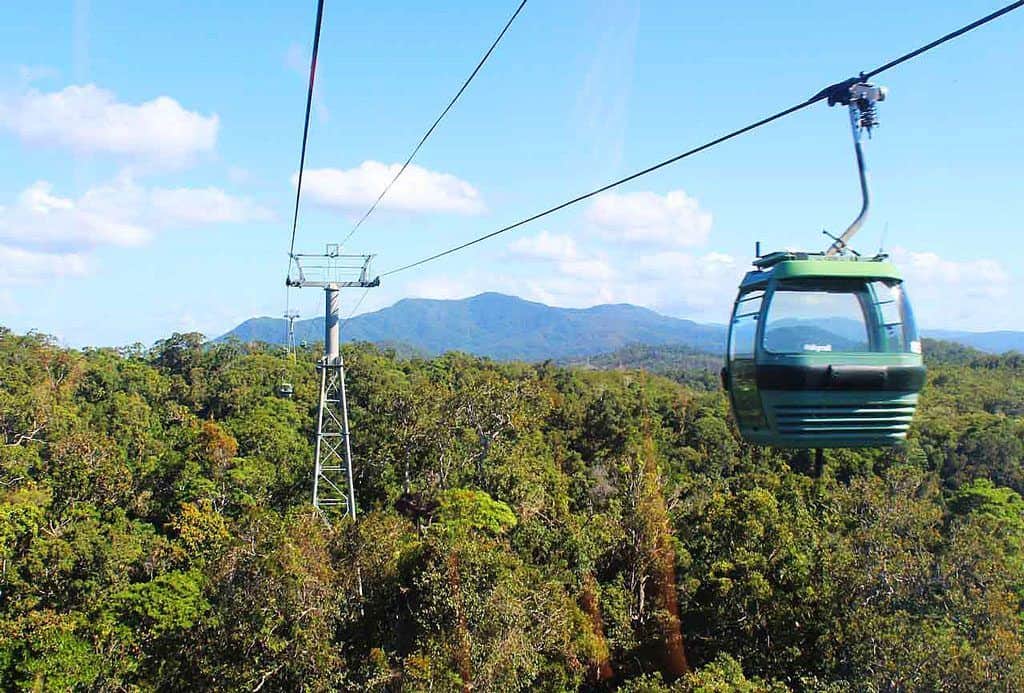 There are two rainforest stations on the way down, where you need to change onto the next section, but each of these has boardwalks to explore and scenic lookouts, and Barron Falls station also houses the Rainforest Interpretation Centre, complete with touch-screen computers and videos to help you unravel the mysteries of the ecosystem.
Click here to buy your Kuranda Skyrail tickets online
For more ideas of things to do with kids in Northern Queensland, be sure to check out our articles Things to Do in Cairns with Kids and Things to Do in Port Douglas with Kids too.
Pin it for Later!
This post contains affiliate links. If you make a booking or purchase using one of these links, we may receive a small commission – at absolutely no extra cost to you.