Here we explore all the best things to do in Grand Canyon with kids for your Grand Canyon family vacation. We include the best kid-friendly hikes and other Grand Canyon activities for families.
As one of the 7 Natural Wonders of the World, the Grand Canyon is one of the most famous, and most-visited attractions in the United States.
This week we welcome a guest blogger Jen from Travel with a Plan to share all her best things to do in Grand Canyon with kids following her recent Grand Canyon family vacation.
Jen is going to share all her favourite Grand Canyon hikes with kids as well as other fun Grand Canyon activities for families. So if you are planning a family trip to Grand Canyon, read on for inspiration, ideas and all Jen's Grand Canyon tips.
Located in the state of Arizona, the Grand Canyon is a geological masterpiece that was formed 5-6 million years ago as the Colorado River eroded a 1-mile deep channel through hundreds of layers of banded red rock.
Often considered a rite of passage to see in one's lifetime, Grand Canyon National Park draws in more than 5 million tourists per year. Visitors from around the world travel here to take in those famous awe-inspiring views of this steep-sided canyon.
Visiting the Grand Canyon with kids is all about adventure, beauty, and mystery. The expansive and ever-changing scenery creates lifelong memories and provides sights that will leave you changed forever.
Here is a list of fun Grand Canyon activities to add to your Grand Canyon family vacation itinerary.
This post contains affiliate links. If you make a booking or purchase using one of these links, we may receive a small commission – at absolutely no extra cost to you.
You may also like these articles:
Explore the Grand Canyon South Rim
The South Rim of the Grand Canyon is the most visited Grand Canyon location. Most first-timers with kids choose to visit the South Rim, which is less remote than the Grand Canyon North Rim. The South Rim also has more lodging options, amenities, look-out points, and historic sites.
The widely panoramic views from the South Rim represent the classic Grand Canyon views that tourists are most familiar with.
At 277 miles (446 km) long, and 18 miles (29 km) wide, the dozens of Grand Canyon viewpoints from the South Rim provide an amazing vantage point to the Colorado River below.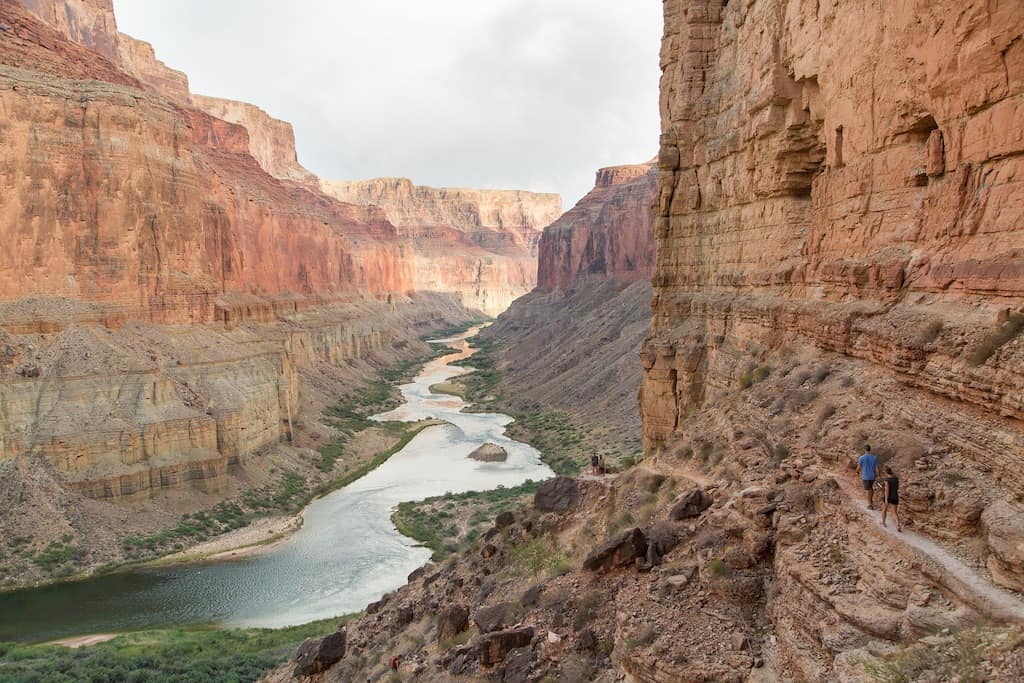 Grand Canyon National Park's South Rim is open year-round, 24 hours a day, and is accessible by all. There's nothing like catching an early morning Grand Canyon sunrise or late night sunset via a panoramic view from the rim.
Tip for visiting the Grand Canyon with toddler or baby: Although the paved Rim Trail on the South Rim is suitable for strollers, if you plan on more extensive hiking, consider a front baby carrier for infants or a backpack carrier for toddlers.
Also available on the South Rim are bicycles with pull-along trailers, kid's bikes, and strollers for a Grand Canyon bike ride. These can be rented on-site from Bright Angel Bicycles.
Some more fun things to do in Grand Canyon South Rim are highlighted below.
Hike the Bright Angel Trail
Of course one of the most popular Grand Canyon things to do is hiking. For those looking to hike down 'into the canyon', the most kid-friendly trail that will take you below the rim is Bright Angel Trail.
Located on the South Rim, Bright Angel Grand Canyon trail begins just west of Bright Angel Lodge. It is a straightforward path once beyond the trailhead.
Though many of the Grand Canyon trails that descend below the rim are steep and undeveloped, Bright Angel Trail is wide and well-maintained, making it more suitable for children. Adding to its appeal, the Bright Angel Trail has areas of shade and several water stations along the way.
9 miles long in its entirety, families typically choose to turn around on Bright Angel Trail at one of the rest houses that are located either 1.5 or 3 miles below the rim.
The danger in hiking this trail with children lies in underestimating the steepness of the trail and the energy and exertion needed to 'get back up', especially in warmer Grand Canyon temperatures.
The best advice is to monitor the amount of time it takes you to get down to any location. It will take twice that amount of time to cover the same distance in getting back to the trailhead. This rule of thumb applies regardless of age, fitness level, and/or length of stride.
Walk the Trail of Time
To help children better understand the Grand Canyon history, geological significance and overwhelming age of the Grand Canyon, take a walk along the 1.7 mile(2.9 km) Trail of Time.
An interpretive timeline, The Trail of Time extends along the South Rim from the Verkamps Visitor Center to the Yavapai Geology Museum. Walking guides are available at each of these endpoints.
Exhibitions along the trail permit visitors to explore the magnitude of geological time that is encoded by various rock layers in the Grand Canyon.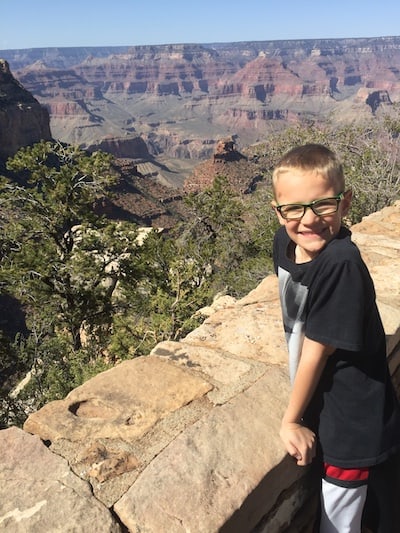 Actual rock samples that have been collected from all 70-plus geologic layers of the Canyon line the trail, placed for visitors to reach out and touch.
In addition, embedded into the paved walking path, the timeline is marked by brass markers about every meter. Each marker represents 1 million years of geological time. This depicts the depth of the canyon and the rock formed during that time period.
Visit the Hopi House Grand Canyon
Another landmark located on the South Rim of the Grand Canyon is Hopi House. Built in 1904, Hopi House was built out of respect as a market for Native American crafts made by on-site artisans.
The Hopi tribe, as the historic inhabitants of the area, were chosen as the featured artisans and the building was designed to closely resemble a traditional Hopi pueblo.
A National Historic Landmark, Hopi House is a Grand Canyon must see, combining retail shopping with museum quality artefact viewing. Here you will find a wide range of native arts and crafts available for purchase, such as hand-crafted kachina dolls, Native American jewelry and pottery, and hand-woven Navajo rugs.
Run by an authentic Hopi to this day, Hopi House is open all year and hours are seasonal.
Attend a Grand Canyon Ranger Program
In addition to the Grand Canyon's historical sites, there are also guided hikes and tours given by park rangers, many of which make great Grand Canyon family tours.
With titles such as "Canyon Tales", "Critter Chat", "Fossil Discovery" and "Geology Glimpse", Grand Canyon National Park ranger programs are both educational and fun.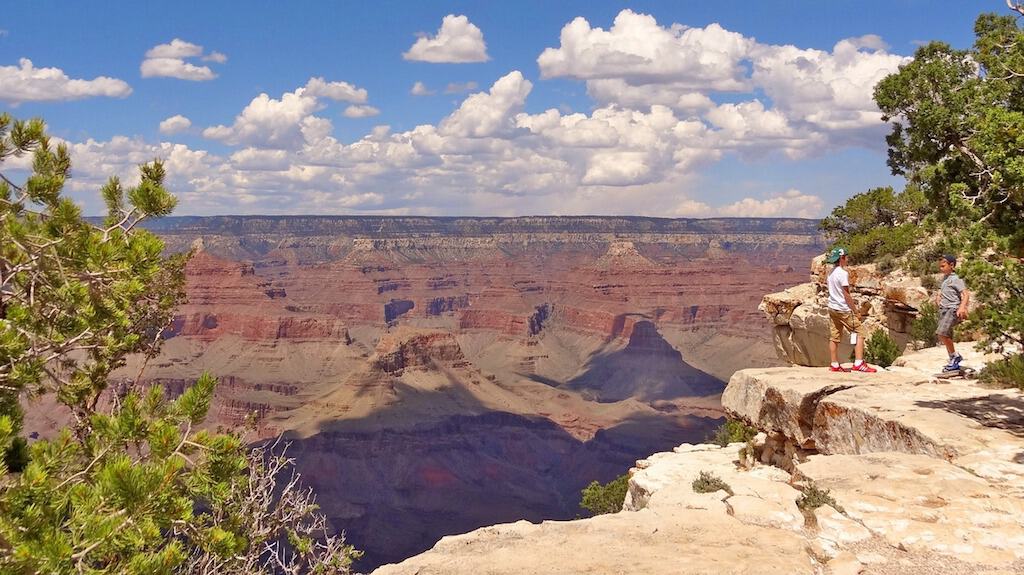 Make note that all ranger programs are free of charge and that children must be accompanied by an adult. Outdoor programs are subject to cancellation due to inclement weather or when lightning danger is present.
For a complete list of ranger programs, times, and locations, visit the National Park Service website here.
Become A Junior Ranger
Grand Canyon National Park's Junior Ranger Program is a fun add-on to the Grand Canyon for kids.
The ranger program was designed to help teach children the importance of preserving and protecting national parks. Likewise, they help teach about nature and history while encouraging children to have fun exploring the parks.
Depending on which part of the canyon that you visit, children wanting to participate can pick up a free age-specific Junior Ranger activity book at the corresponding Visitor Center.
In order to become a Junior Ranger your kids will need to: attend a ranger-led program (as mentioned above), write their observations, draw pictures, and create a poem. There are special activity sheets available for younger children.
Upon bringing their completed activity packet to a Visitor Center for review by a ranger, children take a pledge and receive an official Grand Canyon Junior Ranger badge.
Ride the Scenic Hermit Road Grand Canyon Shuttle Bus
Another option of the best way to see the Grand Canyon with family is via the free Hermit Road Shuttle bus.
Closed to private vehicles, the Hermit Road has a shuttle that travels along a 7-mile (11 km) stretch between Grand Canyon Village and Hermits Rest, stopping at nine designated viewpoints along the way.
With some of the best Grand Canyon views that you can see anywhere, this Grand Canyon shuttle bus gives you the chance to look at the iconic scenery while someone else does the driving.
Outbound shuttles depart Grand Canyon Village every 15-30 minutes (depending on the season) and travel in a loop format between the nine various points of interest which include Pima, Mohave, Hopi, and Powell Point.
This extremely popular route provides excellent walking opportunities via the Rim and Greenway trails, as well as bicycling opportunities along Hermit Road.
Make note that the last return trip buses depart Hermits Rest 1 hour after sunset.
Go Dark Sky Star Gazing
Grand Canyon National Park is a provisional International Dark Sky Park, making it one of the best places in the world for seeing stars and star gazing is another of our favourite family activities at the Grand Canyon.
The canyon's remote location away from major cities and air pollution make for exceptionally dark skies and crisp night time views.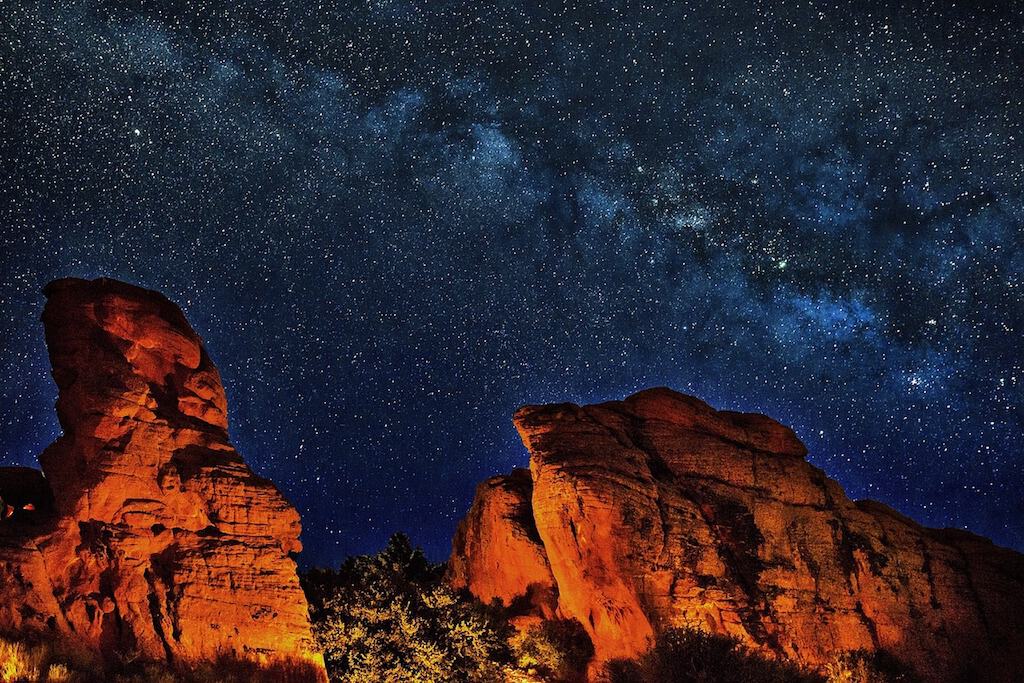 Once a year, for 8 days in June, the entire park becomes an observatory during the annual Star Party. Amateur astronomers from across the country volunteer their expertise and offer free nightly astronomy programs and telescope viewing.
If your visit to Grand Canyon Nation Park doesn't align with the Star Party, head to any of the viewpoints along the South Rim to see the canyon by starlight and find unobstructed views of the sky. This really is one of the coolest things to see in Grand Canyon.
Be prepared to drive your own car, as park shuttles only run until an hour after sunset.
Visit the Grand Canyon Visitor Center
Either before or after your tour of Grand Canyon National Park, be sure to visit The Grand Canyon National Geographic Visitor Center with your kids.
This information center, including its popular Grand Canyon IMAX theater, is located 1 mile from the South Rim park entrance.
The visitor center is home to the world-famous Grand Canyon IMAX movie, "Over the Rim and Beyond, Grand Canyon: The Hidden Secrets". Taking in the movie is definitely one of the best things to do in Grand Canyon with kids, especially if they are tired after all that hiking!
The 34-minute IMAX Grand Canyon film transports viewers through time as it depicts the lives of the first inhabitants of the Grand Canyon to the present day Natural Wonder that the canyon is today.
Click here to buy your IMAX Grand Canyon tickets online now.
This highly recommended visitor center tells you all about the Grand Canyon, provides information on a number of great Grand Canyon tours, and also includes an expansive souvenier shop and dining area.
Grand Canyon Tours
Other than walking, hiking, or biking, there are so many other ways to experience going to the Grand Canyon. Your choices in doing so will come down to personal preference, cost, convenience and/or availability.
A distinctive way to see the Canyon is to take a Grand Canyon mule ride, during which you can even stop for a campfire meal for a truly Western experience.
Other options include taking a Grand Canyon helicopter ride, or take part in a fun Grand Canyon rafting expedition. There's even a Grand Canyon zipline or you can skydive over the Grand Canyon (over 18s only).
Whether it be by train, helicopter tour, bus tour, jeep tour, or white-water rafting tour, each of these exciting opportunities provides astonishing viewpoints and memories to last a lifetime.
A big thanks to Jen for this post. I hope it has helped you decide what to do at the Grand Canyon if you are visiting with kids.
About the author: Jen is an American travel writer, wife, and mom to three boys. A planner by nature, Jen has spent the last 12 years planning fun, and hassle-free family vacations for her family of 5. She considers travel to be an essential part of their family's health and wellbeing.
Travel With A Plan is a compilation of the planning and execution that has gone into making family vacations efficient, enjoyable, and memorable. She is dedicated and passionate about sharing travel ideas, products, and experiences that are practical, and that work for families. Follow her on Facebook , Pinterest, and Twitter.
How to get to the Grand Canyon
The nearest city to the Grand Canyon is Las Vegas, which is 125 miles or around a 2-hour drive away.
For a fun way to reach the Grand Canyon, check out the Grand Canyon Railway. This fun vintage railway experience is theatre and entertainment plus a train ride all-in-one. You can expect Wild West shoot outs, live music, train robberies and more. It's great fun for young children and older kids alike.
Click here to learn more about the Grand Canyon Railway.
The Best time to Visit the Grand Canyon
There is never a bad time to visit the Grand Canyon, although snow and ice can mean some roads are closed during the height of winter.
The weather is at its best in the Spring time between April and June, when rainfall is low and the temperatures are still pleasant, before they soar in the Summer.
As with most popular attractions, it is best to avoid the peak season during school holidays if at all possible due to the crowds.
Where to stay at the Grand Canyon
If you are keen on doing some Grand Canyon camping, then there are several options. Click here to read about the various Grand Canyon campgrounds.
If you prefer to stay in a hotel, then you also have many options. We highlight some of the best hotels in Grand Canyon below.
Many people choose to stay within the Grand Canyon National Park, for the obvious reasons of its handy location. However you can often get much value for money by staying just outside the National Park entrance.
The obvious advantage of staying somewhere like El Tovar or Kachina, highlighted below, which are located right on the rim, is that you get to experience the rim after the majority of tourists have left for the evening, or before they arrive in the moring.
El Tovar
El Tovar hotel first opened in 1905 and remains one of the most famous Grand Canyon lodges. This Grand Canyon luxury hotel has played host to several famous guests including President Bill Clinton, Oprah Winfrey and Sir Paul McCartney.
Designed to resemble a cross between a Swiss chalet and a Norwegian villa, this South Rim Grand Canyon hotel was designated a National Historic Landmark in 1987.
The biggest selling point of this hotel however and the real reason for its popularity is its location – right on the edge of the canyon rim with unbeatable views. The Bright Angel trailhead is just a short walk away.
No two rooms are alike at this 78-room hotel. Both deluxe rooms and suites are available with two double beds for families, and rollaway beds can also be accommodated. There is an onsite restaurant and in-room dining is also available.
Click here to check prices and availability for El Tovar.
Kachina Lodge
If you can't get into El Tovar, check out the next door Kachina Lodge for a more wallet-friendly option, but with the same convenient location. Rooms here are also available with two queen beds for families.
There's no onsite restaurant but you can easily walk to El Tovar or Bright Angel lodge for dinner.
Click here to check prices and availability for Kachina Lodge.
Yavapai Lodge
For a no frills lodging in the Grand Canyon National Park, check out Yavapai Lodge. This basic accommodation is just a one mile walk from the South Rim and opposite the shuttle bus stop.
Rooms are available with two double beds for families, and the newer rooms in the West building have air conditioning. There is an onsite restaurant and grocery store at this pet-friendly hotel in Grand Canyon.
Just don't be surprised to see an elk walk past your window!
Click here to check prices and availability for the Yavapai Lodge.
Holiday Inn Express Grand Canyon
If you prefer your lodging to be a bit more modern and aren't too concerned with staying within the national park, the Holiday Inn Express is located just one mile from the Grand Canyon National Park South Rim entrance.
Rooms are available with two double beds and interconnecting rooms are also available, some with bunk beds. All rooms come with mini fridge and microwave.
A free continental breakfast is on offer every morning and there are several restaurants within walking distance for dinner. Everyone will love the indoor swimming pool and whirlpool – perfect for winding down after a long day hiking in the Grand Canyon!
Click here to check prices and availability for the Holiday Inn Express Grand Canyon.
Disclaimer: This post contains affiliate links. If you make a booking or purchase using one of these links, we may receive a small commission – at absolutely no extra cost to you.
Mum on the Move is a participant in the Amazon Services LLC Associates Program, an affiliate advertising program designed to provide a means for sites to earn advertising fees by advertising and linking to Amazon.com