Here we share all our top tips for visiting Ocean Park Hong Kong with kids – from saving money to avoiding the queues, we've got you covered.
Is it an Aquarium? Is it a zoo? Is it a theme park? No, it's Ocean Park Hong Kong!
Ocean Park is Hong Kong's oldest theme park, and one of the best Hong Kong attractions for families. It is a favourite day out for Hong Kong residents and bus-loads of tourists who arrive daily.
Is Ocean Park good for young kids?
I recently read an Ocean Park Hong Kong review on another website. I was surprised to read that the author considered Hong Kong Ocean Park to be an 'older' kids' theme park and more suitable for the 10+ age group.
Ocean Park is my 4-year old's favourite place on Earth! And my 2-year old loves it too.
So if you're thinking of postponing a visit to Ocean Park until your kids are older – don't! It is one of the best things to do in Hong Kong for kids of all ages.
Avoiding the crowds at Ocean Park
The theme park is hugely popular and is renowned for being crowded.
For this reason, more than just being another Ocean Park review, I have put together an Ocean Park Hong Kong suggested itinerary to help you navigate the park and avoid the crowds as best you can.
We always follow this similar path and have never been stuck in big queues yet.
Here I highlight all the best things to do in Ocean Park Hong Kong and give you all my best Ocean Park Hong Kong tips if you are visiting the theme park with kids.
Mum on the Move is a participant in the Amazon Services LLC Associates Program, an affiliate advertising program designed to provide a means for sites to earn advertising fees by advertising and linking to Amazon.com
Get there before opening time
Ocean Park Hong Kong gets BUSY! And by busy, I mean busloads of tourists arriving at the same time and wandering around slowly in mass groups.
For this reason, the best time to visit Ocean Park is opening time. You want to try and be amongst the first through the gates, ahead of the crowds.
I would suggest buying your Ocean Park tickets online
before you go to avoid queues at the ticket counters for the same reason. Click on the link below for discounted tickets.
If you have a stroller with you – head to the left-hand side of the main gate to get in through a separate turnstile, which gets you even further ahead of the crowds! You can pick up an Ocean Park map at the entrance here near the turnstile.
Ocean Park opening hours are usually 10am-6pm (7pm on Saturday/Sunday) but can vary so check the schedule on the Ocean Park website before you go.
Click here to buy discounted Ocean Park tickets.
Head straight for the Grand Aquarium
Another of my Ocean Park tips is to make a beeline for the Grand Aquarium ahead of you, as soon as you are through those gates.
The queues for this build up pretty quickly, so you want to get in before that happens. There's no fun in trying to glimpse a clownfish over the heads of a hundred people.
There are loads of sea creatures to fascinate small children inside the Ocean Park Hong Kong Aquarium – from hammerhead sharks, to stingrays and manta rays, starfish and lionfish to jellyfish and turtles, with several different viewing points along the way.
Seek out the Pandas
As soon as we leave the aquarium, my kids usually start shouting to go see the Ocean Park pandas.
There are two different panda enclosures at Ocean Park Hong Kong, and I would recommend heading straight for the Giant Panda Adventure (rather than the Hong Kong Jockey Club Sichuan Treasures, which is next door to the aquarium).
This enclosure tends to be less crowded and has a more open environment, plus you can visit the red pandas here too, alongside Ling Ling and Le Le, Ocean Park's beloved giant pandas.
Jump Aboard the Ocean Express
The Ocean Park attractions are divided into two levels – the Waterfront (where the Park Entrance and Grand Aquarium are) and the Summit (where all the rollercoasters are).
As most people come to Ocean Park to ride the rollercoasters, we try to get to the Summit early, before the masses descend.
Everybody else will want to ride the cable car up here, so jump aboard the Ocean Express – a monorail pretending to be a submarine, complete with flashing lights, and underwater video. Don't worry; you can ride the cable car later.
Go on a Polar Adventure
Take a wander through the North Pole Encounter and the South Pole Spectacular to see the sea lions, walruses, seals and penguins in action. Take a sweater if you are visiting in the summer – it's cold inside!
Have Lunch with the Penguins
As with many theme parks, the Ocean Park restaurants are not that great (although I would say they are better than the ones at Hong Kong Disneyland). One of my best Ocean Park Hong Kong tips is to have lunch at Tuxedos Restaurant.
The food isn't anything to write home about (although they do a passable pizza), but the highlight here is the penguins. One side of the restaurant is a window into the penguin enclosure, including an underwater viewing area.
Time your lunch to coincide with 12 o'clock feeding time (book ahead if possible). The kids will love it!
Ride the Ocean Park Hong Kong Rides
The main focus of the Summit is the Ocean Park rides, particularly the rollercoasters, but there aren't many suitable for small children.
Rides in Ocean Park that are suitable for small kids include:
The Arctic Blast (a fairly tame Ocean Park rollercoaster suitable for children height 100cm and above if accompanied by an adult)
Thee Ferris Wheel (anyone allowed if accompanied by an adult)
The Raging River (a log flume ride where ages 3 and above are allowed if accompanied by an adult).
More rides for the little ones can be found at Whiskers Harbour at the Waterfront (see below).
Children over the height of 122cm can also ride the following Hong Kong Ocean Park rides: Crazy Galleon, Eagle, Flying Swing, Mine Train, The Rapids and Whirly Bird.
Walk through the Rainforest
We usually walk off our lunch with a stroll through the Rainforest Expedition Trail.
There are some cool animals to be seen here, including the world's smallest monkey – the Pygmy Marmoset, a sloth, and lots of snakes, lizards, spiders and frogs including brightly coloured iguanas and an anaconda.
Don't miss the opportunity to squirt water guns on the people riding The Rapids below you!
Watch the Dolphin Show
Dolphin shows are the subject of much controversy and have cost Ocean Park Hong Kong plenty of negative publicity in recent years. But that doesn't stop the Ocean Theatre filling up several times a day for the Ocean Wonders show, featuring jumping and spinning dolphins and clapping sea lions.
Other Ocean Park shows include the Emperors of the Sky bird show and a schedule of theatre shows in the Whiskers Theatre. Check the website for the Ocean Park show schedule.
See the Sharks
From the Ocean Theatre, it is a short walk down the hill to Shark Mystique, another of the best attractions in Ocean Park Hong Kong for kids.
This enormous shark tank holds over 100 sharks and rays – including zebra sharks and the scary-looking sawfish, which you can view from three different levels.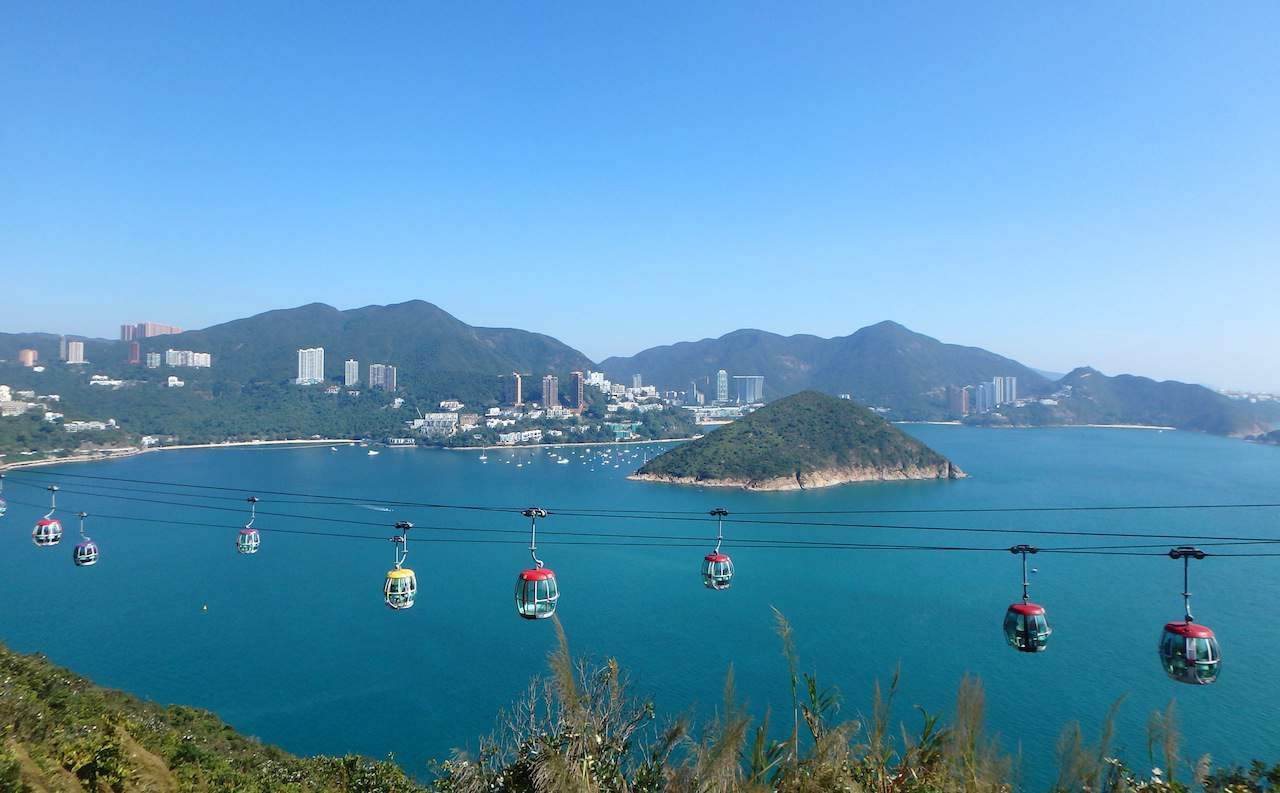 Ride the Ocean Park Cable Car
Now is your chance to ride the cable car, the entrance of which is located between Shark Mystique and the Ocean Theatre.
This is not only a fun way to return to the Waterfront, but also provides you with some of the best views of Hong Kong's Southside, particularly on a clear day.
To avoid the queues, I suggest riding the cable car back down the mountain no later than around 2pm. Note you will need to fold up your stroller and carry it up a few stairs to go into the cable car.
Hit Whiskers Harbour
There might not be many rides suitable for small kids at the Summit – but Whiskers Harbour is all about the little ones, and is where we head to for running off the last of our energy before going home.
There's a great playground here plus a bouncy castle, a carousel, a ferris wheel and a musical train – all suitable for even the littlest of littlies.
Two-year-olds and above can also ride the Clown-Around roundabout, and 91cm or higher thrill seekers can get an adrenaline rush on the Frog Hopper. So now there's just enough time for an ice cream before you head home. Enjoy!
Ocean FasTrack Ticket
The Ocean Park fast pass is called the Ocean FasTrack that allows you to skip the queue on some rides.
There are two levels of Ocean Park Fast Track ticket: the Ocean FasTrack (7) gives you skip-the-queue rights at seven different rides, while the Ocean FasTrack (All) allows you to fast track the queue on all designated rides (note this does not include all the rides in Ocean Park Hong Kong).
The FasTrack ticket only entitles you to one priority ride on the Mine Train, and you need to pre-book a one-hour timeslot for this. Price for the Ocean Park fast pass is $350 HKD (Ocean Park entrance fee not included) and is the same price for adults and children.
If you are visiting the park with kids and follow our Ocean Park itinerary above, the fast pass ticket should not be necessary as you will avoid most big queues anyway.
However, if the adults in the group want to try out some of the big Hong Kong roller coasters like the Hair Raiser or Dragon, this could be a good option for you to enjoy some thrill rides without keeping the others waiting too long.
Other Ocean Park Tips
Stroller rental is available from the office in Aqua City – just to the right of the park entrance.
Locker rental is also available from the same place.
There are baby care rooms located around the park, equipped with baby change tables, feeding chairs and bottle warmers.
For same day re-entry, make sure you get your hand stamped when you leave the park.
How to Get to Ocean Park Hong Kong
The best way to get to Ocean Park is by MTR to Ocean Park station. Ocean Park MTR is just one stop (4 minutes travel time) from Admiralty station. Take Exit B to connect directly to Ocean Park. A taxi from Central will take around 15-20 minutes, depending on traffic.
Click here to buy discounted Ocean Park tickets online.
Can't choose between Ocean Park vs Hong Kong Disneyland? Read all our best Hong Kong Disneyland Tips here.
Ocean Park Hong Kong Hotel
It's easy to get to Ocean Park from any central location in Hong Kong as the MTR station is right outside the theme park. However, if you want to stay close by, you have a couple of choices. The new Marriott Hotel is located right on the doorstep of Ocean Park, while the Ovolo Hotel is just a short walk away.
Hong Kong Ocean Park Marriott Hotel
The Hong Kong Ocean Park Marriott Hotel is located right on the doorstep of Ocean Park, with the 50-foot aquarium in the lobby setting the theme for your stay.
Its 471 guest rooms and suites are arranged around a large freeform swimming pool, perfect for cooling off after a day of exploring Ocean Park. Kids will love the themed family rooms, which include underwater, rainforest and bamboo forest themes. All themed rooms have two double beds to accommodate the family, as do most other room categories.
It has a range of restaurants, including Chinese and international cuisine.
Click here to check prices and availability of the Ocean Park Marriott.
Ovolo Southside Hotel
Another good hotel near Ocean Park Hong Kong suitable for families is the Ovolo Southside hotel. This trendy warehouse-conversion hotel has a Family & Friends room with two queen beds separated by a room divider, while the corner deluxe rooms have pull-out sofa beds suitable for the kids to sleep on.
It also has Apple TVs, X-Boxes on request, self-service laundry and everyone's favourite perk: a free mini bar!
Click here to check prices and availability of the Ovolo Southside Hotel.
Read all about these and other family hotels in Hong Kong in our article here: Best Family Hotels in Hong Kong.
Buy Before You Go!
Pin it for Later!
Mum on the Move is a participant in the Amazon Services LLC Associates Program, an affiliate advertising program designed to provide a means for sites to earn advertising fees by advertising and linking to Amazon.com
This post contains affiliate links. If you make a booking or purchase using one of these links, we may receive a small commission – at absolutely no extra cost to you. Thanks for your support!