Hong Kong is often seen as an ideal stopover destination for travellers visiting Asia, or travelling between Australia and Europe. Visiting Hong Kong with kids can often feel daunting – and you may not imagine that this bustling modern metropolis is a particularly child friendly city.
But there is a surprising amount of fun things to do in Hong Kong with kids. So if you are planning a stopover in Hong Kong with kids, then here we give you our two-day Hong Kong itinerary with suggestions on what to do in Hong Kong in 48 hours with kids.
Day One
On day one of our Hong Kong stopover itinerary you are going to tick off the big Hong Kong family attractions – with a choice of Hong Kong Disneyland, Ocean Park Hong Kong or visiting the Big Buddha. There will be time in the afternoon for some downtime back at your hotel before heading out in the evening for a Hong Kong harbour cruise.
Morning – Hong Kong Disneyland / Ocean Park / The Big Buddha
Chances are if you are heading to Hong Kong with kids, they are going to want to visit Hong Kong Disneyland. If you have already visited other Disney parks, or Mickey Mouse isn't your thing, then Ocean Park is Hong Kong's oldest and best-loved amusement park and is a good alternative for a day of family fun in Hong Kong. If you prefer something more cultural, then another fun day out in Hong Kong with kids is to take the cable car to visit the Big Buddha on Lantau Island.
In 48 hours in Hong Kong with kids, you will only have time to visit one of these – so read more below to see which one suits you best.
Hong Kong Disneyland
One of the highlights of visiting Hong Kong with Kids is taking them to Hong Kong Disneyland. With a whole host of Disney characters to meet, fun Disney-themed rides, the Lion King show, Fantasy Parade and fireworks, you are guaranteed a day of fun and much excitement from the kids.
There are seven themed lands to explore, including Fantasyland, Toy Story Land and Adventureland, with all the favourite rides such as It's a Small World, Mad Hatter Tea Cups and Space Mountain to enjoy, as well as some that are unique to Hong Kong Disneyland.
You can click here to buy discounted tickets for Hong Kong Disneyland online at Klook Travel.
Read more about Hong Kong Disneyland and how to avoid the crowds in our article Tips for Visiting Hong Kong Disneyland
Ocean Park
Part aquarium, part zoo, part amusement park, Ocean Park is a great fun family day out for all the family. The Grand Aquarium is home to a wide array of sea creatures, such as hammerhead sharks, rays and abundant fish, while the Polar exhibits showcase walruses, sea lions, seals and penguins. Then of course there is everyone's favourite – the Pandas!
When the kids have had enough of ogling the animals, there is a cable car to ride and plenty of adrenalin-inducing rollercoasters and thrill rides – even for the really little ones.
You can click here to buy discounted tickets for Ocean Park online at Klook Travel.
Ocean Park is hugely popular with both local families and visiting tourists who arrive by the busload – read our Tips for Visiting Ocean Park with Kids to learn how best to avoid the crowds.
The Big Buddha
Visiting the Tian Tan Buddha on Lantau Island always features on people's Hong Kong bucket lists. More commonly known as the 'Big Buddha', a daytrip over to see this famous landmark makes for a fun adventure with the kids.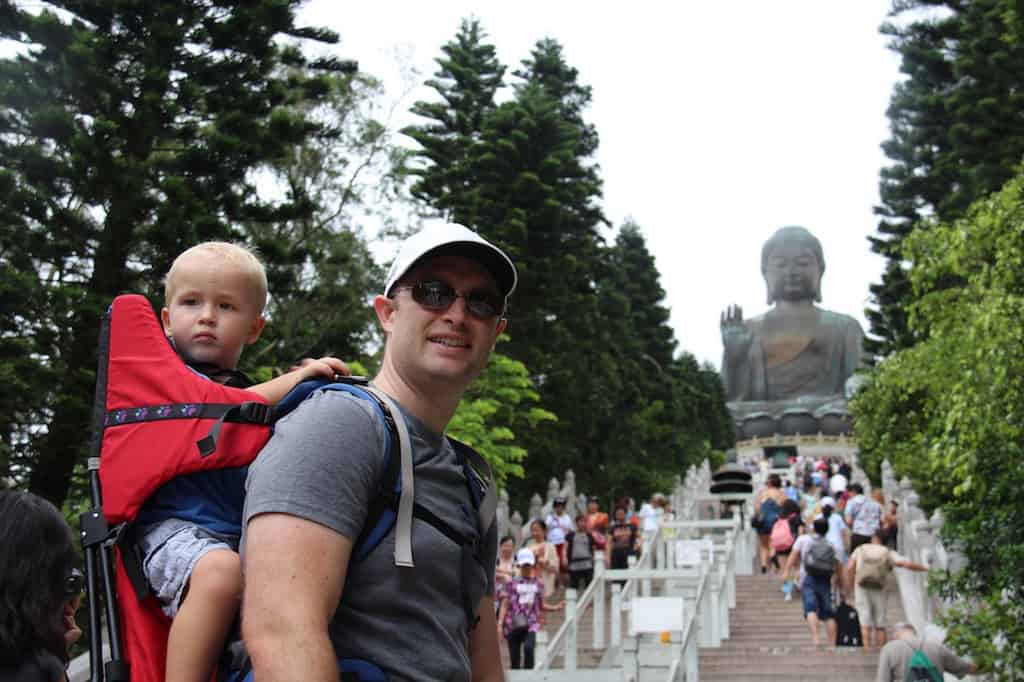 The Tian Tan Buddha, is one of the largest seated Buddhas in the world at 34 metres high, and is made entirely of bronze. If you are visiting with small children, bear in mind that you have to climb 268 steps to reach the Buddha – but the feeling of being so close to this enormous Buddha once you get to the top is worth it.
Half the fun in visiting the Big Buddha is getting there – a 25-minute cable car journey aboard the Ngong Ping 360, offering spectacular views out over the South China Sea. You can end the daytrip with a visit to Tai O Village – Hong Kong's oldest fishing village, where you can take a boat ride alongside the famous stilted houses.
You can buy discounted tickets for the Ngong Ping 360 Cable Car online at Klook Travel
here.
Read more about Visiting the Big Buddha in Hong Kong with Kids here.
Afternoon – Relax!
Chances are, if you have spent the day at Disneyland Hong Kong, Ocean Park or visiting the Big Buddha, you are all going to be exhausted. Take a load off and chill out at your Hong Kong hotel for a couple of hours before you see if you have the energy to head out in the evening to explore some more.
Dinner with a View
Hong Kong has one of the most spectacular skylines in the world, and this is most appreciated at night when all the skyscrapers are lit up. Whether you choose to book a babysitter for the evening or take the kids along too, there are many Hong Kong restaurants with a view to choose from – two of our favourites include Chinese restaurant Hutong and Café Grey Deluxe at the Upper House hotel for European Dining.
Evening – Junk Boat Harbour Cruise
Another great way to see Hong Kong's spectacular skyline is from the harbour, on board a junk cruise. Both the Duk Ling and the Aqua Luna offer evening harbour cruises, including ones that coincide with the Symphony of Lights show at 8pm every night. You can board these junk boat cruises in either Tsim Sha Tsui or Central Piers. If this is too late for your little ones, both these boats also offer afternoon cruises.
You can buy discounted tickets for the Aqua Luna cruise online at Klook Travel
here.
Overnight in a Hong Kong Family Friendly Hotel
It's time to head back to your hotel, sleep off the day and get more energy for sightseeing tomorrow. There are plenty of family friendly hotels in Hong Kong to choose from. If you are visiting Hong Kong with kids, we particularly like the hotels within the Pacific Place complex – these include the Island Shangri-La, Hong Kong, the Conrad Hong Kong, the JW Marriott Hotel Hong Kong and The Upper House.
All of these hotels are connected to the Pacific Place shopping mall, where you will find a selection of family-friendly restaurants and coffee shops, a fantastic supermarket for takeaway food and snacks, easy shopping, baby changing facilities plus an MTR station in the basement and tram stops right outside for easy public transport access.
Compare prices for Hong Kong hotels below

Day Two
On day two, you are going to head up The Peak to enjoy the best views in Hong Kong, then explore the city using all kinds of fun public transport.
Morning – The Peak Hong Kong
The Peak is Hong Kong's most popular attraction – with visitors flocking here to enjoy the best views over the city from its viewing platform at 428m above sea level. There are also visitor attractions, nature walks and plenty of dining options at the top.
The most fun way to reach the Peak is to take the Peak Tram, but you want to go early to avoid the queues. The Peak Tram opens at 7am, but as long as you are here by around 9.30am, you shouldn't need to queue. If you already have an Octopus card, you can use this too to avoid queuing for tickets. You can also buy discounted tickets online at Klook Travel
here.
The journey aboard the world's steepest funicular railway is less than five minutes long, covering just 1.4 kilometres – but climbing almost 400 metres in this time. The angle of the tram is so steep – 27 degrees at its most extreme – that you get the impression that the buildings are leaning into the mountain.
Once at the top, there is plenty to keep the kids occupied. There's the Trick Eye Museum
and Madame Tussauds
, plus a playground all located within the Peak Galleria. Another (nicer) playground is a short walk up a steep hill at Mount Austin Park.
Another Hong Kong highlight is the walk around Lugard Road, a 3.5km flat walk with great views over Hong Kong. You can reward yourselves with a drink at an outside table at the Peak Lookout at the end.
Lunchtime – Dim Sum at City Hall
There are plenty of dining options up The Peak, but you can't visit Hong Kong without enjoying at least one dim sum blowout. So for lunch, you're going to head to the most famous place for dim sum in Hong Kong – Maxim's Palace at City Hall. Set in an enormous banqueting hall, Maxim's Palace is big, bright and brash and crammed to the rafters with noisy dim sum goers.
It is one of only a few restaurants left in Hong Kong where dim sum is still served the traditional way – from steaming carts, piled high with bamboo baskets, pushed around by surly uniformed waitresses. If you don't know the names of the dim sum dishes in Chinese, just point and smile and hope for the best.
Find more suggestions for the Best Restaurants in Hong Kong for Dim Sum here.
Afternoon – Explore Hong Kong with Public Transport
It's time to get a feel for the real Hong Kong – and the best way to do this is to explore with public transport. Hong Kong's public transport is not only cheap and efficient, but it's fun too!
Ride the Star Ferry
Just a short walk from Maxim's Palace at City Hall is the Central Piers, where all the Hong Kong ferries depart from. The Star Ferry one of the best ways to take in the Hong Kong skyline, and is a fun ride for the kids. This iconic ride has been ploughing across Victoria harbour between Kowloon and Hong Kong Island for over a hundred years.
Ride the Tram
Another fun and atmospheric way to take in the sights of Hong Kong with kids is to take a ride on the famous Hong Kong trams. The trams are noisy, rickety, bumpy and old – and my kids love riding them! Grab a seat at the front of the top deck for the best views, and enjoy the lurching and rocking movement and the distinct 'ding ding' of the bell as you perch above the crowds.
You can jump on a tram on Des Voeux Road Central (just a short walk from Central Piers where you alight from the Star Ferry) and ride it along to the Western Market. Here you can explore the dried seafood streets of Sheung Wan and call in at the Man Mo temple. Discover Hong Kong has an excellent self-guided walk of this area on its website: Travel Through Time self-guided walk
Read more about riding the Hong Kong trams in our article Hong Kong by Tram
Ride the Central-Mid-Levels Escalator
If you follow the first half of the Discover Hong Kong Travel Through Time self-guided walk mentioned above, it will bring you to The Central-Mid-Levels Escalator.
This is the longest system of escalators in the world, with more than 20 escalators and moving walkways winding their way from Central all the way up through Soho to the Mid-Levels. It carries more than 60,000 commuters every day along its 800m length and runs downhill from 6am – 10am, then uphill from 10.30am til midnight.
To ride the whole thing would take around twenty minutes, but you can hop on and off at each road that it bisects along the way. From a visitor's point of view, it is a great way to get a feel of Hong Kong life, particularly through the Soho section where you are afforded views down over the bustling streets.
Dinner in Soho
Soho is one of the main dining districts of Hong Kong, so you will be spoiled for choice with restaurants in this area. It gets very busy (and rowdy) later on when the local population spills out of the offices, but if you head here for an early dinner, you shouldn't have any trouble getting a table.
Some of our favourite restaurants in Soho include Ho Lee Fook (Chinese), Chom Chom (Vietnamese), Aberdeen Street Social (modern British), Posto Pubblico (Italian) Butcher's Club Burger, or walk slightly further down the road to 77 Wellington Street to find Mak's Noodle, Hong Kong's most famous wanton noodle restaurant.
And that's it for our Hong Kong stopover itinerary. If you have longer than 48 hours in Hong Kong with kids or you are looking for more fun ideas of what to do in Hong Kong with Kids – check out our article 10 Fun Things to do in Hong Kong with Kids.
Pin it for Later!
Note: This article contains affiliate links. If you make a purchase using one of our affiliate links, we will receive a small commission – at absolutely no extra cost to you.