Bagan is usually at the top of people's Myanmar bucket list – all those pagodas scattered through the countryside is the image so often used to portray a visit to Myanmar.
During the height of the Kingdom of Pagan, there were more than 10,000 temples, stupas and monasteries in an area of just 104 square kilometres. Today there are still more than 2,200 of these temples dating from the 9th-13th centuries, all just waiting to be explored.
But there is so much more to this ancient kingdom than just the temples, with plenty of other fun and interesting things to do in Bagan with kids.
Here we highlight some of the fun things we did during our 3-day stay in Bagan with kids. We managed to do all this, and also enjoyed plenty of downtime by our hotel pool too, so as not to exhaust the kids too much.
Our 3-day Bagan itinerary
Day One: We arrived at lunchtime and spent the afternoon by the pool, plus a quick visit to the Bagan Viewing Tower (not really worth it).
Day Two: We visited eight pagodas, plus the Thanaka Museum and Lacquerware workshop. We did this during a full day tour with a private guide and driver organized through THAHARA.
Having a private car made sightseeing much easier as we could go at our own pace, stop for refreshments when needed, and decide our own itinerary.
Day Three: We arose early for the sunrise hot air ballooning, and then spent the rest of the morning by the pool. In the afternoon we hired a horse and cart to see some more temples, and visit a local village.
Temples of Bagan
With over 2,200 temples in Bagan to explore, it is hard to know where to start. We put ourselves in the hands of our guide from THAHARA and managed to visit eight fabulous temples – all very different in style and feel from the other.
While visiting eight temples in one day might sounds challenging with small kids, we found plenty to keep them entertained.
Firstly, if you are planning on visiting Bagan with kids, I highly recommend buying a copy of the Leap & Hop Myanmar book. This is full of fun activities, scavenger hunts and things to look out for as you explore the various sights of Myanmar, including a fun section on Bagan.
Our kids loved exploring the different temples – as each one was different, there was always something unique to look out for: the enormous Buddhas of Manuha temple, the smiling/frowning Buddha of Ananada, and the India Jones-like corridors of Dhammayangyi temple to explore, where we even spotted an owl.
They were endlessly entertained by looking for the temple bells to ring too.
Outside Htilominio temple, the kids loved watching the sand artists creating their paintings, and meeting the 'giraffe' woman with her brass neck rings, who taught them how to do traditional weaving.
We finished our day of exploring the Bagan temples with sunset at Shwesandaw Pagoda. This is the most popular temple in Bagan to watch sunset, and was the first time of the day where we actually saw crowds of people.
Be warned if you are visiting Shwesandaw Pagoda with kids – the steps are steep and there are no railings once you are up at the top. I didn't last long up here with my two kids (aged 5 and 3), as I kept envisaging them falling over the edge!
And remember, if you go up for sunset – you will need to come down in the dark.
Click here to book a private tour of the Bagan temples.
Thanaka Museum
My kids were fascinated by the yellow-whitish paste that most of the Burmese women and children wear on their faces. This is called 'Thanaka', and it is made by grinding the bark of the Thanaka tree on a circular slab with some water until it makes a paste.
Thanaka is supposed to be good for the skin, and acts as a sunscreen as well as being worn as makeup for aesthetic purposes.
We called in at the Thanaka Museum in Bagan to learn more about it, and the kids loved having a go at trying it out for themselves.
Bagan Lacquerware Workshop
Bagan is the lacquerware centre of Myanmar and I would highly recommend calling in at one of the lacquerware workshops here to see the traditional craft in action.
I have often admired lacquerware products in the markets around Asia, but I had no idea the amount of work and intricate detail involved in creating these masterpieces.
We visited Bagan House and were guided through the process of creating lacquerware, from splitting the bamboo, to applying the lacquer, the drying process, etching the designs and inlaying shell.
The kids were fascinated by it, and the staff were so patient with them, helping them have a turn at making bamboo bracelets and making them little souvenirs.
Horse & Cart Ride around Bagan
A fun way to get around Bagan is to hire and horse and cart. In honesty they are not that comfortable and are pretty slow, so you probably won't want to spend a whole day doing this, but we hired one for a couple of hours and it was great fun.
We visited a few of the smaller off the beaten path temples, and also called in at Minnanthu village – see below.
We picked up a horse & cart from outside our hotel, but you can also arrange to do a full day tour by horse & cart here.
Bagan Village Life
Our horse and cart driver suggested we call in at a local village to experience Myanmar village life. The kids absolutely loved this.
Although obviously catering to tourist visitors, this gave us a real insight into village life in Myanmar, where the local villages live off the land, growing cotton and peanuts. We learned how to make peanut oil, and had a go at operating the farm machinery and weaving loom.
The two villages in Bagan most commonly visited by tourists are Minnanthu and East Pwazaw – ask your horse & cart driver to take you to one.
Note that you will be expected to give a 'tip' to whoever shows you around the village, and strongly encouraged to buy some of their local handmade products.
Hot Air Ballooning over Bagan
Undoubtedly one of the absolute highlights of our visit to Myanmar was our sunrise hot air balloon ride over Bagan. Gliding peacefully over the surrounding villages of Bagan and seeing the temples in the beautiful morning light is a memory we will always keep with us.
Oh and did I mention the champagne breakfast on landing? Ballooning over Bagan is expensive – but worth it.
Be sure to book well ahead to avoid disappointment as spaces are limited.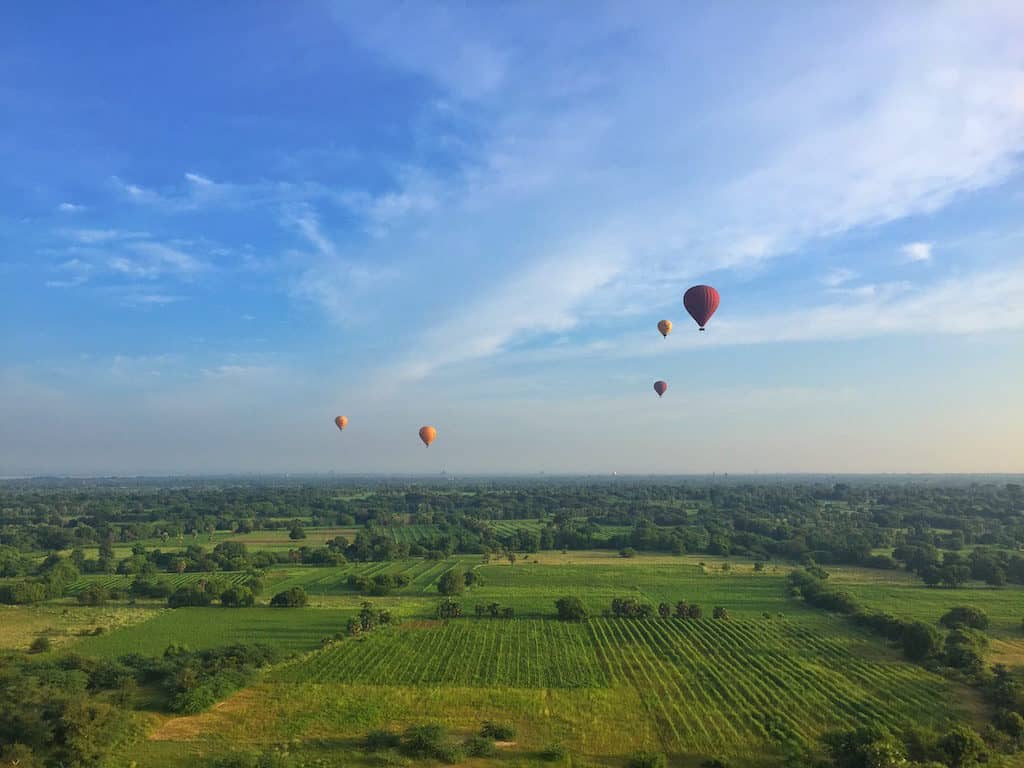 Note that kids have to be aged 8 or over to ride in the hot air balloon, so if you have younger kids like we do, you will need to arrange a babysitter (this can be tough as you need to leave at 5am, but luckily our hotel arranged this for us).
Click here to book a hot air ballooning trip over Bagan.
You may also like to read about things to do in Yangon and Inle Lake.
Pin it for Later!
Note: Mum on the Move were guests of THAHARA for our Bagan private day tour. This in no way affected my review and all opinions expressed, as always, are my own.
This post contains affiliate links. If you make a booking or purchase using one of these links, we may receive a small commission – at absolutely no extra cost to you.