Rawai district forms the heart of Southern Phuket and is a great choice for family vacations in Phuket. This often overlooked area of Phuket has a lot to offer families – 10 beautiful beaches, 4 stunning viewpoints, 13 neighbouring islands to explore, plenty of family-friendly restaurants and activities, and some of the most fun luxury family accommodation in Phuket.
Read on to see why Rawai is a great option for a fun Phuket family vacation.
Rawai VIP Villas & Kids Park
The Rawai VIP Villas and Kids Park is one of Phuket's most fun family resorts for families with young kids. This gated community of 40 luxury pool villas is perfect for families looking for relaxing yet fun family accommodation in Phuket.
The villas, which range from two to six bedrooms all come with fully equipped kitchens, living and dining areas, terrace, private pool, private parking, free WIFI and cable TV.
With ensuite bathrooms off every bedroom, they also allow for adequate privacy for multiple families holidaying together. With 2-bedroom villas starting at less than $200 USD per night, these are a great value option for family villas in Phuket.
Just steps away from the villas you will find the brand new Kids Park, the largest family park in Phuket, aimed at kids aged 1-10. There are three distinct play areas at the Kids Park – an indoor playroom, outdoor playground and water play area.
The indoor air-conditioned playroom is filled with toys and activities, including slides and ball pit, labyrinth, trampoline, play houses, books and painting, while the covered outdoor play area provides shelter from both rain and the heat of the sun and has slides, swings and a trampoline.
There is also a rope-climbing tower for kids aged 8 and above.
When it's time to cool off, there is hours of fun to be had for the kids in the large shallow water play area, complete with slides and fountains – while mum and dad kick back on a sunlounger by the pool. Entry to the Kids Park is free for villa guests.
An onsite family restaurant serves breakfasts and an a la carte menu, with weekend buffets and delivery to villas also on offer. Further restaurants, bars and convenience stores can be found just a short walk away at Rawai beachfront.
Rawai Beaches
There are ten beautiful beaches to choose from in the Rawai district. Nai Harn Beach, with its powdery white sand and clear water, is renowned as being one of the most stunning beaches in Phuket. It is also a lot less crowded than many other popular Phuket beaches.
Behind the beach at Nai Harn is a saltwater lake that fills and empties with the tide. This scenic lake is a popular spot for watersports, jogging and cycling and is overlooked by the Nai Harn Buddhist Monastery – Samnak Song Nai Harn.
Another Rawai Beach to look out for is Ya Nui beach, a quiet and underdeveloped beach close to the Phromthep Cape lookout. This beautiful beach is popular with families thanks to its shaded areas, calm waters and good snorkeling.
Although not suitable for swimming, Rawai Beach offers a true Thai atmosphere, with its stunning views out over the longboats to the islands and a choice of restaurants, bars and massage shops.
It is known as the launch point for long-tail boat rides to the neighbouring islands.
Island Hopping from Rawai
One of the best things to do in Rawai for families is to hire a long boat and head to the neighbouring islands for the day – just look for the signs saying "Taxi Boat" along Rawai beachfront.
Just a 15-minute boat ride will bring you to Koh Bon Island, a small rocky island with several small beach coves to choose from. Kids will enjoy the abundance of fish and marine life, and scouring the beach for hermit crabs. There is also good snorkeling off the southwest corner of the island.
Another reason to head to Koh Bon Island is for toes-in-the-sand dining at Bon Island Beach Restaurant, a friendly spot serving both Thai and western cuisine.
Another popular island hopping day trip from Rawai for families is Coral Island. Here you have two beaches to choose from – Banana Beach and Long Beach. Most people head here for the snorkeling (you can hire snorkel gear on the island) but there are plenty of other watersports on offer too, including banana boat rides, sea kayaking and parasailing.
Beneath the sea here is quite rocky, so be sure to bring [easyazon_link identifier="B06WRNPBGS" locale="US" tag="mumonthemov-20″]water shoes[/easyazon_link] for everyone in the family.
You can get here in about 30 minutes by long boat, or choose to do it in style with a private catamaran day tour like in the video below. How good does this look?
Family Friendly Restaurants in Rawai
Even if you are not staying at the Rawai VIP Villas (above), the Love Rawai Café is a good option for a fun family dining experience. Located within Rawai Kids Park, this family restaurant is open from 9am – 9pm serving up both Thai and International cuisine. Parents can enjoy a leisurely lunch here while the kids play in the Kids Park.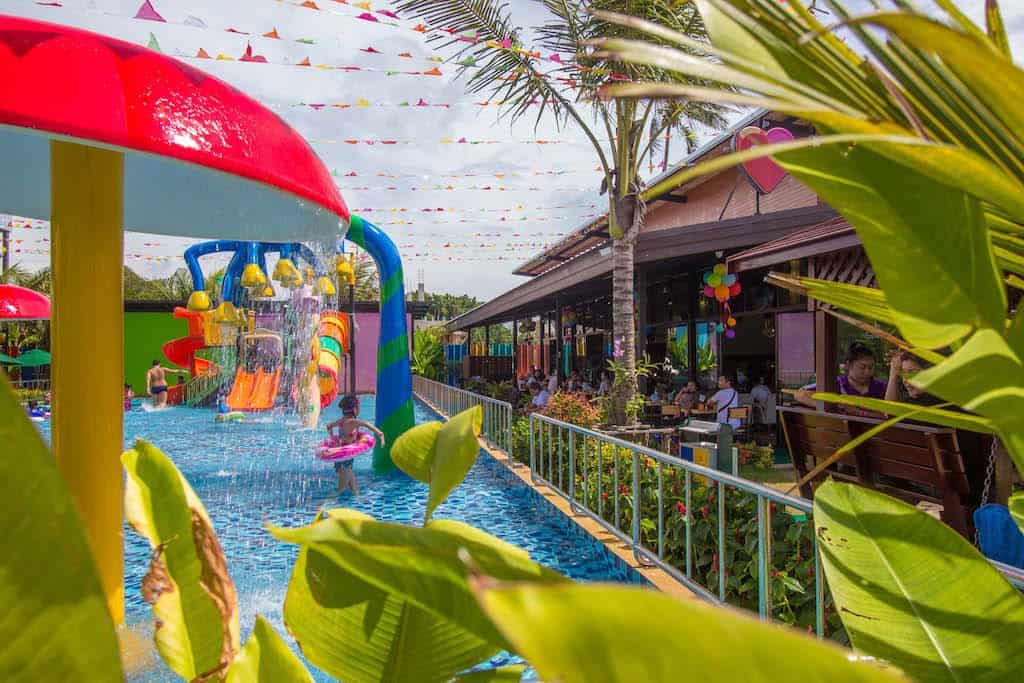 With more than 30 restaurants along Rawai beachfront, you are spoilt for choice in this area, with a wide array of cuisines being featured, including Thai, Korean, Japanese, Italian, French and American.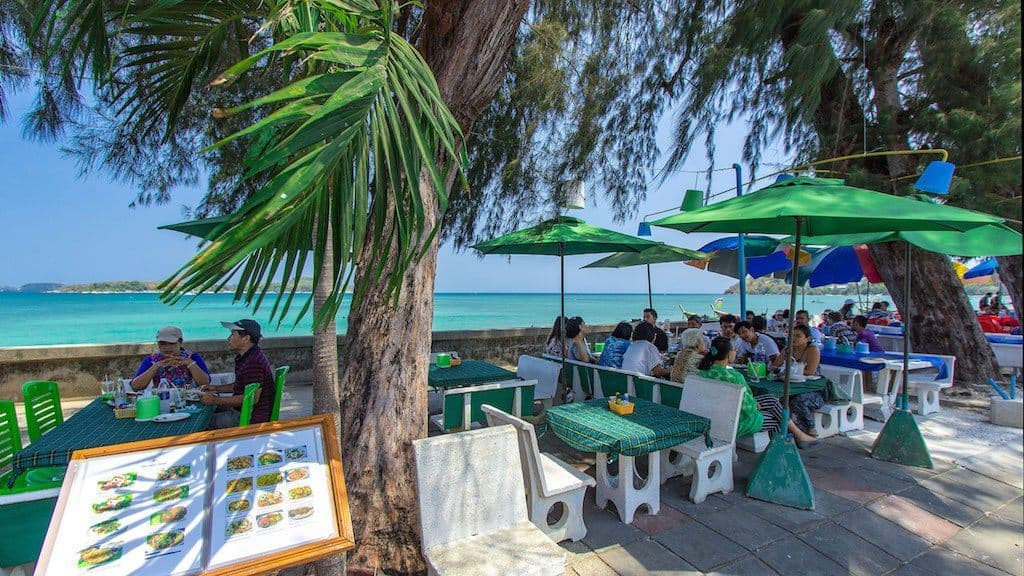 Popular family restaurants in Rawai include Salad Memory Beachfront Café for salads and good western breakfasts; Baan Kanom Bakery and Café for a selection of salads, sandwiches, pizza and pasta; Moo's Restaurant for Thai cuisine; and Flip Side for burgers.
Family Friendly Attractions in Rawai
Apart from visiting the neighbouring islands, there are plenty of things to do in Rawai with kids. Phuket is famous for its sunsets and Promthep Cape lookout, located between Nai Harn and Ya Nui beaches is one of the best places on the island to admire the golden end to the day.
It's a bit of a climb up the steps for young kids to get to the lookout, but it's definitely worth it. You can always bribe them with a coconut ice cream from one of the stalls at the top.
If your kids like searching for seashells on the beach, then take them along to the Phuket Seashell Museum. Here they can admire a huge selection of shells from all over the world in air-conditioned comfort. A great place to escape the heat or rain.
The Rawai Seafood Market is another fun place to take the kids to see the incredible array of fresh seafood on offer – from mussels, prawns and fish to lobsters and even sharks. If anything takes your fancy, you can take it to one of the nearby cafes and have it cooked for you. The market is also a good place to shop for souvenirs.
Just a 30-minute drive from Rawai Beach is the Big Buddha Monument and Temple, the most iconic site in Phuket. This 45-metre marble statue of Buddha is perched atop a mountain and offers panoramic views over southern Phuket, including Phuket Town, Kata Beach, Karon Beach and Chalong Bay. A must-see in Phuket.
Click here for more ideas of fun things to do in Phuket with Kids.
Have you visited Rawai in Phuket? What's your favourite thing about Rawai?
This post was written in collaboration with Rawai VIP Villas & Kids Park.
Pin it for Later!