The Shangri-La Hotel Chengdu is an excellent choice if you are looking for a family-friendly hotel in Chengdu. This luxury Chengdu hotel has 619 rooms and suites to choose from, all luxuriously appointed and boasts views over the river and city. There is a wide range of restaurants to choose from, an indoor swimming pool, gym, tennis court and spa.
Kids are well catered for at this family-friendly Chengdu hotel. Rooms are made up with panda bedspreads and cuddly pandas to make them feel at home, there are kids toiletries, kids DVDs to hire and babysitting is available.
Read on for our full Shangri-La Hotel Chengdu review.
Bedtime at the Shangri-La Chengdu
There are 619 rooms and suites in the Shangri-La Chengdu, with the hotel boasting the biggest hotel rooms in central Chengdu. Room choices include Deluxe City View or River View rooms, Horizon Club rooms and a range of suites, from Executive to Presidential. There are also 26 serviced apartments within the hotel.
All rooms are luxuriously decorated with contemporary décor and enjoy complimentary Wi-Fi, satellite TV, tea and coffee making facilities, electric safe and full-size executive writing desk, while bathrooms enjoy separate shower cubicles with rainforest showerheads.
It is worth considering booking a Horizon Club room if you are staying in this Chengdu hotel with kids, as it includes many benefits to make your life easier – such as late check-out on your day of departure, and use of the Horizon Club lounge (more on this below). The Horizon Club rooms are located on floors 31-35 of the hotel, guaranteeing you the best views in the hotel.
We had booked a Horizon Club room but ended up being upgraded to a two-bedroom serviced apartment, which I have to say was amazing! This comprised a king-bed master suite, a twin room (both en-suite), large living area, kitchenette (complete with large fridge, washer/dryer machine and hot water machine) and visitor bathroom.
The first thing we noticed when we walked into our living room was how homely they had made it for the kids. They had really gone to town! There was an Ikea circus tent and hopscotch mat, cookies and jars of candy on the table, a soft football, kids cushions on the sofa and building blocks to play with. We also had a DVD player in the living room – and we hired free DVDs every evening for the kids to watch.
However my kids' excitement of this was nothing compared to when they walked into their bedroom and spotted the panda bedspreads and cuddly pandas. They were literally jumping up and down on the beds in excitement! In their bathroom they also discovered hooded towels, kids' toothbrushes and toiletries and even a kids' step to help them reach the bathroom sink. Nothing had been overlooked. My daughter told me it was "the best hotel room ever" and they begged me to stay one more day when it was time to leave.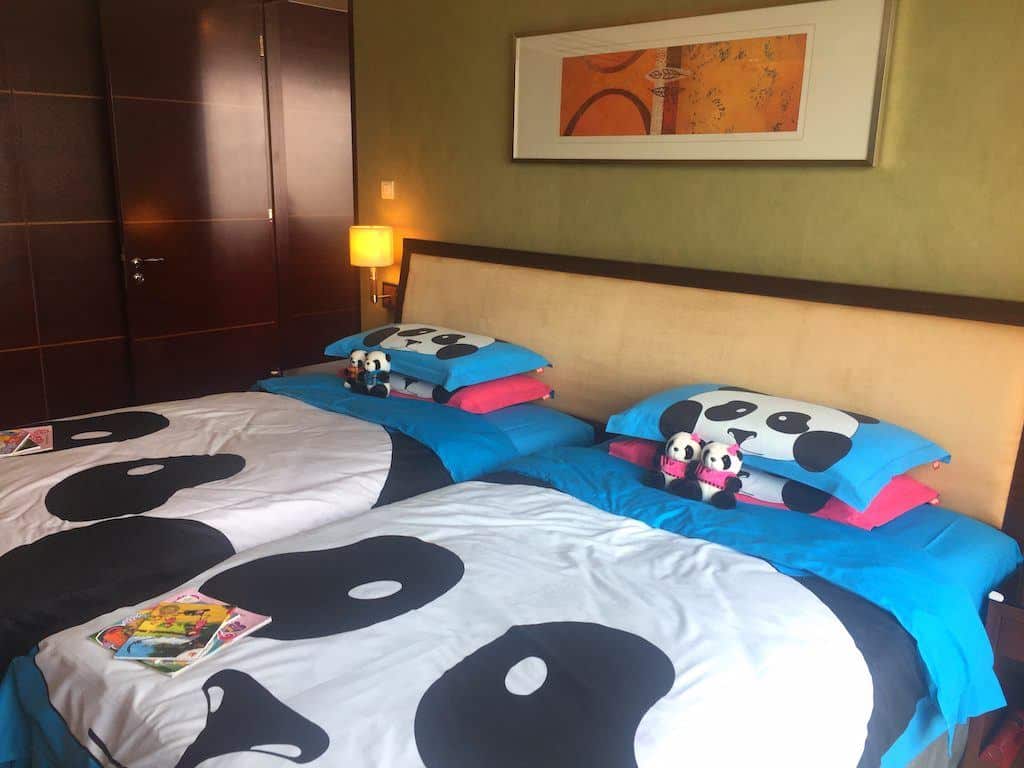 I was personally delighted to have a large luxurious bedroom and bathroom all to myself and to discover Occitane toiletries in the shower!
Playtime at the Shangri-La Chengdu
The main draw at the Shangri-La Hotel, Chengdu for the kids was the large indoor swimming pool, which was perfect for using up their last vestiges of energy at the end of the day. They had a ball splashing around in the kids pool as well as jumping in and out of the main pool.
Note that you have to wear swimming caps in the pool – but these can be bought at the health club entrance. Note also that the floor is slippery in here so make sure your kids aren't running around the pool area. Also – be aware that you need to walk through a rain shower and foot bath to enter the pool area… so if parents just want to sit at the side and watch the kids, you will have to make a run for it through the shower – yep even fully clothed!
Other facilities, if you have time to indulge, include a fully-equipped gymnasium, outdoor tennis court and spa with 11 treatment rooms.
If you are staying at the Shangri-La Chengdu over the weekend, they also run a kids cooking program in Café Z, although we arrived too late to try this out.
Dinnertime at the Shangri-La Chengdu
There is a good choice of restaurants at the Shangri-La hotel Chengdu. We enjoyed breakfast every morning in Café Z, the all-day dining restaurant. Café Z offers buffets at breakfast, lunch and dinner, in addition to an a la carte menu of Chinese and Western favourites.
As we have learned to expect from the Shangri-La hotels, the buffets are amazing. The breakfast choices are incredible, with everything you could dream of – from pancakes and donuts to sushi, dim sum, omelettes and noodle soups. There is a small playroom inside Cafe Z for younger kids, in view of the dining tables.
We also enjoyed a fabulous dim sum selection at lunchtime in the signature restaurant, The Shang Palace (check out the cute custard buns below!), and a spicy Sichuan feast in the Sichuan Kitchen for dinner one evening.
There is also an Irish pub Mooney's Bar & Restaurant, which serves up Western pub favourites and has the added bonus of pool table, darts board etc. However, with young kids we found the smell of cigarette smoke a bit strong – although on a nice evening you would be able to sit outside at the terrace seating.
Just across the road from Moody's, you will also find the popular nightlife area of Lan Kwai Fong, where there is a selection of other bars and restaurants to choose from.
If you have booked a Horizon Club room then you have access to the Horizon Club Lounge. We found this an excellent bonus for visiting the Shangri-La Chengdu with kids. While you can enjoy a more 'exclusive' breakfast here, we chose to have breakfast in Café Z as there is not only more choice, but I always worry about the kids disturbing breakfast meetings in the lounge.
The real advantage of the Horizon Club Lounge for us is the evening cocktail hour. Here, parents get to indulge in free-flow drinks from 5pm—7.30pm (the ultimate way to wind down after a hard day of sightseeing) and there is also a selection of 'nibbles'. And by nibbles I mean a fairly comprehensive buffet of dim sum, soup, hors d'oeuvres, cheese and crackers, salad, desserts…. It could easily do you as a light dinner.
If, like mine, your kids are too fussy to enjoy too much off the buffet, you can also order dishes from the menu of any of the restaurants in the hotel and have them delivered to the Horizon Lounge.
As with all other Shangri-La hotels we have visited, the kids meal plan means that two children up to the age of 6 enjoy free meals in the buffet restaurants, while those over 6 pay just 50% of the price.
In the 'hood
The main reason tourists come to Chengdu is to visit the pandas at the Chengdu Research Base of Giant Panda Breeding. We visited the panda base as part of the Shangri-La's Premier Panda Package, which includes transport, tickets and a guide to take you to the panda base. You can read more about our visit to the Chengdu panda base here.
But there is much more to Chengdu than just visiting the pandas and you can read all about the best things to do in Chengdu here.
We spent a day exploring the city. We started off wandering around the beautiful gardens and admiring the Qing dynasty architecture of the Wuhou Memorial Temple and browsing the souvenir stalls of nearby Jinli street. From here we headed to the "Wide and Narrow Alley", a jumble of souvenir and street food stalls, artisan shops and restaurants, before finishing our day at the fun and popular Renmin Park (aka People's Park).
You could easily visit all of the above by taxi (just get concierge to write down all your stops in Chinese to show the taxi driver) but, as we were two adults and five kids, we organized a private 7-seater car and driver through the Shangri-La concierge, which worked out brilliantly.
Another Chengdu highlight not to be missed is the Sichuan Opera, which is on every evening at 8pm. This fun and vibrant show includes dancing, singing, fire-breathing, acrobatics – and the unique and mind-blowing face-changing trick. The kids absolutely loved this and it was all they could talk about at breakfast the next morning. And special kudos to the Shangri-La hotel concierge – who secured us front-row seats!
Conclusion
I would definitely recommend the Shangri-La Hotel, Chengdu if you are visiting Chengdu with kids (or without for that matter). We loved all the attention to detail – from the bamboo themed décor throughout the hotel to all the little extras they had provided to make the kids feel at home.
This luxury Chengdu hotel is in a great location overlooking the river and is convenient for sightseeing, and close to many restaurants. Booking the Horizon Club rooms is definitely worth it for the use of the Horizon Lounge in the evenings.
The concierge team deserves a special mention for all their help. They were fantastic at arranging all our excursions, making brilliant restaurant recommendations and of course, securing those front-row seats at the opera.
Click here to visit the Shangri-La Hotel, Chengdu website to learn more and you can also click here to check the latest prices.
Pin it for Later!
Note: Mum on the Move were guests of Shangri-La Hotels and Resorts for the purposes of writing this review. This in no way affected our review, and all opinions as always are honest and our own.
This post contains affiliate links. If you make a booking or purchase using one of these links, we may receive a small commission – at absolutely no extra cost to you.