There are lots of fun things to do in Hanoi with kids. From sampling street food to riding a cyclo and watching water puppets, here's what to do in Hanoi.
Hanoi is one of my all time favourite cities in the world. I love the charm of the Old Quarter, the amazing food and the overall cool Southeast Asian vibe. You will also find lots of fun things to do in Hanoi with kids.
Many people head straight to the beach on their Vietnam family holidays but if you have the time, you should definitely try to allow some time to spend in this awesome city.
As when visiting other cities in Vietnam with kids, you need to be prepared for crazy traffic! There are thousands of motorbikes on the road in Hanoi and not one of them will stop to let you cross the road!
If you are travelling to Vietnam with a toddler or baby, I would advise ditching the travel stroller when you are in Hanoi and relying on a baby carrier. You don't want to be crossing the road with a stroller here!
It takes some getting used to crossing the road in Hanoi, but eventually you will get the hang of it. Just walk steadily and slowly and the motorbikes will weave around you.
Don't stop! Carry your kids and try not to cross in front of a car (they can't weave around you as easily as motorbikes!)
Hanoi may not be filled with family attractions like theme parks and zoos, but there are loads of cultural places to go in Hanoi and things to do there to keep the kids entertained.
If you are wondering what to do in Hanoi, here we pick up some of the highlights
Hanoi Food Tour
The food in Hanoi is some of the freshest, and most delicious of anywhere in the world and the best way to explore it is to take a food tour with an in-the-know Hanoi tour guide.
We love taking food tours when we visit new cities with our kids. We find them a great way to get the kids interested in the local cuisine and culture of the city. For us a food tour is a must do in Hanoi.
Our Hanoi street food tour combined a Hanoi walking tour with eating. It took us weaving through the winding roads of Hanoi's Old Quarter, then pulling up small plastic stools on the pavements to sample a wide range of delicious Hanoi delicacies.
We tried out some of Hanoi's most famous dishes such as Bun Cha, helped make rice rolls at the Banh Cuon stall and ended our tour with a sampling of Ca Phe Trung – coffee whisked in with egg yolks.
Click here to book a Hanoi street food tour.
Cyclo Tour of Hanoi Old Quarter
The crazy maze of busy streets of Hanoi's old quarter are one of the most fascinating things to see in Hanoi.
The Old Quarter of Hanoi is made up of 36 streets, with each street named after the commodity that used to trade there, for example sugar, bamboo, silver, leather.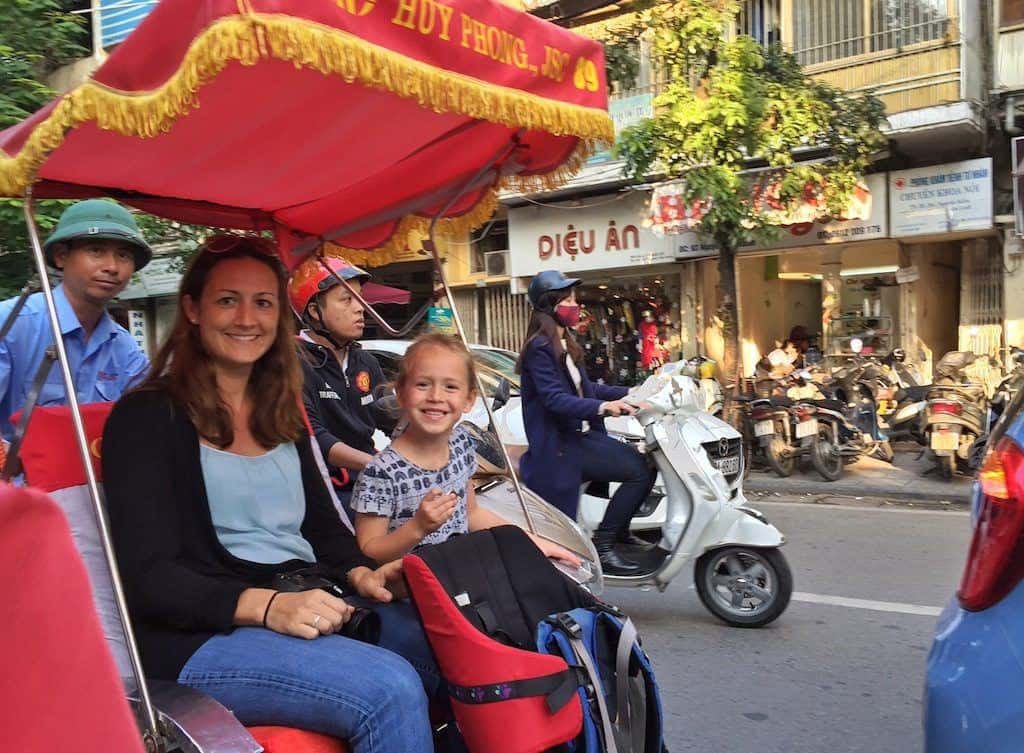 While many of the streets have changed their names and the merchandise on offer in the shops is much more diverse these days, many streets still display some of the characteristics of their history.
Finding your way around the Old Quarter can be a challenge so one of the best ways to first get acquainted with the area is to take a cyclo tour.
You can arrange this ahead of time through a tour company, or alternatively you can try your luck at bartering with a local cyclo driver (you can often find them waiting outside the water puppet theatre).
If you do plan on picking up a local cyclo, be sure to ask your hotel concierge or a tour guide to recommend a fair price so you know where to begin bartering!
The cyclo will take you weaving around the motorbikes and pushing through the crowds and allow you to get a real feel for the atmosphere of the area and get an idea of what to see in Hanoi Old Quarter without tiring out your legs.
We not only took a cyclo tour of the Old Town but we also used to hail them to take us back to the hotel at the end of the day. According to my kids it is one of the most fun things to do in Hanoi!
Click here to book a Cycle Tour of the Old Town.
Water Puppet Show Hanoi
The Hanoi water puppet show is one of the most famous Hanoi tourist attractions. This traditional form of Vietnamese theatre dates back to the 11th century and is a fun way to introduce some local culture to the kids.
The Thang Long Water Puppet Theatre in Hanoi is one of the most famous theatres in the country and therefore one of the best places to visit in Vietnam to watch a water puppet show.
The show only lasts around an hour, so is the perfect length for fidgety children and is set to traditional Vietnamese folk music. My kids loved watching the musicians as much as the puppets. Expect music, lights, smoke and hand made puppets dancing on water!
Click here to book tickets for the Water Puppet Show.
Shows are daily at 3pm, 4.10pm, 5.20pm, 6.30pm and 8pm.
The Vietnam Museum of Ethnology
This fabulous Hanoi museum explores the culture of the 54 different ethnic groups that make up the Vietnamese population. It is one of the best places to visit in Hanoi to get an understanding of the local culture.
There is a wealth of information and displays here about the traditional way of life, including ceremonies, cooking, clothing, handicrafts and more.
Our kids loved exploring the outdoor exhibition space of the Museum of Ethnology, where there a variety of traditional Vietnamese homes to explore, including stilt houses, a communal house and a longhouse.
If your kids still have energy to burn after all that exploring, there is a playground in Nghia Do park right across the road from the museum (walk across the flyover).
Children under 6 are free. Note the Museum is closed on Mondays.
Shopping in Hanoi
Shopping in Hanoi is a real highlight for the whole family and is one of the top things to do in Hanoi for many.
Wandering the streets of the Old Quarter is a real sensory experience and you could spend hours browsing the souvenir and craft shops here.
My kids particularly loved the hand carved stamps, little handmade dolls and doll magnets.
Beyond the souvenir shops there are several high quality silk and accessory shops to discover. Kim Ma street is where to go in Hanoi for high-end boutiques, while the Dong Xuan market offers items at the budget end of the scale.
Wherever you go, I'm sure you'll agree that shopping is one of the best things to do in Hanoi.
Temple of Literature
The Temple of Literature is one of the most picturesque Hanoi points of interest. It was built in 1070 in dedication to Confucius, scholars and sages and is still a popular meeting point for Vietnamese students on graduation day.
There are five courtyards to explore at the Temple of Literature, in addition to beautiful gardens, stone statues and pagodas. There is plenty of space for kids to run around while you admire the beauty and tranquility of the surroundings.
Hoan Kiem Lake & Ngoc Son Temple
The Hoan Kiem Lake is a large freshwater lake right in the centre of Hanoi. Although just a stone's throw from the Old Quarter and surrounded by busy roads, the lake offers a relatively tranquil setting.
The lake is popular with locals who head here to practise tai chi, catch up with friends or just partake in some people watching. It is a pleasant place to take a stroll and take in the atmosphere.
The iconic red wooden Rising Sun Bridge crosses the lake to Jade Island, where you will find the famous Ngoc Son Temple. This picturesque temple is Vietnam's most visited temple, making it a real Hanoi must see.
A small entrance fee applies to cross the bridge to the temple.
Ho Chi Minh Mausoleum and Complex
Ho Chi Minh's mausoleum is one of the most famous Hanoi places of interest.
This massive concrete and granite structure presides over Ba Dinh square (where Ho Chi Minh declared Vietnam's independence on September 2nd 1945) and contains the embalmed remains of Ho Chi Minh.
If you are visiting with kids you will probably want to skip visiting the embalmed body of 'Uncle Ho', but if your curiosity gets the better of you, there are a few things worth bearing in mind:
The Mausoleum is closed on Fridays
The Mausoleum is closed for two months between September and November every year when the body is flown to Russia for maintenance
You are not allowed to carry any bags, phones or cameras into the Mausoleum (there is storage available)
You must dress modestly: no shorts, tank tops or hats permitted. Overalls are available for hire.
No talking allowed. No putting your hands in your pockets. No finger pointing.
Strictly no photography
Keep moving once inside – no standing around
Be prepared to queue
Beyond the Mausoleum there are more Hanoi places to visit within the complex, including the presidential palace and the Ho Chi Minh Museum.
We found visiting Ho Chi Minh's Stilt House particularly fascinating, due to its modest nature: two small rooms and not even a toilet.
Hanoi Free Tours
There are several companies offering free walking tours of Hanoi.
These are usually student run organizations that offer free tours pointing out all the best Hanoi things to see in return for their students getting the opportunity to practice their English and tour guide skills.
These free Hanoi sightseeing tours are a great way to get to know some of the locals and understand the local culture through their eyes.
Two popular companies include Hanoi Free Walking Tours and Hanoi Free Tour Guides.
What is the Best Time to Visit Hanoi?
A lot of people assume because Hanoi is in Southeast Asia that the weather is warm and humid all year round. Wrong!
Hanoi experiences four seasons and it can get surprisingly cold in the winter, sometimes as cold as 10 degrees Celsius.
Winter can still be a good time to visit though, as long as you have the right clothes. Hopefully you will enjoy blue-sky days, with low humidity and low rainfall.
Spring (April/May) and Autumn (September/October) are great times of year to visit Hanoi. Temperatures are warm, humidity is not too high and rainfall tends to be low.
Summer (June- August) in Hanoi is hot and humid. This is where Hanoi hotels with pools are really handy as sightseeing can be hot sweaty work, and you will appreciate somewhere to cool off at the end of the day.
Summer is also rainy season in Hanoi, so you can expect big, heavy downfalls. Be sure to carry an umbrella with you wherever you go and be prepared to take shelter when the heavens open.
So in conclusion, there isn't really a bad time to visit Hanoi – just know what to expect.
Where to Stay in Hanoi
The best area to stay in Hanoi really depends on your budget and which of the Hanoi top attractions you are planning to visit.
Hoan Kiem Lake is located right in the centre of Hanoi. To the north of the lake is the Old Quarter, and to the south of the lake the French Quarter. The whole city centre area is often referred to as Hoan Kiem, but we have divided them up below.
In brief, you can look at the following areas:
Old Quarter. This is the best location to stay in Hanoi if you like to be in the heart of the action. It is busy and bustling with a good choice of budget Hanoi hotels and a wide choice of bars and restaurants on your doorstep.
French Quarter. Many of the best hotels in Hanoi (ie. expensive) are based in the French Quarter. As the name suggests, the French Quarter is a refined area of the city, with colonial buildings and wide open boulevards.
Ba Dinh. Ba Dinh is close to many of the city's historical monuments, such as the Ho Chi Minh Mausoleum. It is around a 10-minute drive from the Old Quarter and so you will find it a bit quieter. You will find many mid-range places to stay in Hanoi here.
Hanoi West Lake/Tay Ho. Hanoi West Lake is around a 15-minute drive from the Old Quarter and is where to stay in Hanoi if you are looking for a more tranquil experience. Here you will find Buddhist pagodas and temples and a choice of lakeside restaurants.
The Best Family Hanoi Hotels
There are many top hotels in Hanoi to choose from. We narrow down your choices here with our pick of the best hotels in Hanoi for families.
Sofitel Legend Metropole Hanoi
During our last Vietnam family vacation, we stayed at the Sofitel, which is often regarded as the best place to stay in Hanoi.
This grand colonial Hanoi hotel in the heart of the French Quarter is one of the most beautiful hotels in the world. It has a good choice of restaurants, a lovely swimming pool, amazing service and spacious bedrooms. I can't recommend it highly enough.
Click here to check prices for the Sofitel Legend Metropole Hanoi.
Intercontinental Hanoi West Lake
This luxury Hanoi hotel is the best hotel to stay in Hanoi if you are looking for a resort experience. Located in the quieter West Lake area, this 5 star hotel in Hanoi offers spacious rooms with balconies overlooking the city, pool or lake.
The hotel boasts three restaurants, two bars and a gorgeous resort swimming pool.
Click here to check prices for the Intercontinental West Lake.
Lotte Hotel Hanoi
This 5 star Hanoi hotel in Ba Dinh is more aimed at the business traveller. But is still a good option for Hanoi accommodation for families thanks to its indoor and outdoor pools.
We also love the observation deck on the 65th floor!
The Lotte Hotel is also attached to a shopping mall where you will find plenty of kids clothing stores, an indoor playground and a food court.
Click here to check prices for the Lotte Hotel Hanoi.
Travelling elsewhere in Vietnam? Don't miss all the best things to do in Hoi An.
Pin it for Later!
Disclaimer: This post contains affiliate links. If you make a booking or purchase using one of these links, we may receive a small commission – at absolutely no extra cost to you.