Here we share all best things to do in Bangkok with kids, including cultural attractions as well as more obvious Bangkok family friendly places.
Busy bustling Bangkok with its reputation for ladyboys and seedy bars may not seem like the obvious choice for a Thailand family vacation.
But with a wealth of cultural Bangkok tourist attractions, year round warm weather and a good choice of Bangkok accommodation for families, Thailand's capital allows you to combine exciting city sightseeing with relaxing family fun in the sun.
There are plenty of Bangkok attractions for kids, such as Dreamworld and the Siam Park City but we were reluctant to spend our time in Bangkok wandering around theme parks.
Instead we opted to explore the more cultural places to visit in Bangkok with family, taking in a floating market, exploring the canals and checking out the city's most famous temples.
If theme parks and more obvious kids activities in Bangkok are more your thing, we have also researched some of the most popular Bangkok attractions for family trips at the end of the article.
If you are wondering what to do in Bangkok with kids, read on for our pick of some of the best things to do in Bangkok with family.
You may also like this article: Fun Facts about Thailand for Kids. 
Take a Canal Tour Bangkok
Bangkok was once known as the 'Venice of the East' thanks to its large network of canals. One area where many of these khlongs or canals remain intact is Thonburi, which has maintained much of its original rustic charm.
We booked a Bangkok family tour of the area with tour company Expique. This began with cruising the criss-cross of canals to admire the old wooden bridges, ramshackle teak buildings and traditional temples.
The tour took us to an old Artists' house where we had fun mask painting and watching a traditional puppet show, before heading to the Bankok flower market to learn how fold lotus flowers. Our tour ended with a tuk tuk tour to the Golden Mount temple, before ending with a delicious Thai meal.
The tour was an absolute highlight of our Bangkok family trip and is definitely recommended. You can read our full review below.
Click here to read more about this kids friendly Bangkok tour.

Visit Wat Phra Kaw & Wat Pho
No Bangkok family holiday is complete without a visit to Wat Phra Kaew and the Grand Palace.
This sprawling complex of intricately decorated temples is home to the most sacred Buddhist temple in Thailand, and the highly revered Emerald Buddha.
The temple complex is crowded with tourists, and with the hot weather it is best to plan to arrive early and don't plan on staying too long if you are in Bangkok with family in tow.
Our kids enjoyed exploring the different buildings and posing for photos with the giant towering gate-keeperstatues. There was enough gold and glittering jewels to keep them impressed for a short time.
From here we wandered to nearby Wat Pho, where the enormous reclining Buddha was a hit with the kids.
You can make a donation to the temple and collect a jar of coins to distribute into the bowls lining the walls: one in each bowl for good luck. It keeps the kids amused while you admire the surroundings.
It is easy enough to visit these temples on your own. But if you prefer to visit with a guide, you can book a private guided tour here.
Note that there is a strict dress code for Wat Phra Kaew. Everybody must have their legs and shoulders covered.
While you can cover your legs with a sarong, it is not acceptable to wrap a sarong or scarf around your shoulders – you must be wearing a top with sleeves (a short-sleeved t-shirt is fine).
Men also cannot wear shorts or a sarong and must wear long trousers to visit Wat Phra Kaew. If you arrive at the temple without proper attire, you will be directed to an office where you can purchase long trousers/t-shirts with sleeves for your visit.
Visit a Floating Market
My kids were obsessed with visiting a floating market during our Bangkok family holiday.
We did some research and teamed up with tour company WithLocals, who recommended Khlong Lat Mayom floating market as the best option to get a feel for local Thai life.
As a lesser known floating market, it is not overrun with tourists as many others are now. Unlike most floating markets, Khlong Lat Mayom is close by and easily accessible from the city.
Click here to read more about our visit to Khlong Lat Mayom floating market.
The market is a foodie's paradise with every kind of Thai snack available and we enjoyed many new food experiences, as well as some of the best mango sticky rice in town.
Although we loved the authentic local atmosphere of the market, it didn't quite deliver the image the kids have of hundreds of boat vendors competing for our business.
In hindsight, for a floating market in Bangkok for children to enjoy, we may have been better exploring a busier one such as Damnoen Saduak or Amphawa, even though these involve a bit more travel out of town.
Click here to book a tour to the Damnoen Saduak floating market.
Go to the SeaLife Aquarium Bangkok
My plans for a purely cultural Bangkok family trip were foiled when my kids spotted SeaLife Bangkok Ocean World out of the Skytrain window.
We gave in to their incessant pestering and spend a morning admiring the ocean life here.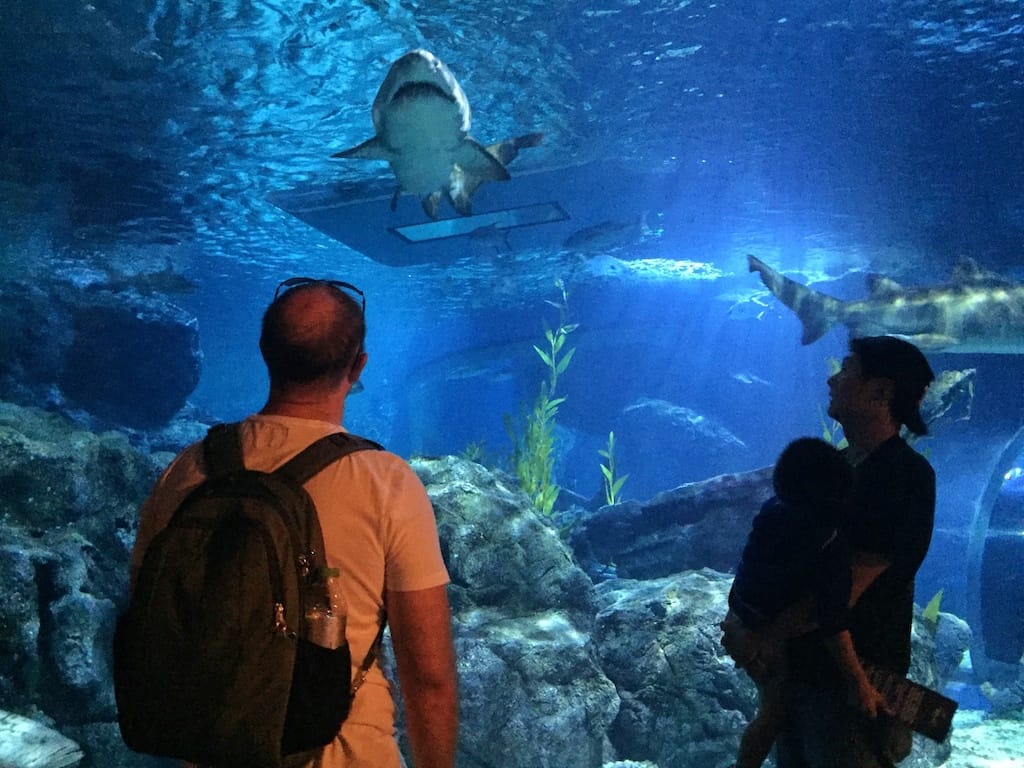 Despite being regular visitors to Ocean Park in Hong Kong, this was one of my kids' favourite family activities in Bangkok.
They loved checking out all the sharks, seahorses and spider crabs here. They also loved the glass bottom boat ride and the 4D cinema.
If you are planning to visit SeaLife Bangkok Ocean World, plan to get there early as it can crowded. I would also recommend buying tickets online in advance to save queueing for tickets.
Click here to buy discounted tickets to SeaLife Bangkok.
I would say this Bangkok aquarium is one of the best places to visit in Bangkok with family on a rainy day.
It is located in Siam Paragon, a huge shopping complex, which is linked to a Skytrain station and with plenty of eating options inside.
Have Dinner at Sala Rim Naam
To celebrate the end of our Bangkok family vacation, we treated the family to dinner and a show at the Mandarin Oriental's famous Sala Rim Naam restaurant.
Located on the banks of the Chao Praya River, Sala Rim Naam is renowned for dishing up some of the best Thai food in Bangkok.
We took a seat on the floor at a traditional table and enjoyed a procession of fabulous Thai dishes. They have a special kids set menu, and they were also happy for us to order a few small dishes a la carte for the kids instead.
The kids loved watching the traditional Thai dance show and were in awe of the beautiful dancers who come around the tables to have their photos taken with them. If you are looking for a special family meal in Bangkok, this is it.
Click here to read more about the Sala Rim Naam show and dinner.
Visit Asiatique The Riverfront
This riverside open air mall is one of the fun family things to do in Bangkok at night.
It's a fun place to do some souvenir shopping, eat some local food and watch some street entertainment. There's a huge choice of restaurants here and a few cultural shows to watch, including Muay Thai –  and even a Ferris wheel to ride!
Many of the riverside hotels offer free shuttle boat services to Asiatique in the evenings.
Other Places to Visit in Bangkok for Kids
So those are some of the more cultural Bangkok children's activities we covered off during our visit.
Below are some other popular things to do in Bangkok with children, including theme parks, zoos and Bangkok indoor playgrounds.
Dreamworld
One of the most popular places for kids in Bangkok, Dreamworld is Thailand's answer to Disneyland.
This fun theme park has rollercoasters and rides suitable for kids of all ages. There are also shows to watch, fairytale characters to meet and even an indoor snow park where you can play in real snow!
Click here to buy discounted tickets to Dreamworld.
Siam Park City
Siam Park City is a good choice of what to do with kids in Bangkok on a hot days, as it not only has thrill rides for the whole family, but also water slides to cool off in, including the world's largest wave pool!
There are five fun zones to explore at Thailand's largest theme park, including X-Zone for adrenaline junkies and Small Zone for the little ones.
Click here to buy discounted tickets to Siam Park City.
Kidzania
Another of the most popular Bangkok places to visit with family is Kidzania.
This global award-winning educational entertainment centre features a realistic indoor 'city' where kids can role play in over 70 different activities, learning about key values and life skills as they go.
Save the day as a fireman, help the sick as a doctor, or protect the streets as a policeman.
Click here to buy discounted tickets to Kidzania.
Siam Niramit
If you are looking for things for kids in Bangkok at night, then Siam Niramit is one of the most famous Thailand attractions for families.
This cultural show is a real extravaganza, featuring traditional dances and acrobatics, together with stunning visual and musical effects.
Click here to buy discounted tickets to Siam Niramit.
Getting around Bangkok
Bangkok travel with kids is actually pretty easy. The city has an excellent public transport system with the Skytrain (a monorail that connects most tourist areas) an MRT (underground/subway) and a network of boats plying the Chao Praya River.
We mostly travelled around using the Skytrain. The trains run from 6am-midnight daily, and with just two lines on the network it is easy to navigate.
Most bars, restaurants, hotels and attractions in Bangkok are within a short walk of a BTS Skytrain station.
For attractions near the Chao Praya River, such as the Grand Palace and Wat Arun, river taxis are an easy way to get around Bangkok.
We chose to take the Chao Praya Tourist Boat as it is less crowded than the local boats, and quicker as it only stops at select piers that are close to tourist attractions. Look for the blue flag.
There are plenty of taxis in Bangkok but traffic can be horrendous at times so it is often quicker to take the Skytrain.
If you do take a taxi, ensure the taxi driver puts the meter on, or agree a price before you set off. I have lost count of the amount of arguments I have had with taxi drivers in Bangkok!
A ride in a tuk tuk is always fun for kids and they can be a good option for short distances. There are no meters in tuk tuks, so definitely make sure you negotiate before you set off.
Family Friendly Hotels in Bangkok
In order to enjoy the best of both worlds of the city centre and riverside locations, we split our time in Bangkok between the Sofitel Bangkok Sukhumvit (you can read our full review here) and the Anantara Riverside Bangkok Resort.
Other family hotels in Bangkok are also highlighted below. You can read a bigger selection of family hotels in Bangkok here.
Sofitel Bangkok Sukhumvit
The Sofitel Sukhumvit is a 32-storey art deco inspired hotel that brings a touch of French elegance to the heart of Bangkok. Located just a 2-minute walk from Nana BTS Skytrain station, sightseeing from this city centre location could not be easier.
Enormous shopping mall Terminal 21 is just a five-minute walk away and legendary party street Soi 11 is just around the corner, with a choice of bars, restaurants and clubs. The Sofitel provides babysitting, so you can happily head out in the evening with the little ones tucked up in bed.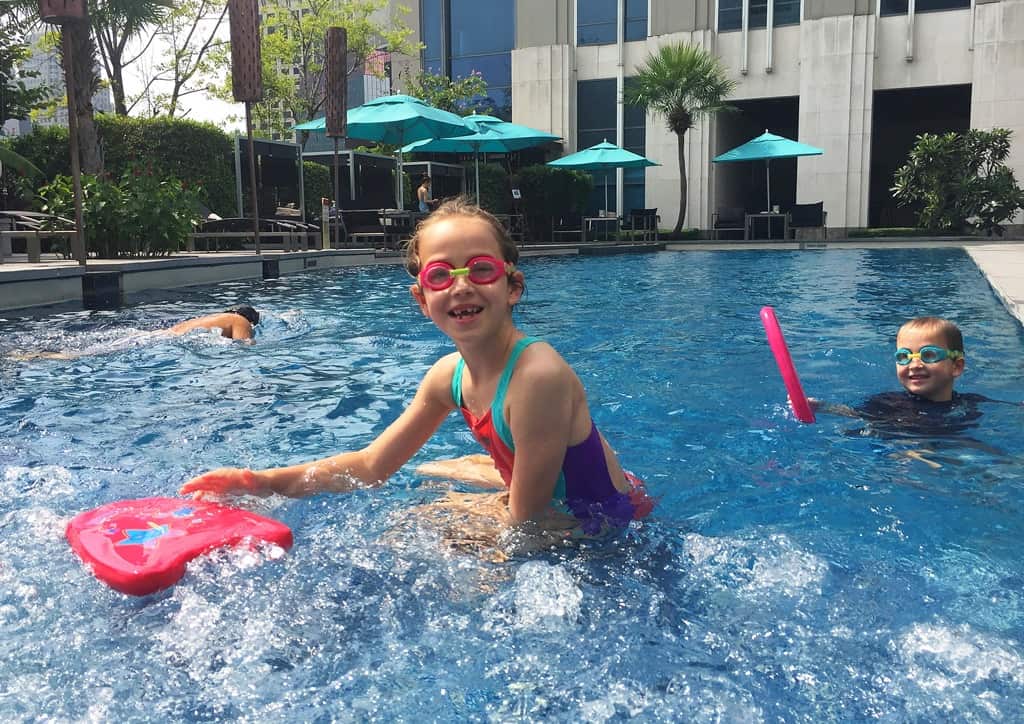 Rooms are stylishly decorated, blending French sophistication with local Thai design elements, but the highlight of this hotel from a family point of view is the gorgeous outdoor swimming pool on the 9thfloor.
Click here to learn more and check prices for the Sofitel Bangkok Sukhumvit.
Anantara Riverside Bangkok Resort
If you're looking of a Bangkok hotel with kids club, then the Anantara Riverside is a great choice.
With more of a holiday resort feel to it, this kids friendly hotel in Bangkok has sprawling landscaped gardens, riverside location and huge swimming pool with swim up bar, in addition to the drop-off kids club.
There are several restaurants to choose from, including an Italian restaurant serving excellent pizzas from a wood-fired oven and a fun Teppanyaki restaurant. Breakfast is a generous buffet served on the terrace overlooking the Chao Praya River.
Sightseeing from the Anantara is not as convenient as a city centre location, as it involves taking a shuttle boat to Saphan Taksin, from where you can pick up a riverboat or Skytrain.
If you're looking for relaxing Bangkok resorts for families however, it is an excellent option.
Click here to learn more and check prices for the Anantara Riverside Bangkok.
Sukhothai Bangkok
This luxury Bangkok hotel is a tropical oasis in the heart of downtown Bangkok. This child friendly hotel in Bangkok is beautifully designed, taking its inspiration from the ancient city of Sukhothai with its chedis and pagodas.
There is a good choice of restaurants, including a decadent chocolate buffet at weekends, which is sure to be a hit with the kids! Families will also love the 25-metre infinity pool set in amongst the lush tropical gardens.
Click here to learn more and check prices for the Sukhothai Bangkok.
Sukosol Bangkok
For a mid-range family hotel in Bangkok, you can't go wrong with the Sukosol. This Bangkok hotel for kids has family rooms featuring two queen beds and filled with kids' amenities such as kid-sized robes and slippers, and a DVD player (a DVD library of kids films is also available). Kids are welcomed with a cuddly toy and colouring books too!
Another reason this features as a best hotel for kids in Bangkok is that it is just a short walk from Phaya Thai Skytrain station, making it easy for sightseeing and getting to/from the airport. The hotel has a good choice of restaurants and a gorgeous outdoor swimming pool for cooling off after a hot day of sightseeing.
Click here to learn more and check prices for the Sukosol Bangkok.
Buy Before You Go!
Get ready for your Bangkok family trip with these travel essentials. A lightweight packable backpack is always useful for city trips with kids, and in Bangkok we recommend always keeping a sarong in your bag in case you want to visit a temple and need to cover up your legs or shoulders last minute.
Also make sure you keep everyone in the family mosquito bite free by always applying insect repellent when you are out and about.
Heading to the beaches in Thailand? Check out our guides to the best family resorts in Koh Samui and Phuket!
Pin it for Later!
Mum on the Move is a participant in the Amazon Services LLC Associates Program, an affiliate advertising program designed to provide a means for sites to earn advertising fees by advertising and linking to Amazon.com
This post contains affiliate links. If you make a booking or purchase using one of these links, we may receive a small commission – at absolutely no extra cost to you.