There are so many fun things to do in Sydney with Kids. If you are planning a visit with the family, here we share our favourite family-friendly Sydney attractions.
We have lived in Sydney for nearly four years now and have spent a lot of time checking out all the best family things to do in Sydney.
Sydney Australia is not only one of the most stunning cities on Earth, but it is hugely family friendly.
It is easy to get around. The city centre is easily walkable and stroller friendly. If your kids little legs don't want to walk that far, you can easily take the train, bus or tram.
We have also found all restaurants in Sydney to be accommodating of children – we eat everywhere from beach side cafes to fine-dining French and Italian restaurants with the kids, and we are always made to feel welcome.
And of course most importantly for a Sydney family vacation, there is a huge amount of things to do in Sydney with family in tow.
Even small kids are well catered for and the majority of attractions in our list below would also be great things to do with toddlers in Sydney.
If you are trying to work out where to go in Sydney and what to do in Sydney with kids, here is our pick of the best Sydney attractions for kids. Where possible we have added links to discounted tickets to help your Sydney family holiday even better.
If you plan to visit several of these Sydney family attractions in a short space of time, it can be worth investing in a Go Sydney Explorer Pass for further savings.
This post contains affiliate links. If you make a booking or purchase using one of these links, we may receive a small commission – at absolutely no extra cost to you.
Visit the Taronga Zoo Animals
The Taronga Zoo is one of the most famous places to visit in Sydney for kids. The Taronga Zoo boasts one of the most stunning locations of any zoo in the world – right on the banks of Sydney Harbour.
It is often joked that the giraffes at Taronga Zoo have the most expensive piece of real estate in Sydney, with their fabulous views of the Sydney Opera House.
There's over 250 species of animals to visit here, with various shows, gamekeeper talks and opportunities to get up close and personal with the animals throughout your visit.
Download the Taronga Zoo app before you go to help plan your visit and keep an eye on timings.
Our personal highlights of the Taronga Zoo were feeding the giraffes, and getting to meet a koala – these activities all cost extra to your zoo ticket though, and it can soon add up, so beware!
My kids also really enjoy doing the Wild Ropes course, which you can do as a separate activity or combine it with a visit to the zoo.
The best way to get to Taronga Zoo is to take the ferry from Circular Quay or Darling Harbour and then take the cable car up to the zoo. You can buy ferry/zoo combo tickets at the ferry pier.
Click here to buy your Taronga Zoo tickets
Visit the Sydney Opera House
It's one of the most iconic sights in Australia, so you can't miss the opportunity to visit they Sydney Opera House during your family trip to Sydney.
Most people choose to walk around the whole perimeter to admire the famous 'sails' from all angles before posing for steps at the front for some must-have Sydney photos. You can also admire some of the best views of the Sydney Harbour Bridge from here.
Of course seeing a show at the Sydney Opera House also often features on people's bucket lists, and if you are in Sydney during the school holidays, there is usually a choice of entertaining shows for the kids. Visit their website here to check the show schedule.
Alternatively to see the inside of the Opera House, you can book a one hour guided tour. For the kids, more fun is the Junior Adventure Tour, which takes place during the school holidays.
Combine your walk around the Opera House with a stroll through the Botanic Gardens. (see below)
Stroll through the Royal Botanic Garden, Sydney
The Royal Botanic Gardens are another of the most popular Sydney attractions for family visitors. There's 30 hectares of green space here to run around, play games, enjoy a picnic or just wander and enjoy the harbour views.
There's plenty of wildlife to spot, self-guided walks to follow, a choice of cafes and restaurants – and even a small train called the Choo Choo Express if your kids get too tired to explore it all on foot.
Check the Royal Botanic Garden website here for special kids activities that take place throughout the year – especially for school holiday activities.
See the dinosaurs at the Australian Museum
One of the best educational things for kids to do in Sydney is visit the Australian Museum. The zoological and anthropological collections here safeguard a vast number of minerals, beetles, fish, animals, and of course – dinosaurs.
Revamped and reopened on 28 November 2020, after a year of renovation, the highlight here is the Tyrannosaurus – Meet the Family exhibition. Kids will love this colossal collection of tyrannosaur skeletons, skulls, fossil eggs and even fossilised dinosaur dung! It's all very hands-on, with touch screens and interactive elements.
My kids love all the stuffed Australian animals (how else would you get to go nose-to-nose with a saltwater crocodile?) but (apart from the dinosaurs) their favourite part of the museum is the Search & Discover centre, where they seem to be able to spend hours looking for stick insect eggs!
There are always fun things going on at the museum for kids, from workshops to movies to 'Dinosnore' sleepovers, so check their website for more details. The upstairs café with its indoor/outdoor seating with views over the city is a great option for lunch.
Entrance to The Australian Museum is free for general admission, making this one of our favourite cheap things to do in Sydney with kids. Special exhibitions and the Tyrannosaurus – Meet the Family exhibition require ticket purchase.
Play on the Sydney Beaches
Sydney is famous for its beaches, and rightly so – how many other cities in the world have so many stunning beaches right on their doorstep? Hitting the beach is a great Aussie pastime and is one of the best free things to do in Sydney with children.
One of the best Sydney beaches for kids is Balmoral beach, thanks to its sheltered bay and shallow water. There's also a fun playground here and several good eating options close by. It's not as easy to get to with public transport as other beaches though.
Manly Beach is easily accessible by taking the Manly ferry from Circular Quay (see below). It also has a good choice of cafes and restaurants nearby and a few playgrounds to choose from. Just a short walk from here, Shelly Beach is more sheltered and quieter than Manly.
Bondi Beach is probably the most famous beach in Sydney. It's popular with surfers but there is a kids ocean pool and a gated playground here, and of course plenty of choice for places to eat.
Bronte Beach just south of Bondi is a bit more family friendly, located next to a park with a playground and BBQ facilities. A rocky area provides a shallow splash zone for kids. There is a good choice of cafes nearby too.
Do the Bondi to Bronte Walk
If you're up for a bit of exercise between beaches, the Bondi to Bronte walk is a popular family walk in Sydney. This iconic cliff-top walk is 3km long and takes around an hour with kids, and you can stop off at Tamarama Beach on the way for a rest and a snack.
The views along the way are stunning, making this a real Sydney must see, and one of the most popular places for taking photos, so don't leave your camera behind!
Bronte beach is lovely for the kids to play on and has a calm shallow area perfect for splashing in, and rocks to climb. There is also a lovely park here with a good playground, and an ice cream stall.
There are several cafes and restaurants across the road, including fish & chips shops for a takeaway on the beach or in the park – what more do you need?
Take the Ferry to Manly
Riding the ferry to Manly is one of the most famous things to do in Sydney, and it is a cheap and easy way to see the Sydney sights from the harbour.
The famous Manly Ferry regularly makes the 30-minute journey across the harbor, connecting the suburb of Manly to Circular Quay and the CBD. Used by commuters to get to work in the city, it also is filled with tourists taking advantage of a cheap Sydney sightseeing option.
Once you get to Manly, you can hang out on world-famous Manly beach, play in one of the beachside playgrounds, take a surf lesson, browse the shops, hang out in the cafes or do the beautiful coastal walk to Shelly Beach (see below).
Walk from Manly to Shelly Beach
There are many beautiful coastal walks you can do around Sydney, but one of our favourite easy Sydney walks to do with kids is the Manly to Shelly Beach walk.
It's flat, it's short and there are both beaches and cafes at either end. Everyone's a winner.
Start at Manly Beach and take the boardwalk from the southern end of the beach in front of the surf life saving club all the way around to Shelly Beach.
On the way you will pass the Fairy Bower ocean swimming pool and you end on gorgeous Shelly Beach, which is sheltered and perfect for family swimming and snorkeling (it is a protected marine reserve so a popular spot with snorkelers and divers).
The Boat House on Shelly Beach is the perfect place for breakfast, lunch of afternoon drinks, depending on what time of day you come.
Take the Ferry to Watsons Bay
Another fun Sydney ferry journey is to Watsons Bay, which is located across the harbour from Manly.
The 23-minute journey from Circular Quay is very scenic as it hugs the southern side of the harbour and calls in at picturesque Rose Bay on the way.
Once you get to Watsons Bay, there is a beach to play on and a large park with a playground. But most people head here for the famous fish and chips from Doyles.
Choose to grab a takeaway or sit in at Doyles on the Wharf, or indulge in a more refined experience at Doyles on the Beach as you enjoy the stunning harbour views back to the city.
Take a Sydney Harbour Cruise
If you prefer your harbour sightseeing to take a little longer and to come with some commentary, then booking a Harbour Cruise is a great option. There are loads of different Harbour Cruises to choose from – from the fast and furious to the slow and leisurely.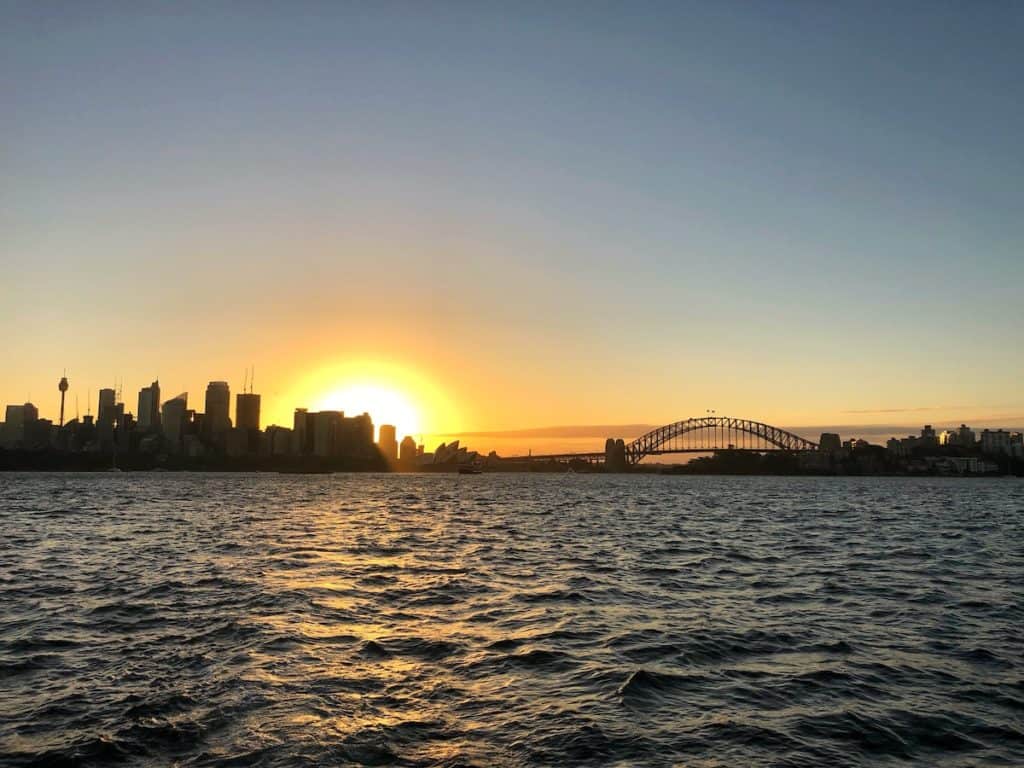 You can choose to include lunch, dinner or afternoon tea, or just take in the sights. Here are some of our favourite options for a Harbour Cruise with kids:
Play in Darling Harbour Playground
Another of our favourite things to do in Sydney for free is visit the Darling Harbour playground. This became one of my kids favourite places to go in Sydney when we were visiting. There are loads of climbing frames, slides, swings and a fun water play area for cooling off in the Summer.
The Darling Harbour playground is well located if you are visiting the Maritime Museum or Wildlife Sydney Zoo and Sealife Aquarium, and is surrounded by a choice of cafes and restaurants.
Do the Sydney Harbour Bridge Climb
I'm going to admit right off that we haven't actually done the Sydney Harbour Bridge climb because I am too scared of heights my children are still too young.
However, I couldn't not include it because if you are not scared of heights your children are old enough, it has to be one of the most fun things to do in Sydney for kids and it should definitely be on your Sydney to do list.
The bridge climb takes you right to the top of one of the most iconic landmarks in the world for 360-degree views over the city from its 134m perch.
Click here to book tickets for the Sydney Bridge Climb
Note: Children need to be 8 years old and 1.2 metres tall to do the climb. Kids aged 8-15 must be accompanied by an adult, with a maximum of 3 kids per adult.
Visit the Maritime Museum
The Australian National Maritime Museum is another of our favourite places to take kids in Sydney. The highlight of the museum for kids is exploring the various vessels.
We particularly loved the opportunity to go inside the submarine HMAS Onslow, which was commissioned during the Cold War and was used to track Soviet submarines. Exploring the HMAS Vampire, the last of the country's big gun ships, which served the Royal Australian Navy from 1959 to 1986 was also cool.
Unfortunately the tall ship James Craig was closed to visitors when we were there.
The Museum has a selection of permanent exhibitions as well as visiting exhibitions – we enjoyed visiting the Pompeii exhibition and Wildlife Photographer of the Year and we also took in a movie about Great White Sharks in the 3D cinema.
Click here to buy tickets to the National Maritime Museum.
Visit Wildlife Sydney Zoo
Also in Darling Harbour is the Wildlife Sydney Zoo, another of my kids favourite Sydney places to visit. This Darling Harbour Zoo is much smaller than Taronga Zoo, but is a great option if you are short of time or you just want to get a double dose of animals (we have visited both zoos several times and enjoy them both).
One advantage the Wild life Sydney Zoo has over Taronga Zoo is that it is indoors, making this one of the best indoor kids activities in Sydney. You can meet all the Australia 'big 5' here (kangaroos, koalas, wombats, emus and platypuses), as well as huge saltwater crocodiles, Tasmanian devils and quokkas.
Talks and feeding times take place throughout the day. You can even start your day with the Breakfast with Koalas!
You can buy a combo ticket with the Sealife Aquarium next door to save money, or alternatively click here to buy discounted tickets for the Wildlife Sydney Zoo.
Go to Sydney Sea Life Aquarium
My kids would tell you that this is one of their favourite Sydney tourist attractions. This Sydney aquarium has lots of different freshwater and marine zones to explore, in addition to a program of talks and feeding times.
The kids love learning all about the dugongs and visiting Shark Alley. Another highlight is the penguin expedition, where you set off by boat to find the penguins.
My kids get so excited to literally come face to face with the penguins, thanks to the little peep hole windows into their habitat.
You can buy a combo ticket with the Wild Life Zoo next door, or alternatively click here to buy discounted tickets for the Sea Life Sydney Aquarium.
Learn at the Powerhouse Museum
The Powerhouse Museum in Darling Harbour is one of the best places for kids in Sydney to enjoy some educational fun.
This kids museum in Sydney has loads of fun hands-on exhibitions to help them learn about robots, electricity, magnetism, sound waves and more.
There is a very cool exhibition all about Space travel, which includes a lifesize space-shuttle cockpit model, and another Ecologic exhibition where kids can learn all about the science behind climate change.
There's a café with a playground right outside the museum, and it is just a short walk to the Darling Harbour playground.
Check the Powerhouse Museum website for temporary exhibitions and Sydney school holiday activities.
Ride the rides at Luna Park
Luna Park is one of the most fun places for kids in Sydney. This 1930s-era amusement park has a fun carnival vibe and a whole host of thrill rides.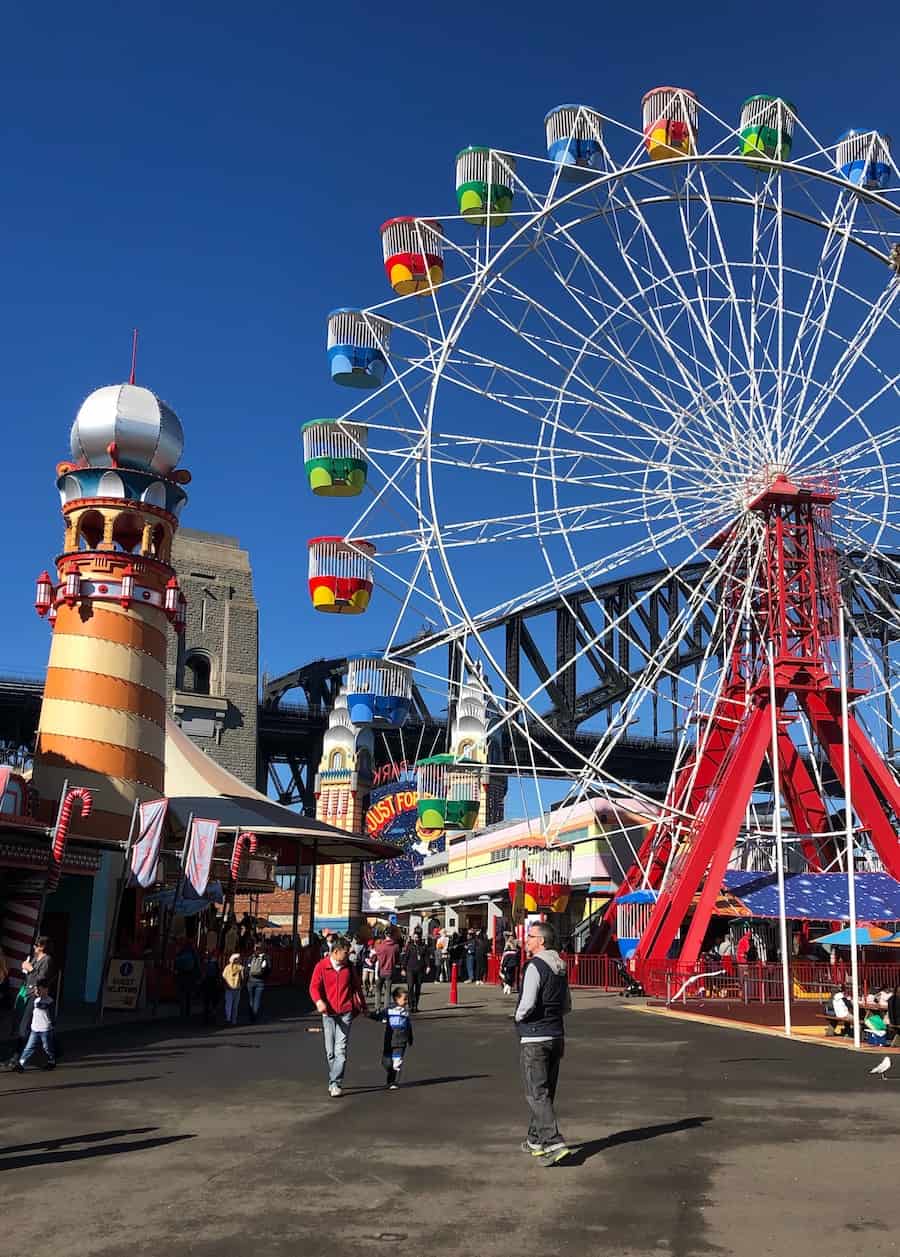 Luna Park is free to enter if you don't plan on riding the rides. Ride tickets can be bought as single-ride tickets or you can buy unlimited rides tickets. Ticket prices are by height, which determine which rides you can go on.
Coney Island is a fun section for all members of the family, with younger kids being able to enjoy the mirror maze, wonky walk and the numerous slides.
There are several other fun rides for small kids and the old-fashioned ferris wheel is always a hit too. Older thrill seekers (over 130cm) should check out the Hair Raiser and Moon Ranger rides.
Click here to buy unlimited rides tickets for Luna Park.
Go Whale Watching (Seasonal)
Whale watching was one of our most fun family outings in Sydney. Whale watching season runs from May to December, with the winter months of June and July being among the best months to go.
Whale watching tours take off from Darling Harbour and Circular Quay. We started at Darling Harbour, which I would recommend as we not only got to cruise under the Sydney Harbour Bridge, but we got first choice of seats before we picked up the other passengers at Circular Quay.
The majority of whales are Humpback whales, and most of the tour companies will offer you a sighting guarantee. We were lucky enough to spot three whales on our trip. Although not very close up, it was still exciting to see.
It can get pretty choppy out there (we all got completely soaked and retreated indoors after a while) so I wouldn't really recommend it if you suffer from sea sickness.
The trip can be quite long for small children so I'd also recommend some colouring books or other activities for the quieter moments.
Click here to check prices and book a Whale Watching Tour.
Go up the Sydney Tower Eye and SKYWALK
We always love visiting an observatory lookout when we visit a new city to get the lie of the land, which is why we also vote the Sydney Tower Eye as one of the best things to do in Sydney with kids.
The Sydney Tower observation deck is 250 metres above the city and offers fantastic 360-degree views over Sydney. Tickets also include the 4D experience – a 4-minute 4D film.
If you are visiting with kids aged 8 years and older, you can also take part in the SKYWALK – a 45-minute tour around the outside of the Sydney Tower, including two glass-floor viewing platforms. Definitely one of the most adventurous things to do in Sydney.
You should book your tickets ahead of time and reserve a time slot to visit the Sydney Tower Eye observation deck and also reserve tickets for the SKYWALK.
Click here to buy Sydney Tower Eye tickets with fastrack entry.
What are your favourite places to visit in Sydney for kids?
If you have a few days, consider taking a trip up to either the Blue Mountains or Port Stephens for more fun things to do. Read more fun getaways from Sydney here.
The Best Family Hotels in Sydney
As you would expect in a city like this, there is a huge choice of good family accommodation in Sydney. We highlight some of the best below:
Pullman Quay Grand Sydney Harbour
Sydney family hotels don't get much better than this. This all-suite luxury Sydney hotel is ideally located just as short stroll from the Sydney Opera House, with many of its rooms boasting magnificent harbour views.
The apartment-style suites feature fully equipped kitchens, laundry facilities, separate lounge and dining areas and private balconies. Facilities in the hotel include an onsite restaurant and indoor lap pool.
Click here to check prices for the Pullman Quay Grand Sydney Harbour hotel.
Novotel Darling Harbour
Darling Harbour is a great location for a family hotel in Sydney. You are close to the SEA LIFE Aquarium, Wildlife Sydney Zoo, Darling Harbour playground and a large selection of family friendly restaurants.
The Novotel offers good value-for-money Sydney family accommodation. Many of the rooms come with two double beds, making them ideal for families, and the hotel also has onsite restaurants and an outdoor swimming pool.
Click here to check prices for the Novotel Darling Harbour.
Swissotel Sydney
Another handy location right in the middle of the shopping district of the CBD, this is another great option for a Sydney family hotel. Most room categories are available with 2 x double beds, making a family stay easy.
But we particularly love their Kids Rooms. These adjoining rooms come with two double beds, made up with colourful kid-friendly bed linen and accompanied by kids mini bar, bath amenities, kids desk and a selection of age-appropriate toys, DVDs and video games.
If you are visiting Sydney with kids during the warmer months, you will also love the outdoor heated swimming pool.
Click here to check prices for the Swissotel Sydney.
Pin it for Later!
Mum on the Move is a participant in the Amazon Services LLC Associates Program, an affiliate advertising program designed to provide a means for sites to earn advertising fees by advertising and linking to Amazon.com
This post contains affiliate links. If you make a booking or purchase using one of these links, we may receive a small commission – at absolutely no extra cost to you.