For many people, Fiji family holidays mean lazing on the beach. But there are lots of fun things to do in Fiji too if you are planning a trip to Fiji with kids!
You may think a Fiji holiday means lazing on the beach, doing some watersports – and sending the kids off to the kids club for a few hours each day.
But there are loads of fun things to do in Fiji with kids beyond the beaches too. If you are planning your trip to Fiji, read on for all our recommendations of things to do and the best places to go in Fiji.
We are going to cover zip lining, jet boating, water slides, island hopping and more in our pick of the best family activities in Fiji.
The Fiji points of interest and activities mentioned below are roughly divided between the Fiji main island (ie. Viti Levu) and the islands.
Although many people believe that a Fiji islands vacation is the best option for a family, as you will see here, many of the best Fiji tourist places are actually easier to visit from the mainland.
No matter where you choose to stay in Fiji, you are going to have a great time! Read on for lots of ideas to add to your Fiji to do list!
Disclaimer: This post contains affiliate links. If you make a booking or purchase using one of these links, we may receive a small commission – at absolutely no extra cost to you.
Mum on the Move is a participant in the Amazon Services LLC Associates Program, an affiliate advertising program designed to provide a means for sites to earn advertising fees by advertising and linking to Amazon.com
EcoTrax Fiji
EcoTrax Fiji is one of the most fun Fiji tourist attractions and a unique way to take an immersive tour of the Fijian countryside. For me this is a must do in Fiji with kids.
Using modified electric bikes, the Ecotrax tour travels along disused rail tracks once used to transport sugar cane for the Fiji Sugar Corporation. The rail tracks have been disused since 2010, so you don't need to worry about a train coming the other way.
The tracks take you winding through the countryside, passing through local villages along the way, where local kids come running out to give you a warm welcome "Bula!" and high-five you as you pass by.
The track ends at the stunning Vinibua beach, where you have an hour to hang out on a deserted sandy cove, to swim in the warm ocean, play on the beach and sip on a fresh coconut before cycling back to base.
The track is around a 12km return trip, but thanks to the batter-powered bikes, exertion is minimal. The whole tour takes around 3 hours. Kids aged 1 and up can take part, with child seat attachments provided.
Ecotrax Fiji is around a one-hour drive from Nadi/Denarau. Ecotrax can arrange transport for you if required.
Click here to visit the Ecotrax Fiji website to learn more.
Kula Wildlife Park
The Kula Wild Adventure Park is another of the best places to visit in Fiji for families. If you are looking for fun things to do in Fiji Coral Coast, this is a good one.
There is an abundance of wildlife to admire at this Fiji wildlife park. Kids can hold an iguana or snake and check out a wide range of native Fiji birds in the aviary. But there's much more fun to be had here than that.
Kula Wild boasts Fiji's only ziprail.,The Krazy Canopy Flyer, that takes you whizzing 300m through the treetops. There's also a super cool 100m water slide that cascades down through the base of the rainforest.
Entrance tickets to Kula Wild include unlimited rides on both, so expect your kids to want to spend a few hours here! If you are visiting Fiji with toddlers or smaller kids, there is a fun water play splash pad – which also has a licensed café right next to it for mum and dad to chill out.
In addition to being one of the most fun Fiji Coral Coast activities, this family-run wildlife park also does a lot of good work for Fiji conservation.
They have been in charge of a breeding and repopulation program for the endangered crested iguana and are also investing in a coral growing program. So it is a business well worth supporting.
The Kula Wildlife Park is located right next door to the Outrigger Fiji Beach Resort.
Click here to book entrance tickets for the Kula Wild Wildlife Park. You can also visit Kula Wild as part of a day tour, with a local school tour on the way. Click here to find out more.
Sigatoka River Safari
One of the most thrilling Fiji day trips, this Fiji jet boat safari combines the excitement of a jet boat ride up the river, with a visit to a local village.
The jet boat ride takes you 17km into the Sigatoka Valley, one of the most beautiful places in Fiji, known as the 'salad bowl' of Fiji thanks to its fertile soil.
During the village visit, you can try out some local cuisine, get involved with a kava ceremony, join in with some traditional dancing and learn about the local way of life.
The tour works with 15 different villages, visiting a different village every day. This not only spreads the income amongst the villages, but it also minimises the impact of tourism on the village lifestyle.
Part of the profits from the tour also go towards village projects, supporting education, health, infrastructure and communication.
This Fiji day tour starts from Sigatoka town, around 60km from Nadi. The tour will pick you up from your accommodation in Nadi, Denarau or the Coral Coast. There are two tours – morning and afternoon, and the tour takes around 5 hours, plus transfer to your resort.
Click here to book the Sigatoka River Safari tour.
Fiji Zip Line
Another idea of what to do in Fiji if you are looking for Fiji adventure activities – the Nadi zip line!
This super fun tour takes you along 16 giant zip lines that covers a total of 5km. You pass through 3 eco-systems as you traverse caves, canyons and treetops and enjoy stunning ocean views over the islands. The tour also includes a walk through tour of the limestone cave.
The Nadi zip line is just a 35-minute drive from downtown Nadi, but if you are staying in the Coral Coast, you also have the option of the zip line at Pacific Harbour.
Kids ages 6 and up are allowed on the tour, but ages 12 and under must be accompanied by an adult. There are two tours per day – at 9.30am and 1.30pm and each tour lasts approximately 2 – 2.5 hours.
Each tour only has 16 participants – so make sure you book ahead!
Click here to book tickets for the Fiji zipline tour now.
Fiji Village Tour
Taking a Fiji village tour is another of our top things to do in Fiji. It offers a fantastic opportunity to not only meet the wonderful local Fijian people, but also an important way in which you and your family can give back to the local community.
A Fiji village visit shows your kids that there is more to Fiji than their resort pool, and also provides a real insight into the local culture of Fiji and what daily life looks like here.
A typical village tour in Fiji includes some or all of the following: meeting the village chief, a tour of the village, a meke performance (local dance), handicrafts demonstration, cooking demo, local lunch, school visit, cava ceremony.
If you are planning a village visit as part of your family trip to Fiji, bringing along a gift of supplies for the local school is always appreciated. Good things to bring include: crayons or pencils, chalk, stickers, toys and clothes, bubbles, balloons and inflatable balls (don't forget the pump!).
Many hotels can organise a village tour for you. Otherwise, Click here to book a local village tour in Fiji.
Visit Modriki, aka Castaway Island
If you are a Tom Hanks fan – or just a fan of stunning deserted tropical islands with bright white sand and clear azure water – then you won't want to miss a visit to Modriki Island.
Made famous by its starring role in the Tom Hanks movie Castaway, an afternoon on Modriki Island (pronounced Mon-driki) is the ultimate Robinson Crusoe experience.
Only a few resorts and tour companies have access to Modriki so you know that the island won't be overrun with people. This really is where to go in Fiji to get away from it all.
You will have the island practically to yourselves and can amuse yourselves with snorkeling, frolicking on the beach and taking fun photos with the "HELP ME" sign laid out in coconuts.
We visited this Fiji island location as a day tour with Castaway Island Resort and our visit included a sumptuous bento box lunch and champagne… Distinctly different from Tom Hanks' experience!
If your Fiji resort doesn't offer Modriki tours, then you can book this tour with Seaspray, which includes visits to Mana, Monu and Modriki.
Click here to book an island hopping tour to include Modriki now.
Fiji Island Hopping
The best beaches in Fiji are undoubtedly on the islands. It is here that you will find the long white sandy stretches of beach and brilliant blue water that you imagine when you think of Fiji.
But even if you are booked to stay in a hotel on the Fiji mainland, it is still easy to explore the islands. In fact one of the most popular things to do in Denarau is to jump on a boat and explore the islands.
You have loads of options for Fiji island tours. We go into more detail in this post all about Island Hopping in Fiji. But for a brief round-up, read on.
Some popular day trips include:
Mala Mala Beach Club– just 25-minutes from Denarau, Mala Mala offers loads of water-sports, an infinity pool, restaurant and bar. Click here to book a day trip to Mala Mala with South Sea Cruises.
Castaway, Malolo, Mana, Treasure Island– day trips to some of the most exclusive Fiji luxury resorts are also on offer from South Sea Cruises. Tours include lunch and use of all the hotel facilities for the day. Click here to learn more and book.
Tivua Island– Captain Cook cruises offer day trips to gorgeous Tivua Island aboard either a white-sailed tall ship or a sleek sailing catamaran. Some of the best snorkeling in Fiji, plus diving, watersports and cultural experiences are all on offer, as is the Captain's Kids Club. Click here to find out more and book a day trip to Tivua Island.
Click here to read more about day trips to Fiji's islands.
Cloud 9 Fiji
You have maybe seen Cloud 9 on Instagram. This floating bar, pizza restaurant and sundeck in the middle of the ocean is truly unique and one of the most popular places to visit in Fiji.
At the end of the day, note that it is really just a floating bar – and as such it is not necessarily the most family-friendly of places to spend the day during Fiji holidays with kids.
Having said that, my kids enjoyed the pizzas here and jumping off the platform into the sea. It was also an easy place for them to go snorkeling as the water is super clear and you are already in the deep when you jump off the platform.
There are loads of fish right underneath the floating platform and also a reef just a short swim away. We even saw a turtle here.
If you do plan to go to Cloud 9 with kids, I think it would be best visited with friends in a group so they have other kids to keep them entertained. Or do as we did, and only plan to stay for a couple of hours.
I would also recommend going early in the day. Not only are there not very many day beds and deck chairs available, but the party also gets pretty rowdy later on in the day – and there's nowhere to go to escape it!
Cloud 9 is around a 45-minute boat ride from Denarau, or a 15-20 minute speedboat ride from one of the Mamanuca Island resorts.
Click here to book a trip to Cloud 9 Fiji.
Seventh Heaven
Piggy backing off the popularity of Cloud 9, Seventh Heaven is about four times the size of Cloud 9 and probably more kid friendly.
As with Cloud 9 they have a wood fired pizza oven and plenty of cocktails on offer. The reef here is better for snorkelling with snorkelling gear provided and they also have kayaks. There are also great value massages available.
Learn more about Seventh Heaven Fiji here.
Visit a Sandbank
Within easy reach of many of the Mamanuca Island resorts, the Plantation Sandbank is just a 5-minute boat ride from Plantation Island Resort.
This little slice of paradise is just a thin stretch of white sand in the middle of the azure ocean and if you're lucky you may even have it all to yourself.
The water surrounding it is warm and shallow and we also experienced some of the best snorkelling in Fiji here – the reef here is absolutely teeming with fish.
There is literally nothing here so you need to bring your own refreshments, chairs, umbrellas etc and for obvious reasons you can only visit during low tide.
To get here you can ask your resort for a private transfer or you can book a day trip on board sailing catamaran Sabre from Denarau.
The Best Time to Visit Fiji
With year round warm weather, there isn't really a bad time to visit Fiji.
Fiji is roughly divided into two seasons: wet and dry, but even in the wet season you can expect plenty of sunshine. The Fiji wet season runs from November to March, and the dry season from May to October.
I have visited Fiji in November when we had no rain whatsoever over 5 days, and in April when we had a few heavy downpours, but mainly dry sunny weather. Like most places the best time to go to Fiji can come down to a bit of luck.
As you would expect, Fiji peak season follows the southern hemisphere school holidays. Busy times at the Fiji resorts include Easter, Christmas and the July school holidays, where everyone is escaping the Australia and New Zealand winters.
If possible, the best time of year to visit Fiji is outside these school holidays, as it will mean quieter resorts and attractions, and cheaper hotel rooms.
Best Resorts in Fiji for Families
You are really spoilt for choice when it comes to choosing where to stay in Fiji.
Click here to read our pick of the Best Family Resorts in Fiji.
The main decision usually comes down to choosing between some of the Fiji family resorts on the mainland for convenience to the airport and tourist attractions, or the Fiji island resorts, to get that quintessential Fiji beach experience.
There are so many top Fiji resorts to choose from, but here we give you a pick of some of the best depending on whereabouts in Fiji you want to stay.
Castaway Island Fiji
This is our firm favourite Fiji beach resort, and is definitely one of my 'happy places' in the world. This gorgeous Fiji island accommodation provides laidback barefoot luxury and a home away from home feel.
This Fiji island resort has everything you could hope for – white sandy beaches, crystal clear water and swaying palm trees.
With just 64 bures at this family hotel in Fiji, there resort has an air of intimacy and exclusivity. Each bure can accommodate a family of four, with rollaway beds also available for a third child.
There is plenty to keep you occupied here, with two swimming pools, watersports, snorkeling, tennis court and a PADI dive center. The kids will love the Fiji kids club here, which has them running around the island involved with loads of wholesome outdoor activities.
Click here to check prices and availability for Castaway Island.
Outrigger Fiji Beach Resort
For families who like more action and adventure during their Fiji family holiday, the Outrigger Beach Resort could be the best place to stay in Fiji for you.
Much bigger than Castaway, this Fiji holiday resort has 254 rooms, including 47 bures, all able to accommodate a family of 4 with some allowing three children.
It has a large kids club with playround and comprehensive activity schedule, including during the evenings, as well as a very affordable mei mei (nanny) service for the little ones.
There is always something fun going on at the Outrigger Fiji, including guided reef walks, basketball shoot outs, cocktail making and sarong painting. Facilities include two swimming pools (including an adults only pool), tennis courts, gym, spa, driving range and pitch and putt, plus a range of restaurants to choose from.
Located on the coral coast, the Fiji Outrigger Beach Resort is also ideally located for many of our fun activities mentioned above, including Kula Wild, Ecotrax and Sigatoka River Safari.
Click here to check prices and availability for Outrigger Fiji Beach Resort.
Sofitel Fiji Resort & Spa
Denarau is a popular location for many of the best hotels in Fiji. It is close to the airport and mainland Fiji activities and attractions, but also located next to the hop-off point to the islands, giving visitors access to the best of both worlds.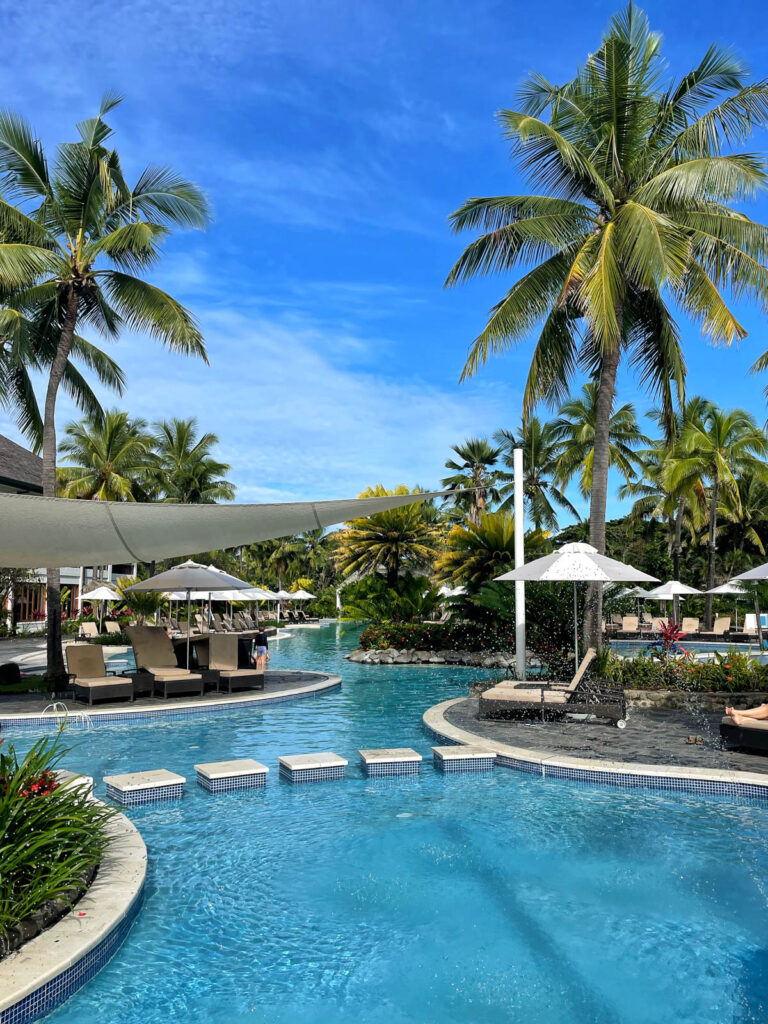 The Sofitel is the pick of the Denarau resorts. It has the biggest resort pool in Fiji (and one of the biggest and best swimming pools I have seen in any resort anywhere) with a water slide.
The Kids Club is excellent and boasts a water play splash pad, cubby house, trampoline and zip line as well as the usual schedule of activities.
Rooms for families include rooms with two queen beds and family rooms with bunk beds in a separated alcove.
Click here to check prices and availability for the Sofitel Denarau.
Radisson Blu Resort Fiji
Also in Denarau, the Radisson Blu Fiji is another popular choice for family accommodation in Fiji and comes at a more wallet friendly price than the Sofitel.
The 1- and 2-bedroom suites here offer full kitchen and laundry facilities, as well as separate lounge and dining areas. Standard rooms also allow up to one child and one infant.
There are loads of great facilities for families at this luxury Fiji resort, including 4 lagoon pools, one with the whitewater tunnel slide, and the Blu Banana kids club.
There is a good choice of restaurants, plus more restaurants in nearby resorts and at Port Denarau.
Click here to check prices and availability for the Radisson Blu Resort Fiji.
Have you been to Fiji? What are you favourite Fiji tourist spots?
Planning a family holiday to Fiji? You may also like these articles:
Pin it for Later!
Disclaimer: This post contains affiliate links. If you make a booking or purchase using one of these links, we may receive a small commission – at absolutely no extra cost to you.