Having kids doesn't mean you have to give up on adventure holidays. My children are just five years old and three years old and already they have been bamboo rafting in China, snorkeling in the Gili Islands in Indonesia and exploring the canopy walkways in the rainforest of Borneo.
There are so many great family friendly adventures in Asia to choose from, so I asked some of my fellow bloggers to share with me some of their best family adventures in Asia they had enjoyed. They came up with so many cool activities – from camping on the Great Wall of China to zip lining at Angkor Wat in Cambodia.
Here I share with you all the best family friendly adventures in Asia, according to travel bloggers.
Bamboo Rafting in Yangshuo, China
The Yulong River is a small tributary of the great Li River in the Guilin region of China, and bamboo rafting along here is one of the most popular activities in Yangshuo. With older kids, you could join a longer trip that takes 4-6 hours, but given that we had just got off a four-hour boat trip from Guilin to Yangshuo, we opted for a leisurely 45-minute trip down one section of the Yulong.
Each bamboo raft holds just two passengers, and your 'gondolier' will do all the hard work so you can sit back and enjoy. It is a very relaxing experience, as the rafts float gently down the river, giving you plenty of time to take in the surrounding scenery. There are a few mini waterfalls to negotiate, but this just adds to the fun, and we never felt unsafe in our rafts. Be sure to buy some water guns for the kids from the hawker women at the launch site, to add to the fun!
Read more about our adventures in Guilin and Yangshuo in our article Things to do in Guilin with Kids.
Zip Lining at Angkor Wat, Cambodia
Contributed by Sally Lucas, Our 3 Kids vs the World
It's always hard to find the happy medium between the things I want to tick off my bucket list and the things that will keep the kids happy. I was particularly worried about the fine line of happiness when we visited Cambodia in July 2016 as I had heard many an adult say they were 'templed out'! I didn't want this for the kids so I decided we would go zip lining in the Angkor Archaeological National Park.
We found this to be a great experience for both the kids and adults, it put the kids out of their comfort zones and made them challenge themselves which is what travelling is about. I was super proud of them and Alannah even made a friend who she keeps in contact with on Musical.ly!
Flight of the Gibbons is a little bit expensive but at the same time the safety standards are very high, I was comfortable with them and they regularly checked both ours, and the kids harnesses.
Flight of the Gibbon can also be found in Thailand. Check here to buy discounted tickets for Flight of the Gibbon Chiang Mai and Flight of the Gibbon Chonburi.
Hot Air Ballooning in Bagan, Myanmar
One of the highlights of our visit to Myanmar was our sunrise hot air balloon ride over Bagan. You need to get up early to enjoy a hot air balloon ride over Bagan – we were picked up from our hotel at 5am, before being driven to the air field, where we were served tea and coffee while the team got the balloons ready, and assessed the weather. When it was time to set off, we were given our safety briefing before climbing into the basket and lifting off into the air.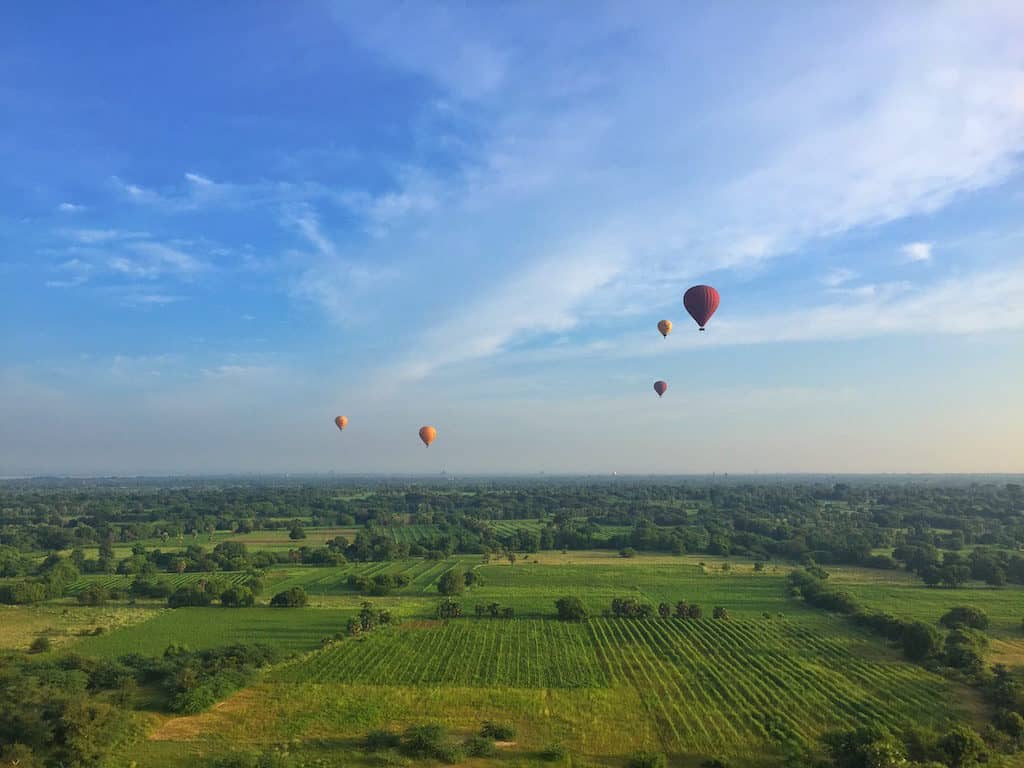 Gliding peacefully over the surrounding villages of Bagan and seeing the temples in the beautiful morning light is a memory we will always keep with us. The adventure ends with a champagne breakfast on landing, the perfect end to a magical journey. Ballooning over Bagan is expensive – but worth it. Be sure to book well ahead to avoid disappointment, as spaces are limited.
Note that kids have to be aged 8 or over to ride in the hot air balloon, so if you have younger kids like we do, you will need to arrange a babysitter (this can be tough given the early departure time, but luckily our hotel arranged this for us).
Read more about our adventures in Bagan in our article Things to do in Bagan with Kids.
Elephant Nature Park in Chiang Mai, Thailand
Contributed by Sadie Redinger, Eclectic Trekker
One of the best places to visit for family fun near Chiang Mai, Thailand is Elephant Nature Park. Elephant tourism is HUGE in Thailand, but most of these attractions are harmful to the animals, so Elephant Nature Park's founder, Lek, started rescuing elephants from elephant riding and circuses and took them to her sanctuary just north of the city.
You can visit the sanctuary for a half-day or stay and volunteer with the elephants for an entire week. If you are planning to volunteer, I would recommend your children to be a little older, however, Elephant Nature Park is accommodating to all ages.
While I was volunteering at Elephant Nature Park, there were plenty of families coming through the sanctuary to learn about and visit all the rescued elephants, but one family in particular stands out in my mind – a lovely bunch from Canada.
The parents had decided to take their kids, 10 and 12, on a trip of a lifetime, and volunteering for a week at Elephant Nature Park was part of it. Both kids were so in awe of the great work done at Elephant Nature Park, that the eldest was already planning to write her own book about the plight of elephants. She told me she had learned so much while visiting the sanctuary that she wanted to share that knowledge with all of her classmates. Her determination was inspiring to say the least.
So if you are traveling in Thailand, skip the harmful attractions like elephant riding, painting, and circuses and have a more meaningful experience with an elephant at Elephant Nature Park!
Cycling in Bali, Indonesia
Contributed by Sally-Ann Brown, Toddlers on Tour
I'm really enjoying the opportunity to do more adventurous tours now that my son is getting older. However I discovered during a family holiday to Bali that we could have been doing these adventure tours years ago. Wanting to see the rice fields and discover how the Balinese live, we found a fun and adventurous way to see the real Bali on a cycle tour. The tour caters for all ages, with a choice of single, child, or tandem bikes (we could even add a baby seat).
The bike ride ran for two hours, and saw us coasting down on the local back streets of the central foothills in the Gianyar Regency. We passed through local villages, seeing all the Balinese dressed in their finest yellow and white lace outfits heading to the opening of the town temple; and stopped to see how Balinese homes are laid out – a separate building for each room including an area for several small shrines.
But the highlight of the tour was cycling through the rice fields to learn about the Subak irrigation system, consisting of narrow stone trenches that branch off to each rice paddy field. A fun and adventurous way to get to know Bali.
Farming & Fishing Adventure in Hoi An, Vietnam
A Farming & Fishing Tour in Hoi An, Vietnam is a great fun day out and a good way to see some of the beautiful countryside, as well as educate your kids in the local way of life beyond the beaches and resorts.
This fun family friendly adventure was divided into two parts – the farming, and the fishing. We started the day with cycling through the paddy fields and visiting the Tra Que Vegetable Village, where we learned to plant and cultivate vegetables, before visiting a rice farmer and riding on his water buffalo!
From here we climbed aboard a boat and headed up river to learn from the local fishermen – how to cast a fishing net from a traditional fishing boat and how to steer the round bamboo basket boats. Fun and educational – ideal.
Read more about our Farming & Fishing Tour in Hoi An experience here and Click here to book the Farming & Fishing tour through Viator.com
Camping on the Great Wall in Beijing, China
Contributed by Evie Farrell, Mumpack Travel
Camping overnight on the Great Wall of China is an extraordinary adventure for families seeking to leave the well-trodden path. The challenge of hiking, an overwhelming atmosphere and the rich history of Chinese dynasties, Mongol warriors and ancient battles will engage your children and enthrall the family.
Our small-group tour with China Hiking travelled from Beijing to the WangQuan Valley where we started hiking. I carried a pack with a small tent, blow-up mattress and necessities. After four hours of climbing through forest along the Wall we reached our camping spot at the Jade Watchtower.
Our dinner was cooked on an open fire and we roasted marshmallows and listened to stories of ancient life before climbing to our tent on the roof of the watchtower. Our mattresses were comfortable and the atmosphere enfolded us as we drifted to sleep under the stars.
Waking up to silence with the Wall curving like a ribbon through the forest below us was a truly magical experience. After breakfast and quiet time just gazing at the beautiful Wall we trekked for an hour downhill and the drive back to Beijing.
Click here to book Camping on the Great Wall of China through Viator.com
Snorkeling in the Gili Islands, Indonesia
During our trip to Indonesia last Summer, we spent five days in Lombok, just a short boat ride from the Gili Islands. The Gili Islands are famous for their beautiful white sandy beaches and clear tropical waters – and the fabulous snorkeling and diving opportunities.
We took a day trip from Lombok to visit the Gili Islands, stopping off first at Gili Meno to go snorkeling. Bearing in mind my kids are only five years old and three years old, we weren't sure how successful this would be given that we were snorkeling off the boat.
But we took a life ring with us for them to hold onto as they dipped their heads in the water to marvel at the underwater life, and when they tired they went back to the boat and hung out with the crew, while my husband and I continued snorkelling. There is an abundance of fish and sea life to be seen when snorkeling in the Gili Islands, and they are particularly famous for the sea turtles, which we were delighted to be able to swim alongside. We ended the day with playing on the beach at Gili Air.
Camping at Doi Inthanon National Park, Thailand
Contributed by Nathan Aguilera, Foodie Flashpacker
Camping at Doi Inthanon National Park is the perfect family friendly activity. Doi Inthanon is the highest mountain in Thailand, and you are able to camp at the base. The best part about the camping is that everything is set up for you- no need to spend your time assembling tents!
The park has many waterfalls of varying sizes found throughout. Some are even able to be climbed and have pools at the bottom for swimming. Also, be sure to take motorbikes or shared taxis to the top for incredible views while hiking. Also near the summit are two temples you can explore.
At night you have a selection of many local restaurants. Make sure to try the hot pot so everyone can cook their own meals!
Jet Ski Tour in Langkawi, Malaysia
Contributed by Vanessa Workman at The Island Drum
Many people equate jet skis to adrenaline-junky, adventure seekers. The louder and faster the better. But in Langkawi, Malaysia, Mega Water Sports offers three jet ski tour packages for different levels of adventure seekers, including tours for families with children as young as five years of age.
Mega's Tour 1 is a top choice for families with young children in tow. This four-hour guided tour package includes visiting three separate islands and provides the opportunity to see some of Langkawi's ancient geological formations up close, take a swim off a secluded island and even do a few speed runs in a safe off-shore environment.
Safety is a top priority with this jet ski tour company and an in depth safety talk is always given prior to the tour. Mega Water Sports has two other jet ski tour options available for the more adventurous families, offering longer riding distances as well as a private beach lunch stop.
Click here to book Jetskiing in Langkawi through Viator.com
Forest safaris in Dandeli, India
Contributed by Raksha Prasad, Solo Passport
India has many forests and national parks, including Dandeli Wildlife Sanctuary in the northern part of the state of Karnataka. This national park in India is dense and beautiful, with many colourful birds. It is famous for the Indian hornbills and boasts a large number of black panthers and leopards. Dandeli is one of the best forests I have visited in Karnataka.
Forest safaris are in closed jeeps, and visitors are driven into the forests by a safari guide and driver. It is a unique and fun way of exploring the forests and seeing the animals in their natural habitat. They are a fun and exciting way of educating children about the wildlife.
Pin it for Later!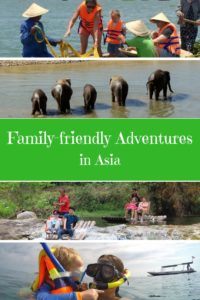 Note: This post contains some affiliate links. If you make a booking through our affiliate links, we may receive a small commission – at absolutely no extra cost to you. Thanks for your support!