We recently checked into the Peppers Beach Club in Port Douglas, in Australia's Far North Queensland. This luxury all-suite hotel is a great choice for a family vacation. Its spacious suites are more like self-contained apartments, it is a short walk from all of Port Douglas' amenities, and right round the corner from the famous Four Mile Beach. We particularly loved the fabulous swimming pool with its white sandy 'beach', and the beautiful tropical gardens.
Bedtime at Peppers Beach Club
Peppers Beach Club has a selection of one, two and three-bedroom suites, which are perfect for families (they also have Spa Suites which are effectively just hotel rooms).
We chose a One Bedroom Deluxe Suite, for its ground floor location and therefore proximity to the pool. The spacious living and dining area really gave a home-away-from-home feel to the apartment, which also benefitted from a good-sized fully equipped kitchenette and large balcony, complete with barbecue (although this was more of an electric hotplate, which was somewhat disappointing).
The bedroom was just big enough to squeeze in our 3-year old on her blow-up toddler bed, and our 1-year old son in his travel cot. However, with any older children, a Two Bedroom Suite would definitely be recommended. It is worth noting that most of the Two Bedroom Suites are configured by interconnecting a One Bedroom Suite with a Spa Suite.
Playtime at Peppers Beach Club
The highlight of Peppers Beach Club is its fabulous lagoon pool, complete with long white sandy beach for hours of sand play, and a fun waterfall for swimming through. There are plenty of sun loungers for mum and dad to kick back on while the little ones play, and the shallow sloping sides mean you can comfortably allow the kids to run in and out of the pool as they play.
There is also a 24-hour gym and the award-winning Exclusive Spa, neither of which we had time to enjoy, although I noted that the Spa is advertised heavily to the public and I understand it can get pretty busy, so it would be advisable to book ahead.
Dinnertime at Peppers Beach Club
There is one just restaurant on site at Peppers – the Sublime Bar & Grill. We actually only ate here for breakfast on our first morning, preferring to make use of our kitchen facilities in our suite and enjoy breakfast at leisure at home (especially when there was a coffee capsule machine in the kitchen). The restaurant does enjoy a pleasant poolside location however, giving a wonderfully tropical holiday feel to dining.
The problem is, there are so many fabulous restaurants in Port Douglas that we found ourselves dining out every night. Had we been in town on a Sunday, I am sure we would have partaken in Sublime's Gourmet BBQ buffet. We did however, make full use of the poolside drinks service – and let me tell you they serve up a mean frozen strawberry daiquiri!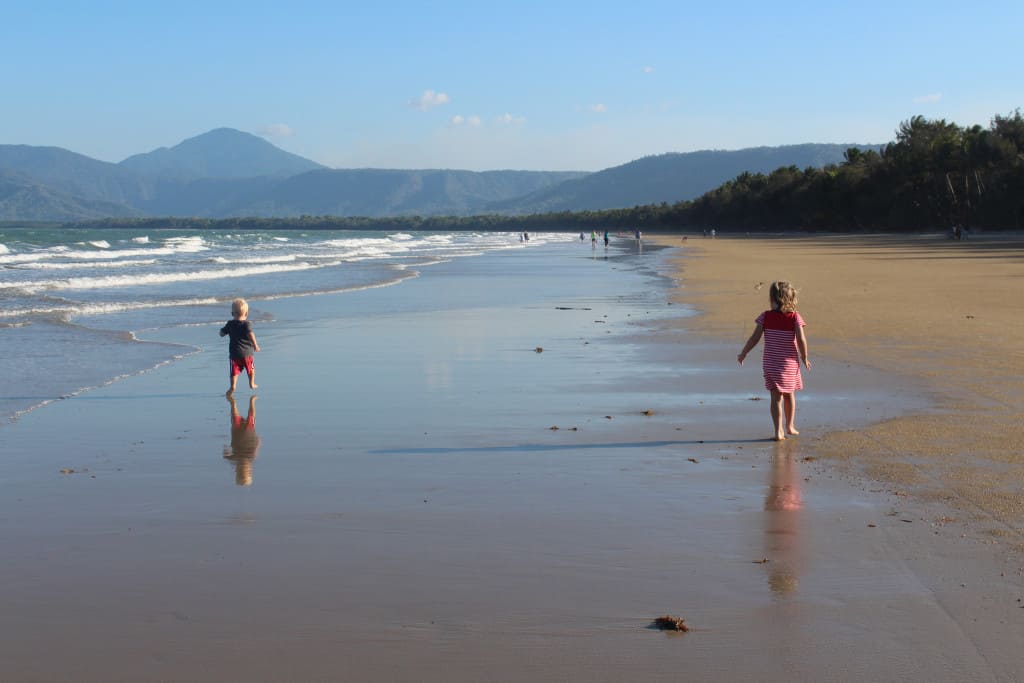 In the 'hood
Port Douglas is family holiday heaven. There is so much to do here to entertain the kids. Four Mile Beach is right round the corner from Peppers Beach Club and was a daily excursion for us. Our kids loved chasing the tiny crabs, and running in and out of the waves – although check when stinger season is and make sure you swim inside the protective net when appropriate.
Just up the road is the wonderful Wildlife Habitat, where you can begin the day with Breakfast with the Birds and go on to feed kangaroos and wallabies and marvel at the native Australian wildlife. Also within a short drive you have Hartley's Crocodile Adventures and the rainforest treks of Mossman Gorge. And of course Port Douglas is the prime launch pad for boat trips out to the Great Barrier Reef, for snorkeling, fishing and general ocean fun. For more ideas for entertaining the kids read Things to Do in Port Douglas with Kids.
Check here for the latest prices and more information about Peppers Beach Club Port Douglas.
Pin it for Later!
Mum on the Move stayed "undercover" at Peppers Beach Club paid for their own stay in the hotel. All opinions expressed are honest, and our own. This post contains an affiliate link. If you book a hotel through the affiliate website, we will receive a small commission at no extra cost to you.