Discover the hidden gems of The Tweed region with our list of things to do in Kingscliff and the Tweed Valley.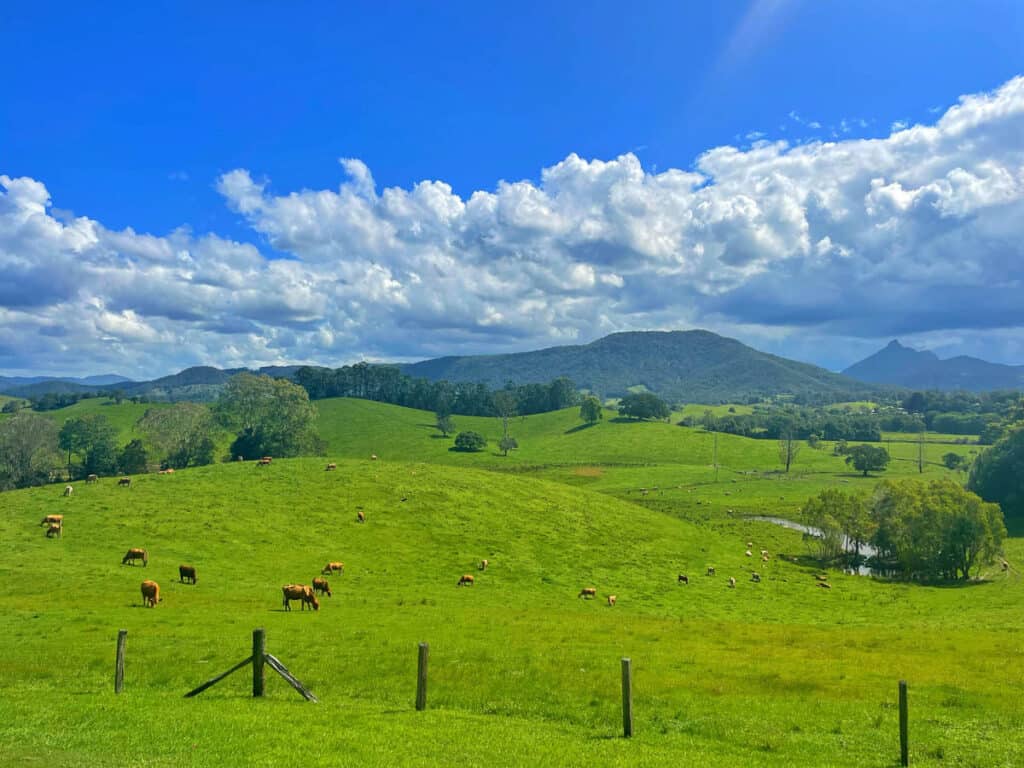 Often overshadowed by its famous neighbours The Gold Coast and Byron Bay, The Tweed region on the far north coast of New South Wales, should not be overlooked.
This enchanting region boasts stunning beaches, lush hinterland, and a vibrant culinary scene, offering a laidback holiday escape for families.
Easily reached within an hour's drive from both the Gold Coast and Byron Bay, and just 20 minutes from Gold Coast airport, it's well worth a visit to experience what the region has to offer.
Here's my pick of the best things to do in the area.
Disclaimer: I was a guest of Tweed Tourism during my tour of the Tweed. All opinions, as always, are honest and are my own. This post contains affiliate links. If you make a booking or purchase using one of these links, we may receive a small commission – at absolutely no extra cost to you. 
Tweed Regional Gallery
It's worth calling into the Tweed Regional Gallery for the sweeping countryside views alone. But to remain outside and soak in the atmosphere would be a mistake, as there's a treasure trove of delights inside. 
Seven exhibition spaces showcase the work of regional, national and international artists, with artworks from both contemporary touring exhibitions and the permanent collection.
A good option for greater insight into the art is to take the 11.30 am daily tour (free of charge).
If you are visiting with kids, they will appreciate the Create your Own artwork programs on iPads, which you can then email to yourself. Keep an eye out for kids' workshops during the school holidays too.
Margaret Olley Arts Centre
For me, the highlight of the Tweed Regional Art Gallery is the permanent Margaret Olley exhibition. This incredible display celebrates the career, life and artwork of one of Australia's most celebrated painters of still life and interiors. 
The recreation of Olley's famous home offers a fascinating glimpse into the artist's life. It features original architectural features, such as windows and doors, which have been transported from Paddington, Sydney, along with 20,000 items from her home.
These have been painstakingly placed to recreate an exact replica of her rambunctious home. Watch the video in the exhibition to see the reconstruction in action.
Hosanna Farmstay
In 2019, Kirsten and Regan Perry took over Hosanna Farmstay. Despite the hardships of those early years (pandemic, bushfires, flooding), their enthusiasm for the farming way of life exudes from them. 
Equally, their passion for sharing their lifestyle and educating children abounds.
The highlight for many visitors is the farm tour, taken aboard a tractor-trailer with a chance to feed the cows and the llamas.
Other highlights are the chance to milk a cow, meet the pigs and swim or kayak in the dam. Keep a look out for turtles and even water dragons as you go.
There's even an awesome waterslide operating at weekends. Kids can buy an Adventure Passport with stamps to collect when all the different activities have been completed.
Accommodation here varies from camping and glamping, to self-contained cabins and even a 4-bedroom homestead that sleeps up to 20 people and boasts sweeping views over the farm.
Tropical Fruit World
Firstly, let me tell you that Tropical Fruit World is way more interesting than its name suggests!
Started 50 years ago with one avocado tree, this incredible attraction now has over 23,000 trees of nearly 700 varieties of fruit. This makes it the most diverse fruit farm in the world.
Who knew there were over 45 varieties of mango and 15 varieties of banana? And just wait til the kids discover there is a chocolate fruit!
The tractor-trailer tour of the farm lets you get up close and personal to the weird and wonderful fruit varieties. There's even the opportunity to hop off and visit the animals of the fauna park and take a wildlife boat cruise.
All tours include a fruit-tasting session of seasonal fruits. There is also an onsite Plantation Cafe that features many of their homegrown fruits. 
Click here to book tickets for Tropical Fruit World.
SUP or Kayak Tour on Cudgen Creek
Cudgen Creek, renowned for its beautiful wetlands and mangroves, is the perfect spot for a calm and serene paddle.
The water is so calm and clear it is easy to spot rays, fish and other marine life as you paddle, and the trees are teaming with herons, cormorants and kingfishers. You might also spot an eagle or osprey too.
Book a SUP lesson, kayak tour or hire the equipment from Watersports Guru, located at the Kingscliff Bridge. 
Snorkel with the Turtles
Just a kilometre off the coast at Fingal Headland lies a tiny volcanic outcrop called Cook Island, which is famous for its population of turtles.
If you love turtles, then this is an absolute must-do.
You are almost guaranteed to get up close to Green, Hawksbill and Loggerhead turtles, in addition to a huge variety of tropical and sub-tropical fish.
You could also be lucky and encounter a pod of dolphins, and if you visit between June and November, you are likely to come across a humpback whale on your way too. 
Beaches in the Tweed
With 37 kilometres of coastline, you know you're not going to find it hard to find a sport to pitch your beach umbrella.
Here are some of the best beaches in the Tweed region to get you started:
Marine Discovery Centre
Located within North Star Holiday Resort, the Marine Discovery Centre is an excellent education centre with hands-on learning for kids of all ages. 
The centre opened in 2000, but it reflects the life's work of Ted Brambleby, who began collecting many of the specimens seen here in the 1960s.
Thousands of students and visitors have visited the Marine Centre and Ted's legacy continues through his son Rhett who runs learning expeditions to the nearby rock pools and mangroves.
The centre moved to North Star Holiday Park in 2008 and underwent a $1 million refurbishment in 2020 to create the impressive facility we can enjoy today.
It is open to the public at weekends and all week during the school holidays. There is a hands-on presentation for families every Saturday morning from 10 am to 12 noon, which includes the chance to check out sea creatures under the microscope and a touch tank session.
Top Tip: During school holidays you can also sign up for guided walks down to the rocky shore for more en situ learning. This 2.5 hour tour is free to North Star Holiday Resort guests.
Northern Rivers Rail Trail
The Tweed Section of the Northern Rivers Rail Trail is an easy and smooth ride running 24km from Murwillumbah Railway Station to Crabbes Creek Railway Station.
You can join and leave the trail at several points along the way, with car parking, bike racks and water stations at several dedicated rest stops.
The trail is open to cyclists, joggers and dog walkers and some sections are also open to horse riding.
See the website for a map and everything you need to know about parking, water facilities, changing facilities, access and more. 
M. Arts Precinct
M.Arts Precinct art deco facade hides a very cool industrial shed filled with artists' studios and galleries within repurposed shipping containers. 
You can browse for art, jewellery, fashion and accessories, ceramics, flowers, art supplies and more. Alternatively just chill out and soak in the cool vibe at the onsite cafe or pop-up brewery.
There's also a cinema and a skate park coming soon.
Top Tip: Visit on a Saturday to combine a visit with the nearby Makers Market. 
Mist Gallery
Another opportunity to find the work of local artists is to head to Mist Gallery in Cabarita. 
Owner Helen Otway hosts an ever-changing exhibition of local artists from the Tweed region, including paintings, sculpture, ceramics and jewellery.
If you fancy yourself as a bit of an artist, Helen also offers life drawing classes, as well as Saturday morning art class for kids.
Sunset at Hasting Point
Known as "the jewel of The Tweed", Hastings Point is a popular spot for sunset thanks to its large grassy area with sweeping views over the rocks and beach.
Head to Pottsville to pick up picnic supplies or get some fish & chips from Hastings Point General Store.
BBQ Boat on the Tweed
Berger Houseboats have BBQ boats you can hire for the day to get out and explore the waterways of the Tweed River.
BBQ boats are available for 8 or 12 people and are equipped with a table and seating, BBQ, fishing rod holders, and esky. You'll also find a toilet onboard.
So pack your swimmers, snorkels, fishing gear and BBQ supplies and head out for a fun day on the water.
Click here to book a BBQ boat for the day.
Sample the Local Produce
The Tweed prides itself on its exceptional local produce and does have an impressive array of farms, distilleries, breweries and other local food companies.
Be sure to set aside some time to try out a few of my recommendations below:
Tweed Family Accommodation
You may also like these articles: