One of the coolest things to do in Northern Queensland is to take a tour of the Undara lava tubes, a geological phenomenon 275km from Cairns.
Exploring the lava tubes at Undara and learning about these historical natural features was one of the highlights of our Atherton Tablelands tour.
Having visited, I am in awe of Mother Nature and baffled as to how more people do not know about them. Sure, we all know there are lava tubes in Hawaii – but how many people know about the Queensland lava tubes?
David Attenborough went so far as to describe them as "the most unexplored natural feature in the world" during his visit in 1991 and suggested they should be regarded the world's 8th Natural Wonder.
So what is it that makes them so special?
To begin, these lava tubes in Queensland are one of the best-preserved and longest lava tube systems in the world. Undara is also home to the world's single longest lava tube.
Formed by erupting volcanoes around 190,000 years ago, these incredible ancient formations lay hidden under the dense rainforest that had thrived on the fertile volcanic soil.
Although the traditional owners of the savannah lands, the Ewamian people, knew of some of these lava tubes, they kept their distance. And it so it wasn't until the Collins brothers, a pair of cattle ranchers, moved into the area in 1862 that their presence was known.
The Undara lava tube network is still largely undiscovered. 68 caves were found during an Operation Raleigh effort in the late 1980s, and owner Bram Collins discovered a new one as recently as 1992, but the true extent of the network is still not known.
What is a Lava Tube? And how are Lava Tubes formed?
Lava tubes were formed when an ancient volcano erupted, causing molten lava to flow down the side of the volcano and along nearby riverbeds.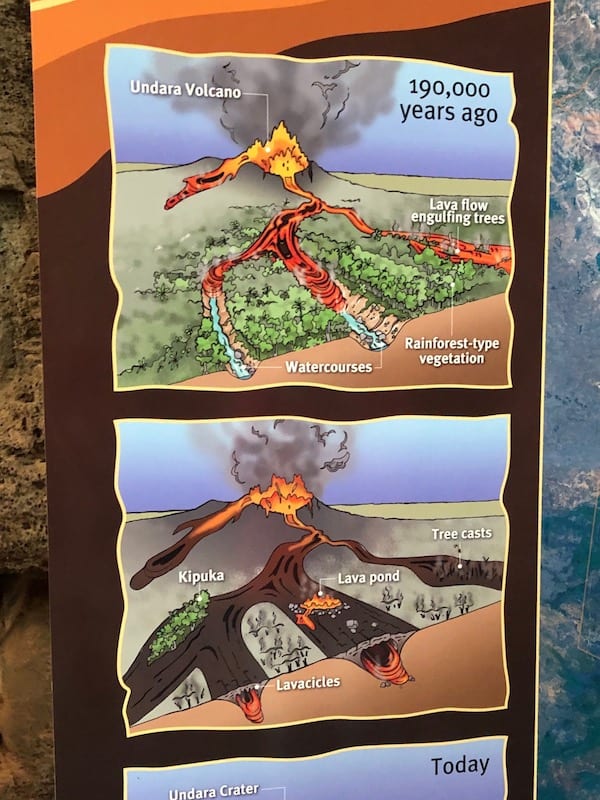 Due to the difference in temperature between the lava and the cooled riverbeds, these lava flows began to cool from the outside first, creating a kind of crust or skin on the outside, and leaving a tunnel for the lava to flow through.
Long hidden under dense rainforest since their formation 190,000 years ago, it wasn't until these tunnels started collapsing and forming caves that their existence was noticed.
The Undara Experience
The Collins family have owned and farmed the land around Undara since 1862: six generations of cattle farmers. It was in the 1960s that Gerry Collins had the vision to protect the natural habitat by creating a tourist site.
Converting part of the family's cattle ranch to create a protected area, he eventually sold this part of the family heritage in the 1980s, in order to protect the lava tubes. And so Undara Volcanic National Park was born.
While Gerry's daughter continues to run the family's cattle ranch on neighbouring land, the Undara Experience is now run by his son Bram Collins. Showcasing the incredible lava tubes to visitors has become his main passion in life as he continues his father's work in protecting them.
While clearly the highlight, there is more to the Undara Experience than just visiting the lava tubes. The entire visit as a whole is fantastic and I would definitely recommend it as a unique and fascinating Queensland experience.
Sunset Wildlife Tour
Our Undara Experience kicked off with a dusk wildlife spotting tour, a bus tour that took us through the surrounding savannah lands of the national park.
The area is rich with wildlife and we had no trouble spotting pretty-faced wallabies, eastern grey kangaroos, wallaroos, red-tailed black cockatoos, kookaburras and even a rather large black-headed python.
The drive culminated with a short hike up the hill to take in a spectacular sunset with panoramic views in all directions. As if that wasn't good enough, the sunset was accompanied by sparkling wine and cheese!
After sunset we headed to a nearby lava tube cave, where we experienced the nightly migration of bats flying out into the night in search of food… and the brown tree snakes waiting in the nearby trees to pick them off as they fly by!
Bush Breakfast
The bush breakfast is another highlight of visiting Undara, and if you are visiting with kids then definitely sign up for this one.
Bacon and eggs are cooked on the barbecue, coffee is brewed over an open fire and toasting bread is a DIY affair over some burning embers.
Once you have everything piled on your plate, choose a log to sit on and enjoy the sounds of the birds in the trees as you tuck in. What a way to start the day!
Lava Tubes Tour
Of course the real reason for visiting Undara is to explore the lava tubes. In order to protect the fragility of these historical features, visits to the lava tubes are strictly via guided tour with a registered guide.
After admiring a family of grazing emus close to our vehicle, we descended the wooden boardwalks through a cloud of fluttering butterflies to our first stop: the Archway.
At 18m high and 24m wide, the imposing Archway is certainly impressive. It also happens to be the oldest standing lava tube in the world. Here we learned about the formation of the lava tubes before exploring further.
At Stevenson Cave we got a close up look of the incredible ceiling patterns formed by water seepage, the various minerals leaving behind swirling marbled patterns.
The caves are huge and it is hard to believe they were formed by pouring lava, until Bram explained that the eruptions that formed these tubes lasted for 6 weeks, with enough lava flowing through them to fill Sydney harbour in just 6 days. Wow.
Undara Accommodation
The other cool thing about visiting Undara is that you have the opportunity to sleep in a train.
The Undara Experience accommodation is varied and there is something to suit everyone and all budgets, but if you are visiting with kids they will probably love the idea of sleeping in a train carriage for the night!
These decommissioned Queensland railway carriages have been placed alongside an old horse and carriage road, so as not to disturb the forest around them.
Refurbished to allow mod cons while preserving the original fixtures and fittings, these railway carts provide a really unique setting for a Queensland bush sleepover.
Another cool option for families here is the Swag Tent Village, a cluster of twin, quad and 6-person glamping tents set within a shady bush setting. All tents come with linen, towels and electricity and the 4 and 6 person tents also include a fridge, sink and power point.
Within the swag tent village you will also find a communal undercover camp kitchen with fridge, gas barbecue, hot plates, picnic tables and chairs. Perfect for a family getaway bush experience.
Other onsite facilities include a bar, restaurant and swimming pool.
If you prefer to DIY it, there is also a caravan park with powered and non-powered sites and a campsite at Undara.
Click here to check prices and availability at Undara.
What to Bring to Undara
Visiting Queensland? Don't miss our articles on things to do in Cairns and Port Douglas.
Pin it for Later!
Mum on the Move is a participant in the Amazon Services LLC Associates Program, an affiliate advertising program designed to provide a means for sites to earn advertising fees by advertising and linking to Amazon.com
This post contains affiliate links. If you make a booking or purchase using one of these links, we may receive a small commission – at absolutely no extra cost to you.
Mum on the Move was a guest of Tourism Tropical North Queensland during our visit to Undara Experience. This in no way affected our review. As always, all opinions are honest and our own.