Planning an Ibiza family holiday? Here are the best things to do in Ibiza with kids, from picnicking on the beach to Jeep excursions and exploring caves.
Ibiza may be known as the isle of wild, but it's also the ideal destination to have a relaxing and fun-filled vacation with the whole family.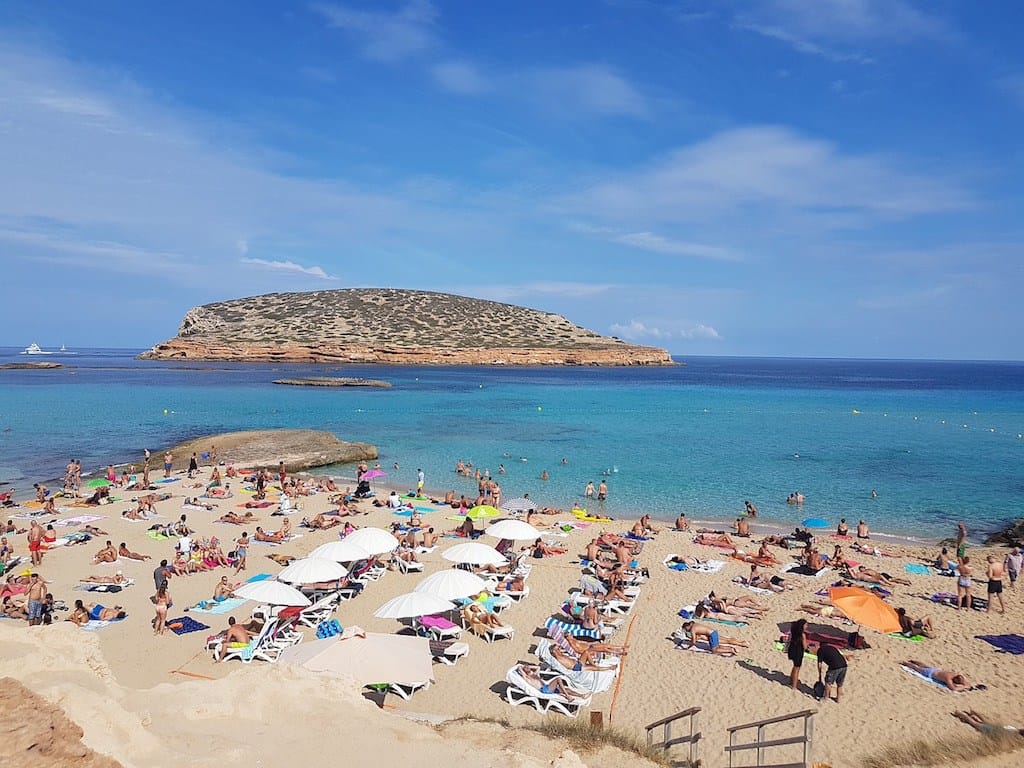 If you are wondering what to do in Ibiza, Samara from Tiny Fry shares with us her pick of the best things to do in Ibiza for families.
This Balearic Island's history and natural beauty means that there is no shortage of activities for Ibiza family holidays.
From picnicking on the beach to off-road Jeep excursions to exploring caves, there are so many things to do in Ibiza Spain for families with children of all ages.
So, get out your map and start making plans, because Ibiza is calling your name!
Disclaimer: This post contains affiliate links. If you make a booking or purchase using one of these links, we may receive a small commission – at absolutely no extra cost to you.
Mum on the Move is a participant in the Amazon Services LLC Associates Program, an affiliate advertising program designed to provide a means for sites to earn advertising fees by advertising and linking to Amazon.com
Explore with the Santa Eulalia Ferry
What's the best way to see the beautiful Ibiza coastline? By ferry, of course! Kids will love riding out on the boat. Plus, it's a hassle-free way to travel around the island in style.
The Santa Eulalia Ferry makes many stops along the coast, so you and your family can get out and enjoy everything Ibiza's charming towns have to offer. The stops include Santa Eulalia, Ibiza, Es Canar, Cala Llonga, and Cala Pada.
Another option is to take the Ferry to Formentera, the tiniest of the Balearic Islands. It is an especially unique location not to be missed. This island is known for its breathtaking views and beaches, minus the surplus of clubs on Ibiza. Consider taking a whole day to enjoy this one-of-a-kind retreat.
Click here to book tickets for the Formentera ferry.
Family friendly bike rides and water sports are just some of the many activities that are offered. For the more leisurely travelers, enjoy a long lunch and a stroll on the beach before heading home.
Visit one of the Best Beaches in Ibiza for Families
Of course, what would a trip to Ibiza be without spending an afternoon playing in the surf at one of its famed beaches?
Cala Llonga is located in an inlet near Santa Eulalia and is conveniently one of the stops on the Santa Eulalia Ferry. It is an especially kid-friendly beach that even boasts a children's playground and mini amusement park.
Here the kids will stay entertained while the adults can relax and catch some rays. Plus, there are plenty of bathrooms located at the nearby beach bars.
Cala Llenya is located north of Santa Eulalia and offers more shade than Cala Llonga, which makes it a great spot for picnics. The shallow water at Cala Llenya also makes it an ideal wading area for toddlers. So, pack a picnic lunch and spend an afternoon of fun in the sun. Just don't forget the sunscreen!
Have Fun at Aguamar Water Park Ibiza
Aguamar Water Park is where to go in Ibiza to get wet and wild and is one of the most popular attractions in Ibiza for families.
This Ibiza water park is the largest in town. It has plenty of white-knuckle slides for the more adventurous, such as the Kamikaze and the Black Hole, while younger children can play it safe in the kids pool. A great fun-in-the-sun Ibiza day outing alternative to a day at the beach.
Browse the Hippy Markets
The Hippy Markets are some of standout attractions in family friendly Ibiza. Local artisans come to sell handmade and second hand items at these vibrant and lively markets, which are a hit with kids.
There's food, entertainment, and lots of opportunities for kids to learn about authentic Ibiza culture. While some operate year round, the majority of the markets take place in the summertime, so be sure to plan accordingly.
Punta Arabi is the oldest and biggest Hippy Market on the island. Over 500 artisans, designers, and craftsmen come to sell beautiful and unique creations here. They have live music and performances in the afternoon from 2-4 pm.
This market even has a kid's area, where the little ones can make flower crowns, create their own tees, and get their face painted.
Click here to book a half day excursion to the Hippy Markets.
Visit the Cap Blanc Aquarium
The Cap Blanc Aquarium is another of our choices for best place in Ibiza for families to visit. This is not your average aquarium.
In fact, the Cap Blanc Aquarium is located in a large natural cave, which used to operate as a storage tank for lobsters while fishermen waited to take them to market. Five openings in the rocks allow seawater to flow freely in and out of the cave, so it is the perfect temperature for the animals living inside.
These days, animals such as fish, octopus, rays, and more can all be found here living in their natural habitat. Plus, it has a sea turtle rehabilitation area, where sea turtles are nursed back to health before being released back into the wild.
Kids will have a blast getting up close and personal with the animals found in the ocean.
After spending an afternoon at the aquarium, head to the bar and terrace, where the kids can enjoy a pick-me-up snack while watching the waves roll by. The ferry that goes to and from San Antonio docks here as well.
Benirrás Beach and the Sunday Drummers
On Sunday, August 18, 1991, drummers and other musicians descended upon Benirrás Beach to protest the Gulf War. This day became known in history as The Day of the Drums.
Following this event, drummers began to descend to the beach in droves each evening, especially on the anniversary of the event. Unfortunately, the event became so overcrowded that local authorities had no other option but to ban the event from taking place.
Nonetheless, dedicated drummers still come down to the beach every Sunday to play the drums before sunset.
The picturesque beach also looks out over the rock formation of Cap Bernat, known to locals as the "Finger of God." It is truly a magical experience, but it is best to get there early on Sundays, as the beach may be very busy.
If you don't want to deal with the crowds, the beach is just as beautiful any other day of the week and there's still a chance you'll see some drummers as the sun starts to go down.
Explore Puig des Molins Necropolis
Located on a hill in the city of Ibiza, Puig des Molins is the oldest necropolis on the island of Ibiza. This is where to go in Ibiza for families interested in the history of the island and the past cultures that lived here.
There are over 3,000 tombs that date all the way back to the 7thcentury BC and the Phoenician times. Visitors are welcome to walk around the site and peer into the burial caverns, also known as hypogea, and even descend into one series of interlocking caverns within the hillside.
The museum is filled with ancient artifacts found in the burial chambers, including jewelry, mirrors, and even painted ostrich eggs. Additional exhibits document the Roman funeral rituals in Ibiza from the early Imperial period until late-Antiquity.
Visit the Can Marça Caves
Another of our fun things to do in Ibiza for families is to descend into the Can Marça Caves. This eerie series of caverns has stalagmites and stalactites that cast long shadows over the multi-colored lights that illuminate the path.
Smugglers originally used these caves to store contraband and you can still see the marks on the walls that they left to help them find their way and peek out at the ocean through holes in the cliff side.
At the end of the tour, enjoy a spectacular music and light show complete with a 30 ft. water cascade. It doesn't hurt that it's significantly cooler inside of the caves and a great way to take a break from the hot Ibiza sun.
Have Lunch at Cala Bonita
Located in a small private cove on Playa de s'Estanyol, Cala Bonita is one of our favourite family places in Ibiza for lunch. Long lazy lunches on the open-air terrace are the way to go here.
And, no need to worry about the kids getting bored. The restaurant offers games and, on Sundays, they have activities for children. Plus, since the beach is right in front of the restaurant, children can go play while parents keep a close eye over a glass of rosé.
This is also an excellent spot to take in a lovely Ibiza sunset, as the Mediterranean stretches as far as the eye can see.
Take a Jeep Safari Ibiza
The north of Ibiza is a much rougher terrain, much of it inaccessible by car or other traditional methods of transportation. A Jeep safari will allow you a glimpse of the more remote side of the island.
All-terrain Jeeps will pick you and your family up from where you are staying in the morning. The guides are multilingual and will educate you and your children about the history of the island, plus on the various types of flora and fauna that you come across throughout the excursion.
At times throughout the trip, the Jeep will stop so that you can get out, explore by foot, and take photographs. There is also a lunch break and lunch is included as part of the package with vegetarian options available. The day concludes with a refreshing swim at one of the remote northern beaches.
This tour is suitable for children ages 6 and up.
Click here to check prices and book a Jeep Safari in Ibiza.
Go Horseback Riding
Another of our favourite things to do with kids in Ibiza is to experience the secretive north side of the island by horseback. Ibiza Horse Valley is a horse rehabilitation program, which was created in 2010 to help save horses from abandonment or mistreatment. Rescued horses live on the sanctuary in a herd, much like how they would in their natural habitat.
Horse Valley offers half and full day riding tours, which go through the mountains and to the beach, respectively. Riders will get to enter the sanctuary and meet all of the horses, eventually choosing the one that they connect with and would like to ride on the tour.
Everyone, from beginners to more experienced riders ages 12 and up, is welcome to take part in this fun family-friendly activity in Ibiza.
Ibiza is so much more than a party destination. There are innumerable hidden coves, luxurious beaches, and great bites. That's not to mention the horseback riding, hippy markets, and sunset drum performances.
With fun family things to do in Ibiza like these, it will be easy to keep your kids entertained with fun, wholesome activities for an entire week – if not more!
The Best Family Hotels in Ibiza
Now you know what to do in Ibiza with kids, you need to find somewhere to stay! Here is our pick of the best family resorts in Ibiza.
Hard Rock Hotel Ibiza
Our top pick for a family hotel in Ibiza is the Hard Rock Hotel. This luxury Ibiza hotel is where celebrities and the well heeled come to party, but it is also kid friendly! The Roxity Kids Club is super fun with separate activities for teenagers, there are two swimming pools and loads of fun entertainment.
Add to this a beach with watersports, a good choice of restaurants (including one with 2 Michelin stars) and a rooftop sky lounge and you know you are in for a rocking good time at this Ibiza resort!
Click here to check prices for the Hard Rock Hotel Ibiza.
Grand Palladium Palace
There is something for everyone at this all-inclusive Ibiza family resort, with facilities galore. There are 4 swimming pools, including a kids pool, 7 tennis courts, a beach volleyball court, archery and 7 restaurants.
Another reason this is often voted amongst the best family resorts in Ibiza is the level of entertainment on offer. In addition to the kids club there is a comprehensive entertainment programme, including live music and nightly shows in the theatre. It is also close to the airport.
Click here to check prices for the Grand Palladium Palace.
Occidental Ibiza
This Ibiza hotel has modern and spacious rooms and plenty of facilities to keep the whole family entertained. This includes three swimming pools, a kids pool, playground, kids club for kids aged 4-12, separate teens club, multi-purpose sports court and beach volleyball. There is a buffet restaurant.
Click here to check prices for the Occidental Ibiza.
Grand Palladium White Island Resort & Spa
With 430 rooms, this is the largest all-inclusive resort in Ibiza. Located right on Playa d'en Bossa beach, this Ibiza hotel is ideally located for nightclubs, beach bars and lots of beach time. The resort boasts a large swimming pool with Jacuzzis, kids clubs, mini golf plus 4 restaurants and 6 bars.
Click here to check prices for the Grand Palladium White Island Resort & Spa.
Thank you to Samara for our Family Guide to Ibiza! Samara is a VA specializing in SEO and writing, living in Spain. When she's not chained to her desk working, she likes to explore the country with her boyfriend, their two kids and their dog. She blogs about everything from baby-led weaning to pregnancy gifts at www.tinyfry.com.
Pin it for Later!
Mum on the Move is a participant in the Amazon Services LLC Associates Program, an affiliate advertising program designed to provide a means for sites to earn advertising fees by advertising and linking to Amazon.com
This post contains affiliate links. If you make a booking or purchase using one of these links, we may receive a small commission – at absolutely no extra cost to you.