Visiting the Cu Chi Tunnels is a fascinating glimpse into life during the Vietnam War.
The Cu Chi Tunnels in Vietnam are a major tourist attraction in Saigon. Visiting the Cu Chi Tunnels gives you a fascinating glimpse into the underground life of the Viet Cong soldiers during the Vietnam War.
It is a really interesting and educational day out and definitely an experience to add to your Vietnam itinerary.
The network of connecting underground tunnels at Cu Chi were one of the Viet Cong's most important defensive weapons against the American forces, and served as their base of operations during their surprise attacks of the 1968 Tet Offensive.
The Cu Chi Tunnels were not just for hiding in or using as supply routes – they housed entire villages, including hospitals, food and weapon storage rooms, kitchens, living quarters and command centres, with several layers of tunnels descending deep into the earth.
We visited the Cu Chi Tunnels with tour company Les Rives, and travelled to Cu Chi by luxury speedboat instead of the usual bus trip. This was definitely a more enjoyable experience – watching life unfold on the Saigon River and arriving in just 1 hour and 15 minutes.
I actually visited the Cu Chi Tunnels without my kids, but if you are traveling with kids, I would definitely recommend taking the speedboat option. Quick and fun – everyone's a winner!
There were just 15 people on our speedboat, with three boats traveling in convoy.
Our guides Tam and Mark were not only hugely knowledgeable but looked after us so well – serving us Vietnamese coffee, fruit and breakfast as soon as we got on the boat, and ensuring everyone was comfortable along the way. There was even WIFI on the boat.
We took the morning tour with Les Rives, leaving our hotel in Ho Chi Minh City at around 7am.
Although there were a few private minibuses and cars arriving at the Cu Chi Tunnels at the same time as us, traveling by boat meant we also managed to beat the majority of tourist buses, so the tunnels were relatively quiet when we arrived. As we were leaving the tunnels, the buses were arriving, along with the huge tour groups.
The first item on the agenda upon arriving at the tunnels was to watch an introductory video and presentation.
Although hugely propogandic in nature (all about the 'evil' Americans attacking the 'innocent' peasants working in the fields) it was an interesting scene-setter and gave us an understanding into how the tunnels were built.
From here we headed into the jungle to check out the tunnels.
Our first stop was to check out the trap doors – these ingenious 'peep holes' emerging from the tunnel network are completely undetectable when covered with leaves, and you can imagine how terrifying it must have been for the American soldiers to know one could open up at any time with an armed Viet Cong soldier inside.
In fact, being here at the Cu Chi Tunnels really does make you consider what life must have been like for the soldiers on both sides during the Vietnam War.
Navigating the jungle in the heat and humidity with the sounds of the guns from the firing range (more on that later), it is easy to let your imagination run wild, imagining the soldiers in their full combat gear, not knowing who or what was around the next corner.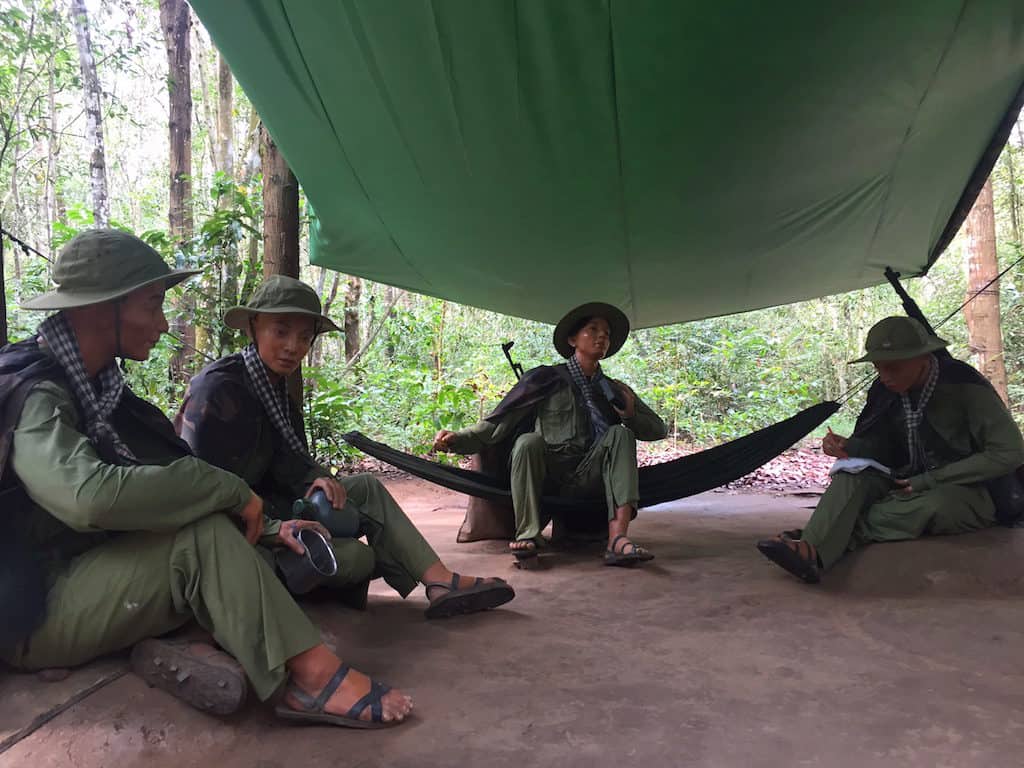 It also instills in you an immense respect for the tenacious fighting spirit, ingenuity and adaptability of the guerrilla fighters who fought alongside the Viet Cong soldiers.
We had a go at descending into the trap door and got to see not only how pitch black it is once you are inside with the door shut, but also how confined a space it is.
Next up, we got to climb aboard an American tank that had been disabled by the Viet Cong and then inspect some of the more brutal looking booby traps used by them – lots of sharp spikes and torturous devices!
The next stop on the tour is the most controversial – the firing range. Here you can get up close and personal with a range of weapons, including the infamous AK-47 and M-16 and M-30 machine guns. If you are visiting the Cu Chi Tunnels with kids, they obviously won't be able to partake as you need to be 18 years old to enter the firing range.
Had my kids been with me, I would have avoided this area altogether, but as I was on my own, I decided to have a go at firing an M-30 machine gun – because when else would you ever have the chance to fire a machine gun?
Bullets cost around $2 USD per bullet, and you need to buy a minimum of 10 bullets. With a machine gun, this $20 experience lasts approximately 1 second…
The grand finale of the tour is the chance to crawl through the tunnels. The length available to tour groups is just 100 metres, with the opportunity to emerge after each 20 metres.
Note that the tunnels have been enlarged to make them safer for tourists, and they also now feature some low-level lighting. Sounds pretty simple, right?
I'm embarrassed to say, that I lasted approximately 5 meters before I had to turn around and go back the way I came. It is incredibly claustrophobic in there.
This is one area where I think my kids would probably have been fine! Out of our tour group of 15, only two people made the entire 100 metres, with most giving up after the first 20 metres. Makes you appreciate those who lived and worked in these tunnels even more.
Upon emerging from the tunnels, we finished our tour with a delicious Vietnamese lunch by the river, before jumping aboard our speedboat and heading back towards Ho Chi Minh City.
Because of the adult themes of war and the brutality of some of the lessons learned here, I probably wouldn't recommend this tour for younger kids and I was pleased to be able to visit without my kids (aged 5 and 3). However, for children around age 8 and above, I think this would serve as an amazing experiential history lesson.
Click here to book the Les Rives speedboat tour to Cu Chi Tunnels.
You can also visit the Les Rives website here for further information of their Cu Chi Tunnels tour.
Pin it for Later!
Mum on the Move were guests of Les Rives for this Cu Chi Tunnels tour. This in no way affected my review, and as always all opinions are honest and my own.
This post contains affiliate links. If you make a booking or purchase using one of these links, we may receive a small commission – at absolutely no extra cost to you.