Mount Kinabalu is one of the most famous tourist attractions in Borneo, and at 4,096m in height, it is Malaysia's tallest mountain. Climbing Mount Kinabalu is one of Borneo's most popular tours, but for us – with a 3 year old and 5 year old in tow – this wasn't really an option.
Instead we opted to explore Kinabalu Park – the 754 square kilometer park that surrounds Mount Kinabalu. Named as Malaysia's first World UNESCO Heritage site, Kinabalu Park is home to more than 5,000 plant species and 90 lowland mammal species.
If you are visiting Kota Kinabalu with kids then a day trip to Kinabalu Park will definitely feel like a bit of an adventure. It's a good 90-minute drive from Kota Kinabalu, but we enjoyed the views of the mountain as we approached, and were rewarded with fabulous views of the mountain peak when we stopped to stretch our legs and visit the Nabalu handicraft market on the way.
On arrival at Kinabalu National Park, we set off for a hike along one of the many nature trails, and took some time to explore the Botanical Gardens – keeping a look out for any of the 289 species of bird and 290 different types of butterfly supported by the park. The kids loved the sense of adventure of exploring the rugged trails and staring up into the massive towering trees.
After lunch, we set off for the nearby Poring Hot Springs, 40km away from Kinabalu Park. For us the highlight of the Poring Hot Springs was the Canopy Walkway – the highest canopy walkway in Sabah at over 40 metres high – roughly the height of an 8-storey building. So not for anyone who suffers from vertigo – although both my 3-year old and 5-year old ran across the series of bridges without a care in the world!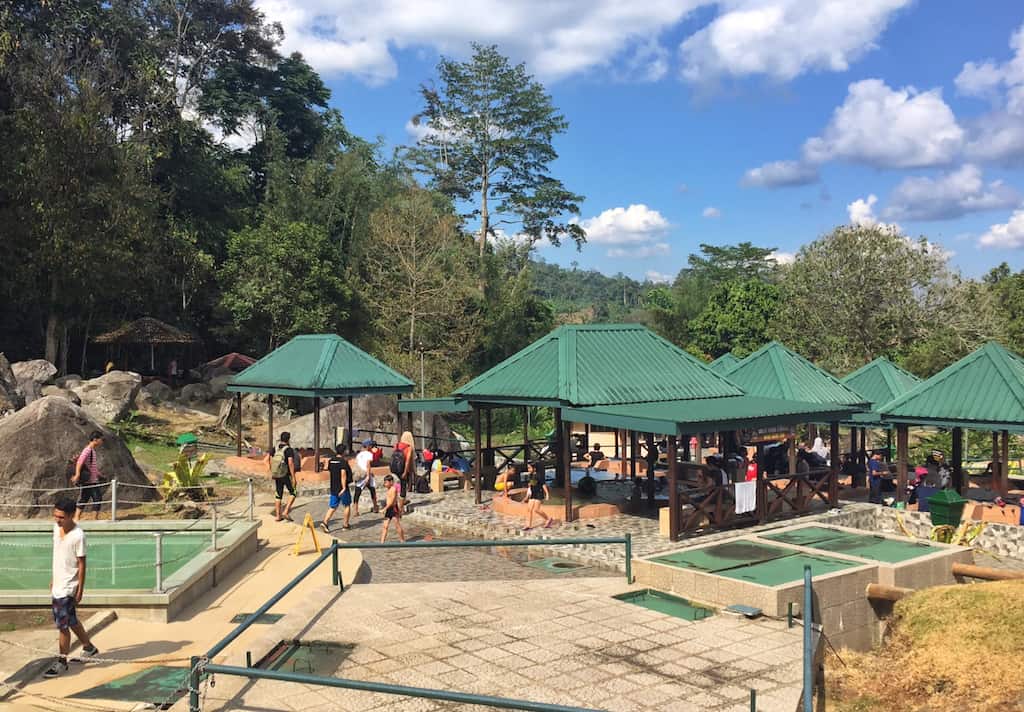 I'll be honest – the actual hot springs were the only disappointing aspect of the day. If you're imagining natural hot pools in idyllic surroundings, then think again. Instead imagine lots of concrete tubs and lots of people crowding around them, with a lingering smell of sulphur in the air. There was a nice looking swimming pool, and a couple of fun looking water slides, but we instead opted to buy an ice-cream to cool down and went off in search of the famous Rafflesia flower.
The Rafflesia is the world's largest flower – growing up to over one metre in diameter, and is also one of the rarest and on the verge of extinction. The Rafflesia Keithii takes six to nine months for the flower bud to open and then only lasts two to three days, so we felt very privileged indeed to see one of these magnificent plants in bloom, in a private garden next door to Poring Hot Springs.
Pin it for Later!
Mum on the Move were guests of Amazing Borneo for the tour. This did not influence my review in any way, and all opinions expressed are honest, and my own.