Here we explore all the best things to do in Queenstown with kids – whether you are visiting with a toddler or older kids, we've got you covered with loads of fun activities here.
Queenstown, New Zealand is the adventure capital of the world. It's where adrenaline junkies gather to bungy jump, skydive, jetboat, paraglide, zorb and ski… none of which you can do in Queenstown with small kids.
When you're watching the world's thrill seekers having the crazy time of their lives around you, it can be frustrating to discover that you don't even qualify for 'funyaking' (ages 3 and older only, sorry).
But if you do have a toddler in tow, don't let that put you off coming to this most picturesque of towns, with its cinematic backdrops of mountains and lakes.
Scratch under Queenstown's adrenaline-seeking surface, and you will find plenty of things to do in Queenstown for kids, even those aged under-3.
I found information on what to do in Queenstown with toddlers sorely lacking when researching my trip, so our list of all the best things to do in Queenstown with kids also includes many activities suitable for younger kids and toddlers in Queenstown.
Note: this post contains some affiliate links. If you make a booking using one of our links, we may receive a small commission – at absolutely no extra cost to you.
Enjoy a Lake Cruise & Farm Tour
Lake Wakatipu, surrounded by soaring mountains, is the centerpiece of scenic Queenstown, and the best way to appreciate its beauty is from the water.
You can't take a toddler on a jetboat, so if you are in Queenstown with kids under 3, opt instead for a more sedate cruise aboard the iconic steamship the TSS Earnslaw, one of the best Queenstown kids activities.
Hop off the boat at the far end of the lake to visit Walter Peak High Country Farm, to watch the sheep shearing and sheep dog demonstration, pet a sheep and partake in a barbecue lunch or afternoon tea. Speak nicely to the waitresses, and they'll donate yesterday's leftover scones for feeding the ducks.
Click here to book tickets for the TSS Earnslaw and Walter Peak Farm.
Ride the Skyline Gondola and Luge
You may not be able to skydive with a toddler, but you can ride the Skyline Gondola, the steepest cable car lift in the Southern Hemisphere.
It's not quite as thrilling as throwing yourself out of a plane, but you can still enjoy some of the best views in the region, as the Gondola carries you 450 metres above Queenstown and Lake Wakatipu to the top of Bob's Peak.
Once at the top, you can jump on a chair lift and zoom down the 800m-long Luge track – suitable for all ages, and almost counts as an adventure sport. Kids aged under 6 and 110cm tall can ride with an adult.
The Queenstown Luge is definitely one of the most fun Queenstown family activities.
Click here to book tickets for the Skyline Gondola and Luge.
Visit the Central Otago Wineries
The Central Otago wine region produces some of the world's best Pinot Noir, and if you can't spend the day paragliding, then sampling some of this fabulous red wine is the next best thing.
There are more than a hundred wineries within an hour's drive from Queenstown, and while the wineries weren't quite as child-friendly as those in Australia's Margaret River, we still survived without any complaints from either the winemakers or our children.
If you are a wine lover and looking for what to do in Queenstown with kids, you will be pleased to hear that we found plenty of family friendly wineries in Central Otago.
Some of our favourites were the Wooing Tree, with its slide and sandpit, Carrick with its toy box and kids menu, and Chard Farm with its big lawn for the kids to run around on.
We also found plenty of family-friendly wineries in Marlborough, if you are venturing further North.
Want someone else to do the driving so you can do the drinking? Click here to book a bespoke wine tour and enjoy!
Explore Wanaka
If you're looking for things to do near Queenstown, Wanaka is about an hour's drive out of town. Wanaka is Queenstown's smaller, sleepier cousin, with its own pristine alpine lake and mountain vistas to be proud of.
If you are visiting Queenstown with kids, be sure to pack a picnic and choose from a selection of buggy-friendly walks that follow Lake Wanaka's shore, or just kick back on the beach and take in the views.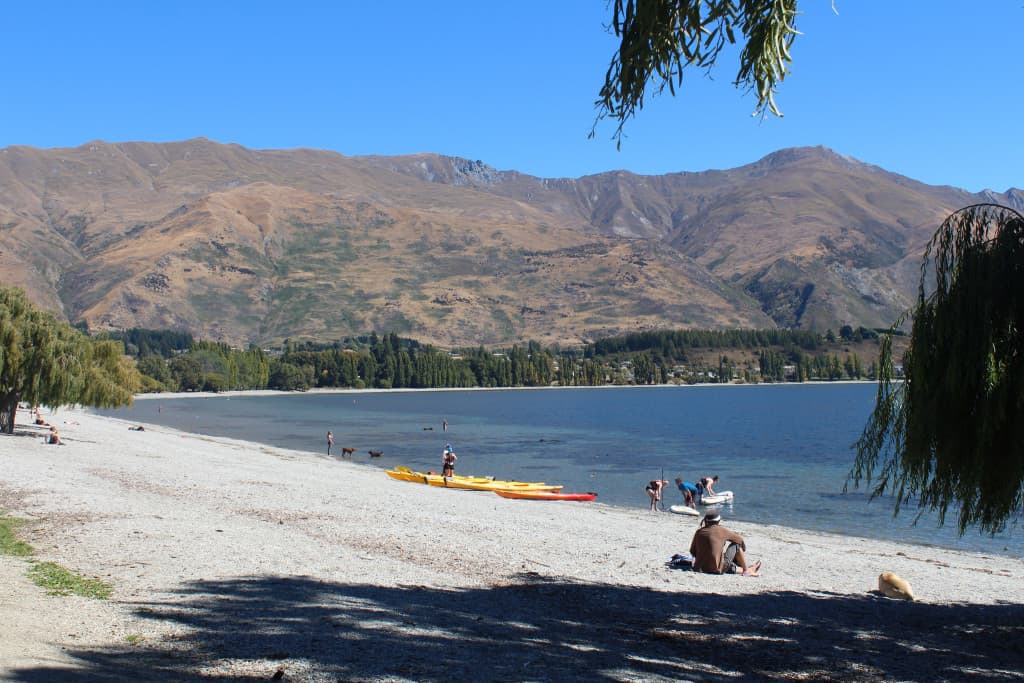 Just outside of town, you will find Stuart Landsborough's Puzzling World, a unique family-friendly tourist attraction brimming with weirdness and eccentricity.
The Great Maze is a bit beyond your average two year old, but my two kids had a blast in the illusion rooms, and checking out the Roman toilets.
Click here to buy tickets to Puzzling World.
Walk the Frankton Arm Walk
You may not be able to 'tramp' the Grand Traverse with a toddler in tow, but you can certainly enjoy a scenic stroll around Queenstown with kids.
The Frankton Walkway begins at the Queenstown Gardens, and follows the Frankton Arm of Lake Wakatipu, hugging the lakeside and boasting spectacular views of the Remarkables Mountain Range across the water.
The walk will take you about an hour and half in each direction, and is buggy-friendly the whole way.
Hit the Queenstown Ski Slopes
If you are visit Queenstown with kids in the winter, then of course you have to hit the slopes for some fun in the snow. Coronet Peak is just a 20-minute drive from Queenstown and The Remarkables ski field is less than an hour away. Other options are Cardrona and Treble Cone.
Queenstown offers one of the longest ski seasons in the Southern Hemisphere, with skiers and snowboarders welcomed from June to October.
Hit the slopes, take a ski lesson, or just have some fun building snowmen and throwing snowballs. Ski lessons are on offer for kids aged 4 and above at both the Remarkables and Coronet Peak.
Click here to read our full guide to skiing in Queenstown with kids.
Meet the Kiwis
You are probably unlikely to come across a kiwi in the wild these days, but you will get to the meet them at the Kiwi Birdlife Park, which is also home to over 20 other native species of wildlife.
This family-run bird park is located in the heart of Queenstown on 5 acres of native bush as offers the best opportunity to come face to face with New Zealand's most famous resident.
Take your own self-guided audio tour to discover all the animals and watch the Kiwi Encounters and Conservation Shows to learn more about the resident wildlife.
Click here to buy tickets online to the Kiwi Birdlife Park.
Explore Queenstown Gardens
Pack a picnic and buy a Frisbee and head to the Queenstown Gardens for an afternoon of fun and relaxation. Located just a few minutes walk from central Queenstown, there is loads of space to run around here and soak in the views.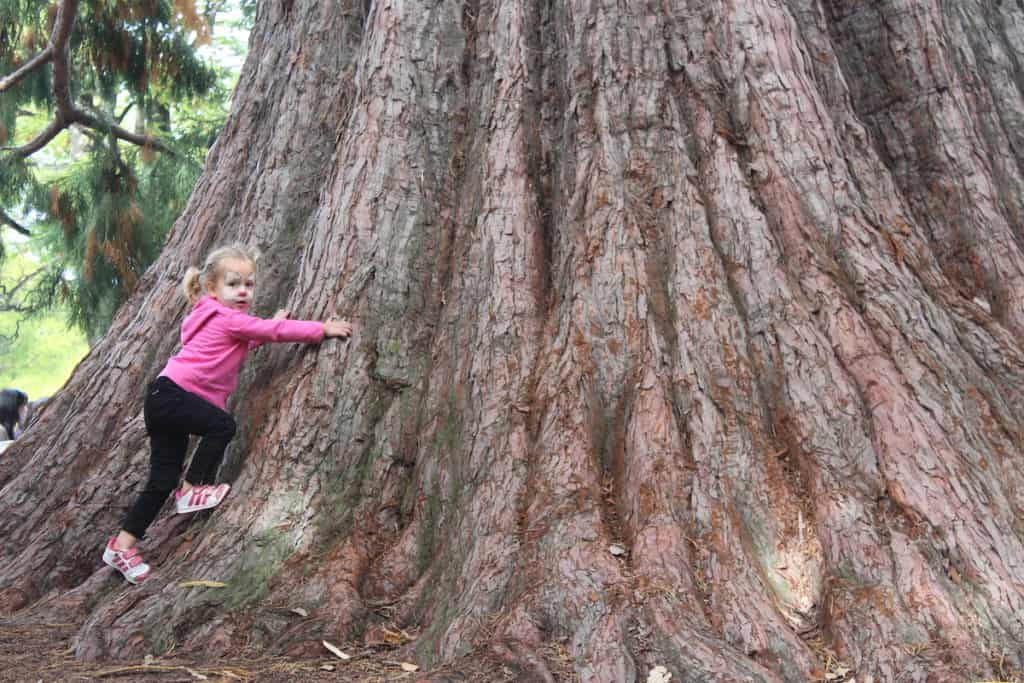 Uniquely, Queenstown has a 18-hole disc golf course, where you can have fun with the family tossing your Frisbee into the nets. There's also a fantastic kids playground and skate park.
Also within the Queenstown Gardens is the Queenstown Ice Arena, with ice skating and ice bumper cars on offer.
Ride the Shotover Jet Boat
Queenstown's most famous boat ride is also the most fun. The Shotover jet boat is a thrilling high-speed journey through dramatic and narrow canyons.
The ride includes fast paced fishtailing and 360 degree turns, so not for the feint hearted! Lots of fun guaranteed!
Children aged 3 and over are allowed to ride the jet boat, provided they are over 1 metre tall. 3 and 4 year-olds travel for free (but must meet the minimum height requirements).
Click here to book the Shotover Jet Boat.
Brave the Shotover Canyon Swing
One for the older kids (minimum age is 10 years old) and the very brave…. The Shotover Canyon Swing is as daring as it gets. With 60 metres of freefall, the Canyon Swing is the world's highest cliff jump.
Unlike a bungee jump, once you finish your freefall, you make a smooth transition into a swing over the canyon. The whole thing is over in around 2 minutes – after you sum up the courage to actually jump that is.
Jumpers can choose to jump solo or in tandem with a friend (or parent). Are you brave enough?
Click here to book the Shotover Canyon Swing.
Zip Line through the Trees
Located at the top of Bob's Peak (near the upper Gondola station), ZipTrek Eco-Tours will have you zipping from tree to tree high above Queenstown, with stunning views over Lake Wakatipu.
The Moa Tour is best suited for families, with its 4 zip lines taking around
1.5 to 2 hours. Kids aged 6 and up can take part in zip lining.
Click here to book ZipTrek EcoTour ziplining.
Visit Milford Sound
Taking a trip out to Milford Sound is one of the most popular things to do in Queenstown, whether you are traveling with kids or not.
This remote alpine fiord is renowned for its incredible beauty and stunning scenery. Getting here is half the fun, with either a scenic bus ride or small plane flight. Once there you can take a cruise to enjoy the fiord in all its glory.
There are several ways to do a day trip to Milford Sound, but a popular choice with families is the fly-cruise-fly option, as it is quick and exciting and means you don't have to endure the 4-5 hour bus journey each way.
It is also possible to buy packages where you fly there and take the bus to get back.
Click here to book a Milford Sound day trip from Queenstown.
Have you visited Queenstown with Kids? What were your favourite Queenstown family activities?
Pin it for Later!