Tucked away in the jungle on the slopes of the Menoreh mountains in Central Java is a very special luxurious private retreat called Villa Borobudur, a member of Small Luxury Hotels of the World.
Reflecting the rich culture of Central Java, the six individually designed villas all boast stunning views over the surrounding valley, including the famous Borobudur Temple and Mount Merapi volcano.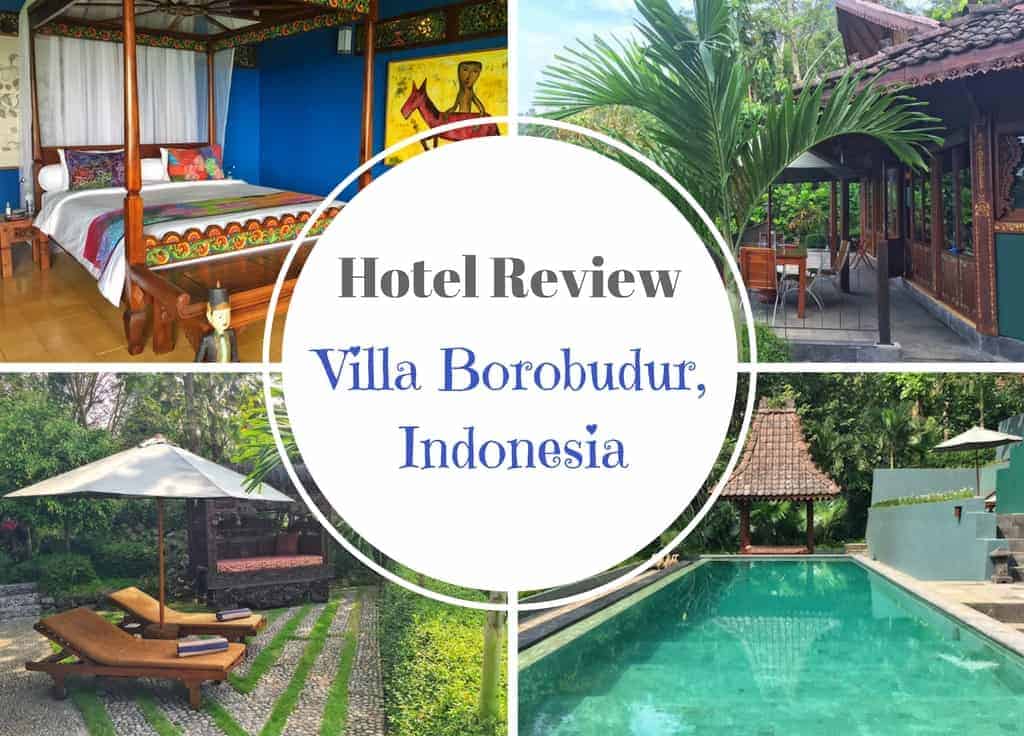 Each hand-carved teak wooden 'joglo' (traditional Javanese house) is decorated with locally produced furniture and artwork, but still caters for the modern traveller within us all, featuring mod-cons such as WiFi and ipod docks.
Guests at Villa Borobudur are extremely well looked after, with each villa overseen by its own team of staff, who are on hands at all times to cater to your every need – home cooked meals, excursions to the surrounding area, gin and tonics at sunset…
Bedtime at Villa Borobudur
The six villas within the Borobudur complex all boast their own individual design and character. The villas range in size from the one-bedroom Villa Diponegoro, to the five-bedroom Villa Borobudur, with 2, 3 and 4 bedroom villas all available for private hire. You can also book an individual suite within the 5-bedroom Villa Borobudur.
Our home for our 3-night stay was the stunning Villa Diponegoro, named after Prince Diponegoro, a famous 19th century Indonesian war hero. It is widely believed that when Prince Diponegoro went into exile, he used to rest, pray and meditate on the large rocks close to where Villa Diponegoro now stands.
The huge 140 square metre villa was amazingly intricate in its traditional Javanese design – from the exquisite carved wooden details on its vaulted roof, to the local artwork hanging on the walls and Javanese artefacts scattered throughout the villa.
A four-poster king bed took centrestage in the bedroom, decked out in flowing mosquito nets, and overlooked by colourful artwork of Prince Diponegoro, commissioned by local artists.
A living area with a sofa, armchairs and coffee table was positioned by the doors, which opened out onto the terrace, affording stunning views over the valley.
There was a large dining table for indoor dining (we chose to eat on the terrace every evening) and a beautiful Javanese wedding bed, which my 5-year old daughter was delighted to claim as her own, complete with intricate carving and mosquito nets. As we were visiting with two kids, they had also provided another single four-poster bed.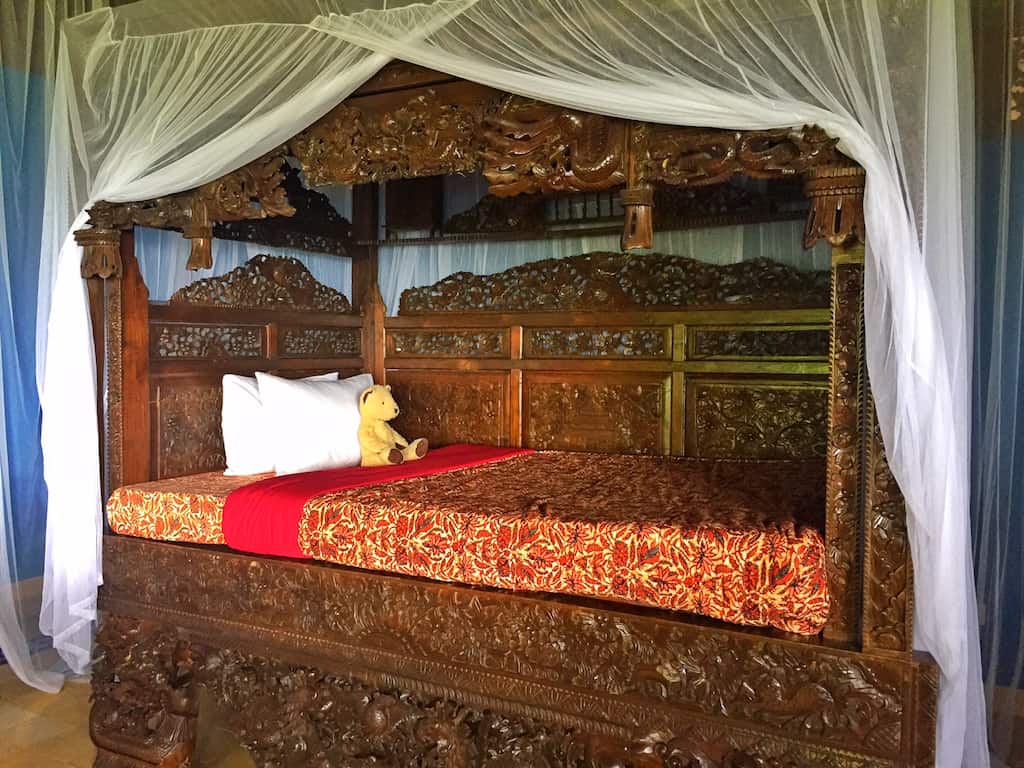 We loved the bright blue walls and the brightly coloured details on the wooden pillars throughout the villa, giving a cheerful and festive feel to the room, while the local artefacts where an endless source of delight to the kids – particularly the large tiger statues, around which they invented many games.
While the villa has been designed to be open, a huge stone relief depicting Prince Diponegoro in the Menoreh mountains by renowned Javanese artist Cipto Purnomo provided privacy between the bathroom and living areas.
The bathroom was huge – with double sinks, and huge amounts of storage, including a walk-in wardrobe. But the biggest surprise was the shower – with its dragon-shaped showerhead!
The outdoor area was equally spacious – with a dining terrace overlooking a large 11 x 3.5m private pool, both with views over the valley. A garden features sunloungers and another beautiful Javanese wedding bed – the ideal spot for an afternoon snooze or in-villa massage, which can be arranged by your team.
Although the villa was traditional in design, it certainly wasn't lacking mod-cons or amenities. Free WiFi is available throughout your stay, there is an iPod dock, air conditioning, hairdryer, tea and coffee making facilities, and a DVD player and TV for watching movies.
There are also bathrobes and slippers – and even ear plugs by the bed to shelter you from the early morning call to prayer from the local mosques, and the sounds of the jungle that surround you.
Another thing to love about Villa Borobudur is its three 'guiding principles'. These are to promote the rich culture of Java; to support the local communities; and to preserve the natural environment.
In support of the local communities, all design and construction of the villas has been done with people from the neighbouring villages, all employees are recruited from the surrounding communities and all artwork and artefacts are sourced and commissioned locally.
In preserving the natural environment, Villa Borobudur have been careful only to cultivate the gardens directly around the villas, leaving the rest to nature. They also planted over 15,000 trees, bushes and flowers during the construction process.
Bearing in mind therefore that you are in a relatively untouched forest in Southeast Asia, you may need to prepare yourself to share your villa with some of the local residents – we had a rather large spider in our toilet (dealt with very swiftly by the staff when I hollered for help), a frog in the bathroom, a cricket on the bed, and various geckos keeping us company throughout the night!
Dinnertime at Villa Borobudur
All meals at Villa Borobudur are served in your villa. We enjoyed all our meals on our private terrace overlooking the valley, with the exception of our first evening when we were invited up to the five-bedroom Villa Borobudur to enjoy some traditional Javanese music with dinner.
All meals were freshly prepared by the chef at a time to suit us, with the majority of ingredients sourced from Villa Borobudur's own organic gardens – they even have their own fish pond and rice fields. The menu changed daily and was a great introduction to Javanese cuisine.
The menu is exclusively Indonesian cuisine (with the exception of breakfast where we enjoyed fruit platters, eggs and toast). However, if you have any dietary requirements you can let them know beforehand. They were also hugely accommodating to our on-the-spot requests – and even provided chicken nuggets and chips for the kids in the evening!
Before our visit, we had pre-selected our drinks for the mini bar, and every evening we ordered gin & tonics to be delivered to our villa for pre-dinner drinks. There is also a full drinks list of cocktails and spirits, and a small wine list available.
When you book a private villa at Villa Borobudur, you get the Java Inclusive rate – a rate which includes all meals, snacks, non-alcoholic beverages, transfers to and from Yogyakarta airport, a daytime visit to Borobudur Temple and laundry. If you book a suite within the five-bedroom Villa Borobudur, you can choose to opt for the Java Inclusive rate, or for a bed and breakfast rate, with a la carte meals.
In the 'hood
Our main reason for visiting Villa Borobudur (as I'm sure is the case with most guests) is to visit the 9th Century Borobudur Temple – the world's largest Buddhist temple. The temple is just a 10-minute drive from Villa Borobudur, making this the ideal place to stay if you want to do the Sunrise Tour of Borobudur.
We hadn't really considered activities beyond visiting Borobudur Temple when we booked our trip, but luckily Villa Borobudur had a folder full of activity suggestions, all of which were easily and happily arranged for us by our guide/driver Nurkholis.
I really have to give a special shout-out to Nurkholis, who met us on our arrival at Yogyakarta airport with a welcoming smile, and looked after us throughout our stay at Villa Borobudur. He organized all our activities with a quiet efficiency, accompanied us on all our outings and never once looked put out – even when we suggested we get up at 4am to experience sunrise at Borobudur or told him that we had to leave for the airport the following morning at 6am.
Our first adventure was to hire an 'andong' (horse and cart) to visit the nearby local villages, which the kids loved! We called in at a pottery making village, where we tried our hand at making pottery the 'old-fashioned' way, trotted through the countryside and called in at a batik factory to learn the craft.
Another fun adventure was a jeep safari on Mount Merapi – Indonesia's most active volcano, which last erupted in 2010. This fun and bumpy ride took us past the lava fields and destroyed villages and included a visit to a small museum with mementoes of the last eruption.
We also enjoyed a short hike from Villa Borobudur, up into the mountains overlooking the villas, led of course by our trusty guide Nurkholis, while the kids played at the villa under the watchful eye of one of the Villa Borobudur team.
Conclusion
Villa Borobudur is a very special place indeed. For us city folk, it was amazing to be forced to slow down our pace of life and just relax and enjoy our beautiful surroundings, while experiencing royal treatment.
We loved the Javanese design of the villas, and we left Villa Borobudur feeling like we were leaving our Central Javanese home. We were so thoroughly well looked after by the staff, and loved that we had our own 'team' and nothing ever seemed too much trouble. As soon as we mentioned we wanted to do something – it was organized.
And if you don't believe me that Villa Borobudur is a unique and special place, then I should tell you that the Queen of Denmark chose it as her base when she visited Borobudur in May 2016, so it even has a real royal stamp of approval!
Click here to learn more about Villa Borobudur on their website.
Pin it for Later!
Note: Mum on the Move were guests of Villa Borobudur during our stay. This in no way affected my review, and all views are honest, and my own.