Our free things to do in London with kids suggestions will help you have the best London family vacation without breaking the bank.
London isn't known for being a cheap destination. In fact, it might just be one of the most expensive places to visit in the world. Luckily, there is no shortage of amazing free things to do in London with kids.
So if you are looking for family fun in London on a budget, we are here to help! From museums to parks and child friendly walks, here we discover some of the best free activities for kids in London.
This guest post was written by Lotte from Phenomenal Globe Travel Blog. Lotte has both lived in London and visited several times as a tourist, and it is her favourite city in the world! So she is in a great position to share with us all the best things to do in London with kids for free.
You may also like our article: Fun things to do in London with Kids.
The Best Free Things to do with Kids In London
This article will explore in detail all the following London attractions for kids:
Explore one of London's many museums
Take a trip to Greenwich
Stroll along the South Bank of the Thames
Watch changing the guard at Horse Guards Parade
Discover Neal's Yard in Covent Garden
Visit Harrods and Hamleys
Eat your way around Borough Market
Enjoy the view from the Sky Garden
Walk around colorful Camden
Climb up Primrose Hill
Have a picnic in one of London's amazing parks
Explore One of the Many London Museums for Kids
First of all, all public museums are free in London! And there are a lot of museums… I did my best to visit as many as I could (not nearly all!).
Here I share with you my top 3, all of which make fantastic free days out in London for families.
Museum of London
National History Museum
Tate Modern
The Museum of London
To get to know London you must visit the Museum of London!
This free London family attraction is fun for all ages. Older kids will learn about the history of the city, while younger kids will love the recreated street with historic wooden houses and shops.
Click here to visit the Museum of London website.
The National History Museum
This free attraction in London is very popular with families and with good reason. The interactive displays are both fun and educational.
I particularly love the Human Body exhibits and the Dinosaur exhibit has been a favourite with kids for generations. Also, don't forget to check out the impressive Grand Sequoia!
Click here to visit the Natural History Museum website.
The Tate Modern
The Tate Modern is a must visit if you're looking for free things to do in London with children. You don't necessarily have to visit for the beautiful modern art, but the Tate Building itself (formerly the Bankside Power Station) is huge and will surely impress your children.
Click here to visit the Tate Modern website.
Visit Greenwich
Greenwich is quite possibly my favourite place in London and a perfect place to visit with your family. It feels like a little village, but can easily be reached from London city centre by DLR or by riverboat.
I recommend starting your trip at the Island Gardens (DLR station). From the Gardens you'll have a great view over Greenwich. If your kids are not claustrophobic, they will love the foot-tunnel below the Thames, leading from the Island Gardens to Greenwich.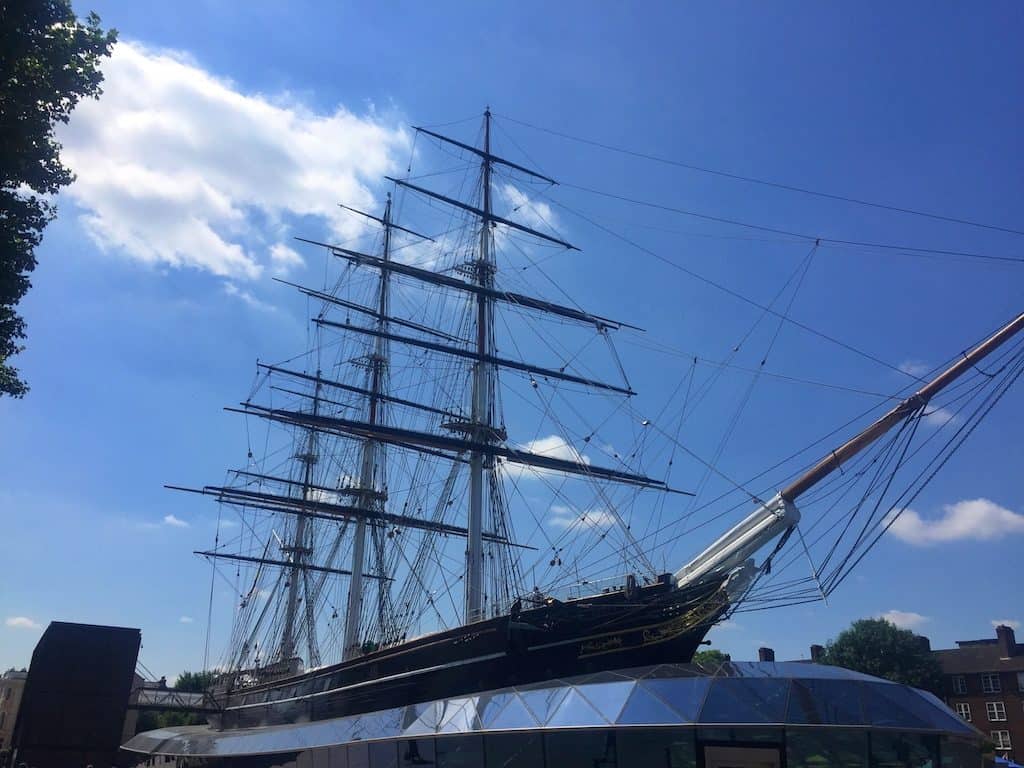 The first thing you'll see upon arriving in Greenwich is the Cutty Sark, a tea clipper that sailed from England to China in the maritime glory days of England, a feat that will definitely impress your children.
Note: if you want to enter the Cutty Sark you have to buy tickets, but you can admire the ship from the outside for free.
Click here to buy tickets for the Cutty Sark.
The Old Royal Naval College and the Maritime Museum are perfect for educational places to visit in London with kids. Here you can learn more about England as a naval nation.
The Maritime Museum in Greenwich is free to enter and has a children's gallery plus lots of interactive activities on offer.
The Old Royal Naval College is home to the UK's answer to the Sistine Chapel, the Painted Hall. You do have to buy tickets to enter the Painted Hall BUT.. kids are free AND if you visit on a Wednesday and show a lottery ticket, you can enter for free too! Otherwise Wednesdays are "pay as you wish" to enter.
Click here to buy tickets for the Painted Hall. (Pay as you wish Wednesdays is walk-in only).
With your entrance ticket you also get access to free kids activities and the Victorian skittle alley, which is fun for kids.
If your kids are hungry, be sure to visit the nearby Greenwich Market. You'll find all kinds of delicious international street food, ranging from Ethiopian food to Latin American empanadas and Italian arrancini.
Once everyone has filled their tummy with plenty of snacks, climb up to the Royal Observatory of Greenwich. This is home to the Prime Meridian, the point where east meets west at longtitude 0 degrees and where Greenwich Meant Time gets its name.
Note: To enter the Observatory and stand astride the Prime Meridian line, you do need to buy tickets.
You can click here to buy tickets for the Observatory.
However admiring the view from here over Greenwich, the Thames and Canary Wharf is still one of our favourite free activities in London. There is a large park here to run around in and climb trees too.
If your budget will allow, I suggest taking the riverboat back to the city; it's a lovely trip up the Thames.
Click here to buy river boat tickets.
Stroll Along the South Bank of the Thames
Walking along the Thames is a wonderful way to explore London and another of our top free things for kids in London.
I recommend starting at St. Thomas Hospital, where you can get the best coconut milkshakes in the world at AMT Coffee and have a beautiful view of the Houses of Parliament and Big Ben.
From here you can walk all the way along the South Bank to London Bridge (if your kids are up for it, otherwise you can do a shorter section as well).
Along the way you'll pass the London Eye (there is a really good playground just behind it), Shakespeare's Globe, the Tate Modern (free) and several very old pubs. Plus, you'll have an excellent view of the opposite side of the river, where a lot of impressive buildings can be seen.
You will often find street artists and entertainment along the way too.
You'll eventually come to London Bridge, where you must visit Borough Market (read more below).
If your kids aren't tired from all the walking, you can continue along the South Bank and walk from London Bridge to the famous Tower Bridge. Across the Thames you'll see the Tower of London, another great family activity in London… but sadly not free.
Click here to book tickets for the Tower of London.
Watch Changing the Guard at Horse Guards Parade
A lot of people head to Buckingham Palace to watch the changing of the guard. However, my personal favourite is to head to Horse Guards Parade, where it is less crowded and you can get closer to the action.
The Queens Guard leaves the Hyde Park Barracks every morning at 10.28am (9.28 on Sundays) and make their way to Horse Guards Parade where they take over guard duties for the next 24 hours. This ceremony takes place at 11am every morning (10am on Sundays) and is one of my favourite free things in London.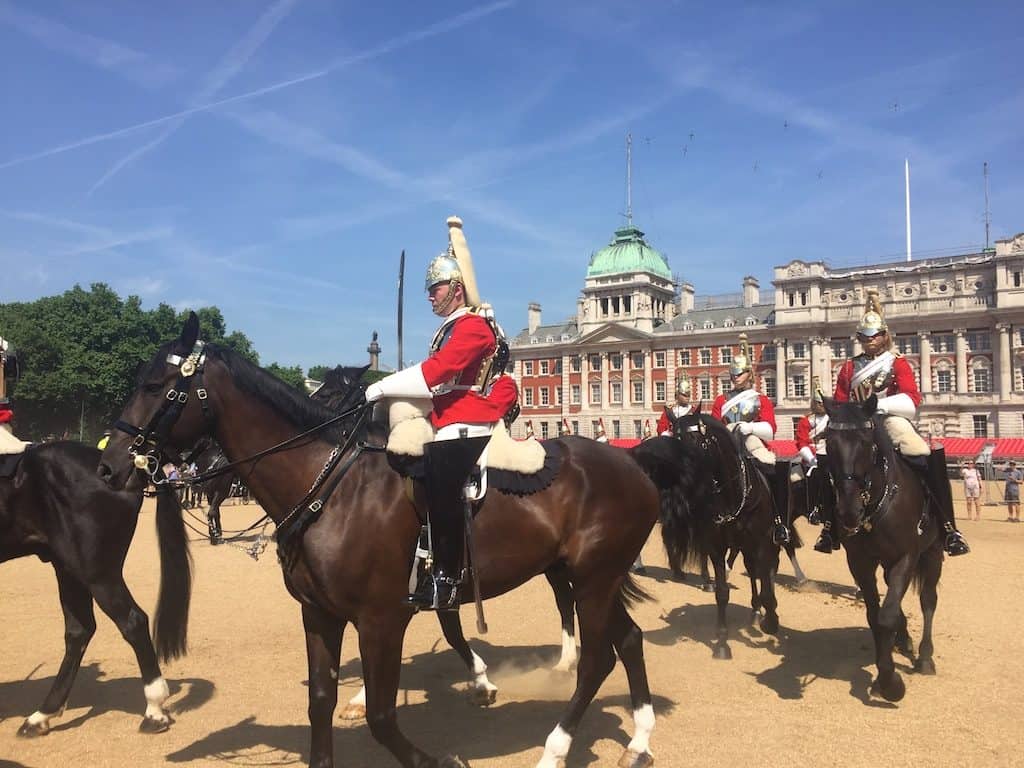 The Life Guards have stood guard at Horse Guards Parade since 1660 and the ceremony for the changing of the guard remains virtually unchanged since then, so it is a really cool piece of history to watch!
After the parade you can take the kids to the entrance on Whitehall for a photo with a mounted guard.
Discover Neal's Yard In Covent Garden
Neal's Yard is a cute as a button tiny courtyard, hidden in between the lovely streets of Covent Garden. Neal's Yard was developed by Thomas Neale in the 17th century and is home to colourful houses and little shops selling all kinds of organic food.
Your children will love it; it's one of the cutest places I've ever visited and a great place to escape the crowded streets of London city centre.
Visit Harrods and Hamleys
Harrods
Harrods is a must do when it comes to kids activities in London.
Your kids will love the beautiful Egyptian Escalator and of course the extensive toy department. Also visit the deli section, where your children will face the impossible choice between delicious looking sandwiches, candy, cookies and chocolates.
Harrods may be one of the most expensive stores in the world, but you don't have to buy anything; just visiting the store is an experience in itself! You can easily spend hours admiring the countless number of expensive items on display without spending a penny yourself.
Hamleys
Another famous store, and a really popular place to visit in London with kids, is Hamleys, the toy store.
Hamleys was founded in 1760, making it the oldest toy shop in the world! It's flagship store at No. 200 Regent Street is also the largest toy shop in the world and you can't help but feel like a little kid again yourself in this wonderful shop.
Eat Your Way Around Borough Market
Borough Market is one of the oldest markets in London, said to be over a 1000 years old! Your children will be spoiled for choice at Borough Market, you can buy anything from fresh fruit, to cookies, cakes, sandwiches, pies and international dishes from all around the world.
Yes, I know. That means this activity isn't a 100% free but at least you can decide how much you want to spend, and browsing costs nothing.
Borough Market is open Wednesday to Saturday between 10am and 5pm and is a good indoor activity in London on a rainy day (as it's an indoor market).
Click here to read more about visiting Borough Market London.
Enjoy the View From the Sky Garden
The Sky Garden is another of our favourite free attractions in London for families. The Sky Garden is London's highest garden and you are guaranteed beautiful views over the city.
A visit to the Sky Garden is free, but you do have to make a reservation in advance. Check their website for more information.
Fun fact: the building housing the Sky Garden is also called the Walkie Talkie due to its peculiar shape.
Walk Around Colourful Camden
Camden Town is another fun place to go with kids in London. They will love the colourful houses with funky fronts, as well as the canals, bridges and the huge market with stalls selling everything you can possibly imagine.
From here you can also do the Camden Town to Little Venice walk along the Regent's Canal. This lovely flat walk takes you under bridges and past boat moorings and even past London Zoo.
Click here to download a route map.
The walk takes around an hour and a half. Alternatively you can take a boat ride from Camden Town to Little Venice (not free).
Climb Up Primrose Hill
Even though Primrose Hill is only 65 meters tall, the view over London from the top of the hill is pretty amazing, especially on a sunny day. Your kids will love pointing out London's iconic buildings, like the Shard, the Gherkin, the BT Tower, the Walkie Talkie and of course the London Eye.
You can easily combine this activity with a visit to Camden, as part of the walk along the Regent's Canal mentioned above.
Have a Picnic in One of London's Amazing Parks
Hanging out in one of the beautiful parks is definitely one of my favourite free activities for children in London.
Pick up some supplies at a local supermarket for a lovely family picnic and head to one of these amazing parks. I've been to most of the (larger) parks in London. Here are my favourites.
Regent's Park
Regent's Park is a peaceful oasis right in the centre of London. Kids will love the many-colored roses in the Queen Mary's Rose Gardens and the swan-shaped pedal boats in the lake.
There are three playgrounds in Regent's Park, and another just across in Primrose Hill. We particularly like the one at Marylebone Green, which features a fun rock climbing wall.
Clapham Common Park
We lived near Clapham Common during our time in London and I love this neighbourhood of London. While it's only 15 minutes from Waterloo (on the Northern line), Clapham Common has a much more relaxed vibe than the sometimes frantic city centre, which makes it one of the best places to visit in London with kids.
Clapham Park is a huge triangular green area, with a playground, football fields and a pond. You can spend a very relaxed afternoon here.
Hampstead Heath
Just like Clapham Common, Hampstead Heath is a little further from the centre of London. However, the park can easily be reached via the Northern Line as well.
This park really feels a world away from busy London. You can walk for hours and will only have covered a small section of the massive park. During weekends and summer this is a hugely popular kids day out in London for local families too.
This is only a small selection of (free) ideas of what to do in London with kids. You could spend months exploring this city and never run out of things to do. Happy London travels!
About the author: Lotte is a thirty something travel addict who was born and raised in tiny and completely flat country of the Netherlands (ironically she lost her heart to huge and mountainous Canada). Lotte is happily married to Frank and mother of little boy D.
She tries to combine a full-time job, family life and exploring as much of the world as possible, which can be a challenge as there are only 24 hours in each day. Lotte writes about their family adventures on Phenomenal Globe Travel Blog.
Up until now she lived in Barcelona, London and Amsterdam and visited 45+ countries. London is her favourite city in the world and she loves to share her tips to help you make the most of your London family trip.
Pin it for Later!
Disclaimer: This post contains affiliate links. If you make a booking or purchase using one of these links, we may receive a small commission – at absolutely no extra cost to you.