Our pick of the best family friendly Barossa Valley Wineries so you can bring the kids along wine tasting.
Just around an hour's drive from Adelaide brings you to one of the most famous wine regions in the world: the Barossa Valley.
Famous for its big bold red wines, the Barossa region is renowned as one of the premier wine regions in Australia and attracts wine lovers from all over the world.
Luckily, the majority of the Barossa wineries are also pretty kid friendly. Many offer lawn games or toy corners and some even provide special tasting platters for the kids.
With some of South Australia's best wineries all located within a short drive from each other, the Barossa is a delight to explore. Here we share our pick of the best places to bring the kids during your wine tour of the Barossa.
Disclaimer: This post contains affiliate links. If you make a booking or purchase using one of these links, we may receive a small commission – at absolutely no extra cost to you.
Mum on the Move is a participant in the Amazon Services LLC Associates Program, an affiliate advertising program designed to provide a means for sites to earn advertising fees by advertising and linking to Amazon.com
For more ideas on entertaining the kids, check out our article The Best things to do in the Barossa Valley with Kids (coming soon).
Whistler Wines
Whistler wines was probably the most family friendly winery in the Barossa that we found.
The cellar door enjoys a picturesque setting over looking the vines, and a beautiful garden.
There is a sprawling lawn for playing on, and a playground with swings and a mini playhouse. My kids also enjoyed playing with the friendly wine dog, Cooper, who loves chasing a stick!
Most unique is the treasure hunt set around the grounds – this is the only winery we have ever come across to do this and my kids loved it!
Food at Whistler Wines is make your own platters – help yourself from the fridge and shelves inside and pay for what you choose. There are kids picnic packs too.
Bag yourself a table under the shady trees in the garden and sip on an organic, biodynamic wine while the kids play.
Calabria Wines
Calabria was our first stop in the Barossa, as we were drawn here by the wonderful Harvest Kitchen restaurant. 
Here you can enjoy sensational fresh local produce on the deck with sweeping views over the vines.
Also within full view of the restaurant is the sprawling lawn with fun garden games, including cricket, balls, and everyone's favourite, cornhole. The restaurant also has a kid's menu and colouring on offer.
Pindarie Wines
So many wineries have lawn games for kids, but how many have a giant haystack to climb on?
Kids will love scrambling on this huge haystack as parents sip on a glass of wine and take in the spectacular views from the cellar door.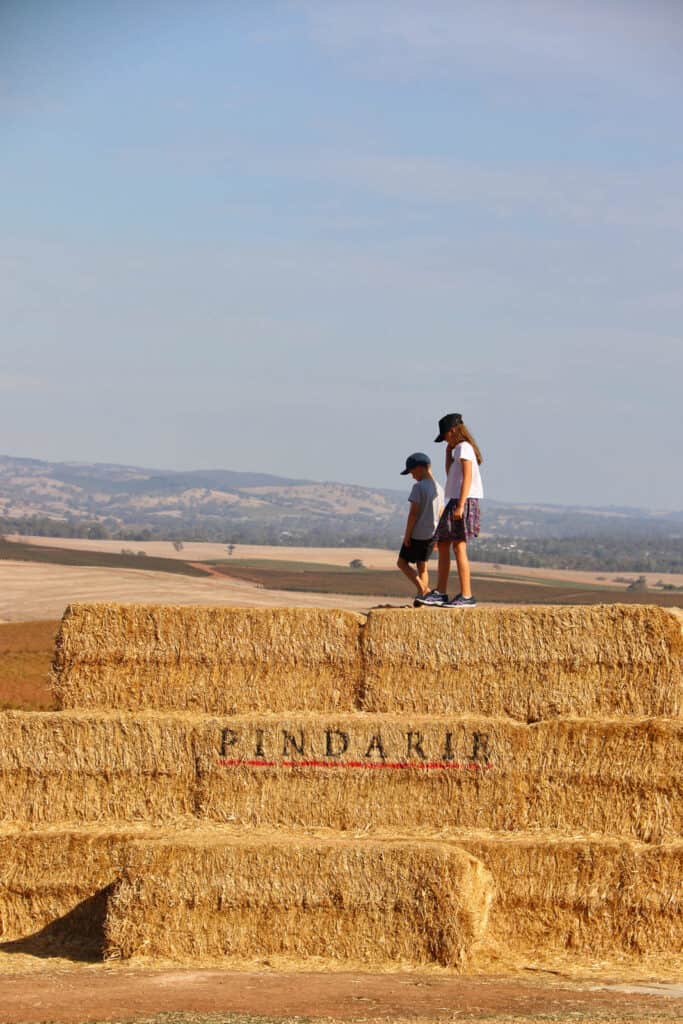 It also has a spacious lawn to run around and there's a cubby house and sandpit too. If you're ready for lunch, the Grain Store has a selection of platters and delicious home made pies on offer and there are special paninis and lunchboxes for the kids.
Chateau Tanunda
The spectacular Chateau Tanunda is a must visit cellar door in the Barossa.
Home to the first winery in the valley established in 1890, it is known as the "birthplace of the Barossa".
This impressive cellar door is rich in history and does an interesting range of wine, including the opportunity for wine connoisseurs to do a wine tasting across the different terroirs.
As well as the opportunity to explore among the wine barrels, Chateau Tanunda has a croquet lawn outside for the family to play on.

Z Wine
Unusually Z Wines have opted for a town centre cellar door rather than the tasting room being en situ at the winery.
So really it is more like a wine bar or restaurant, but I have included here as
it has a small kids corner play area for little kids and
it does really cool tasting platters for the kids. This includes fun treats such as fairy bread and marshmallows alongside apple juice, orange juice and milk.
It's not really a substantial lunch for big kids (but there are plenty of other platters on offer) but it is fun for them to be able to get involved with the tasting session for change.

Seppeltsfield
One of the big names of the Barossa, Seppeltsfield is famed for its vintage tawny port (you can taste your birth year vintage!)
The grounds here are huge with plenty of grassy lawn space for kids to run around on.
For lunch you can opt for fancy dining at the gorgeous Fino restaurant, renowned as one of the best in the Barossa, or pick up some picnic supplies at Octeine coffee to enjoy on the lawn. You can also organise barbecue hire here.
Other areas to browse within Seppeltsfield include the cool design studio Jam Factory and the gorgeous Vasse Virgin where you can stock up on handmade skin and body care products. 
There are a range of tours on offer at Seppeltsfield. The most fun for families is the one-hour segway sensation tour, suitable for kids aged 12 and above.

Turkey Flat
Turkey Flat rose has been one of my go-to pink drinks for years, so I couldn't miss the opportunity to visit their family friendly cellar door in the Barossa.
This charming and rustic cellar door has a beautiful garden, complete with a range of garden games to keep the kids occupied.
There are 'wine food' cheese and meat platters on offer which you can enjoy either at picnic tables on the lawn or inside by the roaring fire, depending on the season.

Charles Melton
Tucked away at the end of a dead end road just past Rockford Wines in Krondorf, Charles Melton is the perfect place to spend a lazy afternoon.
This picturesque cellar door has a beautiful lawn area with comfy outdoor seating, cheese platters and garden games for the kids.

Langmeil Winery
Langmeil is where you can step back in history as well as taste wine.
This historic cellar door is pretty cool to explore with its restored trading village dating back to 1842, including a blacksmith shop.

Other wineries to visit in the Barossa to try out some great wines:
These other wineries we visited are among our favourite in the Barossa with some of the best wines, although they may not necessarily be the most kid-friendly.
Soul Growers (by appointment only) – fine wines at reasonable prices. A tour here is a real education into the workings of a small winery. Winemaker Stuart Bourne was named the 2020 Barossa Winemaker of the Year by the Barons of Barossa.
Rockford Wines – an iconic Barossa winery renowned for its Basket Press Shiraz. The historic buildings are a delight to visit and an insight into the traditional wine making process still used here today to produce their spectacular wines. 
Hentley Farm – a stunning single estate boutique winery set among beautiful gardens. The fine dining restaurant The Atrium is renowned as one of the best in the Barossa. 

Visiting Adelaide while you are in South Australia? Check out our article Things to do in Adelaide with Kids.