I travel a lot. Naturally – I'm a travel writer after all. I also have a weakness for over-priced designer handbags… So, put the two together and you would be justified in thinking that I would also have a beautiful passport holder to show off at airport check-in.
But you would be wrong! In fact, when I check in to a flight at the airport, I reach into my fancy schmanzy designer handbag and pull out an old scrappy plastic A5 envelope, left over from a trade show about 10 years ago, which contains my family's passports and travel documents. Even my husband is embarrassed by it.
Well thankfully, all this has now changed as I am now the proud owner of a beautiful leather multiple passport holder from Up & Away, that holds my and my children's passports, plus all our travel documents – and looks über-stylish at the same time.
Sure, there are plenty of stylish leather passport holders out there, but you still have the issue of keeping all the family passports and travel documents together in one place. Plus, three or more passports all in their own passport holders just becomes way too bulky.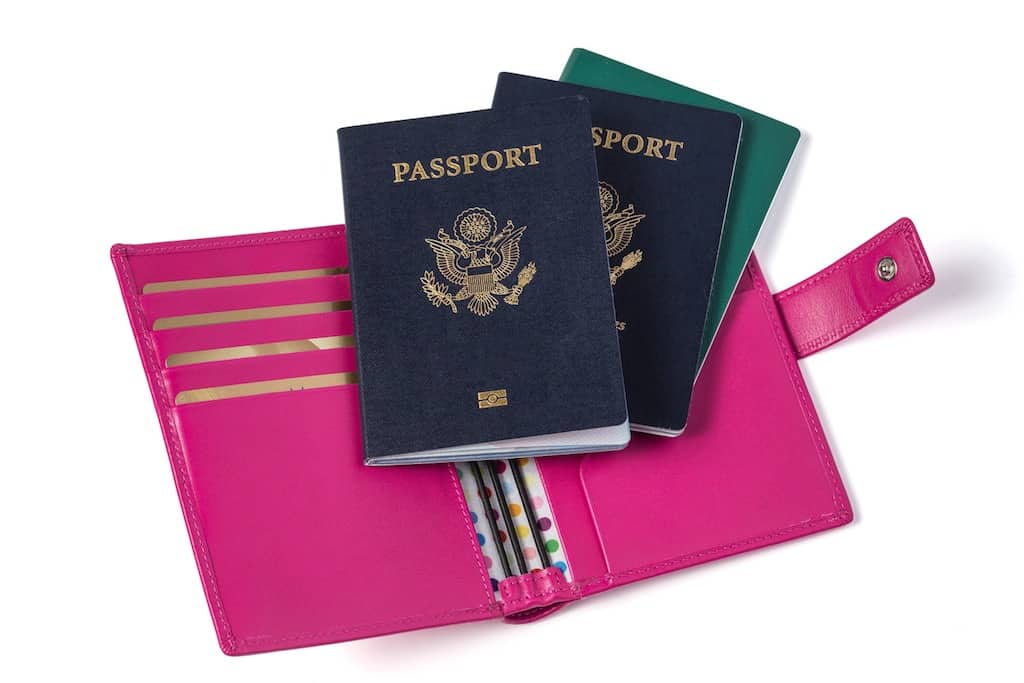 The Up & Away Multiple Passport Holder is therefore perfect for the travelling family. It allows you to keep multiple passports in the one holder (up to three passports in the Original 1-2-3 Multiple Passport Holder and up to five passports in the Hi-5 Multiple Passport Holder), and also has room for all your travel documents such as boarding cards, frequent flier cards, itineraries etc.
Three looping bands on the inside of the holder allow you to 'hook' in each passport – making it easy to pull them out when you get to immigration if you need to. You can also easily flick through the pages while they are still in the passport holder to look for visas etc.
There are four card slots to keep your frequent flier cards, hotel loyalty cards or ID cards easily accessible at check-in, a back compartment that fits boarding passes and an additional slot for any other documents you have – landing cards, itineraries, baggage tags etc.
There are two snap settings to keep the passport holder closed, no matter how many passports you have in there. The whole thing is really very compact – much more so than I was expecting.
The Up & Away Multiple Passport Holder is available in 7 vibrant colours, and you can choose one of three patterned linings, so you can design it exactly how you want.
My passport holder also arrived in a beautiful white gift box with tissue paper lining – making this the ideal gift for any Mum on the Move you might know.
Conclusion
So what's my verdict? I LOVE my Up & Away Multiple Passport Holder and now pull out my passports with pride when I reach check-in. If I hadn't spent all my money on over-priced designer handbags, then I would be buying an Up & Away passport holder for all my travelling mama friends for Christmas!
Visit the Up & Away website for further information.
Read our reviews of other kids travel products we love: the 1st Class Kid Travel Pillow and the foldable mifold car booster seat.
Pin It for Later!
Note: Mum on the Move was provided with an Up & Away Multiple Passport Holder for the purpose of writing this review. This did not influence my review in any way, and all opinions expressed are honest, and my own.