Yes, the holiday season is fast approaching! Some people I know have already finished their Christmas shopping (brief pause while I roll my eyes in disgust), but most sane people are still panicking about what to buy their friends and family, and frantically searching Google for this season's must-have toys.
But in reality, there are just 28 more days until the jolly man in a red suit slides down our chimney. So if you are a panicking last-minute shopper and have friends who love to travel as a family, then the Mum on the Move list of Gift Ideas for Families who Travel should hopefully give you some inspiration.
If you are a family who loves to travel yourself, then please feel free to send on this link to your parents/grandparents/family/friends. All of the items on this list are either things I own and love and am happy to recommend to others… or things I would love to own and love and be able to recommend to others (just in case my parents/grandparents/family/friends are reading).
So here are our top Gift Ideas for Families who Travel.
Packing Cubes
From all accounts, packing cubes will change your life as a traveller. These small lightweight bags come in a variety of sizes (and colours if that matters to you), and often come with a mesh window to allow you to see the contents easily. This makes it easy to organize and compartmentalize sections of your suitcase.
I think packing cubes would be particularly handy for a family vacation, allowing you to separate family members' clothing and putting an end to the continual rummage through the suitcase to find your son's t-shirt or daughter's pyjamas.
I don't own a set of packing cubes yet, but I am ready for them to change my life, just as I have been promised. So if I don't find any under my Christmas tree this year, then I will be rushing out to get some in the new year.
See more information and prices for Packing Cubes here


Up & Away Mulitple Passport Holder
The sassy, stylish Up & Away Multiple Passport Holders are made from beautiful leather and can hold multiple passports in the one streamlined holder (up to three passports in the Original Multiple Passport Holder and up to five passports in the Hi-5 Multiple Passport Holder), making them perfect for family travel.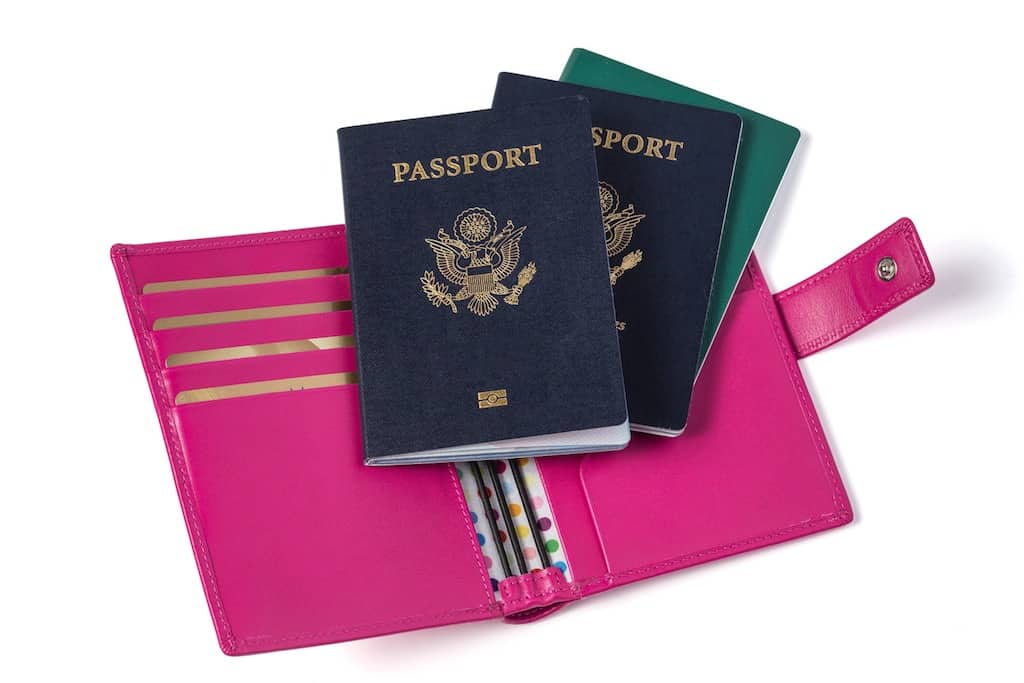 There's also room for all your travel documents such as boarding cards, frequent flier cards, itineraries etc. The passport holder is available in seven vibrant colours, with a choice of three patterned linings, and comes packaged in a beautiful white cloud gift box.
Read our full review of the Up & Away Multiple Passport Holder here
Totseat
Someone bought me a Totseat as a gift when my daughter was born – and it has since travelled with us everywhere, being used by both my kids at dining tables around the world. The Totseat is a fabric chair harness that safely secures your child into an adult chair in the absence of a high chair – no need to bounce them on your knee while you eat, or push the buggy up to the table and risk it getting covered in bolognaise sauce.
The Totseat folds up small enough to fit in your handbag, can be used on almost any adult chair and is machine washable. Perfect for eating in restaurants, or holiday rental accommodation that doesn't have a high chair.
See more information and check prices for Totseat here
Children's Logbook
My kids get so excited every time we head to the airport. We travel so frequently that I recently thought it would be fun for them to have a log of all the flights they've taken, as a reminder of all the trips we've taken together as a family.
There are plenty of different kids flight log books on the market, but one of the best and most personal I've seen is the one from Simply for Flying. In it there's a page for the Captain or crew to record important flight information, with the page opposite available for the kids to add their own information or drawings. A lovely keepsake for kids.
See more information and prices for the Simply for Flying logbook here
What are you hoping for under the Christmas tree this year? Let me know in the comments below – we're always on the lookout for new family travel products and ideas.
Need more ideas? Check out our article about the Best Products for Travelling with Kids.
Pin it for Later!
Mum on the Move is a participant in the Amazon Services LLC Associates Program, an affiliate advertising program designed to provide a means for sites to earn advertising fees by advertising and linking to Amazon.com.