What comes to mind when you think of your ideal family-friendly resort? Fabulous swimming pool? Kids club? Babysitting service? Choice of family-friendly restaurants? All of the above?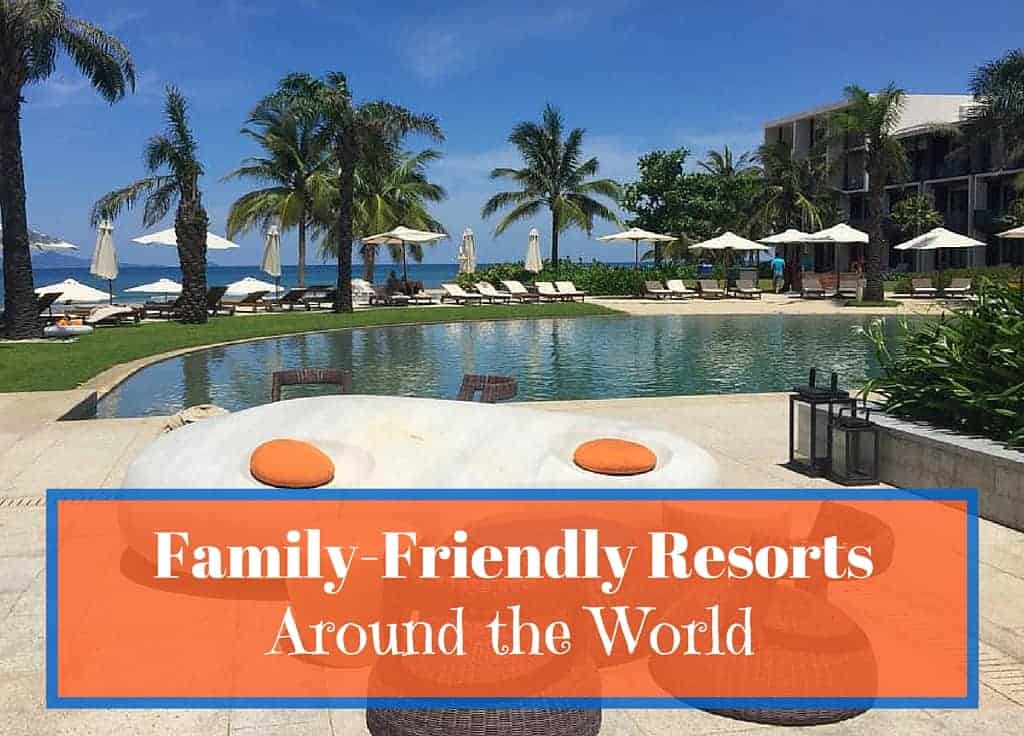 As 2015 draws to a close, we have been reflecting on some of our favourite family-friendly resorts we have stayed in this year. We loved the Hyatt Regency in Danang, Vietnam for its fabulous beach and amazing swimming pool, complete with water slide and sloping sandy beach for the kids. (photo above)
This was also a feature of the Peppers Beach Club in Port Douglas, Australia. There, we also loved their spacious apartment-style suites and its proximity to the awesome Four Mile Beach. Just a forty-minute drive from Port Douglas we also stayed at the Alamanda in gorgeous Palm Cove, where the view of the beach and palm trees from our balcony was to die for. You can read full reviews of these hotels by following the links above.
We then asked some of our fellow family travel bloggers to tell us about the best family-friendly resort they had stayed at this year, so that we could share with you some of the best places for a family vacation around the world. Here's what they had to say.
Atmosphere Resorts & Spa, Dumaguete, The Philippines
Philippa Langrish is the Philippines Editor at globetotting.com a family travel blog focusing on adventurous family travel.
Amazing food, 5 star scuba diving, daily yoga, a sublime spa…there's nothing I don't love about Atmosphere Resort & Spa. This eco-friendly resort is the best family retreat that I have found in the Philippines Islands so far, a luxury tropical haven that's perfect for families.
The hotel is owned by Gabby and Matt, parents themselves, who know what's required to make a great family holiday. The "Kids' Cove" kids club is brilliant and offers a range of activities for little guests including a half-day art workshop and a one-on-one session with Daniel, the in-house marine biologist. Older children can take part in the PADI Bubble Maker Dive Course. Kids' yoga sessions are available and there's even a kids' spa!
With a marine sanctuary on its doorstep, the diving here is excellent and we spent a lot of time underwater. The dive masters are very well informed – our instructor, Noel, even had an underwater dive pad which he used to show us the names of the more unusual creatures we found!
At the end of the day, we all gathered at the poolside bar as the children played together on the beach. This is a really special place for families and we cannot wait to go back.
Check here for the latest prices and more information about the Atmosphere Resorts & Spa, Damaguete.
Meritus Pelangi Beach Resort & Spa, Langkawi, Malaysia
Heidi Wagoner is an American mum of two who lives in Spain, and writes family travel blog Wagoners Abroad.
From relaxation to adventure the Meritus Pelangi Beach Resort & Spa has it all. This family friendly property is on the gorgeous island of Langkawi, Malaysia. You can bask in the sun on the white sandy beaches, check out the views from the sky cable car, explore the mangroves, or enjoy a sunset dinner cruise.
If adventure is more your speed, you can go diving, parasailing, zip lining and take a tour on the jet skis. The resort offers amazing swimming pools, with a fun kids' splash area.
The main restaurant offers buffet style dining and has just about anything you could imagine. Each night was a different theme and the kids enjoyed ordering at the pasta bar. There is live entertainment in the main lobby in the evenings and their exceptional customer service is what really sets them apart.
We found the spa to be the perfect touch for an afternoon massage. It is really an ideal getaway for the family and it is also within walking distance to many shops and restaurants.
Check here for the latest prices and more information about the Meritus Pelangi Beach Resort & Spa.
The Domes of Elounda, Crete
Sarah Ebner writes family travel blog Family Travel Times together with her children Jessica (13) and Robert (10).
The Domes of Elounda, in Crete, is a fabulous place to visit, being both beautiful and very family friendly – a great combination. Domes is situated on the side of a hill, surrounded by gardens and flowers, and with the bluest of seas stretching out in front of you. It's the kind of view that instantly puts you in a good mood.
It's also very near the island of Spinalonga, formerly a leper colony and a place you must visit if you go. We travelled there directly from the hotel and our five-minute motorboat ride was fabulous. The walk around the island was also very moving.
Domes was wonderful because it catered to all of us, whether we wanted to relax or be busy, and whatever we wanted to eat (there were four restaurants). There was a kids' club, a teens' club (with the requisite playstations and table tennis table) and an utterly fantastic 60-metre pool for families. There was also a separate adult only pool and spa.
My daughter and I loved reading our books, sipping our drinks and lying beneath the olive trees. Meanwhile my son loved the watersports on offer – especially the waterskiing, and he dragged my husband onto a canoe too.
The sun shone and if I'm honest, I'd like to be there now…
Check here for the latest prices and more information about the Domes of Elounda, Crete.
JW Marriott, Phuket, Thailand
Nicola Burke's mission is to turn her two daughters into mini jetsetters. She writes about family travel at Jetlag and Mayhem.
For years I've heard parents rave about the JW Marriott in Phuket. We finally got the chance to test drive it for ourselves this year and are now fully fledged members of the fan club! The resort is expansive with interconnecting pools (including a fantastic kids pool with slide), grassy lawns, a beautiful beach and multiple food outlets.
The rooms are pretty good although I wouldn't say super luxurious. However, the real reason you're here and not at a luxury boutique hotel is for the magnificent Kids Club. This place is off the charts kids-tastic. The Kids Club houses toys galore, computer games, soft play and even a mini cinema. Most of the scheduled activities are free, however I highly recommend the daily Circus Skills camp, which is extra. My daughter loved flying on the trapeze!
There's not much to do outside the hotel save for an excellent cheap Thai joint located further down the beach. So for those with itchy feet, I'd recommend doing a slightly shorter stint than a week. That said once you get your head around the idea of your kids disappearing off to the kids club for a large part of the day, you may well wish you had longer to actually relax!
Check here for the latest prices and more information about the JW Marriott in Phuket.
Qasr Al Sarab by Anantara – Liwa Desert, UAE
Keri Hedrick lives in Abu Dhabi with her 3 kids and writes about family travel at Babyglobetrotters.
Arriving at Qasr al Sarab is like stepping into an unknown land. Completely hidden in the sand dunes of the Liwa Desert in Abu Dhabi, UAE you know you have arrived somewhere truly special with a real emphasis on classic Arabian style and luxury.
Whether you are looking to simply relax by the pool or take on some high-adrenaline desert adventures, all tastes and ages are catered for at this luxury resort. The hotel boasts its own supervised kids and teen clubs if you want a chance to relax on your own – or bring the kids along with you to the beautiful swimming pools, including a lovely shaded toddlers' swim area.
Older children can enjoy dune bashing, quad biking, camel rides and sunset desert tours. If isolation and getting away from the hustle and bustle of the big city is what you want, then this is your place!
Check here for the latest prices and more information about the Qasr Al Sarab by Anantara.
Dhara Dhevi, Chiang Mai, Thailand
Nisbah Hussain documents her travels across the globe with her three children at family travel blog Five Adventurers.
Pulling up to the hotel, you could be mistaken that you have arrived at a beautiful temple. However, you have arrived at the Dhara Dhevi, Chiang Mai. From the very arrival you will be truly spoilt from the initial greeting of flowers and hot drinks, to any request for assistance being met with the promptest of responses. Nothing was ever too much and you will always receive the hugest smiles from everyone.
Dhara Dhevi exudes luxury but is amazingly family-friendly. We stayed in one of the villas and had our own private pool. There was living space galore across the buildings and a fully equipped kitchen, so ideal if travelling with small children. The perfect touches for families were the amazing swimming pools, free bicycles to use around the resort and the lovely horse and carriage for a ride around the resort.
What really stood out for me was the amount of things there was to do for families. The children's club was fantastic and the effort that was put into activities was phenomenal. There was a true sense of pride in promoting Thai culture to guests and I love my children experiencing the culture of the places we are seeing first hand.
Dhara Dhevi offered truly unique experiences that the whole family can enjoy and our highlight was the family rice planting, with all the crops grown donated to local orphanages.
Check here for the latest prices and more information about the Dhara Dhevi, Chiang Mai.
Shangri-La's Rasa Sayang Resort & Spa, Penang, Malaysia
Matt Eaton travels the world with his son Sebastian (aka Buster) and writes about it at family travel blog Journey with Buster.
The Shangri La Hotel is the perfect mix of luxury and comfort where you can be as adventurous or relaxed as you want. The resort is located on the main beach in Batu Ferringhi where families can jet ski, para-sail, play beach volleyball, have massages, shop and even eat.
For the relaxed type, you can lounge by the pool all day with the house masseuse offering everything you want and the bartender serving everything you need.
The kids have options of daily scheduled activities ranging from water volleyball to sand castle making or the standard kids club that is anything but standard (even the adults wanted to stay). The Shangri La offers every family their perfect holiday style – it's up to them to decide what that will be.
Check here for the latest prices and more information about Shangri-La's Rasa Sayang Resort & Spa.
Disney's Beach Club Resort, Florida, USA
Elaine Massey is a big fan of all things Disney. She writes her Disney-focussed family travel blog Family Travel Escapades.
Disney's Beach Club Resort in Orlando, Florida is my favorite resort; not just at Disney World, but anywhere I have ever been.
The decor is New England-style. It is particularly beautiful at Christmastime, when the lobby smells like a mix of vanilla and gingerbread. They pipe in Christmas music, decorate to the hilt, and have a gingerbread carousel. There is a homeliness that is both comforting and invigorating. Just being there makes you feel happy.
The Beach Club Hotel has so much to offer with their entertainment and dining options. Stormalong Bay is known to be the best pool at Disney World and is highly coveted by guests at other resorts. This 3-acre water fun zone with a life-size shipwreck houses one of the highest waterslides at Disney World. It also has a lazy river, 3 whirlpool spas, a kiddie pool and slide, and a special sand beach that slopes gently into the main pool.
Other activities include Disney movies under the stars on the beach, a marshmallow roast, tennis, table tennis, bike rentals, volleyball, jogging, spa, health club, an arcade, and a playground. There is also a supervised kid's club called Sandcastle Club for ages 3-12.
The Beach Club Hotel at Disney World is our favorite family destination. It has something for all ages and is excellent in every way.
Check here for the latest prices and more information about Disney's Beach Club Resort.
Pin it for Later!
This post contains affiliate links. If you book a hotel through the affiliate website, we will receive a small commission at no extra cost to you.